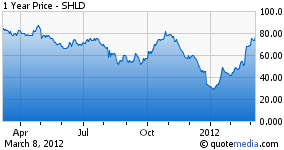 Eddie Lampert's penchant for financial engineering is well-known. He's a hedge fund manager, not a retail operator, and it shows. Up until now, the market has shown to be willing to believe even the unlikely, to believe theories such as "Sears (NASDAQ:SHLD) is worth more dead than alive."
Over the last few articles, I've shown how Sears is currently selling profitable stores, and how the theory that the real estate on Sears' books is undervalued is simply a myth. But these are not the only things you find when you delve into Sears' SEC filings. This article will show a few more of the nuggets one can dig out. I will base myself on the latest 10-K (still from 2010), the latest 10-Q and the latest earnings report. I expect that the 2011 10-K will be out in a few days, and then I might dig into that filing as well.
The Housing Recovery Myth
Sears' stock is mired in different myths. Another one is that Sears can benefit greatly from a housing recovery. This theory comes from the fact that Sears sells appliances, and appliances benefit from a dynamic housing market. But does Sears sell as many appliances as people think? The 10-K answers that: Just 16% of 2010's revenues came from appliances, and was it much different back in 2006 when the housing market hadn't imploded yet? No, it wasn't. Back then appliances were 15% of revenues - so appliances have actually been doing marginally better than Sears as a whole. (As a side note, Sears just lost its chief appliance executive, the third such executive to leave that post in the last four years).
The "Going According to Plan" Myth
Another myth that sometimes makes the rounds is the saying that what has been happening to Sears was somehow part of Eddie's plan all along. That the company is hitting the dirt on schedule. This myth is easy to destroy using Eddie's own words (from the chairman's 2005 letter - emphasis mine):
I view Sears Holdings as a $55 billion revenue, 350,000 person start-up - and I continue to believe that we have the challenges, excitement, pace of change, and opportunity for success that characterize a start-up. We will not be bound by the dictates of past practices.

Success must include profitable growth. As a team, we are aligned around the goal of increasing our EBITDA. We are not focused on sales or sales growth as an end in itself.
For all effects, the objectives were clear, a $55 billion, 350k employee start-up was going to prioritize EBITDA growth. What did it achieve, six years later? It achieved a $42 billion, 280k employee on the verge of liquidation, selling profitable stores and running what is, in effect, $0 EBITDA - which brings us to our next myth.
Even the EBITDA Is a Myth
Why do I say this? Because Sears ignores the pension contribution when calculating EBITDA. So some think that there's a (small) measure of cash generation still going on at Sears, in spite of the deeply negative net income. There isn't. The $277 million EBITDA is before the pension contribution ($390 million), which is a cash drain, and obviously Sears also has to dump some money into capex ($432 million), even if it tries hard not to by neglecting the stores. This means that even ignoring other cash uses, and just taking into account the reported EBITDA, the pension contribution and capex, Sears was burning cash at a $540 million clip during 2011.
The Pension Fund Key Assumptions
Another interesting find in SHLD's 10-K are the pension fund assumptions. The SHLD defined benefit pension fund has already been frozen, but it's still of considerable size, especially the SHC domestic fund. So what has been happening to the key assumption regarding expected plan returns? This:
Click to enlarge

It has been increasing ... 7.50% in 2008, 7.75% in 2009, 8.00% in 2010 ... 8% with a target allocation of 40% stocks, 60% bonds isn't easy. Increasing this return assumption minimizes the cash SHLD has to contribute to the fund, and 8% is seen as stretching it. Oddly enough, SHC Canada, running a smaller fund, is much less aggressive at 6.50%.
Gross Margin

Finally, much has been said about the way Sears has seen revenues fall year after year, about how Sears was supposed to be a $55 billion company that is now producing less than $42 billion in revenues. About how the stores are seeing 18 quarters in a row of declining same store sales.
But this clouds something that might be a lot more significant, that got evident in the latest quarter. Gross margins are falling a lot faster than revenues. Some of it is clearance sales, but still gross margin fell 9.1% from 2010 to 2011, and even worse, it fell 15.5% during Q4 2011 versus Q4 2010.
This effect alone, part of which might also be related in an attempt to regain competitiveness (Sears Canada is reportedly lowering prices on 5,000 items) will, if it persists in Q1 2012, drive a further profitability disaster, which might well be helped along by the decision to carry lower inventories (presently 6% below last year's).
Conclusion
Everything about Sears continues to imply the stock is simply undergoing a strong short squeeze. Fundamentals continue to paint a troubled retailer whose most likely destiny is a scenario whereupon little or no value will be left for the common shareholder.
The stock is surrounded by many myths, from the value of the real estate - which I have already shown to have been written up to fair value back in 2005 - to the hope that a housing recovery would somehow turn things around. The truth is that even the tangible book value per share ($5.30) is doubtful, given the liabilities that should accrue from selling and closing unprofitable stores (severance, leases, inventory liquidation, etc).
Disclosure: I am short SHLD.