Welcome to the one for the record books editionof Natural Gas Daily!
EIA reported a storage build of 86 Bcf for the week ending September 14. This compares to the +81 Bcf we projected and consensus average of +83 Bcf. The +86 Bcf was 10 Bcf higher than the five-year average of +76 Bcf but 11 Bcf lower than last year's.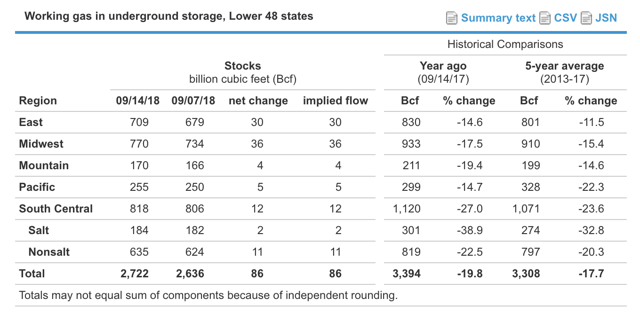 Source: EIA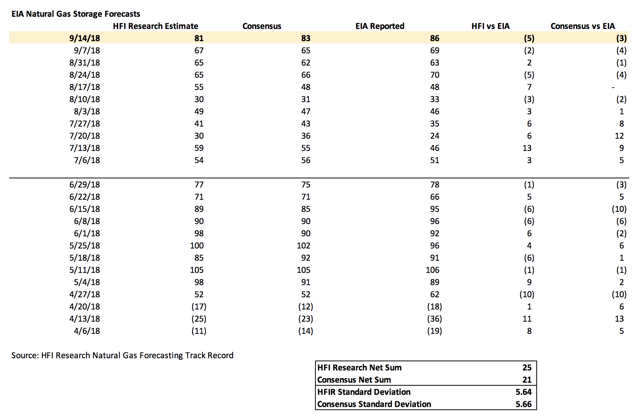 Next Week's Estimate
For the week ending 9/21, we currently have a forecast of +65 Bcf.
EOS decreased materially from last week's 3.38 Tcf to 3.315 Tcf today.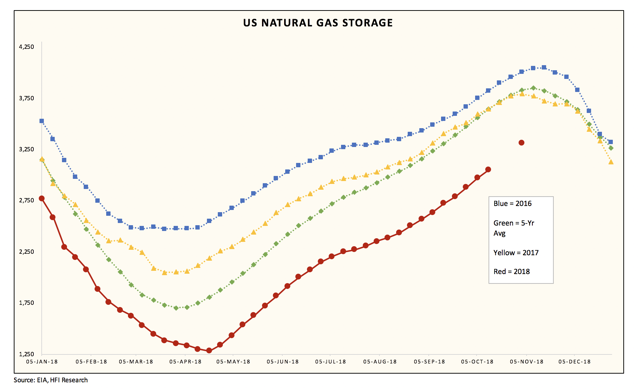 One for the record books
The sharp reduction in our EOS estimate this week came following what was a very bullish near-term event for the natural gas market. We explained what we saw in our Tuesday NGD titled, "Natural Gas: Nuclear Power Outage Sends Injections Estimates Spiraling Lower."
Power burn demand, as you will see in the chart below, leaped higher this week: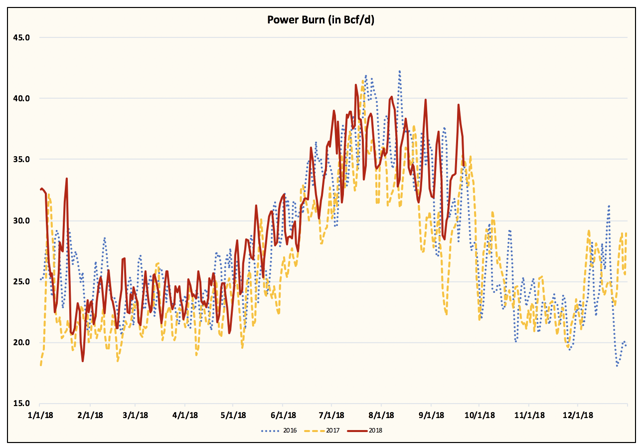 Source: HFI Research
The recent surge is starting to pull back already with nuclear power outage starting to reverse: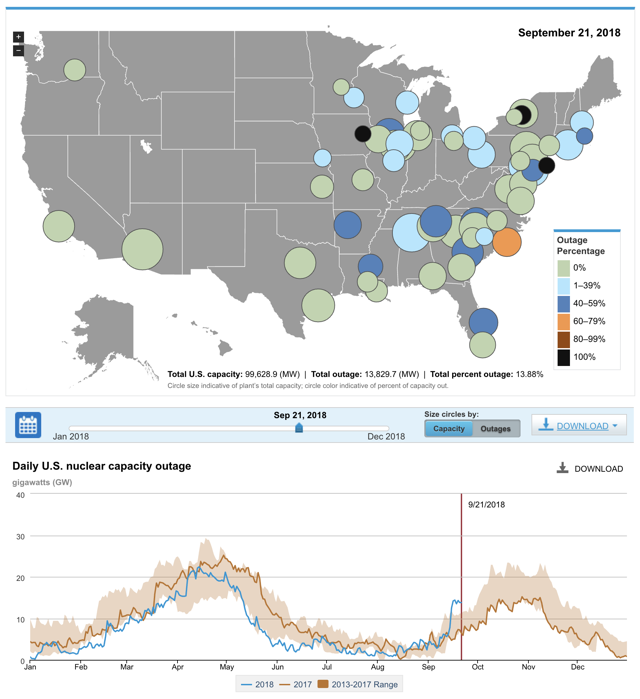 Source: EIA
But nonetheless, the damage has been done already, and EOS is expected to come in around 3.3 Tcf and potentially even lower.
Natural gas prices also materially increased this week jumping from $2.76/MMBtu to $2.97/MMBtu for one of the biggest advances this year. The increase in price this week completely ignored the record lower 48 production volume over the weekend and potentially lower demand in early October.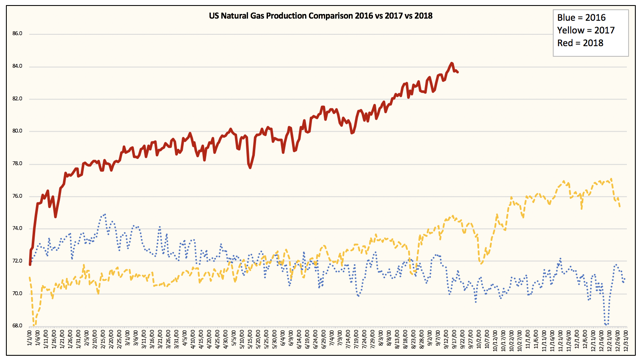 Source: HFI Research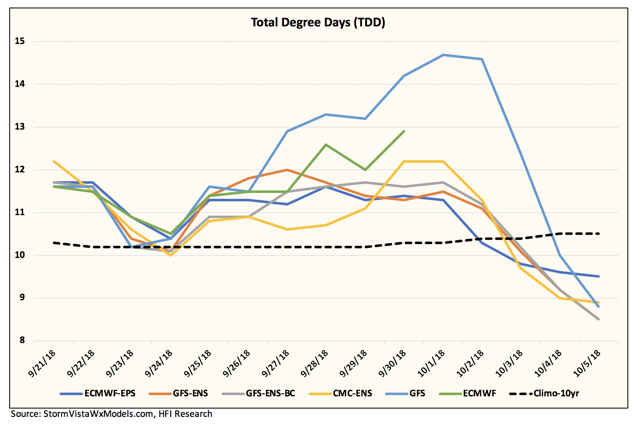 The market instead focused on this chart below for the price gain: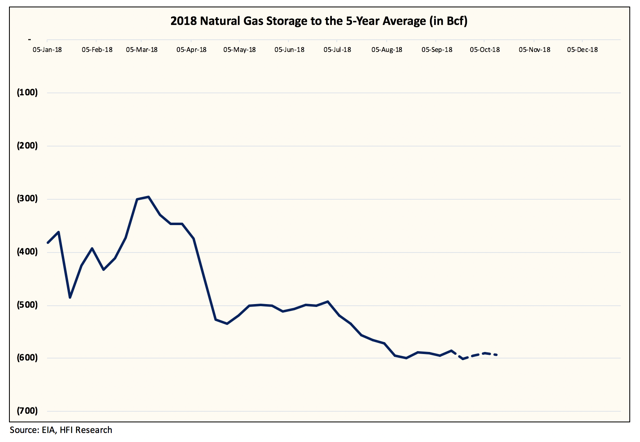 The forecast until the middle of October shows that natural gas storage to the five-year average will remain close to the ~600 Bcf deficit. This means that by early November, there's a real shot EOS will end sub 3.3 Tcf, and this is one for the record books.
The price increase we saw this week reflected this bullish development.
But as we wrote in our Tuesday report, all is not well with natural gas fundamentals. Over the coming weeks, there will be an additional 2 Bcf/d of new pipeline takeaway capacity.
Rover - 0.5 Bcf/d.
Atlantic Sunrise - 1 Bcf/d.
NEXUS - 1.5 Bcf/d.
These new takeaway capacity increases will likely push lower 48 production to mid ~85 Bcf/d, which would further dampen any bullish outlook left for prices in 2019.
In addition, once the near-term nuclear power outages come back online, power burn demand will fall, resulting in looser near-term fundamental balances. The rest of the price swing will then be up to mother nature (e.g. weather).
Trading Position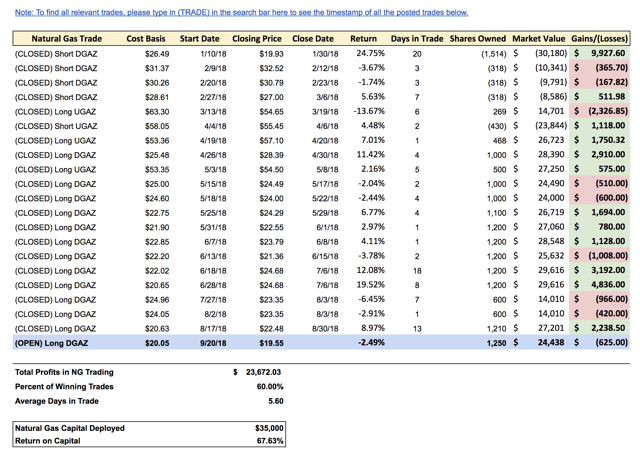 We are currently long DGAZ and playing a bearish position. This trade was first alerted to our subscribers yesterday.
For the time being, we are bearish on natural gas prices based on the near-term bearish catalysts we listed above.
For readers who are interested in receiving real-time trade alerts along with our exclusive natural gas fundamental, weather, and trader positioning updates, we highly recommend you to give HFI Research Natural Gas a try. You can see here for more info.
Disclosure: I am/we are long DGAZ.
I wrote this article myself, and it expresses my own opinions. I am not receiving compensation for it (other than from Seeking Alpha). I have no business relationship with any company whose stock is mentioned in this article.