Real Estate Weekly Review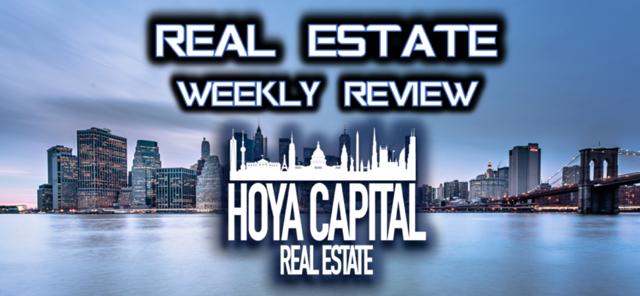 The S&P 500 (SPY) climbed to another record high this week, jumping 0.5% following several sold economic data points and encouraging signs on trade discussions. Real estate equities delivered a mixed week, with the REIT ETFs (VNQ and IYR) climbing modestly but homebuilders (XHB and ITB) continuing to struggle amid softening home sales data throughout the peak summer season. The 10-year yield climbed within 5 bps of 2018 highs, pulled higher by rising oil (USO) and natural gas (UNG) prices.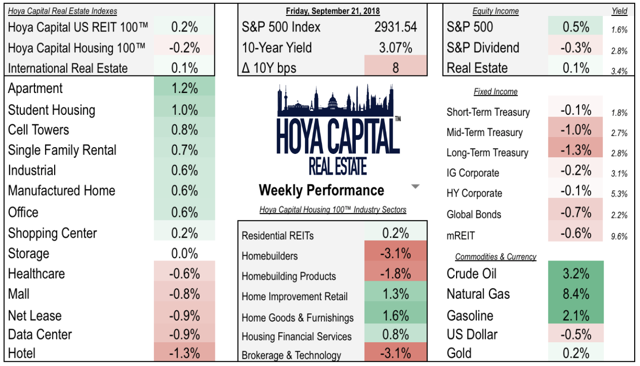 (Hoya Capital Real Estate, Performance as of 2pm Friday)
After flirting with all-time highs early in the week, the Housing 100 Index finished down by 0.2% on the week, dragged down by homebuilders and homebuilding products, but supported by solid performance from home improvement and home goods retailers. In other areas of the real estate sector, mortgage REITs (REM) finished the week lower by 0.6% while international real estate (VNQI) finished higher by 0.1%.
Real Estate Economic Data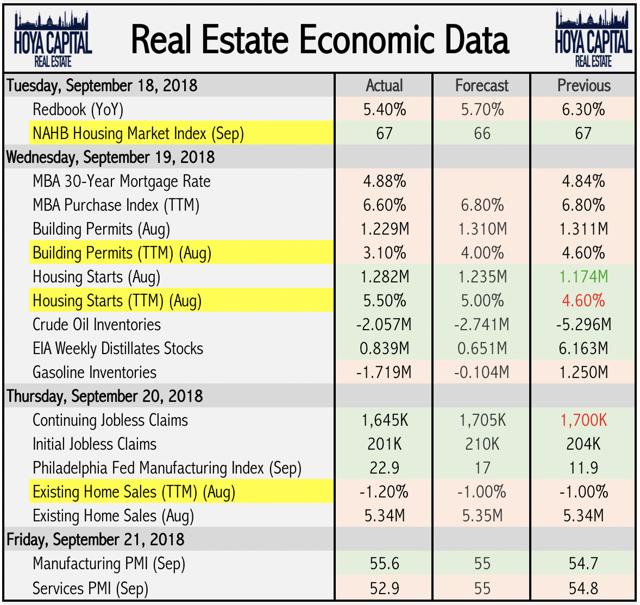 (Hoya Capital Real Estate, HousingWire)
Housing Data Mixed After Solid Start to 2018
The choppy summer for housing data continued in August with a mixed read on starts and permits. Total housing starts ticked higher to 5.5% on a TTM basis as a solid recovery in multifamily construction has negated the moderation in single family starts. Multifamily starts are now higher by 2.5% over the last twelve months, the first positive reading for the category since early 2017 when developers began to pull back on signs of oversupply. Single family starts have seen a disappointing summer following an upward inflection in early 2018. SF starts are higher by 6.6% on a TTM basis, down from the 10% rate in March.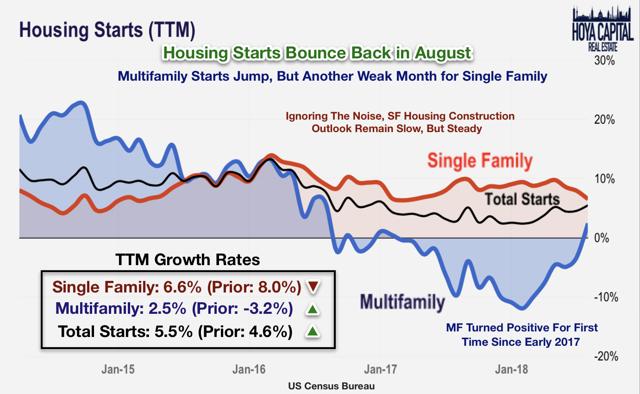 While housing starts beat expectations in August, housing permits fell short of estimates. Total permits have grown 3.1% over the last twelve months, the weakest rate of growth since early 2017. The apparent resurgence in multifamily construction from the starts data is rebuffed by recent weakness in the permitting data. Despite otherwise solid trends of moderate growth over the last several years, this summer's choppy results have caught the attention of the financial media and investors. Rising construction costs, higher mortgage rates, and changes to the tax code appear to have muddied the outlook for new single family development.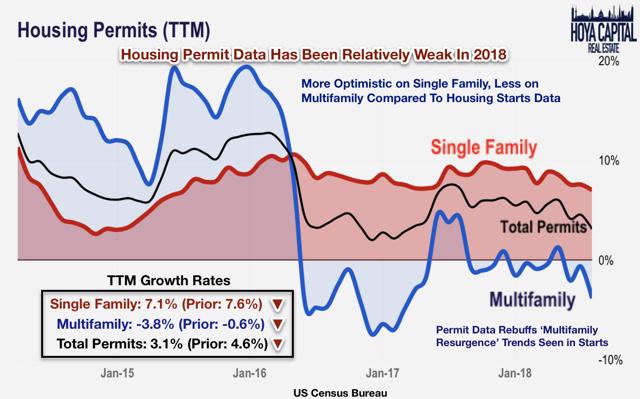 After a surge of apartment starts from 2014-2016, multifamily starts cooled in 2017 but have bounced back in recent months, particularly in the regions most affected by tax reform. Apartment developers appear to be responding to the removal of key homeownership incentives that is expected to spur increased rental demand in high-cost housing markets. Completions have finally 'caught-up' with starts, as seen below. More than 600k units are still under construction with peak deliveries occurring between the spring and autumn of this year. We expect completions to remain in the 340-370k/year range through 2018, representing about 2% of existing inventory, which would continue to put downward pressure on rent growth, all else equal.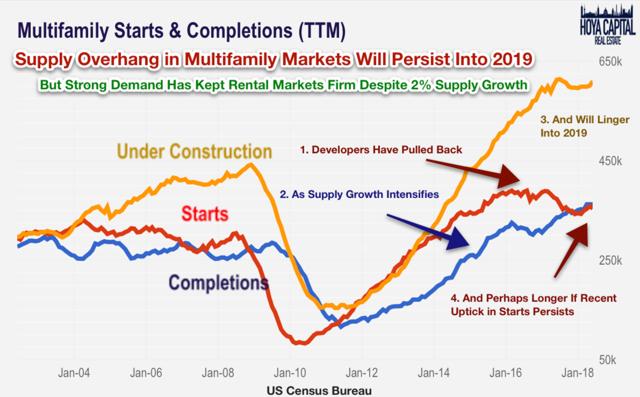 As we continue to discuss, the United States is not building enough new homes, and rental REITs are among the direct beneficiaries. Amid the lingering housing shortage, long-term rental fundamentals remain highly favorable. Since 1995, shelter inflation has outpaced the broader rate of inflation by more than 1% per year, fueled by a persistent supply shortage in the US housing markets. Over the last three decades, structural impediments to supply growth, aggravated by the dramatic dislocations during the housing crisis, have dramatically slowed the rate of housing starts per capita. The implications of this housing shortage, we believe, will be a continued persistence of "real" housing cost inflation (rent growth) and a long runway for growth in residential housing construction.

A Soft Summer for Home Sales
Consistent with the trends in the starts and permitting data, new and existing home sales data has been similarly choppy. This week, existing home sales data slightly missed expectations for the fourth consecutive month. Existing home sales are now lower by roughly 1% over the last year, a weak trend that is explained in part by the lack of available inventory on the market. New home sales data, however, continues to be solid. While robust economic growth and rising consumer confidence normally translate into rising home sales, single family sellers face headwinds, including rising mortgage rates, affordability challenges, changes to the tax code that weaken homeownership incentives, and strong competition from the rental markets.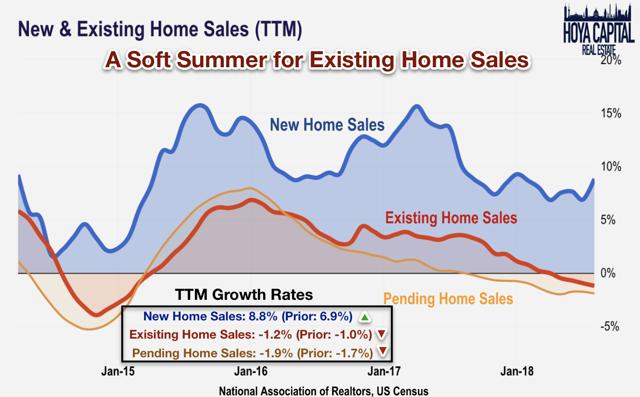 Weak trends in existing home sales are not cause for concern at this point. By historical standards, new home sales remain at mid-1990s levels and even lower after adjusting for population growth. The growth in existing home sales have slowed since 2015, but this rate remains healthy by historical standards. Too many existing home sales (as we saw from 2003-2006) indicate that either mortgage standards have gotten overly loose or short-term housing flipping activity has increased. At around 7% per year, the turnover rate of existing homes is roughly in line with pre-2000 levels.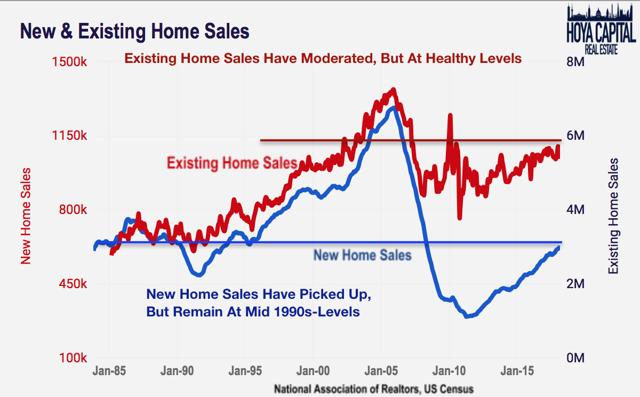 Of note this month, however, is that existing home inventory is no longer receding, turning positive on a year-over-year basis for the first time since May 2015. The tight supply of existing homes has been blamed for moderate home sales activity and there is hope that a slight loosening of conditions may lead to increased transaction activity. Looser conditions in the single family markets are also expected to slow the pace of home price appreciation, which has risen at more than double the rate of inflation since 2012.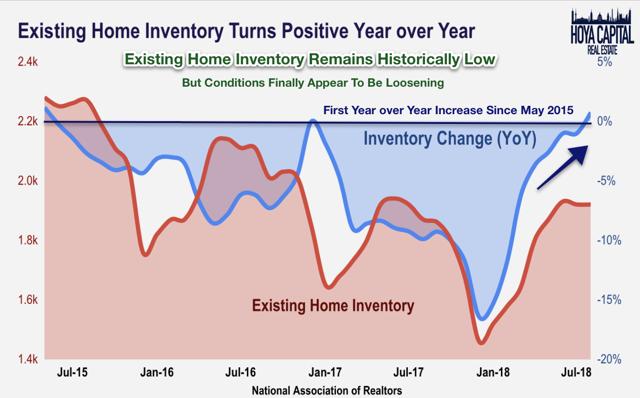 Since the 2012, household formations have outpaced new housing supply by nearly 1.5 million and, despite the modest uptick in inventory levels in August, nearly all metrics indicate that both single family and multifamily housing markets remain historically "tight." The quarterly US Census HVS survey released last month showed that apartment vacancy dipped to 6.8%, the second lowest rate in the last 35 years while homeowner vacancy dipped to the lowest rate in nearly 20 years. Tightness in housing markets will continue to support home prices and rental rates, and we believe that both will growth at above-inflation rates over the next five to ten years.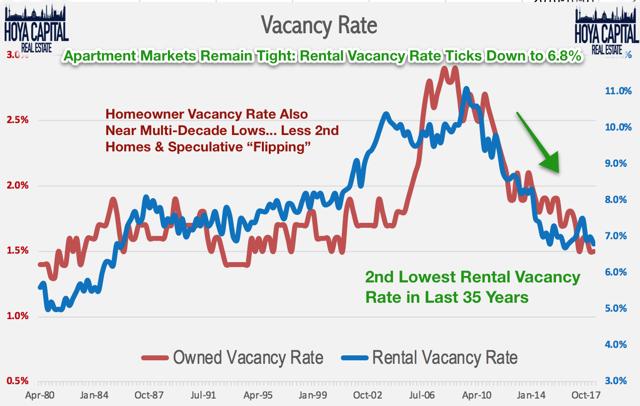 Single family housing markets would be even tighter had it not been for the continued tepid demand for homeownership from younger demographics. The rate of first-time homebuyers remains stubbornly below the pre-bubble level of 40-45% and the bubble-peak of 52%. We have yet to see the younger demographics enter the homeownership markets in any significant numbers. The overall rate of homeownership ticked up slightly to 64.3% in the second quarter, up from 64.2%. The combination of affordability issues, highly competitive rental product, and negative attitudes towards ownership continue to keep this demographic in the rental markets for longer than past generations.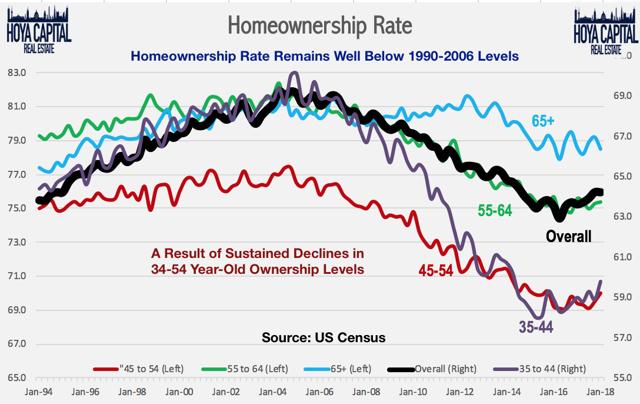 2018 Performance
REITs are now higher by 0.8% YTD on a price basis. Despite the recent strong performance, REITs are still underperforming the S&P 500 on the year, which is higher by roughly 10%. Homebuilders are off by nearly 20% after rising more than 50% last year. The 10-Year yield has climbed 67 basis points since the start of the year, aided by the 24% climb in the price of crude oil and 11% rise in gasoline prices.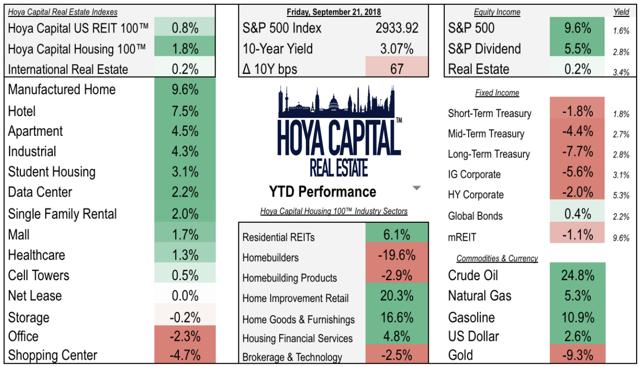 REITs and housing-related equities have outperformed the broader US stock market over the last 25 years. The NAREIT All-Equity REIT Index has delivered a 12.1% average annual return while the Fidelity Select Construction & Housing Portfolio (FSHOX) has delivered a 10.8% annual return since 1994. The S&P 500, meanwhile, delivered a 9.9% annualized rate of return during this period.

Real Estate News & Outperformers
Government Properties (GOV-OLD) announced this week that it will acquire Select Income (SIR) in a complex deal that poorly received by investors. The combined entity will be renamed as Office Properties Income (NASDAQ:OPI) and will continue to be externally managed by the RMR Group (RMR). In a deal intended to simplify a complex cross-ownership structure between these two REITs and logistics-focused Industrial Logistics Properties (ILPT), investors were disappointed by the sharp distribution cut that will result from the merger. GOV ended the week down more than 16% while SIR dipped more than 8%.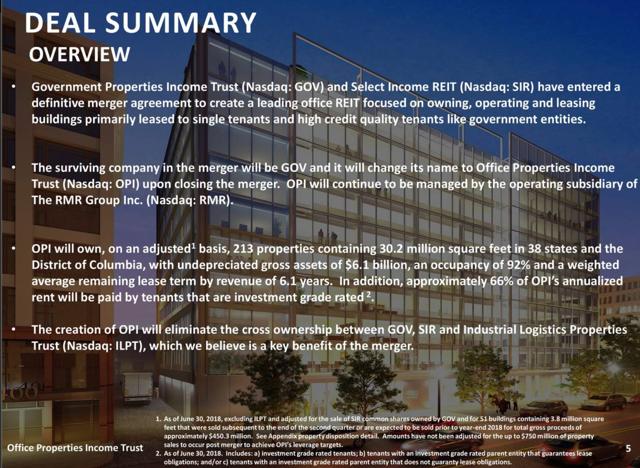 In retail news, Amazon (AMZN) is reportedly considering a plan to open up to 3,000 brick-and-mortar stores by 2021, a sign that the e-commerce retail continues to see significant value in efficient physical locations. The e-commerce giant also launched a new service called Amazon Storefront that will help promote its third-party marketplace retailers. Shopping center REITs performed in line with the sector average with strong performance from DDR (DDR), Acadia (AKR), and Regency (REG).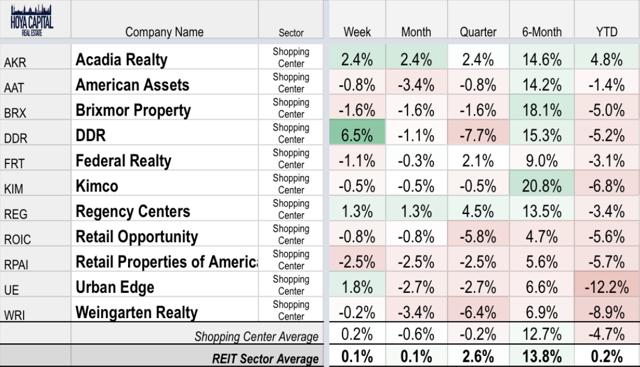 Hurricane Florence, which struck the southeastern US as a Category 1 hurricane, is estimated to have caused at least $17-22 billion in damage, according to Moody's Analytics. As was the case after Hurricane Harvey, only a fraction of homes affected by flooding were protected by flood insurance. Karen Clark & Co. (KCC) estimates that the insured loss from the storm will be $2.5 billion. As discussed last week, the overall REIT sector has limited exposure to the coastal Carolina region relative to other storm-prone areas such as coastal Florida or Texas. Highwoods (HIW) and Wheeler (WHLR), the REITs most concentrated in the Carolinas, reported no major damage to their properties. Single family rental REITs, American Homes (AMH), Invitation Homes (INVH), and Front Yard Residential (RESI), were also in focus this week following a Wall Street Journal article discussing the emerging use of technology and data analytics in acquiring homes.

Homebuilders had another tough week following a number of analyst downgrades, citing signs of soft demand. Lennar (LEN) and TRI Pointe (TPH) each finished lower by more than 5% while D.R. Horton (NYSE:DHI) relatively outperformed, dipping 1%. We recently discussed the sector in Homebuilders: Signs of Softness.

Earnings Season Recap
This week, we published our quarterly report on the healthcare sector: Healthcare REITs: Demographic Boom Within Sight. For healthcare REITs, the demographic boom fueled by aging Baby Boomers has been visible on the horizon for decades but is just now beginning to come to fruition. After years of stagnant demand growth, this demographic boom could not come soon enough. The healthcare real estate industry has been ailing from oversupply and underwhelming demand. Amid fears of rising rates and deteriorating fundamentals, healthcare REITs were left for dead earlier this year. Since early March, however, the sector has sprung back to life, jumping 20%.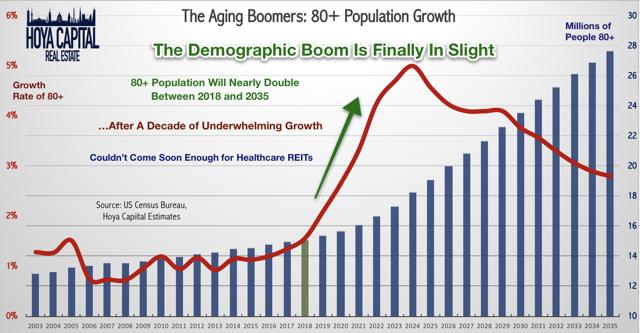 We also recently published our second-quarter REIT Earnings Recap. Bull markets don't die of old age, and neither does the real estate cycle. Following a mild downturn in 2017, robust economic growth has reignited the real estate cycle. After a disappointing 2017 beset by earnings misses and downward revision, REITs have delivered strong results through the first two quarters of 2018, beating expectations and raising guidance across most sectors.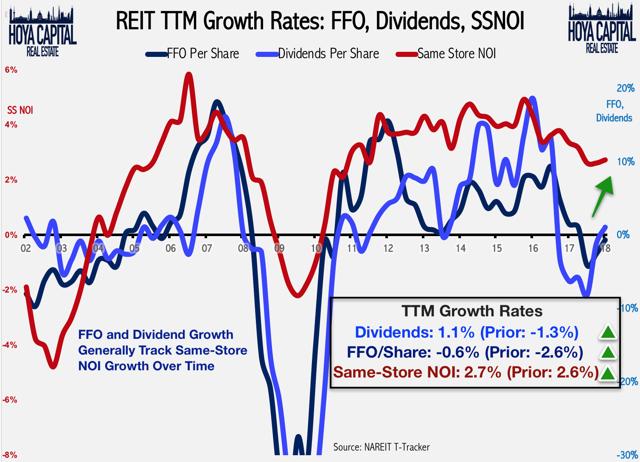 Bottom Line: Homebuilder Weakness Continues
Powered by solid economic data and encouraging indications on trade discussions, the S&P 500 jumped nearly 2% to a new record high. Real estate sectors underperformed on the week. The 10-year yield climbed within 5 bps of 2018 highs, pulled higher by rising oil and natural gas prices. Rising Treasury yields pressured yield-sensitive REIT sectors.
Despite the years-long economic reacceleration, homebuilders have been left out of the rally. The sector dipped nearly 4% on continued signs of softening demand for single family homes. The choppy summer for housing data continued. Housing starts exceeded expectations but permits came in shy of estimates. Existing home sales missed estimates for the fourth straight month. By most measures, the US housing markets remain historically "tight," a function of several decades of under-building. A pullback in supply growth would be expected to exacerbate rising housing costs.
We will continue our REIT and Homebuilder Rankings updates next week with reports on the hotel and shopping center sectors. Be sure to check out all of our reports to see how each sector stacks up: Healthcare, Net Lease, Malls, Industrial, Single Family Rentals, Data Center, Apartments, Cell Towers, Manufactured Housing, Industrial, Shopping Center, Hotel, Office, Industrial, Storage, Homebuilders, and Student Housing.
Please add your comments if you have additional insight or opinions. We encourage readers to follow our Seeking Alpha page (click "Follow" at the top) to continue to stay up to date on our REIT rankings, weekly recaps, and analysis on the real estate and income sectors.
Disclosure: I am/we are long VNQ, SPY, AMH, AMZN, INVH, REG. I wrote this article myself, and it expresses my own opinions. I am not receiving compensation for it (other than from Seeking Alpha). I have no business relationship with any company whose stock is mentioned in this article.
Additional disclosure: All of our research is for informational purposes only, always provided free of charge exclusively on Seeking Alpha. Recommendations and commentary are purely theoretical and not intended as investment advice. Information presented is believed to be factual and up-to-date, but we do not guarantee its accuracy and it should not be regarded as a complete analysis of the subjects discussed. For investment advice, consult your financial advisor.