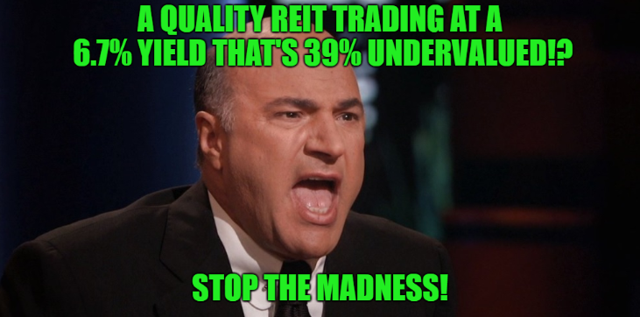 (Source: imgflip)
As a high-yield income growth investor, REITs are one of my favorite sectors. That's because historically REITs have been a source of generous, safe and rising income, but also market beating total returns as well.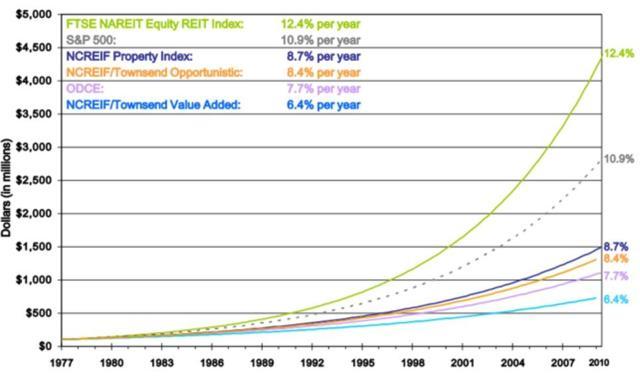 (Source: NAREIT)
In fact, equity REITs have also proven to be superior to privately owned commercial real estate. This means that the best way to profit from long-term economic growth (which increases rents and real estate values) is with REITs. You can avoid the hassle of managing physical properties (being a landlord), and just collect passive dividends over time.
My principal goal is to point out great long-term opportunities to readers, meaning stocks with a great combination of: safe yield, good long-term dividend growth potential, and attractive valuation (high margin of safety).
Which is why I'm so excited to pound the table on Kimco Realty (KIM). Let's take a look at the four reasons why this retail REIT is likely to make an excellent long-term high-yield dividend growth stock. Despite three major reasons because of which Wall Street has been bearish on the stock, the REIT's successful turnaround plan, strong and improving fundamentals, and excellent dividend profile means Kimco is the most undervalued quality REIT I know of. And from today's mouth watering valuation (about 39% undervalued), it's poised to potentially deliver over 15% annualized total returns over the coming decade. That makes this high-quality REIT (well on its way to blue chip SWAN status) a "very strong buy" in my book.
Why Wall Street Has Been So Bearish On Kimco
Kimco's shares have been the victim of three major overhangs over the last few years. The first was the REIT's ill advised attempts at previous empire building which included growing too quickly, including internationally into Canada, Brazil, Mexico, Chile, and Peru. The result was that going into the Financial Crisis, when capital markets froze up, the REIT's debt/Adjusted EBITDA (leverage ratio) was a sky-high 8.8.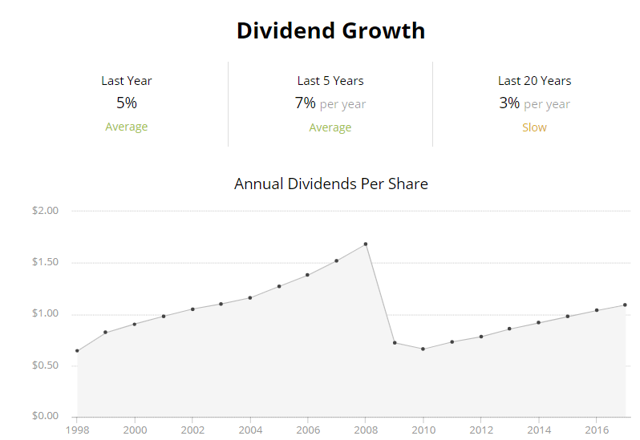 (Source: Simply Safe Dividends)
As a result, the REIT had to make the painful decision to slash its dividend during the Great Recession. It also embarked on a long-term turnaround effort that involved deleveraging via selling off international and weaker properties and focusing only on the most attractive shopping centers located mostly in thriving coastal cities and the sun belt.
(Update 9/24/2018: This article was updated to reflect the correct number of net store openings in 2017)
The other two overhangs have been the fears of a "retail apocalypse" and stagnant growth caused by the capital recycling program (part of the turnaround). That's where Kimco sells off assets to deleverage and invest the proceeds into stronger properties with far better fundamentals that will drive long-term growth. In 2017, despite 10,168 stores closing in the US (more than 200% increase from 2016) 4,080 net stores opened. And analysts expect store closures to decline to 3,500 closures in 2018. This includes companies like Toys "R" Us which had 22 leases for Kimco. The liquidation of Toys will create a maximum negative 0.7% to 0.8% impact to the REIT's same-store property net operating income or SS NOI.
I'll address these last two overhangs in a minute, but first it's important to point out that Kimco's turnaround has made it a much stronger REIT than in 2010. One with a great business model that is likely to eventually earn it blue chip SWAN status.
1. Kimco's Strong Turnaround Execution Creates A Great Long-Term Business Model
Founded 60 years ago, Kimco is one of America's largest owners of open air shopping centers. Today, it owns full or partial ownership in 463 centers, totalling 78.7 million square feet of leasable space. It leases 8,200 stores to 3,800 tenants.
Kimco's past troubles stemmed from its desire to empire build, or grow for growth's sake. This is why in 2010, before the turnaround effort began, the REIT had a massive portfolio of properties, including 37% in weaker secondary markets.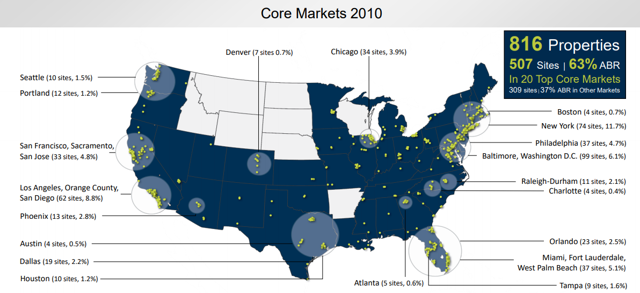 (Source: Kimco investor presentation)
But over the past eight years, Kimco has focused like a laser on just its top properties, located in fast growing states and thriving urban markets. This is where affluent consumers are enjoying the best wage growth and brick-and-mortar retail sales have been the strongest. Basically, Kimco decided to sell off its international properties (starting in 2013) as well as the ones located in slower growing and weaker Midwest locations. The proceeds of those asset sales (capital recycling) have gone to deleveraging and investing in top quality properties in coastal and sunbelt cities. Today, 81% of rent comes from these thriving core markets.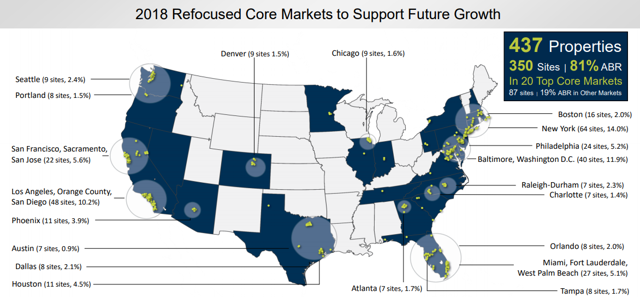 (Source: Kimco investor presentation)
The REIT has also been focused on evolving its business model to suit the needs of an e-commerce dominated future.

(Source: Kimco investor presentation)
That's why 56% of its rent comes from service or experiential retailers who are thriving in the age of online sales. In fact, 39% of its retailers are actually incorporating online sales into their business model (omni-channel) and using Kimco's physical locations to service online sales.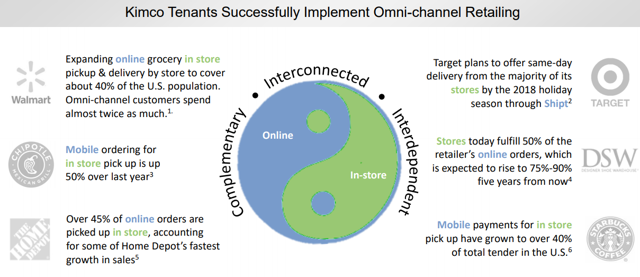 (Source: Kimco investor presentation)
That includes both retail giants like Walmart (WMT) but also small shops leased to nimble and thriving tenants. Kimco's small shop occupancy rose 0.6% in the past year to 90.2%, an all-time high record since the REIT began reporting that metric in 2010. And Kimco's total occupancy is up 0.5% in the past year to 96%.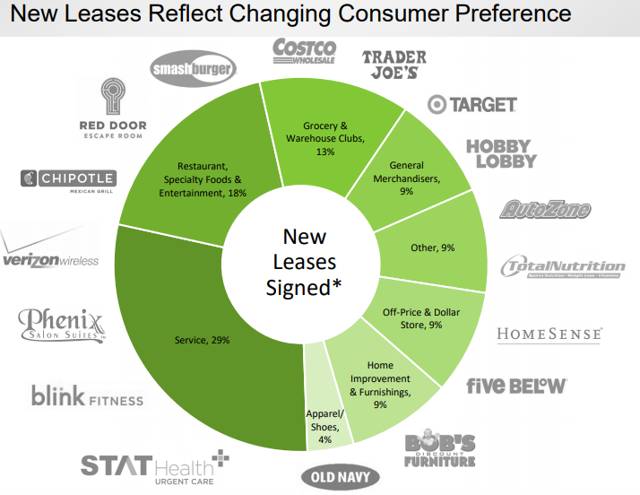 (Source: Kimco investor presentation)
That's thanks to its replacement of struggling specialty and apparel retailers with thriving ones in the: service, restaurant, entertainment, and discount retail industries.
More importantly for income investors is the stability of the REIT's cash flow. This is created by very long-term leases of 10 years remaining for anchor tenants and five years for small shops. Cash flow stability is also generated by Kimco's extremely diversified tenant base, with its top 25 tenants representing just 34.7% of annual base rent. The top 50 tenants account for 48.9% of revenue, creating a large safety buffer around the REIT's cash flow. And despite investor fears over failed retailers like Toys "R" Us, that company made up just 0.7% of annual revenue.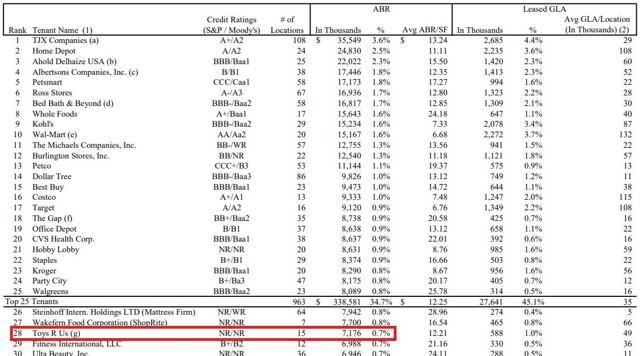 (Source: earnings supplement)
But even more important than Kimco's impressive property portfolio and tenant transformation is its long-term growth potential. That's largely a result of years of deleveraging that has now given it one of the strongest credit ratings in the industry. Today, Kimco's liquidity stands at $2.38 billion, meaning the REIT has ample dry powder to invest in its improving property portfolio and drive future AFFO/share and dividend growth.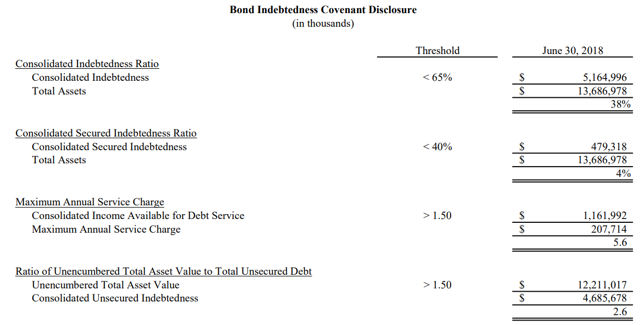 (Source: earnings supplement)
More importantly, the REIT's balance sheet is so strong that Kimco could afford to take on another $3.7 billion in debt before it would be at risk of violating its debt covenants. This means that the REIT has very strong financial flexibility to invest in profitable future growth. That includes two growth strategies. The first is building new shopping centers in thriving urban markets.

(Source: earnings supplement)
The other is expanding or redeveloping (improving) existing centers, on which the REIT usually earns 8% to 13% returns. In 2018, management has delivered 10% returns on the 14 redevelopment projects completed so far.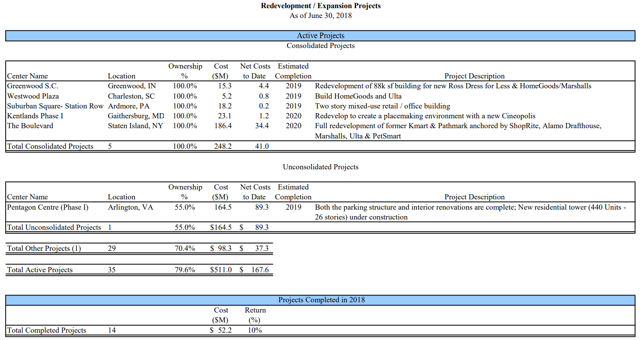 (Source: earnings supplement)
Today, Kimco has about $800 million in investments underway, factoring in joint ventures. But those are just the projects it expects to be complete by 2021. Beyond that, management thinks it has over $2 billion in potential growth projects to pursue.

(Source: Kimco investor presentation)
That means the REIT's current liquidity is nearly enough to fund 86% of its long-term growth potential. The rest can be funded by the REIT's $117 million in annual retained AFFO. However, Kimco's retained cash flow is likely to come to $900 million over the eight-year growth period encompassing the REIT's $2.8 billion total investment pipeline. And with its credit rating likely to get an upgrade (to A- according to Brad Thomas) in the coming years, the REIT should have no problem funding highly profitable growth.
The bottom line is that the Kimco of today is nothing like the hot and overleveraged mess that slashed its dividend during the Great Recession. It's now a high-quality REIT with a great collection of thriving properties, and a very strong balance sheet. And best of all, Kimco, which is well on its way to eventually achieving blue chip and SWAN status, has a strong long-term growth runway ahead of it.
So if Kimco is so great, then why does Wall Street hate the stock? That's due to the market's short-term obsessions with two negative growth factors that will likely soon disappear.
2. Obsession With Capital Recycling And "Retail Apocalypse" Ignores Strong And Improving Fundamentals
First, let's address the notion of the "retail apocalypse". While it's true that some retailers are struggling to adapt to e-commerce and failing, in 2018, the number of store closures is expected to fall to 3,500. That's compared to about 6,500 store openings from thriving Kimco retailers like TJ-Maxx (TJX), Lowe's (LOW), and Costco (COST).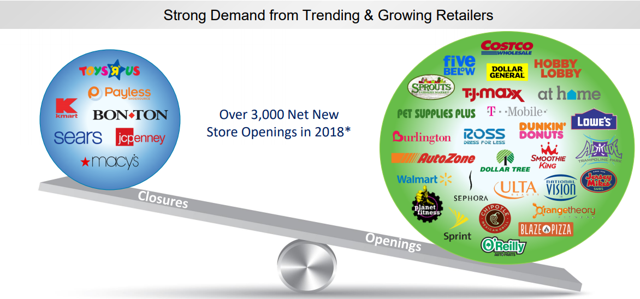 (Source: Kimco investor presentation)
In fact, thanks to its multi-year property recycling and tenant adaptation strategy, today, Kimco's exposure to struggling retailers is minimal. In 2018, management expects just 1.2% of its base rent to be at risk from store closures.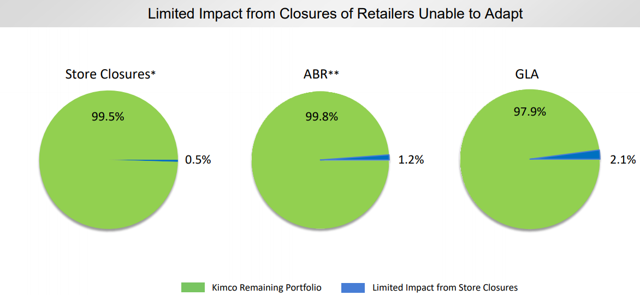 (Source: Kimco investor presentation)
But what about Kimco's anemic growth? That's a more valid explanation of the weak share price, but again, we have to put these results in context.
| | |
| --- | --- |
| Metric | First Half 2018 Results |
| Revenue | 1.1% |
| AFFO/Share | -1.3% |
| Dividend Growth (YOY) | 3.7% |
| AFFO Payout Ratio | 75.7% |
(Source: earnings release)
Yes, Kimco's top and bottom line growth is disappointing. That's especially true when it comes to the REIT's adjusted funds from operation or AFFO/share. AFFO is the REIT equivalent of free cash flow and what funds the dividend. It's the most important fundamental metric to focus on. In 2018, management is guiding for a 4.6% AFFO/share decline, which Wall Street is very upset about. But there's a very good reason for that decline, and more importantly, reasons to believe that 2018 is the last year of negative growth the REIT will see in a while.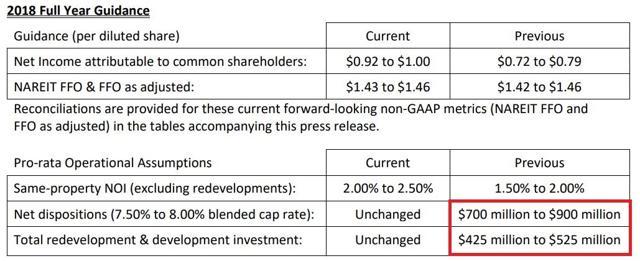 (Source: earnings release)
Kimco has set 2018 as a major year of capital recycling, targeting about $800 million in property sales. Through the first half of 2018, it sold $530 million in properties (17 shopping centers), and post earnings another two for $50 million. It also has contracts in place for another $200 million in asset sales. This means that Kimco has effectively hit its yearly capital recycling goal already, with more than a quarter left in the year.
But wait a second? Aren't asset sales bad for cash flow which is what ultimately drives long-term dividend growth? Indeed that's true, but keep in mind that the entire shopping center REIT industry has been net sellers of properties over the last 2.5 years. This is a strategic decision by REITs like Kimco to focus on a stronger balance sheet, and only the most profitable properties in thriving urban markets.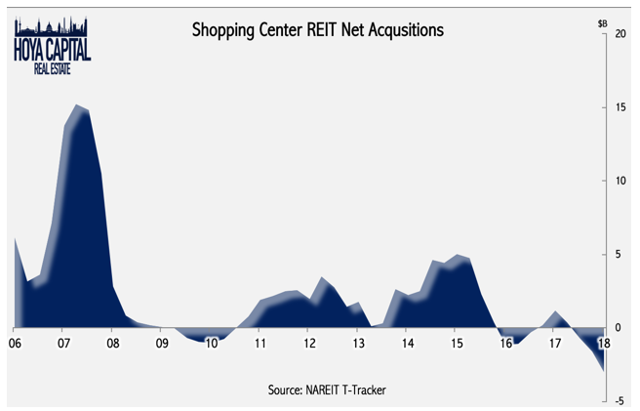 As CEO Conor Flynn told analysts at the last conference call:
"As we achieve our targeted dispositions for the current year, it positions us to restart our growth as we enter 2019 with a superior portfolio, concentrated in coastal markets where we see the best opportunity for growth and redevelopment potential." - CEO Conor Flynn
The reason that Kimco has front loaded its asset sales in 2018 is so that it can return to growth next year. According to Chief Investment Office Ross Cooper, "our team is dedicated to ensuring recurring FFO growth in 2019 and we fully understand how the timing of our 2018 sales impact that goal."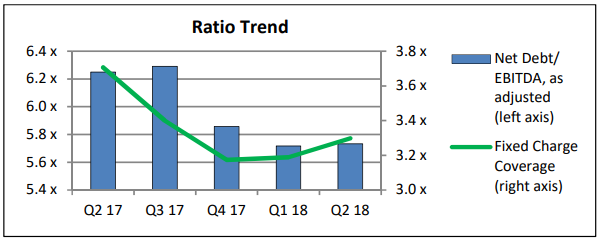 (Source: Kimco earnings supplement)
This means that Kimco is well positioned to improve its dividend safety and financial flexibility thanks to rapidly paying down its debt. For example, Kimco just announced it was repaying its $300 million, 6.875% bond (its most expensive) in August. Paying off that bond early means the REIT will have no debt maturing until 2020 and its average bond duration will increase to 11 years. That not just ensures a very strong balance sheet (BBB+ rating with possible upgrade coming) but access to very low cost borrowing to fund profitable future growth. Most importantly, by locking in low long-term interest costs, Kimco can ensure the profitability of its growth backlog.
And thanks to the development pipeline for new retail locations falling off a cliff in recent years, new supply is now at a 40-year low.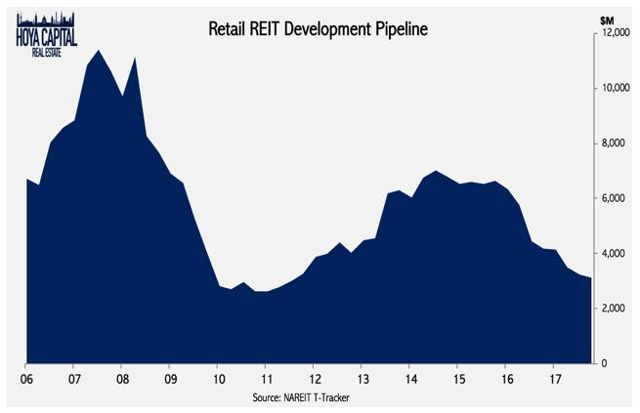 Kimco expects that an improving supply/demand situation will continue for several years, especially in the top 20 markets where it's targeting the majority of its investment. That means that strong lease spreads and SS NOI growth acceleration should continue for the next few years at least.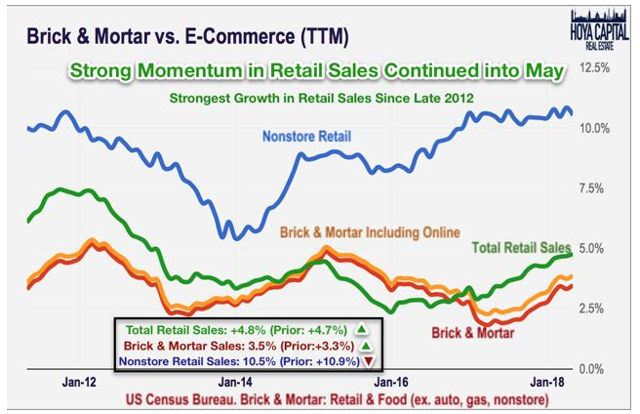 (Source: Hoya Capital Real Estate)
That's thanks to the strong recovery in brick & mortar retail which is highly beneficial for Kimco's business fundamentals. This is ultimately what long-term investors really need to focus on:
96% occupancy (up 0.5% YOY)
new lease spreads: 11.5% (17th consecutive quarter above 10%)
total lease spreads 9.2% (industry average 8%)
Same Property Net Operating Income (NOI) up 3.9% in Q2 and 3.2% YTD 2018 (up 1.7% in 2017)
Full Year 2018 SS NOI Guidance: +2.25% (despite Toys "R" Us liquidation drag of as much as 0.8%)
In Q2 2018, Kimco's fundamental business metrics were all strong and growing, including strong lease spreads. Lease spreads are a proxy for the quality of a retail REIT's properties. It represents the increase in rent that Kimco obtains when leases expire or are terminated by struggling tenants. Combined with rising occupancy, this allowed Kimco's same property NOI to grow extremely strongly in the first half of the year. As a result, management raised its guidance for SS NOI for the full year.
But the biggest reason to be bullish on Kimco isn't just one good year's worth of rising fundamentals. Rather it's the fact that Kimco's fundamentals have been steadily improving over the last five years. That includes steadily rising rent per square foot, and occupancy and lease spreads that are in line with the past 12 months' increases.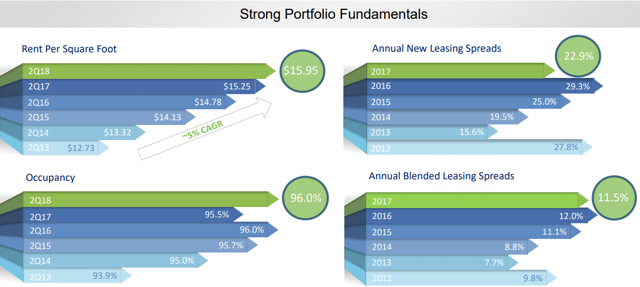 (Source: Kimco investor presentation)
In the meantime, Kimco benefits from a very low cost of capital, thanks to its low cost of debt and lack of equity issuances. In fact, Kimco is one of the few REITs with a share buyback authorization ($300 million with $225 million remaining). In the last quarter, the REIT bought back shares at an effective cash yield of 10%. The remaining buyback authorization means that Kimco actually benefits from its share price remaining low, because its medium-term growth plans are not reliant on fickle equity markets. And every share repurchased helps to drive stronger long-term AFFO/share growth.
The bottom line is that Kimco's long-term turnaround plan is going very well. Management has drastically deleveraged and refocused the REIT on the strongest properties located in thriving coastal and sunbelt urban markets. The REIT's strong and rising fundamental business metrics show that Kimco is well on its way to returning to modest growth in 2019, and accelerating growth in 2020 and beyond. That stronger growth will be fueled by a $2.8 billion investment backlog that the REIT will easily be able to fund thanks to its low cost of capital provided by a rock solid balance sheet.
Best of all, with an increasingly stronger focus on recession and e-commerce resistant tenants, I'm confident that Kimco has a bright future as a high-yield dividend growth stock. One that is likely to generate excellent double-digit returns over the coming decade.
3. Dividend Profile: Low-Risk Mouth Watering Dividend That's Likely To Grow Steadily Over The Next 10 Years
The most important part of any REIT investment is the dividend profile. This consists of three parts: yield, dividend safety, and long-term growth potential. Combined with valuation, these factors ultimately determine a REIT's long-term total returns.
| | | | | | |
| --- | --- | --- | --- | --- | --- |
| REIT | Yield | 2018 AFFO Payout Ratio | Analyst Projected 10 Year AFFO/share Growth Rate | Expected 10-Year Annualized Total Return (From Fair Value) | Valuation Adjusted Annualized Return |
| Kimco Realty | 6.7% | 77% | 3.8% | 10.5% | 15.6% |
| S&P 500 | 1.8% | 38% | 6.2% | 8.0% | 0% to 5% |
(Sources: management guidance, Gurufocus, FastGraphs, Morningstar, BlackRock, Vanguard, Multipl.com, Yardeni Research, Gordon Dividend Growth Model, Dividend Yield Theory, Simply Safe Dividends)
Kimco's current yield is more than four times that of the S&P 500 and also much greater than the median REIT's 5.3%. More importantly, that dividend is highly secure, thanks to a safe AFFO payout ratio. For context, the average REIT has a payout ratio of 79%.
But of course, in a highly capital intensive and growth oriented sector like REITs, the payout ratio is just one half of the dividend safety equation. The balance sheet is also very important. After all, it was excessive leverage ratios that caused many REITs to have to cut their dividends during the Financial Crisis even if their AFFO covered their dividends.
| | | | | |
| --- | --- | --- | --- | --- |
| REIT | Debt/Adjusted EBITDA | Interest Coverage Ratio | S&P Credit Rating | Average Interest Rate |
| Kimco Realty | 5.7 | 4.3 | BBB+ | 3.8% |
| Sector Average | 5.8 | 3.4 | NA | NA |
(Sources: earnings supplement, Gurufocus, FastGraphs)
Fortunately, the Kimco of today is nothing like the dangerously debt laden REIT of the Great Recession. Kimco's leverage ratio has fallen from 8.8 to 5.7, slightly below the REIT average. And 91% of the REIT's debt is fixed-long-term bonds with an average maturity of 11 years. This means its business model is at low risk of rising interest rates. That's especially true given the very strong investment grade credit rating that allows it to borrow at low interest rates. Rates that are about three to four times lower than the returns on invested capital it obtains on property redevelopments. And if Brad Thomas, Seeking Alpha's REIT Guru, is right that Kimco will soon get an A- credit rating, then the REIT's low cost of capital will be assured even should long-term rates move higher over time.
What about the long-term dividend growth rate? Well, investors should expect that to grow roughly in line with Kimco's AFFO/share. Over the next 10 years, analysts think the REIT is likely to generate 3.8% CAGR cash flow growth which means the dividend is likely to rise at the same rate. That's in line with the REIT's last few years of dividend increases.
4% dividend growth isn't that exciting, but it's likely to be about twice the rate of inflation. And when combined with the mouth watering yield, it would mean about 10.5% long-term total return potential for the stock (6.7% yield + 3.8% dividend growth). That's assuming that Kimco's low valuation fails to ever recover (unlikely). But even under that worst case scenario, Kimco's total returns would still beat the market's historical norm of 9.2% CAGR since 1871.
But when we factor in valuations, both for Kimco and for the S&P 500, then this REIT looks to be even more attractive. That's because Vanguard, Morningstar, and BlackRock estimate the market is likely to deliver just 0% to 5% CAGR total returns over the next five to 10 years. Kimco's dividend alone would be enough to generate market beating returns if those forecasts prove accurate.
However, thanks to Kimco's dirt cheap valuation, I think this future SWAN REIT is potentially capable of over 15% annualized total returns over the next decade. Or to put another way, Kimco is the most undervalued quality REIT I know of, and might easily quadruple your money over the next 10 years.
4. Valuation: The Most Undervalued REIT I Know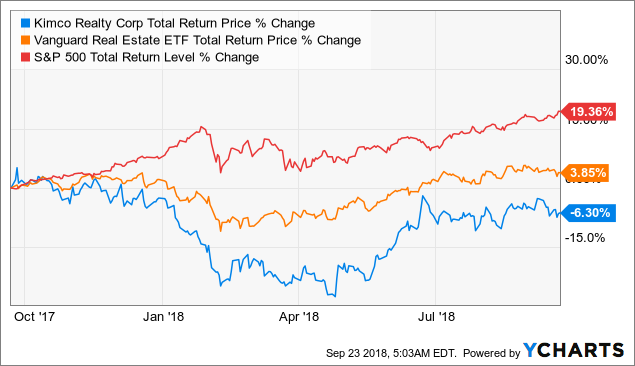 KIM Total Return Price data by YCharts
Thanks to the early 2018 sharp spike in 10-year yields, REITs in general have badly underperformed the market over the past year. Kimco, despite an impressive rally of its May lows, has done even worse. However, while some may see that as proof that this REIT is "dead money", I consider it a great time for value investors to climb onboard.
Now it should be said that there are dozens of ways to value a company, and an infinite combination of methods. But the two that I most favor are time tested approaches that have worked well with REITs for decades. The first is looking at the price/AFFO. This is the REIT equivalent of a price/FCF and can be compared to the stock's historical norms as well as the sector average.
| | | | | |
| --- | --- | --- | --- | --- |
| P/AFFO | 10-Year AFFO/Share Growth Rate Baked Into Price | 5-Year Average P/AFFO | 10-Year Average P/AFFO | REIT Sector P/AFFO |
| 11.6 | 1.6% | 19.4 | 19.5 | 17.1 |
(Sources: management guidance, FastGraphs, Simply Safe Dividends, Benjamin Graham)
Today, Kimco is trading at just 11.6 times 2018's AFFO guidance. That's compared to a five- and 10-year average of 19.4 and 19.5, respectively. And compared to the average REIT's 17.1 P/AFFO, Kimco appears to be a screaming bargain. That's because shares are currently pricing in about 1.6% long-term AFFO/share growth. That's based on a formula devised by Benjamin Graham, Buffett's mentor and the father of modern value investing. Basically, this means that as long as Kimco can deliver more than 1.6% long-term AFFO/share growth, its cash multiple should rise, sending its share price soaring as it returns to fair value. But what is a fair value for Kimco?
To answer that, I turn to dividend yield theory, which has proven highly effective for stable dividend stocks since 1966.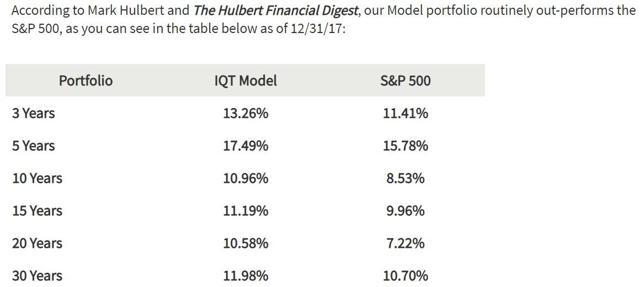 (Source: Investment Quality Trends)
That's when asset manager and newsletter publisher Investment Quality Trends began generating great returns purely based on buying good dividend stocks when their yields were above their historical norms. Over the past 30 years, they've managed to beat the market by 12% annually, while also generating 20% better risk-adjusted total returns (lower volatility). That outperformance has been consistent across shorter time frames as well.
The reason that dividend yield theory works is that for income stocks with stable business models and growth rates that don't change much over the long term, yields tend to mean revert. That means they cycle around a relatively fixed point that approximates fair value. Thus, the thing to focus on isn't price, but buying a good stock when its yield is above fair value (based on historical norms).
| | | | | | | |
| --- | --- | --- | --- | --- | --- | --- |
| Yield | 5-Year Average Yield | 13-Year Median Yield | Estimated Fair Value Yield | Discount To Fair Value | Price Upside At Current Valuation | Long-Term Annualized Valuation Boost |
| 6.7% | 4.1% | 4.0% | 4.05% | 39% | 64% | 5.1% |
(Sources: Dividend Yield Theory, Simply Safe Dividends, Gurufocus, Moneychimp)
As you can see, over the last five years and 13 years, Kimco's yield has been very stable, with the yield usually returning to about 4.05%. This is the stock's estimate fair value yield. This implies the stock might be as much as 39% undervalued. That in turn requires the stock rising 64% above its dividend growth rate in the future for the yield to mean revert. I can't predict when that will happen, but given the success of the REIT's turnaround and its bright growth future, I'm confident it eventually will.
Over the long term, REITs trade purely on fundamentals, not on short-term sentiment. Thus, for my valuation adjusted total return model, I assume Kimco's yield will return to 4.05% within 10 years. That means that the annualized valuation boost alone should generate 5.1% CAGR total returns. Add that to the stock's yield of 6.7% and long-term likely dividend growth rate of 3.8% and you get an expected long-term return of 15.6%.
While the Kimco of 2010 was far from a blue chip or a SWAN, the Kimco of tomorrow is very likely to become one within a year or two (some would argue it already is). I'm happy to recommend quality REITs with market beating return potential at fair value or better. So with Kimco now about 39% undervalued, I am pounding the table and giving it my strongest recommendation; a "very strong buy".
Of course, that's only for investors who are comfortable with its risk profile.
Risks To Consider
While Kimco's shopping centers are relatively recession resistant due to their 75% grocery anchors, it's important to watch its lease spreads closely. That's because during the Great Recession, the average shopping center REIT's lease spread declined 1%. While the current risk of a recession is low, and the next one is likely to be less severe, Kimco's growth rates are likely to slow during the next economic downturn.
Over the long term, analysts expect that continued growth in e-commerce could put pressure on specialty retailers. That's because online retail is expected to represent 14% of sales compared to 9% in 2017. This means that Kimco will have to continue revamping its business model to focus on e-commerce resistant tenants like TJX and Home Depot (HD).
However, slower investments in new properties (retail space rightsizing) and minor ongoing capital recycling could drag on Kimco's growth next year, creating ongoing short-term price appreciation headwinds. The REIT's AFFO/share is likely to grow, but currently analysts only expect about 1% bottom line growth and 1.8% in 2020. While the REIT's long-term growth prospects are good (above average for the industry), shareholders might not see strong growth until 2021 or beyond. That means that Kimco's share price may continue to languish for a few more years.
Which brings us to the major short-term concern that many REIT investors have, which is interest rates. Over the long term, REIT total returns have almost no long-term correlation with 10-year yields. In fact, since 1972, just 2% of total REIT returns were predicted by 10-year yields. But over the short term, REITs can be highly rate sensitive.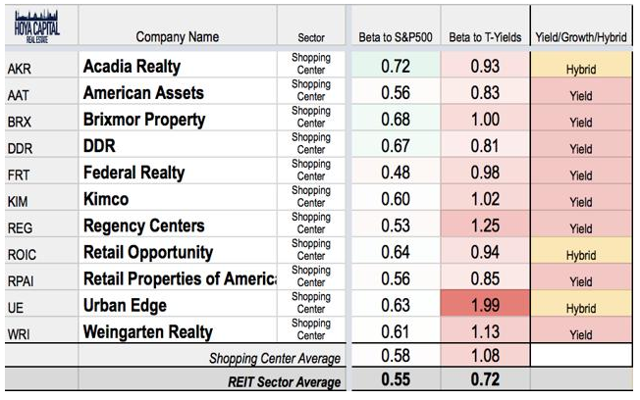 (Source: Hoya Capital Real Estate)
Due to their long leases, shopping center REITs are more sensitive to short-term 10-year yields than most REITs. That can be seen by their 1-year beta to yield. Over the past 12 months when the 10-year yield rose 1%, the average REIT's yield rose 0.72%, meaning the share price fell. Kimco's beta to yield is 1.02 which means that should 10-year yields spike hard and fast, the share price might fall significantly.
However, note that this sensitivity is short term and mean reverting over time (goes to zero over 5+ years). And Kimco's low payout ratio and very strong balance sheet means that the dividend would be at low risk of a cut, no matter how far shares might fall. That's because the REIT isn't relying on equity issuances to fund its growth.
However, investors with short time horizons and the need to sell shares periodically (like retirees living on the 4% rule) need to keep such short-term price risk in mind. This is why it's always a good idea to maintain two to four years worth of cash to pay your bills. That's factoring in Social Security and any pension or supplemental income. Doing so allows you to avoid having to sell quality stocks when they fall.
Bottom Line: Kimco Is One Of The Best High-Yield Deep Value Opportunities In REITdom
I fully understand the skepticism that many blue chip REIT investors might have about buying Kimco. After all, its bloated balance sheet and empire building prior to the Financial Crisis resulted in a painful dividend cut during the Great Recession. It also necessitated a multi-year turnaround that resulted in stagnant AFFO/share growth and very weak total returns over the past few years.
However, I'm very impressed with Kimco's turnaround efforts, specifically management's focus on a fortress like balance sheet, and recycling weaker assets to focus purely on its strongest properties. And in 2019 and beyond, the vast majority of Kimco's asset sales will be behind it. That means a return to modest cash flow growth that is likely to accelerate in 2020 and beyond.
As a result, Kimco's 6.7% yield should prove low risk, and grow at about 4% annually over the long term. When combined with its 39% undervaluation, that sets up Kimco to become not just a blue chip SWAN of the future, but also potentially generate over 15% annualized total returns over the coming decade. In fact, due to its impressive turnaround and sky-high margin of safety, I consider Kimco the most undervalued REIT I know of. Which is why I consider it a "very strong buy".
Disclosure: I/we have no positions in any stocks mentioned, and no plans to initiate any positions within the next 72 hours. I wrote this article myself, and it expresses my own opinions. I am not receiving compensation for it (other than from Seeking Alpha). I have no business relationship with any company whose stock is mentioned in this article.