Purpose
Last week, I met with the board of directors of one of America's highest quality banks to discuss bank valuations. In today's post, I will overview 4 of the 26 slides used for the board discussion to describe the attributes of bank stocks with the best returns short term and long term.
In this post, I will cover five topics:
Define what it means to be a "high quality" bank.
Describe the methodology used for this analysis of shareholder returns.
Define the characteristics of banks with superior short-term and long-term returns.
Define the characteristics of banks with inferior short-term and long-term returns.
Recommend an investment strategy for long-term bank investors who prefer high quality bank holdings that do well through the cycle.
What is a "high quality" bank?
A "high quality" bank generates a return on equity that consistently exceeds the bank's cost of capital.
As a rule of thumb, depending on long-term US Treasury bond returns, banks have a cost of capital between 8% and 12%. Therefore, banks that fail to achieve at least an 8% ROE destroy shareholder value.
America's best banks achieve a "Risk-Adjusted Return on Equity" (RAROE) of at least 9%. I calculate RAROE by taking a bank's average quarterly ROE since 2003 minus the standard deviation of ROE for the same years. RAROE is a better metric for bank investors than ROE because it considers the volatility of returns over time. Banks with predictable returns on equity that reliably exceed the bank's cost of capital show better price performance over time than other banks.
Here's an example of how RAROE is calculated. Bank A has an average ROE since 2004 of 11% and a standard deviation of ROE of 1.8%. The RAROE is therefore 9.2%.
Methodology
In preparation for my meeting with the bank directors, I assembled FDIC data for all publicly traded banks as of June 30, 2018 and compared that data to stock price performance through August 31, 2018. My source for FDIC data is BankRegData (which the FDIC itself uses) and my stock price and total return data are from YCharts.
For my analysis, I considered approximately 40 bank attributes, including such factors as return on equity, return on assets, equity ratios, net interest margin, funding costs, asset yield, location of headquarters, loan-to-deposit ratio, earning asset-to-total asset ratio, net income as a percentage of compensation, charge-off ratio, provision expense, efficiency ratio, assets per fte, etc.
In addition, the analysis included for each bank's total shareholder return (price change plus dividends) for seven different time frames.
The nation's 723 publicly traded banks were ranked first to last for each factor of comparison. For example, banks were ranked by ROE for the second quarter of 2018. They were then divided into ten deciles. The analysis then calculated the median total return for the first decile of banks for each factor. The factors were then compared to determine which factors showed the best shareholder returns over the seven time frames studied.
It is VERY IMPORTANT to note that credit quality across the banking industry is as good as it has ever been. Consequently, credit quality as measured by charge-off ratios or provision expense have virtually no impact on current bank profitability. CAVEAT: This will not remain true. There will come a time for sure when credit quality deteriorates. When that happens, banks that have stretched for yield or compromised underwriting in order to generate current revenue to meet profitability targets will suffer. At that time, the nation's best banks will be revealed, just as has been the ironclad rule of banking in the past when the business cycle turned negative.
Characteristics of High-Performing Banks in 2018
Chart 1 highlights the factors associated with the banks showing the best, second best, and third best total returns for the seven time frames. Bank investors who are invested in banks with high ROEs, low loan-to-deposit ratios, low funding costs, and a Commercial & Industrial loan focus have enjoyed better shareholder returns than bank investors in banks with different attributes.
Chart 1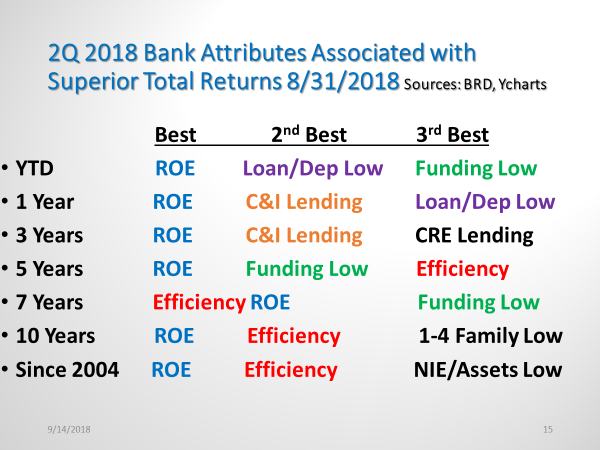 Chart 1 has three key messages for bank investors.
First, ROE matters more than anything else. This should not come as a surprise. All things being equal, banks with higher ROEs will always outperform banks with lower ROEs. My research showed in 2016 that the best banks have not only superior ROEs but a consistent record of generating high ROEs "through the cycle." Such banks are the high quality banks with superior RAROE.
Second, a bank's Efficiency Ratio is a key factor in long-term bank stock price performance. Again, no surprise here because banks with superior Efficiency Ratios generate more revenue for every dollar of expenses compared to banks with inferior Efficiency Ratios. In my 2016 book, I describe in considerable detail the specific ways banks achieve superior Efficiency Ratios. In a nutshell, the best banks demonstrate "Operational Excellence." These banks simply operate more effectively than peer banks. Just as only a few Major League Baseball hitters consistently hit .300, only a few banks achieve consistent Operational Excellence.
Third, banks with distinct balance sheet and income statement characteristics benefit the most from rising interest rates. These banks tend to have low funding costs (i.e., low cost of deposits), low loan-to-deposit ratios, and are more likely to make Commercial and Industrial (C&I) loans.
This is exactly the message I made in my first and second Seeking Alpha posts when I warned savvy bank investors that rising rates do not help all banks. On September 8, 2016, I described in detail the characteristics of banks benefiting from rising rates.
In that post, I recommended investors consider four specific banks in a rising interest rate environment: Silicon Valley Bank (SIVB), JPMorgan Chase (JPM), Comerica (CMA), and Zions Bank (ZION). I was unequivocal in my view that SIVB was the best bank for investors expecting rates to rise. Over the past two years, SIVB has nearly tripled in price. If you followed my recommendation two years ago and bought these four banks, you would have enjoyed stock price returns far superior to the S&P 500 as well as bank ETFs and a respected bank mutual fund. See chart 2.
Chart 2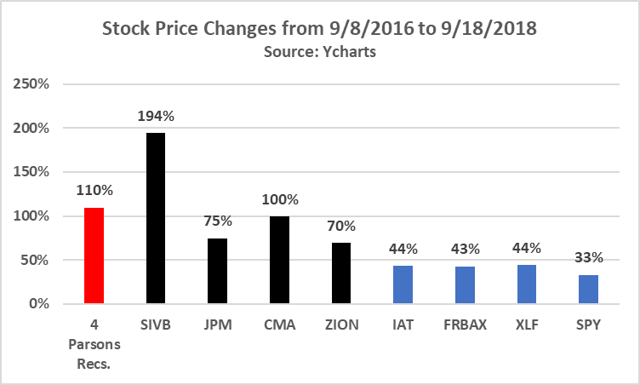 Chart 3 is another slide from my recent bank board presentation. This chart compares total returns of banks based on the location of their headquarters.
This slide reinforces a strong message I made in my 2016 book: Location matters. Clearly, some markets are better than others for bank profitability and shareholder returns.
Banks based in the states of Indiana and Texas continue to generate superior shareholder returns just as my research revealed four years ago. My two favorite long-term holds in Texas and Indiana, respectively, are Cullen/Frost Bankers (CFR) and 1st Source (SRCE). Indiana's Lake City Bank (LKFN) is another high quality bank as is Texas Capital (TCBI) in Texas.
Certain California markets look especially compelling today given the fact that banks headquartered in the state have as a group the lowest cost of funds in the country. A good number of California banks focus on commercial clients and have a cost of funding lower than 95% of the nation's banks. In my view, California today has more banks worthy of bank investor attention than any state in the country.
Also worth noting, banks in Montana, Idaho, South Dakota, North Dakota, and Wyoming are consistently among the best shareholder banks in the country. First Interstate (FIBK) is my favorite long-term hold in this part of the country. Glacier Bank (GBCI) is another high quality bank headquartered in the region.
Chart 3 references the "Parsons 14." These are the banks in my buy-and-hold high quality bank portfolio, all of which I have owned for several years. These 14 banks were identified in my book as banks with superior RAROEs, having consistent dividends through the cycle (except for SIVB which does not pay a dividend), and demonstrating strong evidence of Operational Excellence.
Chart 3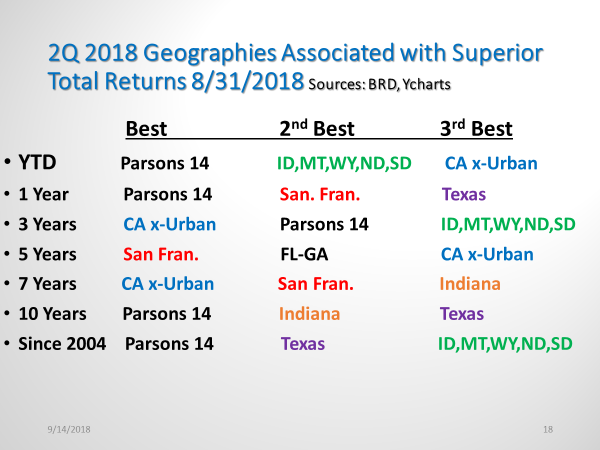 Here is one more observation about high-performing banks.
If you know banks, you know that several of the banks noted above are family-controlled. While my research for the 2016 book on bank investing did not find that family-controlled banks did better during the Financial Crisis than non-family-controlled banks, it did reveal that certain family-controlled banks certainly thrived when other banks did not. A prime example is a long-term hold of mine, Missouri's Commerce Bank (CBSH). Bank investors tend to pay a higher valuation premium for family-controlled banks that achieve superior RAROEs.
Characteristics of Low-Performing Banks
Chart 4 is the same as chart 3 but changes the focus to the geographies with the worst bank returns. This chart shows that banks in certain markets consistently produce lower returns than other geographies. Generally, banks in low-performing shareholder markets struggle with high operating costs relative to size. In addition, banks in these markets tend to hold more 1-4 Family Loans as a percentage of total assets compared to banks in other markets.
My research consistently shows Florida to be an especially difficult market for long-term bank investors. There are many reasons for this fact, but this is not the time to get into those details. At the heart of the Florida bank investor challenge are two critical problems. First, bank profitability there is anemic even in the good times. Second, Florida banks are highly vulnerable to the economic cycle. History shows that Florida banks have yet to avoid suffering during an economic downturn. As a result, my rule of thumb is to avoid Florida bank, a conviction based on hard data as well as my six years as a banker in the state during the 1980s.
I make these points to offer my view as to why investors in Bank OZK (OZK) and Synovus (NYSE:SNV) have suffered so much recently. My guess is that smart investment money recognizes the heightened risk both banks have undertaken by expanding aggressively in Florida.
I own a mere 100 shares of OZK mainly out of a great interest in tracking a bank that has been the nation's best performer dating back to 2000. Their Florida expansion, especially into a new type of high-risk lending activity, should and does worry investors. As for Synovus, investors have to wonder if this bank's board has fallen into the same trap other out-of-state banks have fallen into by buying a Florida community bank at the peak of the business cycle.
Chart 4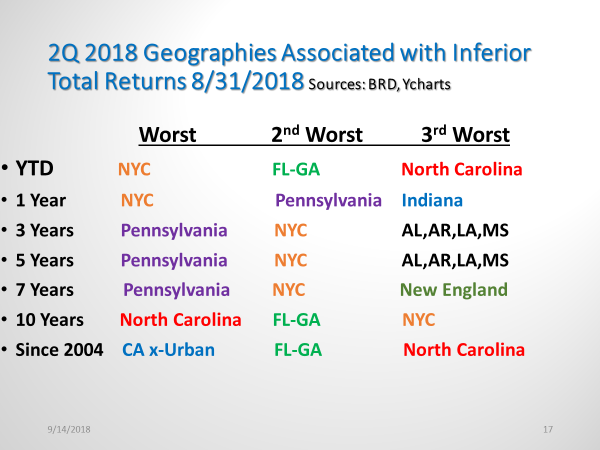 Chart 5 is the same as chart 2, but in this case identifies the attributes associated with inferior total returns. There are three key messages from this chart.
First, banks with big bond portfolios as a percentage of total assets have trailed the industry in total returns for the past year. These banks tend to hold assets that are hurt by raising rates. Offsetting this negative, they also tend to be reasonably efficient as demonstrated by a high asset to employee ratio and low non-interest expense to asset ratio. It must be noted that this strategy - own large bond portfolios - worked wonders for shareholders during times of weak credit quality and declining rates. However, as recent experience has shown, this strategy is difficult to unwind when the economy improves and rates rise.
Second, size in banking matters a lot. Small banks as a group have higher expenses than big banks. Dodd-Frank burdened small banks much more than big banks, and as a result, exacerbated the efficiency concerns investors have with smaller banks. Unfortunately, regulatory relief has yet to translate into much improvement in relative efficiency ratios. Investing in banks with assets less than $1 billion has not been as rewarding to shareholders as investing in larger banks. (I have a lot of details on why this is in my 2016 book.) Today, I own only one bank with assets less than $1 billion: Bank of South Carolina (BKSC). This wonderfully run bank was mentioned several times in my book and continues to be a textbook example of many of the characteristics of high-performing banks.
Third, 1-4 Family Lending (i.e., home mortgage lending) destroys shareholder wealth. Banks engaged significantly in this business fail consistently to produce ROEs greater than the bank's cost of capital, a topic discussed in detail in my 2016 book. In my view, and I know this sounds harsh, 1-4 Family Lending is like junk food; it fills up the balance sheet but not nutritiously to shareholders.
That said, and this topic came up in my recent meeting with the bank board, I am a long-term investor in two banks with significant 1-4 loan exposure: First Republic (FRC) and Bar Harbor Bankshares (BHB). Here's why.
FRC is a niche bank (Private Banking) and my research shows that niche banks consistently produce superior RAROE, although there are certainly exceptions. The big watch item on FRC is not its 1-4 family exposure as much as its aggressive rate of expansion. Just this month they went to equity markets for yet another equity infusion to fund more growth. My chief concern with FRC is its ability to maintain Operational Excellence over time. Offsetting this concern is my confidence in the bank's long-time CEO whose father was the CEO of a little bank in my hometown in Ohio. (His father was clearly an astute banker as he approved me for a $500 credit card when I was 18-years-old.)
As for BHB, it is historically one of the nation's best RAROE banks and it gives me exposure to ME-NH which I want in my effort for geographic diversification. Clearly, the bank's management and board recognize the need to transform the bank. Consequently, they are changing the business model by reducing their exposure in 1-4 and increasing business lending. If they prove successful in this effort, the bank's high cost of funds will fall, but this will take time. I am betting the bank will be successful in this transformation based on my discussions with the CEO.
Chart 5
Conclusions
As I discussed with the bank directors last week, the most attractive banks to savvy buy-and-hold bank investors have the following attributes:
Proven ability to produce consistent ROEs that exceed the bank's cost of capital.
Proven ability to produce quality assets that perform well through the cycle.
Tend to have lower ratios of loans as a percentage of assets and loans as a percentage of deposits.
Tend to have a large base of commercial customers who leave significant deposits in the bank and help the bank maintain a low cost of funds.
Tend to have a heavy emphasis on C&I lending and strong aversion to 1-4 Family Lending.
Proven ability to consistently deliver superior Operational Excellence.
In my next post, I will identify one bank from my Parsons 14 high quality banks in which I recently began accumulating more shares. This bank not only meets the criteria listed above but also has a reasonable valuation, something that cannot be said about all banks. In addition, this high quality bank recently has seen an insider buy more than 130,000 shares in the open market at prices slightly higher than the bank's current price.
Disclosure: I am/we are long BHB, BKSC, CBSH, CFR, FIBK, FRC, JPM, OZK, SIVB, SRCE. I wrote this article myself, and it expresses my own opinions. I am not receiving compensation for it (other than from Seeking Alpha). I have no business relationship with any company whose stock is mentioned in this article.
Editor's Note: This article covers one or more microcap stocks. Please be aware of the risks associated with these stocks.