After a red-hot start to 2018 with over $27 billion in deals closed in January alone, biotech sector activity has slowed down, leaving investors hungry for the next big deal.
This month has seen a potential boon to biotech activity as three large-cap biotech/pharma companies lined up debt offerings.
Pfizer (PFE) registered a sale of $5bn in debt (9/6/18).
AbbVie (ABBV) registered a sale of $6bn in debt (9/17/18)
Bristol-Myers (BMY) filed for a shelf offering (9/12/18)
In this article, I take a brief look at what is going on behind the scenes and comment on the prospects of potential deal activity.
Pfizer takes out $5bn from the banks, spending plan undisclosed
Pfizer announced the issuance of 6 debt securities, ranging from 3-year notes to 30-years. They didn't disclose details when specifying a use of proceeds, instead opting for the blanket term "general corporate purposes."

Source: SEC Filing
The company has approximately $40 billion in total debt prior to the new issuance, with short-term obligations of $11.5 billion as of July 1st. In 2Q 2018, they reported a comprehensive net income of $3.2 billion.
Pfizer maintains ~$5 billion in working capital, despite a $4 billion stock buyback initiated back in mid-March. Combined with $5 billion in cash from the issuance of debt, Pfizer has accrued a sizable spending kitty.
AbbVie continues to reign as debt queen
AbbVie is no stranger to debt offerings, having previously issued $16.7 billion in senior notes to finance their $20.8 bn acquisition of Pharmacyclics in May 2015, and again with $7.8 billion in principal in June 2016 to finance the acquisition of Stemcentrx. They appear to have gone one for two with those acquisitions. Ibrutinib (Imbruvica), acquired via Pharmacyclics, has turned into a multi-billion dollar asset in hematology. Rova-T, on the other hand, has fizzled out. After disappointing Phase 2 results in March, analysts rapidly rolled back expectations for Rova-T, with Geoffrey Porges at Leerink going so far as to eliminate all revenue forecasts for the franchise.
AbbVie is expected to use proceeds from a debt offering to repay an aggregate $1 billion in principal upon the expiry of all its 2% senior notes due in 2018.
As of June 30, AbbVie carries roughly $38 billion in total debt and lease obligations. With a current portion of long-term debt at $3.5 billion, refinancing at increased rates of 1-2% higher will incur an increased interest expense of $35-70 million. This comes out in the wash with respect to Abbvie's $2 billion in quarterly earnings. However, Abbvie still needs to make up over $3 billion in working capital deficit.

Source: Form 10Q
Based on their current financial position, this is unlikely to be a move to do anything more than refinance. The company is closing in on junk bond ratings, with previous quotes from Moodys (Baa2) and Standard and Poors (A-). Amidst the growing biosimilar threat to Abbvie's juggernaut Humira, along with the entry of new BTK inhibitors to compete with the rising star Imbruvica, ABBV faces enough uncertainty that a big deal at this point would be highly speculative.
Bristol-Myers files for shelf offering (9/12/18)
BMY also dropped a shelf filing the day before AbbVie. From a financial standpoint, BMY is well-positioned to meet working capital requirements. The company maintains an intermediate current ratio (1.40) and relatively low leverage prior to a prospective debt offering.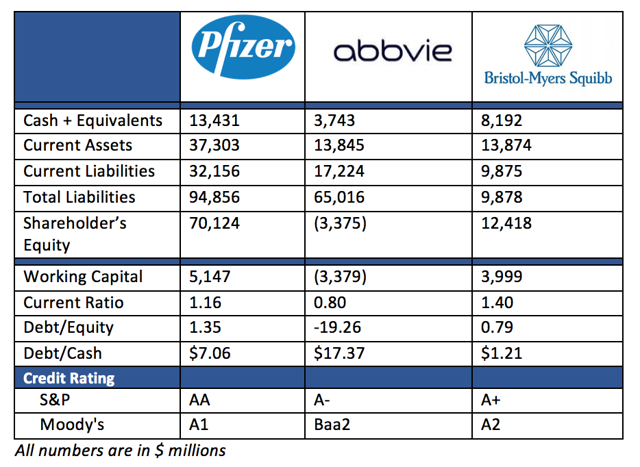 Source: SEC Form 10Q, Moodys website, S&P website
With healthy financials and a stable cash cow in Opdivo, BMY has no immediate need for added debt. Opdivo has faced the most substantial competition in the PD-1/PD-L1 space from Merck's Keytruda, which has produced round after round of solid results. BMY has shown a willingness to pay up serious biobucks to consolidate their strength in checkpoint inhibitors.
Previously, BMY dealt a bold hand in a deal with Nektar to get access to NKTR-214, a pegylated cytokine used in combination with Opdivo. BMY could very well leave the door open to future opportunities to capture market share in the immune checkpoint microenvironment.
Final Thoughts
At this point, AbbVie appears to have simply taken steps to refinance. They have exhausted their coffers with large acquisitions in the last couple years, and a billion-dollar-plus deal is unlikely to help their financial case.
Pfizer and Bristol-Myers Squibb are both in a strong position to pursue deal activity and I would not be surprised to see substantial action from either player in the next year. Who is your favorite target?
Disclosure: I/we have no positions in any stocks mentioned, and no plans to initiate any positions within the next 72 hours.
I wrote this article myself, and it expresses my own opinions. I am not receiving compensation for it (other than from Seeking Alpha). I have no business relationship with any company whose stock is mentioned in this article.