Last month, I made the argument that we could be seeing a comeback in the Japanese yen.
My reason for making this argument was primarily that domestic consumption in Japan had been rising and lifting growth, and this could be sufficient to lift the yen further against major currencies.
However, we have seen that the yen has seen a significant drop against major currencies in the past month: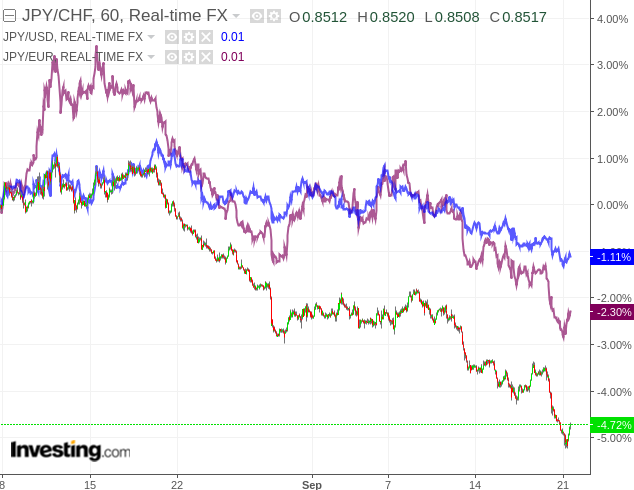 Source: investing.com
As it happens, growth in Japan has been impressive over the past month, with the country having posted its fastest growth since 2016 in the second quarter of 2018. However, the past month has seen the effects of Typhoon Jebi, as well as contagion from the US-China trade war has placed downward pressure on the yen.
Moreover, the central bank has continued to keep its short-term interest rate target at -0.1 percent, as well as lower-than-expected inflation forcing the central bank to keep rates low for the foreseeable future.
Therefore, given that currencies such as the euro have been rising and risk sentiment has been decreasing somewhat, it is understandable that the yen has come under pressure.
However, let's take a further look at the JPY/USD from a technical perspective.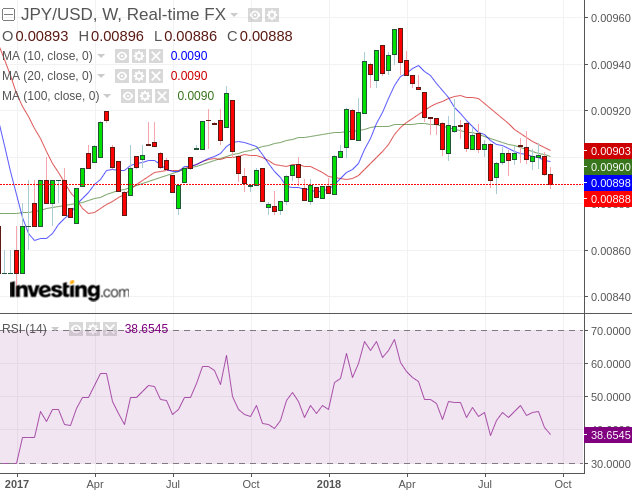 Source: investing.com
We see that the currency pair is trading at an RSI of 38.7, which is the lowest level since the beginning of 2017, with the price dropping below the 100-period moving average on the weekly chart. This indicates that the currency could be approaching oversold territory, and a bottom may be approaching.
In this regard, it is likely that we will continue to see the yen remain low while interest rates also remain in negative territory. However, the yen still stands to see gains if rising trade tensions affect global growth, and an economic "cold war" develops in the words of JPMorgan (NYSE:JPM). Therefore, the yen could well start to see a bottom against the USD at the current level, and a development of risk-averse sentiment may bolster the currency upwards.
Disclosure: I/we have no positions in any stocks mentioned, and no plans to initiate any positions within the next 72 hours.
I wrote this article myself, and it expresses my own opinions. I am not receiving compensation for it (other than from Seeking Alpha). I have no business relationship with any company whose stock is mentioned in this article.