We expect the Fed to hike rates 25bp to 2-2.25% at the end of next week monetary policy meeting (25-26 September). The decision would be in line with the projections that the Fed published at the end of June 13 meeting, when it predicted two more rate hikes in 2018 and 3 rate hikes in 2019. With a 25bp rate hike widely expected by market participants (the Eurodollar futures assign close to 100% probability to a rate hike), the focus will be on the economic projections and on the indication on the balance sheet unwind that will published at the of the meeting. In our view, in the statement the Fed would confirm that the balance of risks remains "roughly balanced" and that the stance of monetary policy "remains accommodative."
With respect to the projections, we think that latest economic data changed little to alter officials' economic forecasts, so there were likely few changes to the median estimates. GDP growth estimate is likely to be confirmed at 2.8% in 2018, 2.4% in 2019 and 2.0% in 2020, while the unemployment rate should be at 3.8% in 2018 and 3.6% in 2019 and 2020. Finally, core PCE should be at 2% in 2018 and 2.1% in 2019 and 2020. The dot plot is likely to continue to project another hike in December 2018, three in 2019 and one in 2020. We see some possibility that Fed could now see a further rate hike in 2021. Anyway, we do not expect the Fed members to review the long-run projection of Fed Funds rate at 2.9%. In this scenario, the Fed Funds rate will be higher than long-term equilibrium by 2019 end.
We think that the Fed monetary policy decision to hike rate by 25bp could have a limited impact on financial markets, as it is widely anticipated. Moreover, even with a rate hike, monetary policy would remain highly accommodative. For example, according to the classical Taylor rule, the Fed Funds rate should be at 4.3% now, while considering the natural real interest rate implied in the FOMC estimate, it should be at 3.3%.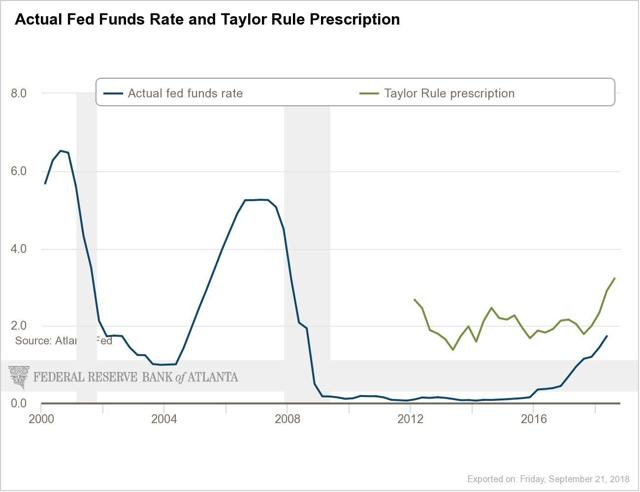 An accommodative monetary policy, together with the positive indication coming from economic activity, could continue to sustain an increase of government bond yields (TLT) and could have a limited impact on the S&P 500 (SPY). Having risen above the 3% level, the 10-year government bond yield could continue to rise over the next few weeks for an increase of real yields. Only negative indication from economic activity could reverse the upward trend of yields, with an inversion of the yield curve that will represent a buy signal for long-term government bonds. Meanwhile, short-dated bonds (i.e., the 2-year government bond yields) look more attractive.
With regards to equity markets, we explained in our previous article ("Why We Are Still Bullish On The S&P 500 - And What Could Make Us Change Our Mind") why we are still bullish on the S&P 500. The tightening of monetary policy is not likely to derail the upward trend. Indeed, while equity bull markets usually end for the tightening of monetary policy from the Fed, they could go ahead together for many months.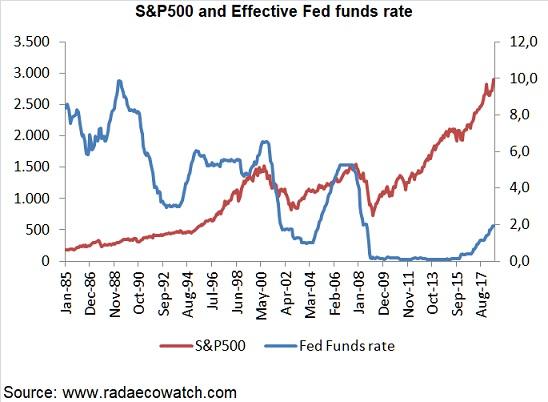 Conclusion
The Fed is expected to raise the Fed Funds rate by 25bp next week. We think that this could have a limited impact on equity and bond markets, as it was widely anticipated by market participants. Only signs of a marked weakening of economic activity, with an inversion of the yield curve, could give a Buy signal on long-term government bonds and a Sell signal on the equity market.
Disclosure: I/we have no positions in any stocks mentioned, and no plans to initiate any positions within the next 72 hours.
I wrote this article myself, and it expresses my own opinions. I am not receiving compensation for it (other than from Seeking Alpha). I have no business relationship with any company whose stock is mentioned in this article.