I'll keep this introduction brief, offering you one simple number.
That number is 20.62%.
What does that number represent? Take a quick look at the picture below and you will see.
Driven largely by the 'FAANG' stocks -- Facebook (FB), Alphabet/Google (GOOG) (GOOGL), Amazon (AMZN), Netflix (NFLX) and Apple (AAPL) -- the U.S. market has had a solid run so far in 2018, and the 9.62% return in the S&P 500 index reflects that. In contrast, developed markets outside the U.S. have fallen some 3.23% over that same span.
But what I really want you to focus on is that line in blue. That line represents the YTD performance of the MSCI Emerging Markets index. Once you do, you will quickly see where I came up with that number of 20.62%. It's the YTD difference between U.S. and emerging markets.
Is The Tide Beginning To Turn?
As you look a little more closely, you may notice that the huge divergence has actually happened over roughly the past 4 months, since May, 2018.
Why has this been the case? This excerpt from a recent piece by Seeking Alpha contributor The Heisenberg says it better than I ever could:
The Fed's unwavering commitment to gradual rate hikes and the dollar's concurrent ascent from April through mid-August was arguably the proximate cause for the rout in emerging markets (hereafter "EM"). The widening policy (and economic) divergence between the U.S. and the rest of the world underpinned the greenback while U.S. trade policy dented the outlook for global growth. Meanwhile, U.S. fiscal policy (i.e., the tax cuts and late-cycle fiscal stimulus) catalyzed a buyback binge and bolstered corporate bottom lines, effectively shielding U.S. stocks (SPY) from the international malaise.
The result? Here's your second quick excerpt, from Russ Koesterich of BlackRock, arguing that emerging markets are cheap:
Following a stellar 2017, emerging market (EM) equities are once again on the back foot. The MSCI Emerging Market Index is trailing developed markets stocks by roughly 8% this year, despite rallying in recent weeks. Unlike the U.S., EM equities never enjoyed a real bounce since the late winter sell-off.

With the exception of a few outliers, notably Russia and Mexico, most of this year's worst performing equity markets are EMs. Developed market stocks, led by the United States, have recouped most of their winter swoon. In contrast, EM stocks are still down 14% from their January high in dollar terms.
However, it is starting to appear that there may be some light at the end of the tunnel. Since roughly August 15, the U.S. dollar has begun to weaken. The situation in Turkey, which I highlighted back on August 13, has recovered somewhat, after they delivered a higher-than-expected increase in interest rates.
This is not to say that no risks remain. The U.S. and China continue to take shots at each other in their ongoing trade war, although the latest salvos may hint at some softening of positions.
Again, though, back to that 20.62%. Might it be time to venture into emerging markets? Here's a quick look at 5 ETFs you may wish to consider.
Vanguard FTSE Emerging Markets ETF (VWO)
This ETF tracks the FTSE Emerging Markets All Cap China A Inclusion Index, a market-capitalization-weighted index that is made up of approximately 3,500 common stocks of large-, mid-, and small-cap companies located in emerging markets around the world.
VWO contains a whopping 4,658 holdings, with the Top 10 comprising 20.40% of its assets. With $59.6 billion in AUM and the diversity of its holdings, it dwarfs the other ETFs in this comparison in terms of size and scope. Early in 2018, Vanguard reduced VWO's expense ratio to .14 (from the previous .15%), maintaining its very competitive position in the marketplace.
Here is a look at VWO's Top-10 holdings.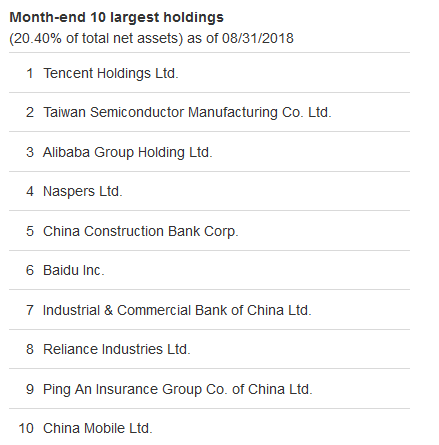 Source: Vanguard VWO Profile Page
iShares Core MSCI Emerging Markets ETF (IEMG)
This ETF invests in stocks of companies located in emerging markets around the world, such as China, India, Taiwan, and South Africa. Its goal is to closely track the return of the MSCI Emerging Markets Investable Market Index. I would like to note a couple of things about this index. First, the MSCI index includes South Korea as an emerging market whereas the equivalent FTSE index used by both Charles Schwab and Vanguard does not. Second, MSCI has been a little slower to include China A-shares in its indexes. A-shares are stocks of Chinese companies that are incorporated on the mainland. They trade in Shanghai or Shenzhen and are quoted in renminbi, as opposed to other China share classes, which trade in Hong Kong or the U.S. However, in 2018, MSCI undertook a two-step process to begin integrating these shares.
This ETF currently contains 1,903 holdings, with the Top-10 comprising 21.15% of its assets. It carries an expense ratio of .14%, once again impressive for an ETF which provides exposure to emerging markets, with all associated trading costs.
Here is a look at IEMG's Top-10 holdings.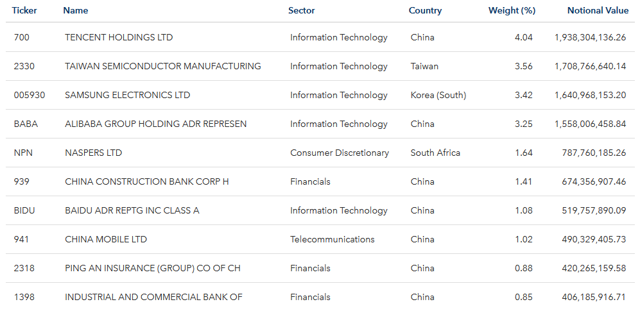 Source: iShares IEMG Profile Page
Schwab Emerging Markets Equity ETF (SCHE)
This ETF tracks the return of the FTSE Emerging Index, very similar to the FTSE-based index tracked by VWO. However, I could not find any evidence either in Schwab's online materials or the prospectus for SCHE to the effect that China A-shares are included at the present time.
This ETF currently contains 990 holdings, with the Top-10 comprising 23.36% of its assets. It carries an expense ratio of .13%, the second lowest of the 4 competitors. Here is a look at SCHE's Top-10 holdings.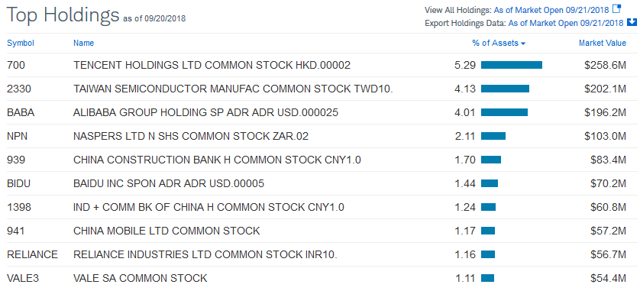 Source: Schwab SCHE Profile Page
SPDR Portfolio Emerging Markets ETF (SPEM)
Lastly, we have an ETF from venerable State Street Global Advisors. Not only is State Street credited with the first ETF, the SPDR S&P 500 ETF Trust (SPY), SPY remains the world's largest ETF right down to this day.
In late 2017, State Street launched a suite of ultra-low cost ETFs under the venerable 'SPDR' designation, announcing their entry in a big way to the ever more competitive field of low-cost investment options. SPEM is one of those ETFs.
SPEM tracks the S&P Emerging BMI Index. This ETF currently contains 1,291 holdings, with the Top-10 comprising 20.29% of its assets. At an ultra-low expense ratio of .11%, SPEM is the lowest-priced ETF in this comparison.
Here is a look at SPEM's Top-10 holdings.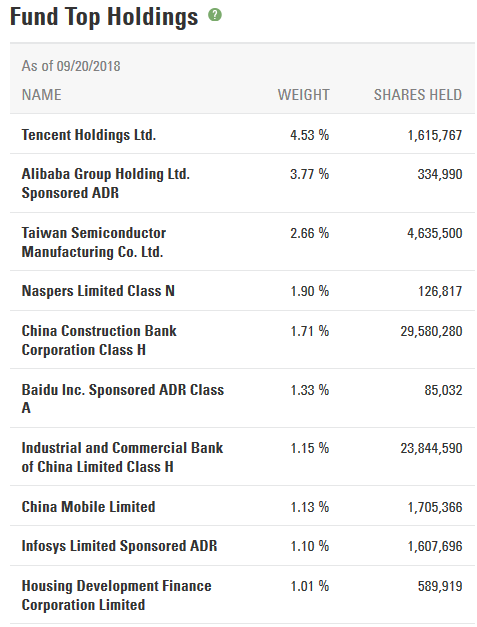 Source: State Street SPEM Profile Page
The Countries
To help you visually, here's a quick table showing how the weightings of 10 top countries play out in each ETF.
| | | | | |
| --- | --- | --- | --- | --- |
| | VWO | IEMG | SCHE | SPEM |
| China | 34.60% | 28.83% | 35.67% | 32.39% |
| South Korea | 0.00% | 15.33% | 0.00% | 0.00% |
| Taiwan | 15.10% | 12.98% | 12.81% | 14.61% |
| India | 12.00% | 9.64% | 11.30% | 13.12% |
| South Africa | 6.70% | 5.90% | 7.99% | 6.48% |
| Brazil | 6.50% | 5.83% | 7.18% | 6.87% |
| Russia | 3.50% | 3.25% | 4.19% | 4.31% |
| Mexico | 3.60% | 3.23% | 3.63% | 3.81% |
| Thailand | 4.00% | 2.70% | 3.34% | 3.54% |
| Malaysia | 3.30% | 2.57% | 3.00% | 2.60% |
As can quickly be seen, IEMG is the outlier, with its weighting in South Korea having the effect of lowering the weighting of other countries in comparison with the other 3 ETFs.
iShares MSCI China ETF (MCHI)
This last ETF I will share is different from the first four. This is an available option if you want to go all in on China. As featured at the outset, China is the country most directly involved in a trade war with the U.S., and this uncertainty has been reflected in its market YTD. While, as featured above, emerging markets as a whole are looking at roughly a negative 11% YTD return, China has crossed the threshold of 20% decline, the level considered to be a full-on bear market.
The flip side of that, of course, is that a potential turnaround could be just as robust. If you want to take that gamble, this ETF provides you a good tool with which to do so. It has net assets of $3.4 billion, and currently contains 293 holdings. It has solid liquidity, with average daily trading volume of $268.1 million and a tight trading spread of .02%. It's expense ratio, while at .62% quite high compared to the other ETFs featured in this article, is still one of the lowest in this space.
For this ETF, let me just share one graphic concerning the overall portfolio characteristics.

Source: iShares MCHI Profile Page
As you look at the P/E Ratio and P/B Ratio in the above graphic, bear in mind that if you were to look at the similar data sheet for the iShares Core S&P 500 ETF (IVV), you would see values of 25.34 and 3.50, respectively (all data as of September 20, 2018). That gives you somewhat of an idea of how "expensive" the U.S. market is as compared to China.
Summary and Conclusion
Emerging markets have greatly underperformed both the U.S. market, and even international developed markets, so far in 2018. For investors willing to take a bit of a gamble, this opens the possibility of outperformance moving forward.
In this article, I have offered 5 ETFs to help you do just that. The first four are quite direct competitors. The 5th option is the most daring of all, going "all in" on China.
Until next time, I wish you . . .
Happy investing!
Disclosure: I am/we are long VWO. I wrote this article myself, and it expresses my own opinions. I am not receiving compensation for it (other than from Seeking Alpha). I have no business relationship with any company whose stock is mentioned in this article.
Additional disclosure: I am not a registered investment advisor or broker/dealer. Readers are advised that the material contained herein should be used solely for informational purposes, and to consult with their personal tax or financial advisors as to its applicability to their circumstances. Investing involves risk, including the loss of principal.