Welcome to our Weekly Cannabis Report, a reliable source for investors to receive the latest developments and analysis in the cannabis sector.
Trading Summary
Last week, all three marijuana ETFs was up despite the voltility on Thursday and Friday. Horizons Marijuana Life Sciences Index ETF (OTC:HMLSF) closed up 11.6%. The Horizons Emerging Marijuana Growers Index ETF (OTCPK:HZEMF) which tracks smaller growers closed up 0.9%. The U.S.-listed ETFMG Alternative Harvest ETF (MJ) ended the week up by 10.4%.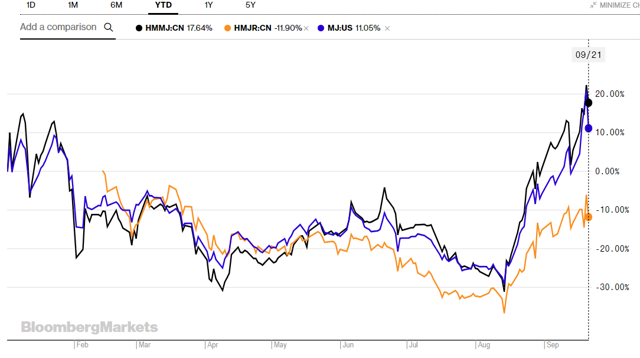 The large-cap group continued its strong momentum after media reported that Coca-Cola is in talks with Aurora for a potential partnership in CBD drinks. Aurora (OTCQX:ACBFF) outperformed the peers with a 38.6% gain driven by the Coke talk and news that it plans to list in the U.S. in October. Canopy (CGC) was up 5.5%, Aphria (OTCQB:APHQF) was flat, and Cronos (CRON) was up 20.5%, and HEXO (OTCPK:HYYDF) gained 9.6%. Tilray (TLRY) had one of its most volatile trading session and managed to end the week up 12.8%. The cannabis sector experienced a sharp selloff on Thursday and Friday driven by Tilray's debacle but still managed to be up for the week.
In the mid-cap space, notable movers include Green Thumb (OTCPK:GTBIF) which was up 11.2% and CannTrust (OTC:CNTTF) which was up 14.5%. Auxly (OTCQX:CBWTF) went down 11.9% after last week's 35% gain. Among others, OrganiGram (OTCQX:OGRMF) was up 1.4% after announcing a supply deal with Canopy in Newfoundland, Emerald (OTCQX:EMHTF) was down 1.4%, Namaste (OTCQB:NXTTF) gained 20%. We think cannabis investors should avoid investing in the small-cap and focus on the mid-cap and large-cap names as the sector is expected to go through a period of consolidation through the process of elimination. Small-cap names need to wake up from buyout dreams as capacity is already oversupplied.
U.S. cannabis stocks had a mixed week. Liberty Health (OTCQX:LHSIF) who gained 20.8% last week ended the week down 3.3%. iAnthus (OTCQX:ITHUF) was up 8.4%, MPX (OTCQB:MPXEF) was down 5.3%, MedMen (OTCQB:MMNFF) was up 2.0%. Sunniva (OTCQX:SNNVF) fell 6.6% after it announced a $10 million equity financing of which the timing seems a little desperate given the small amount and unfavorable issue price. Green Thumb (OTCQX:GTBIF) continued its momentum and was up 22.8%, bringing its total gain in the last month to over 150% as investors chase the hottest stock in the U.S. sector.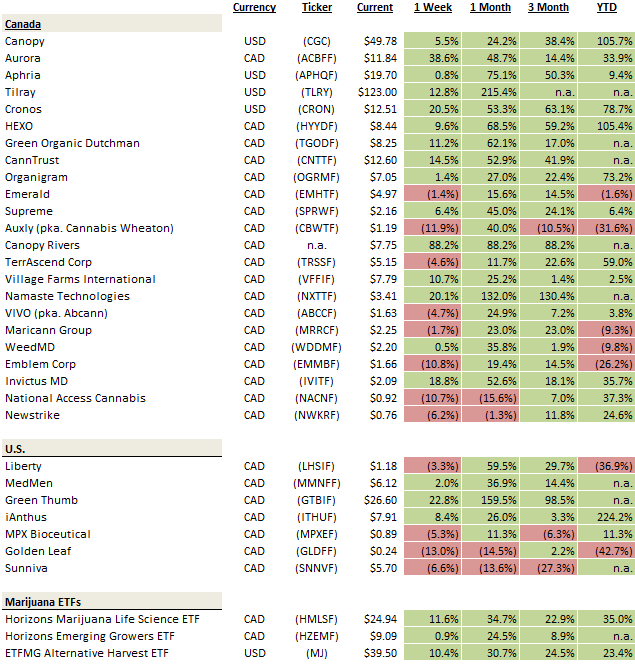 Sector Update
Tilray's Roller Coaster One-Day Share Price Swing of 100%
Tilray's (TLRY) share price just gave out its biggest warning sign to investors yesterday, the shares surged after the CEO, Brendan Kennedy appeared on Cramer's Mad Money show and touted the potential for medical marijuana. Speculators loved it and piled in on Wednesday, driving its share price up more than 100% at one point. The stock was halted five times due to triggers of too much gain and ended the day up "only" 38%. The stock continued to slide on Thursday and Friday, wiping out all of this week's gains and more. The stock closed at $123 on Friday, down from Wednesday's intraday high of >$300.
Despite being a great cannabis company, we are certain that Tilray's current share price is unsustainable, irrational and doomed to fall. More importantly, the volatility exhibited on Wednesday is an ominous sign for the entire cannabis sector. As a result, we also fear that Tilray has driven the cannabis market beyond a point of no return and a correction is imminent for everyone in town. The correction during the last two days of last week showed just how fast things could correct itself in the cannabis market and the entire sector has been penalized due to Tilray's volatile trading. Expect more pain to come.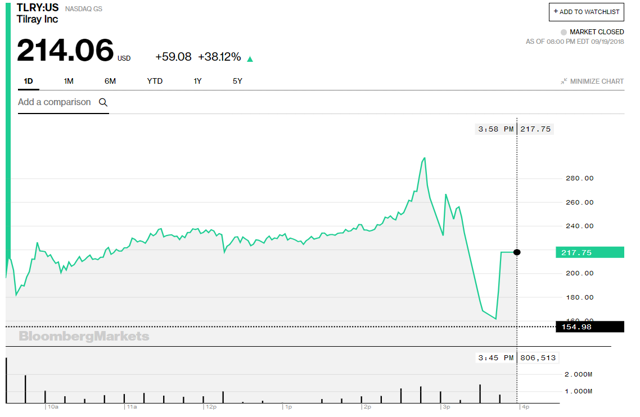 Canopy-affiliated Canopy Rivers Debuts on the TSX-V
Canopy Rivers debuted on the TSX Venture stock exchange on Thursday and the stock shot up 150% on the first day of trading. The stock ended the first trading day at C$8.75, before dropping 11% on Friday to end the week at C$7.75. Investors had the opportunity to buy into a C$104 million pre-IPO round in July at C$3.50, implying a handy profit in a matter of fewer than three months. We like the stock and the involvement of Canopy's (CGC) Bruce Linton is definitely a plus. Bruce is well-respected in the cannabis world and his ability to bring in deals for Rivers is a key factor in deciding whether to invest.
Our long-time readers would have known that we voiced our concerns of Auxly (OTCQX:CBWTF) (aka. Cannabis Wheaton) back in April 2018 in our article "Cannabis Wheaton: The World's First Pot Streaming Company". Why are we suddenly turning bullish on Canopy Rivers? First of all, the quality of Rivers management beats Auxly by a wide margin (Auxly CEO was subject to controversies, see BNN discussion here). Secondly, Auxly has C$600 million in market value whereas Rivers has amassed a market cap of over C$1.3 billion so Rivers appears to be a much better-capitalized company. Lastly, these two companies are operating under totally different business models. Rivers serves more like Canopy's venture capital arm, similar to Google Ventures of Alphabet (GOOG). Auxly, on the hand, relies on streaming deals which exposes it to commodity and end market risks. It also puts Auxly in the less attractive pure growers category.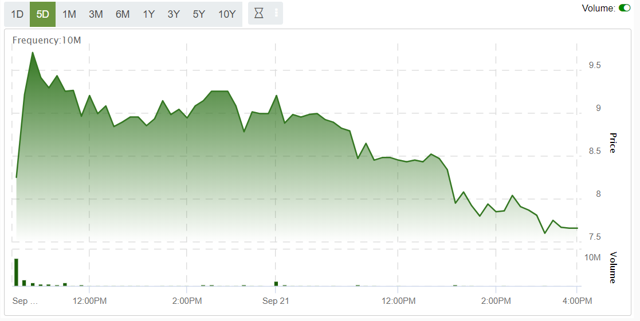 Aurora and Coca-Cola? Makes Sense
Last week, Aurora (OTCQX:ACBFF) saw its share price rise sharply after Bloomberg reported that it is in serious talks with Coca-Cola (KO). In our article "The True Reasons Why Coca-Cola Might Prefer Aurora", we specified out reasoning as to why Aurora's strategic focus on hemp could position the company particularly well for companies like Coke that are looking at CBD drinks, instead of THC-infused drinks. Aurora came out later to clarify that the company was only engaged in exploratory talks and no deal was signed. We think Aurora could benefit from any deal eventually signed with any of the large beverage companies should its CBD strategy pays off. It was also reported that the company is pursuing an October listing in the U.S., which has proven to be a major factor for marijuana stocks. Companies that are listed in the U.S. have been trading much higher compared to their Canadian peers, raising concerns for us. We are especially bearish on Cronos (CRON) due to its head-scratching valuation and lack of substance in the company.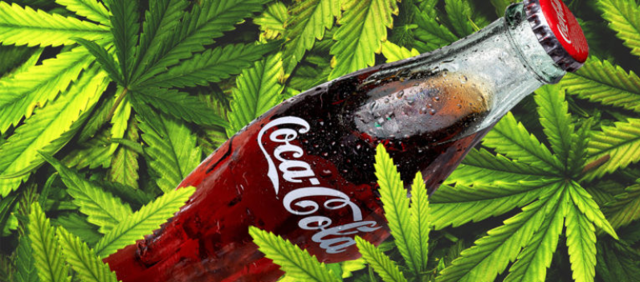 The Best 'Pick and Shovel' Cannabis Plays
As part of our effort to build the most comprehensive and trustworthy cannabis coverage on SA, we started a series that discuss 'Pick and Shovel'' plays in the cannabis world. Many investors had expressed concerns about the valuation in cannabis growers and would rather prefer those companies that supply tools and provide services to the pot companies as a preferred way to invest in cannabis. Many had referred to the current oversupply issue in Oregon as an example of how things could go wrong for cannabis producers, and would rather invest in ancillary companies. We have so far covered 6 companies in our Part I and Part II of The Best 'Pick and Shovel' Plays series. We have discussed technology services providers such as Radient (OTC:RDDTF), Lexaria (OTCQX:LXRP), and EVIO Labs (OTCQB:EVIO). We also discussed cannabis REIT Innovative Industrial Properties (IIPR), e-commerce platform provider Shopify (SHOP), and packaging firm KushCo (OTCQB:KSHB). We plan to cover more topics in the coming weeks including providers of growing and gardening supplies. We would like to hear from you if you have other ideas for those types of investments.
Final Words
The cannabis sector is one that has been associated with multiple cycles including the infamous 2014 penny stock debacle in the U.S. when investors suffered large losses trading OTC-listed penny stocks. However, this time the sector is coming back with a real momentum behind them aided by the Canadian legalization and a wave of U.S. and global reforms. We are a strong advocate of responsible growth and believe that the health of the sector is more important than the short-term movement of any single stock. Tilray's debacle last week was the best example of people forgetting how to invest and instead choosing to trade based on hype and momentum. We regret what happened to Tilray because it has done damage to the current bull market. We have documented our view that a correction could be coming in our article "Are We Heading Into Another Meltdown For Pot Stocks?". We think the Tilray drama could potentially accelerate such a correction, with Thursday and Friday potentially the beginning of a reversal of momentum that will put a dent on the secular bull market for cannabis.
`
Author's note: "Follow us" to stay informed of the latest development and best ideas in the cannabis sector. We provide the most in-depth and comprehensive cannabis coverage on Seeking Alpha.
Disclosure: I/we have no positions in any stocks mentioned, and no plans to initiate any positions within the next 72 hours.
I wrote this article myself, and it expresses my own opinions. I am not receiving compensation for it (other than from Seeking Alpha). I have no business relationship with any company whose stock is mentioned in this article.
Editor's Note: This article covers one or more stocks trading at less than $1 per share and/or with less than a $100 million market cap. Please be aware of the risks associated with these stocks.