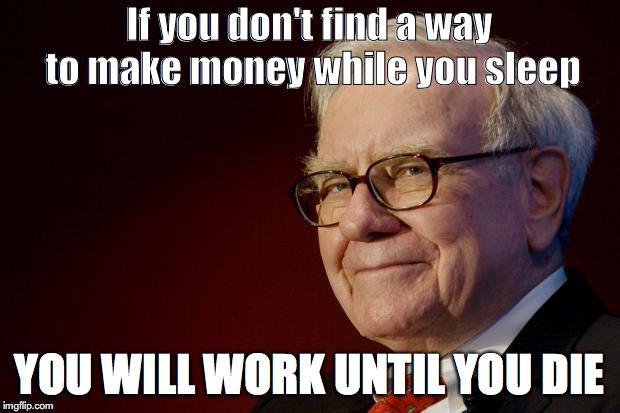 I'm not planning to work until I die.
Another ten years give or take, maybe with some sort of part time situation after.
Yeah.
That's more like what I'm thinking.
Thus, given the immortal words of Mr. Buffett, I had better figure out a way to make money while I sleep.
And a lot of it.
Enter my 'Making Money While I Sleep Portfolio,' the compounding force that will be the foundation of my financial independence. I am building the portfolio initially via $1,000 monthly investments (to increase next year) and will follow it in real time with monthly updates here on Seeking Alpha. I am investing in "Stalwarts," stable companies whose growth I expect to moderately outpace the market, as well as "High Growth Picks," a growthier but riskier group of stocks.
Welcome to the portfolio's third installment (for more background you can check out the first installment as well as the second).
This week I want to touch on the Corporate Life Cycle and how it plays into my growth tilting strategy, as well as three of the world's greatest stocks.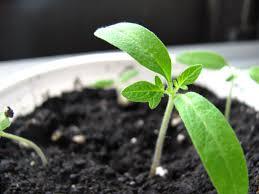 Investing Style - A Touch Growthier
Many commenters have pointed out that if my goal is financial independence, I'm going to need more yield.
It is not lost on me that I have shied away from many of the Dividend Growth Investing (DGI) favorites and hold no REITs.
With the portfolio's blended yield in the 1-1.5% range, I get the criticism.
I mean, the income has to come from somewhere at some point, and I have already said I will not sell.
So… what gives?
In short, I'm targeting a "growthier" subgroup of stocks with a resultant lower yield.
Those in the financial independence circles here on Seeking Alpha tend to come from the DGI philosophy. It is easy to see why. Dividend growth investing has a history of strong returns. Most DGI companies tend to be mature and strong and less prone to massive price cuts and - heaven forbid - dividend cuts. And dividend checks are perfect for retirees looking to cover expenses on a monthly basis.
While I borrow heavily from the DGI philosophy, I'm placing more weight on the "Growth" part as opposed to the "Dividend" part, because I'm in my Accumulation Phase.
To start my explanation, we have to consider the Corporate Life Cycle.

The Corporate Life Cycle
Take a look at a chart from Aswath Damodaran's excellent Musings on Markets.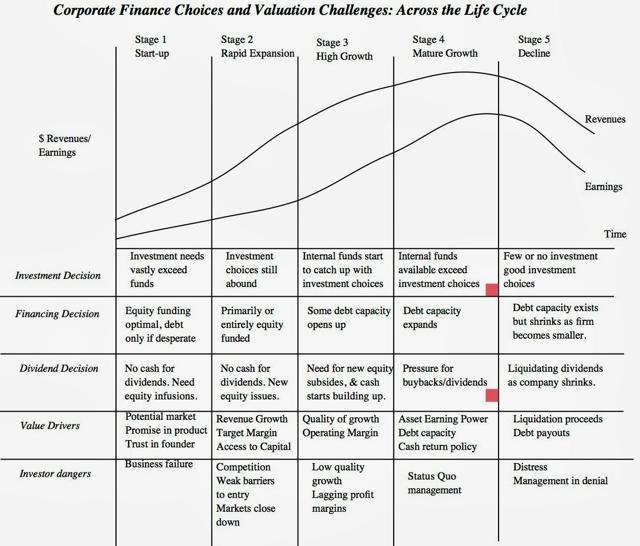 Here is the short version as it relates to growth and dividends:
Companies earlier in the life cycle re-invest cash in growth opportunities. Those in later stages continue to re-invest in growth but also develop shareholder return programs as cash piles outstrip investment opportunities.
Obviously we can sit here all day and poke holes in this model and point out companies that don't apply. Not every company is going to follow this cycle exactly, and I'm hoping to avoid any companies that enter into Stage 5, "Decline" (hello, General Electric (GE)). But the Corporate Life Cycle remains an effective framework.
Let's apply this model to a few companies I like: Apple (AAPL), Google (GOOG), and Facebook (FB).
Since 2005, Apple has moved from Stages 2-3 to where it now resides in Stage 4. I'm going to ignore you naysayers who think it is in decline.
As a mature company, growth has slowed, and new products barely move the needle. Apple will continue to build its web of revenue sources, but it will not see its early 2000s explosivity ever again.
As a maturing company, however, Apple has amassed cash stores far beyond its investment potential. This has allowed it to initiate a fast growing dividend along with its aggressive buyback program.
Those of you who have followed the market for the last ten years must remember the almost constant, recurring question of "when will Apple start paying a dividend?" until it did.
This question is a natural part of the Corporate Life Cycle as a company matures and builds its cash position. Past a certain point there just aren't enough good investment opportunities to throw money at. Dividends or buyback programs become the best option.
Alphabet can also be examined in light of this model. Alphabet resides somewhere close to the Stage 3-4 transition. The company continues to demonstrate robust growth, but its cash hoard is piling up. Growth will gently decelerate over the coming decade, and at some point Alphabet will begin to pay a dividend. In fact, just as with Apple several years ago, I feel like we hear more and more questions about Alphabet paying a dividend with every earnings report.
Last, we can look at Facebook. Facebook is maturing but remains in Stage 3. It continues to put up staggering growth numbers, though the growth is decelerating while the cash pile builds. As with Alphabet, I expect Facebook to gracefully mature over the coming decade, continue to grow at a higher rate than the broader market, and ultimately become a mature, dividend paying stalwart.
My plan is to target some mature, "Stalwart" type companies in Stage 4 - think JM Smucker (SJM) or Apple - some companies in Stage 3 - Google and Facebook - and take a few flyers in my High Growth Picks segment on some Stage 1 or 2 companies - JD.com (NASDAQ:JD).
The Stage 4 companies provide stability and income, although the trick will be to target mature companies that continue to outpace the market. Ideally, the Stage 2 and 3 companies grow at a high rate over the coming years, steadily mature while beating the market, and begin to pay a dividend.
The big risk is if everything doesn't happen "on time," that these companies don't end up paying that healthy dividend I'm hoping for in ten years.
I think that's okay.
Nobody can predict the future, and if anything is for certain it is that the world will not fall all over itself to follow my master plan.
I will stay flexible. There are only two rules in investing. 1.) Don't lose money, and 2.) Don't forget rule number one. Nowhere is it written that I cannot change my strategy as the portfolio evolves.
As I move closer to the ten year goal, if my portfolio's yield does not project well for financial independence, I will shift to more dividend paying Stalwarts.
For now, though, I will "skate to where the puck is going" rather than where it is now.
I have put a lot of thought into this decision but welcome debate and alternative perspectives. Also, I'll be posting a few other reasons I'm eschewing a yield focus at this time in a future article. Feel free to weigh in with your thoughts in the comments section, and we can hash this out.
This Month's Picks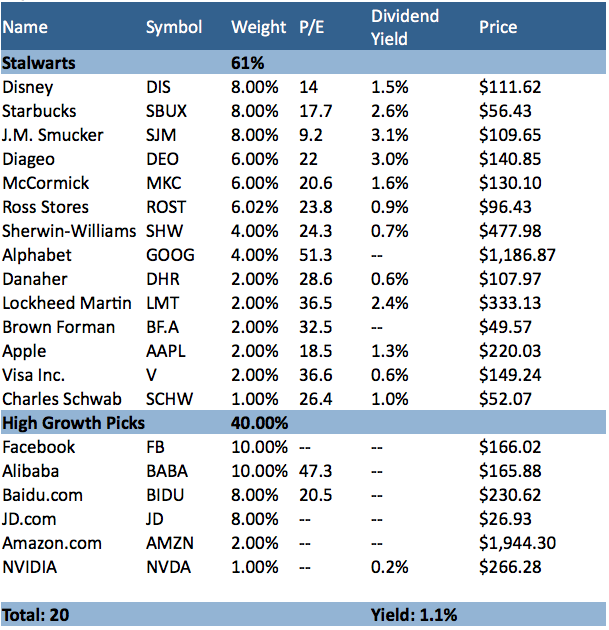 Brief Thoughts
As you can see, I'm continuing to take advantage of the swoon in some of my Chinese favorites, including Alibaba (BABA), Baidu (BIDU), and JD (JD). My long term plan is not to have massive exposure to Chinese stocks, but if the market is going to offer me a discount there while continuing to price up US stocks, I'm going to take it.
At the same time, I am continuing to try to be opportunistic with my Stalwart purchases, taking advantage of the continued languishing in the prices of Disney (DIS), Starbucks (SBUX), and JM Smucker (SJM) while selectively adding to a few other positions.
Stocks in Focus - 3 Must Own Stocks
This month, I thought it would be worth focusing on three of my absolute favorite, love them to death Stalwarts.
These are must-own companies.
As much as I love these companies, though, if you check out the allocations above, you'll see I'm not loading up right now.
It all comes down to valuation.
We are in a bull market, and many of the world's highest quality companies trade at a valuation premium.
Valuation matters, and no company is immune to the return killing effects of overvaluation. Even one of the world's greatest all time DGI companies, Coca Cola (KO) offered those who bought at its 2000 overvaluation peak some pretty awful returns.
So while the following three names are wonderful companies and are buyable at current prices, I won't be loading the elephant gun here.
Visa (V)
Visa is one of the world's true great wealth compounders and an amazing company besides.
Just look at this.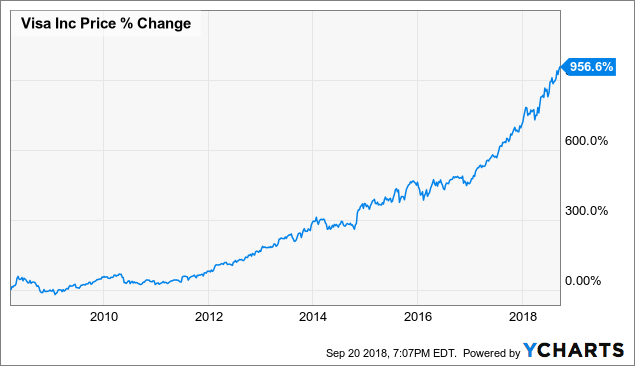 Since going public in 2008, VISA has rewarded shareholders with 24.5% annualized returns, turning a $10,000 investment into just shy of $90,000. If you look at the business, this is not surprising.
Visa is in a good spot. Visa is embedded as one of the major credit card brands and has pre-existing infrastructure that is very difficult for would-be competitors to reproduce.
Visa also has a wonderful business model. It essentially functions as a toll booth operator, collecting a small fee any time a credit card is used without having to take on credit risk. Not only that, but Visa is a direct beneficiary of modern shifts in payment methods, as we increasingly avoid cash and defer to credit cards to pay for… well, everything. Credit cards are just plain easier.
Visa's starting yield is on the lower side at ~0.6%, but the dividend is rapidly growing with a 23% 5 year growth rate and a comfortable 18% payout ratio.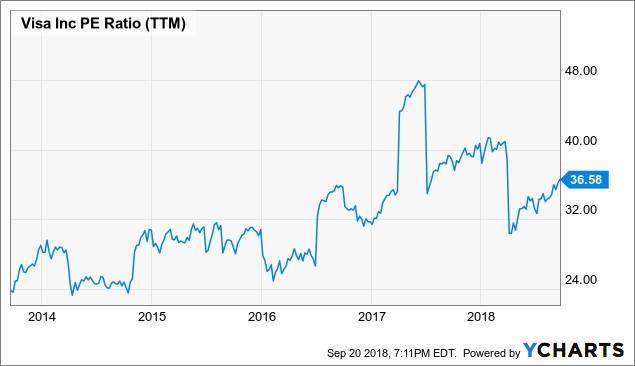 With a PE ratio of 37, PEG ratio of 0.63, and a forward PE of 32, Visa can be bought, but it is not a bargain. As you can see above, this valuation is a premium to its historical range.
I would like to see the price drop before I get more aggressive in building my Visa position.
It is also worth remembering how good things are for Visa right now. When the economy is doing well, people buy more stuff. When people buy more stuff, Visa wins.
You don't want to aggressively pile into a stock - even a great stock - at a valuation premium when it is in strong market conditions.
I will continue to add to Visa in small allotments but will wait for a better price before piling in.
Ross Stores (ROST)
Ross Stores is a deep discount clothing retailer that offers both name-brand and designer clothing at a deep, deep discount. It operates as an opportunistic inventory buyer, purchasing left over clothes when brands overproduce or are left with canceled orders.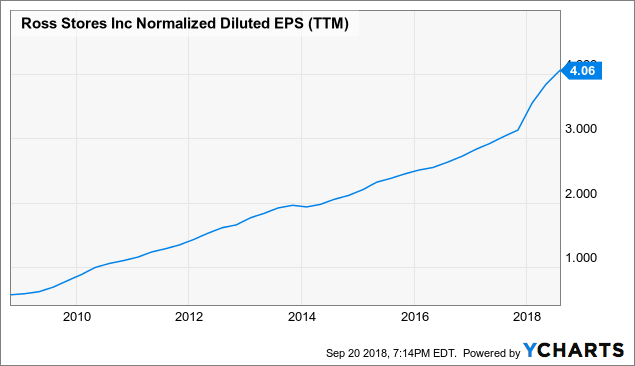 ROST has a healthy history of growth, putting up 19.5% annualized eps growth over the last 10 years. Just look at that EPS chart. It's beautiful. That's what steady, strong, consistent year over year growth looks like.
Ross Stores consistent growth is due to the dynamic duo of annually improving same store growth combined with aggressive rollout of new locations. In the company's most recent conference call, CEO Barbara Rentler indicated plans to expand to 3,000 total stores, approximately doubling the current footprint of ~1,500. As you can imagine, the combination of doubling the number of stores and continued same store sales growth (5% last quarter) will drive significant revenue and earnings growth.
The economy is rolling right along, and it's not surprising to see so many companies reporting strong operating numbers. Ross Stores is probably just riding that wave, right?
No.
As a deep discount retailer, Ross Stores is recession proof. During the 2008-9 crisis, Ross Stores actually increased its EPS from 0.48 to 0.58. This is not surprising. In a recession, money is tight, and shoppers are more likely to turn to a retailer like Ross Stores to maximize savings.
Last, Ross Stores has a healthy dividend with a 22% payout ratio. While the current yield is only 0.9%, the company has raised the dividend every year since 1994, most recently increasing it by 41% (!) in March. Their capital return program also includes a buyback program allowing for purchase of about 6% of outstanding shares.
While I love the company, the current valuation is generous. I will continue to build a position but don't see right now as the best time to load up.
Diageo (DEO)
Ah, Diageo, the scotch company.
Well, okay, they sell more than just scotch. But it's hard not to think of Johnnie Walker when you think of Diageo (though I prefer Lagavulin).
And… well… that's exactly the point. That's where Diageo wants to be, owner of some of the worlds strongest and most well known liquor brands. Their stable of offerings includes Johnnie Walker, Captain Morgan, Smirnoff, Crown Royale, Lagavulin, Guinness, and more. The list goes on.
This is a phenomenal company to invest in, having ably beaten the market over the last 15 years.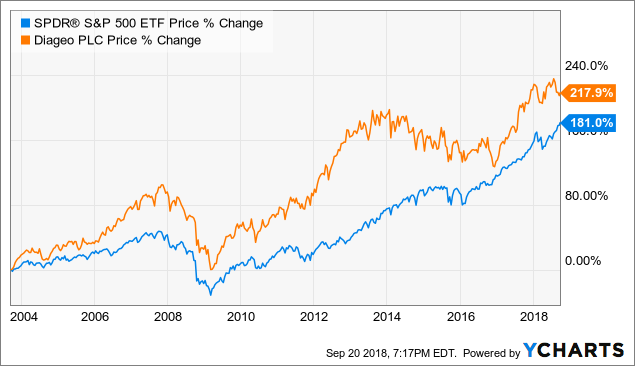 Diageo is a winner, because it is a well run company with strong brands, but Diageo also has the benefit of operating in one of the best performing industries.
Check out this fantastic article from Philosophical Economics.
Side note: Philosophical Economics is one of the best financial blogs out there. Must read stuff.
As you can see, sin wins. Alcohol stocks have returned an inflation adjusted 7.5% since 1933, cleanly beating the broader market and making them the second best returning industry of those analyzed.
The best industry?
Tobacco. Personally, however, I think tobacco's glory days are in the past.
DEO pays a 1.5% dividend with a manageable 32% payout ratio, though Diageo doesn't tend to increase dividends every year like many of our DGI favorites.
Diageo is on my list of all time best stocks to own. That said, it is not a bargain here. I will continue to build a position but will await better prices to bring out the elephant gun.
Thanks!
That wraps up the third installment of the 'Making Money While I Sleep Portfolio.' As always, I appreciate your thoughts and recommendations.
Disclosure: I am/we are long all stocks mentioned (except GE)..
I wrote this article myself, and it expresses my own opinions. I am not receiving compensation for it (other than from Seeking Alpha). I have no business relationship with any company whose stock is mentioned in this article.