Market Intro


CNBC: 9:37AM EST
Earlier in the year, trade spats held the power to crank US stocks (SPY, DIA, QQQ, IWM) up and down to the tune of about 5 percent a week. The magnitude of such responses has greatly abated, yet there is at least some kind of reaction, however short-lived it may turn out to be. Spot VIX is on the ascendant in Monday morning trade: this too shall pass?

The upcoming week features the all-important FOMC target rate announcement. A hike this quarter is all but certain. What will become more interesting is the tone out of the Federal Reserve, and Chair Powell in particular, in terms of how responsive the policy body is to any perceived changes in the economy. In other words, how "data dependent" is this Fed?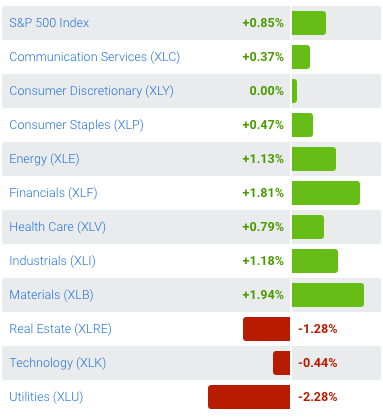 As a brief recap, the S&P 500 did quite well last week: up almost 1%. Rate-sensitive utilities (XLU) and real estate (XLRE) were laggards, and tech (XLK) sustained modest losses. Overall index behavior was well behaved, perhaps in part due to the fact that no large sector caused much harm to the broader averages.
Thoughts on Volatility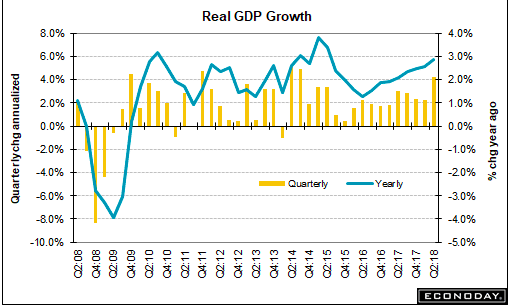 The blue line in the graphic above tracks rolling annual GDP growth, while the yellow bars feature annualized quarterly changes. The main point I'd like to make here is that we've been here before quite often over the last decade.
The economy is doing fairly well, yes. But the blue line demonstrates that we're by no means in uncharted territory in terms of real GDP growth. Where we do seem to be perking up is on the inflation front…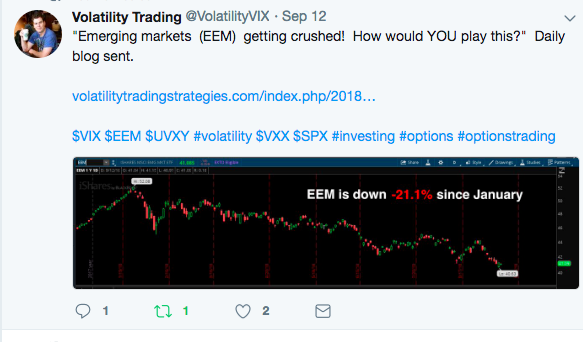 I liked this tweet, but bear in mind it's over a week old. The overall story remains much the same: EM down substantially for the year while SPX is up.
Trade headwinds have undeniably hit international stocks harder than US equities. For investors looking to pick up a diversified basket of stocks on the cheap, domestic indexes may not be the best way to go.

Good call DJ. One needs to look at how commonly held their view is before putting it into play in the markets. One should not enter an option position without regard for the state of vol. Options are more than just a way of getting a certain delta exposure.
Term Structure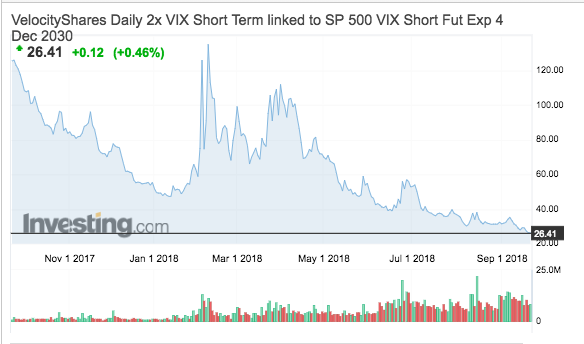 The long-vol trade just cannot hold onto any gains heading back to around mid-April. Any outbursts in SPX volatility have quickly subsided. This calendar year will likely prove difficult both for those who trade volatility consistently from the long end (see above) or the short end (remember XIV?). This year was indeed exaggerated, but to prosper from volatility products (UVXY, SVXY, VXX, TVIX) requires a flexible mindset.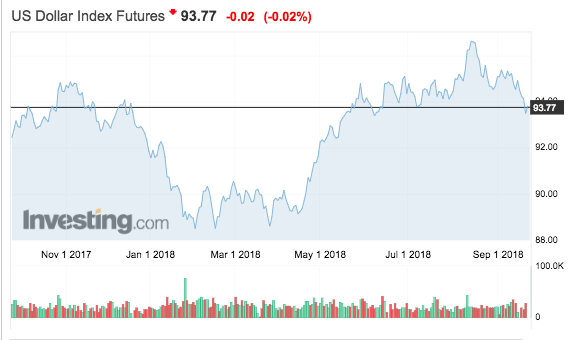 Trade skirmishes really have not seemed to get the job done for long-vol positions, or at least not in the US. A new narrative is needed. In my view, a rapidly strengthening dollar (UUP) would make it near the top of the list of ways to get that done.
The greenback slumped through most of 2017, only to reverse course in early May. We did get such indigestion as the dollar popped, but a fairly well-defined channel has taken hold since late June. This is another important factor steadying risk-assets in the present.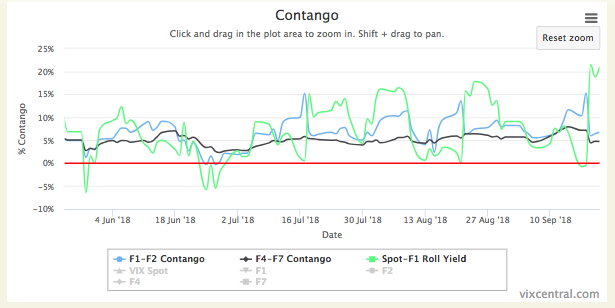 Spot-F1 roll yield is quite high. Indeed, the metric is at the peak of the range going back to early June. This makes decay a very real incentive for inverse-vol positions that focus at the front end, such as SVXY.
As mentioned earlier, one never wants to overdo a good thing, but for the present the stars appear to be lining up nicely for shorting vol.
Conclusion
If this is your first time reading Market Volatility Bulletin, thanks for giving it a try. If you're a regular, we thank you for your ongoing contributions in the comments section.

Forward Learning asked a follow-up question in the most recent MVB about a visual reporting Market Cap/employee.
Definitely revenue or earnings/employee are good measures of productivity… no argument there. But to the degree that investors in secondary markets like the stock market see fit to assign astronomical market caps/employee, they are effectively saying that the "net present employee" is capable of throwing off an astronomical amount of output, and residual future cash flows.
Thank you for reading.
Please consider following.
Disclosure: I/we have no positions in any stocks mentioned, and no plans to initiate any positions within the next 72 hours.
I wrote this article myself, and it expresses my own opinions. I am not receiving compensation for it (other than from Seeking Alpha). I have no business relationship with any company whose stock is mentioned in this article.
Additional disclosure: I actively trade the futures and options markets, potentially taking multiple positions on any given day, both long and short. I also hold a more traditional portfolio of stocks and bonds that I do not "trade". I do believe the S&P 500 is priced for poor forward-looking returns over a long timeframe, and so my trading activity centers around a negative delta for hedging purposes.