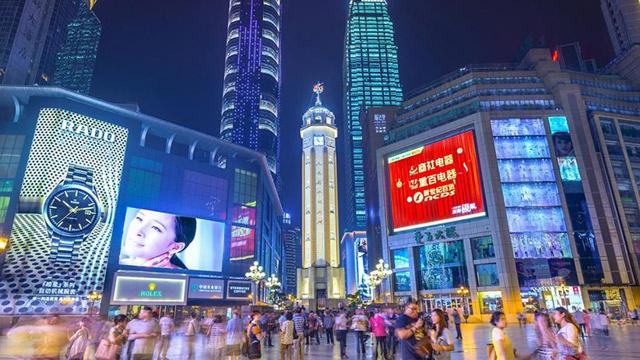 Source: retire.ly
There is a clear shift in the global economy. Not long ago the market celebrated a synchronized global recovery. Emerging markets along with Europe and the US markets were headed out of a global slowdown. Fast forward to 2018, we face fear of a global trade war and fragile markets seem on the brink of collapse. The emerging market trade has been especially punishing. Despite the broad weakness in emerging markets, there are opportunities approaching you should keep in mind to invest in.

Source: TipRanks
Over the last 6 months, an investment in the iShares MSCI Emerging Markets ETF (EEM) returned -13.72% compared with 7.52% in the SPDR S&P 500 ETF (SPY). In the last few weeks, some fund managers have been making early arguments that buying emerging markets is a smart trade. I disagree. The EEM is too broad given current geopolitics, and the strong dollar is likely to punish a number of economies.
EEM breakdown by country
Source: ishares.com
China represents a large portion of the EEM with 30.88%, with the highest represented sector being Technology representing 27%. Eventually, the EEM will recover once the trade tensions ease and the US dollar rally ends. In the meantime, there are opportunities you should consider. The China technology sector has suffered a heavy toll but now presents long-term potential.
It's not a foreign language, it's a foreign market!
Most retail investors really have no idea where to invest in China. In this article, I will focus on a big picture investing approach using ETFs. While ETFs offer diversity, they can remain weak until an inflection point occurs in the broad market. I will try to offer my opinion on those ETFs and when you should invest in them. I will follow this article up with a more focused look on specific China companies to consider now.
Briefly, I want to mention the issue with emerging markets specifically China. The US Fed has been moving ahead of global central banks to raise rates and unwinding the Fed balance sheet from the 2008 financial crisis. This allows the Fed resources to use in the event of another recession to keep inflation from overshooting and not to allow an overheated market bubble.
Mix tariffs with the currency impact and it is most noticeable in emerging markets. Take, for example, the fall of the Turkish lira and the punishment that economy is under. If you depend on imports purchased in US dollars and your currency is rapidly declining, then the costs become astronomical and threaten recession.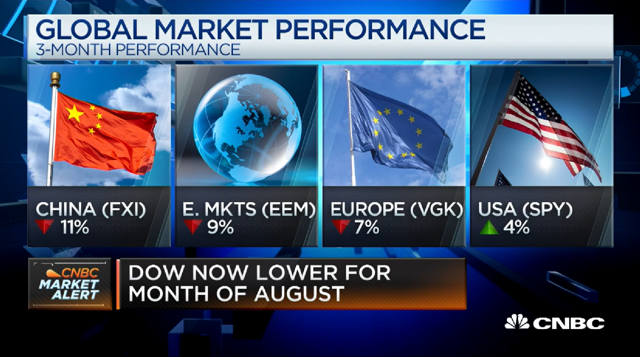 Source: CNBC
The constant pressure from tariffs and the rally in the US dollar has been tough on the global recovery. The pain can be seen in China's stock market among other emerging markets. China is an as supply chain for the US economy and a disruption there would cause significant change in short-term outlook. US businesses could shift away from China but that takes time and money. Neither China nor the US is ready for that. Escalation/negotiation between the two will likely continue past the November midterm elections. Without a resolution, those markets will continue to underperform as they have been.
Escalation into November
China has rescinded plans of Vice-Premier Liu He to negotiate trade as tensions continue to mount. The latest round of tariffs seems to have reduced the potential for dialogue.
We don't want to, but we probably will have no choice." President Trump referencing further trade tariff escalation from the Oval Office.
The administration seems determined to win against China.
It's a little disappointing that the earlier tariffs haven't resulted in more constructive dialogue, but we hope these will." In a statement from Commerce Secretary Wilbur Ross to CNBC.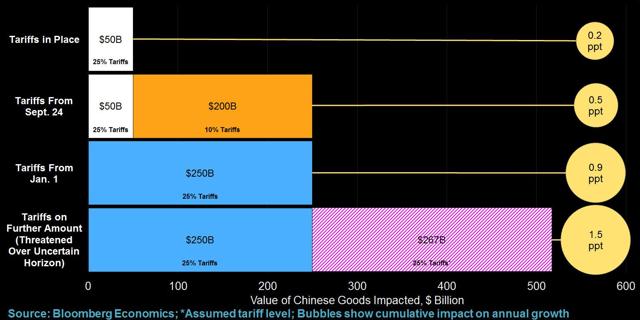 The early tariff impact is negligible on the US economy, but increasing size of tariffs with China over a prolonged period of time would have substantial impact to economic growth.
If trade tariffs weren't enough, the US Department moved last week to impose sanctions on China's Equipment Development Department of Ministry of Defense for purchasing Russian fighter jets and surface-to-air missiles. The sanctions citing CAATSA 2017, a law intended to punish Russia over their seizure of Crimea.
The Chinese military expressed strong indignation and opposition to US sanctions on the equipment development department of the Chinese military and its director," the state-run China Daily statement by a military spokesman.
These developments have negatively impacted Chinese equity markets.
Three noteworthy China ETFs
The iShares China Large-Cap ETF (FXI) gives nice broad exposure to China large caps. This offers multi-sector diversity. In my opinion, the US comparison to this would be in using the SPDR S&P 500 ETF.

Source: TipRanks
In the last year, the chart illustrates the global recovery in China was headed in lockstep with the S&P 500 until tariffs became a concern. Now the FXI has a 1-year return of -8.01% and a 6-month return of -15.11%. The main overhang on China remains trade war concerns.

Source: Think or Swim
Take a look at a simple chart for the past 3 years on the FXI. After a nice peak in January, the decline has been steady down with trade escalations. There are two major trend lines to keep in mind when deciding to invest in this ETF. The steepening of the chart down is a negative short-term indicator. In my opinion, the chart will be pressured further down especially before the US midterm election. Long-term investors should wait until those trend lines are broken before jumping in. A break would indicate a reversal in the FXI.
KraneShares CSI China Internet ETF (KWEB) is a play on China internet stocks. Top five holdings here include Tencent Holding Ltd. (OTCPK:TCEHY), Alibaba Group Holding Ltd. (BABA), Baidu Inc. (BIDU), NetEase Inc. (NTES), and JD.com Inc. (JD).

Source: TipRanks
This ETF includes a number of quality long-term plays in China. Individual names like BABA has a number of analysts and hedge funds citing positive outlook. Despite optimism in a single name, ETF inflows and outflows can pressure holdings.

Source: Think or Swim
The basic takeaway here is the down wedge pattern. The ETF is signaling further decline should be expected. Typically, this pattern leads to a bullish momentum break. Once it breaks higher, the ETF will move much higher. Short term, expect more declines. For long-term investors, keeping an eye on the break higher (likely to coincide with a trade agreement). A capitulation event would also provide for good entry.
Invesco China Technology ETF (CQQQ) is the China version of the Invesco QQQ ETF (QQQ). This is a way to invest in the Chinese technology sector.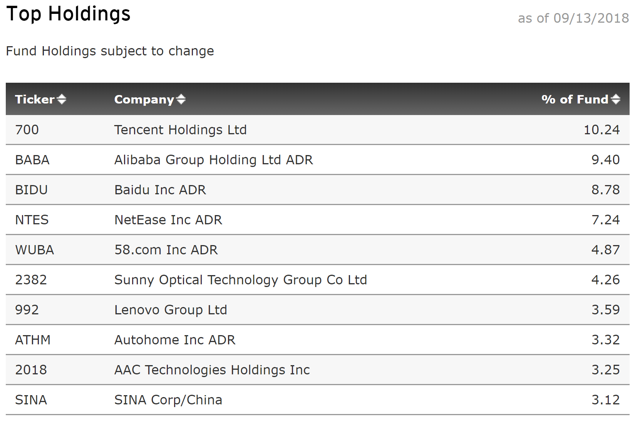 Source: invesco.com

Source: Think or Swim
This is a fun chart to look at. First, notice the increasing downward steepness of the red trend lines down. The acceleration down correlates to the trade concerns rising. The green line is a multi-year uptrend line that has held in the past. On August 15, the trend line was tested and the CQQQ clearly bounced off higher. Now that the green line is broken, we could drift below it for some time. I do expect the CQQQ to recover long term but may have more short-term losses to come ahead of the midterm election. In the short term, keep an eye on the down wedge pattern. This is my favorite ETF play on China, but I am waiting until October to evaluate entry.

Source: Think or Swim
Given there is no immediate resolution to the trade concerns with China, it is my opinion that further downside remains in the CQQQ. This ETF will likely see further short-term downside despite the positive long-term potential. Investors should be patient on entry.
My perspective…
The China market is responding to threats to US tariffs and trade concerns. China remains unwilling to budge on US demands to resolve the trade concerns. I do not believe China wants to lose the US as a trade partner. The short-term decline on the China market has been costly, but it will recover with an agreement.
I presume China will push President Trump ahead of the midterm election looking to destabilize his voter base. Regardless of that outcome, I believe that China will have to come to an agreement to stabilize their economy from further downside.
Since the Chinese ETFs have an inverse relationship to the trade escalation, further downside is expected as China ratchets tension ahead of the election to weaken the US position. While I expect a deal not to take place until 2019, the escalation may seem at its worst point just before the November election.
The FXI, KWEB, and CQQQ ETFs have yet to show sustained support levels or a reversal of negative trend. Investors interested in these should wait for a better entry as short-term decline is highly likely.

Disclosure: I/we have no positions in any stocks mentioned, and no plans to initiate any positions within the next 72 hours.
I wrote this article myself, and it expresses my own opinions. I am not receiving compensation for it (other than from Seeking Alpha). I have no business relationship with any company whose stock is mentioned in this article.