The chemicals industry is one of the more interesting industries at the moment. Business sentiment is soaring, while economic growth across the globe is providing a healthy business environment for chemical companies. Air Products and Chemicals (APD) is one of those companies. APD is a global player with strong EPS and sales growth and soaring profit margins. All these things are currently providing investors with a new breakout which could be highly profitable going forward.

Source: Air Products
Macro Matters
In this article, I am going to do things a bit differently. Most of my recent articles had a bottom-up approach. In this article, I am going to use a top-down approach because I like the chemicals industry. Industrial production of chemicals has hit its highest growth level since 2010. It is very interesting to see that growth has been positive since the first half of 2017.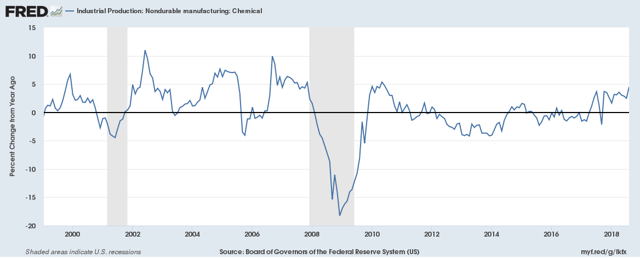 One of the reasons is the fact that economic growth in the US has accelerated since the growth bottom of the first quarter of 2016. Most recent ISM manufacturing data shows that economic sentiment in the US has reached its highest level since 2004 as I discussed in this article.
Another indicator that looks promising is the one below. The graph below shows my ISM industry sentiment indicator. It shows sentiment of a particular industry. In this case, chemical products. A rising trend means that the industry is performing well compared to other manufacturing industries. The maximum value this graph can reach is 12. That would mean that a certain industry has been the strongest growing industry for 12 consecutive months. In other words, the current value close to 5 means that there is still a lot of room to grow.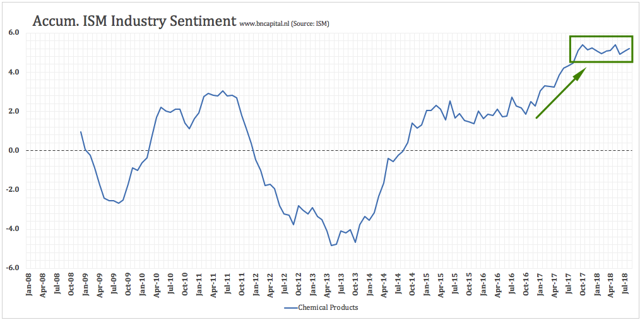 The graph also confirms that sentiment has perfectly predicted the current strength of industrial production of chemicals. The chart started accelerating a few months before industrial production took off.
At this point, we see that companies in the chemicals industry are in a very good spot. That's why it makes sense to buy a company that has the ability to further benefit from this trend.
I Like Air Products and Chemicals
APD has used the current growth trend in the chemicals industry very well. EPS has beaten estimates every single time since Q2 of 2017 (fiscal year). Most recent EPS came in at $1.95 versus expectations of $1.84. Not only is this a $0.09 beat, it is also 18% higher compared to Q3 of 2017. The most recent 3 quarters all had double-digit EPS growth.

Source: Estimize
Sales on the other hand slightly missed estimates in the most recent quarter. Third quarter sales came in at $2.26 billion versus expectations of $2.29 billion. Nonetheless, sales growth is up 6% on a year-on-year basis.
Adding to that, the company has grown annual EPS by 14% on a CAGR basis since 2014, while EBITDA margins hit a new high in the third quarter at 36.3%. This is a few basis points above the previous high set in the first half of 2016.
It is also important to mention that the company's results were supported by higher volumes, better prices, and currency tailwinds.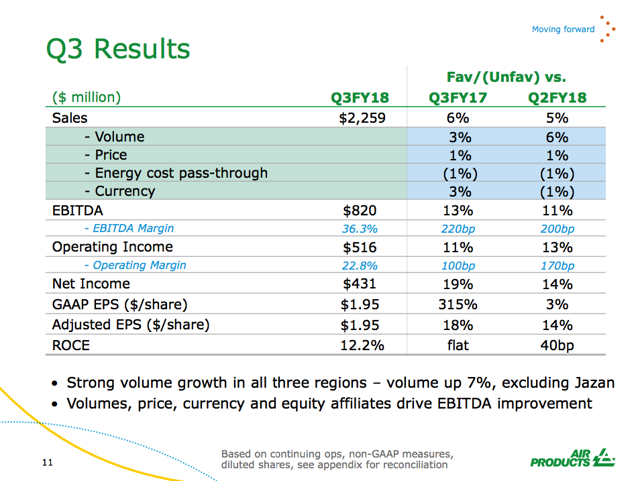 Source: Air Products Q3/2018 Earnings Presentation
And, it does not end there. APD saw outperforming growth in Asia and the EMEA region. Asia volumes added 6%, while prices added 4%. Total EBITDA increased 28% to $270 million in the third quarter. Operating income soared 24%. Operating margins improved 1.9 points to 29.7%.
Gases Americas is the company's biggest segment. Volumes improved 6% while prices were unchanged. Operating income added 1% to $237 million, while operating margins declined 0.3 points to 25%.
Gases EMEA saw 12% higher volumes with a 3% benefit from prices. Operating income soared 23%, with support from a 7% currency tailwind.
Going forward, the company expects fourth quarter EPS to grow between 11% and 14%, while full-year EPS is expected to accelerate between 17% and 18%.
All things considered, we are dealing with a company in a very favorable environment. Not only has the company used the past few quarters to grow its bottom line and profitability, we can also expect this growth trend to continue as leading indicators suggest further potential.
In terms of the company's stock price, it seems that we are once again at a point where the stock price is breaking out. The volatile period seems to be behind us as investors continue to buy quality stocks during the current stock market uptrend.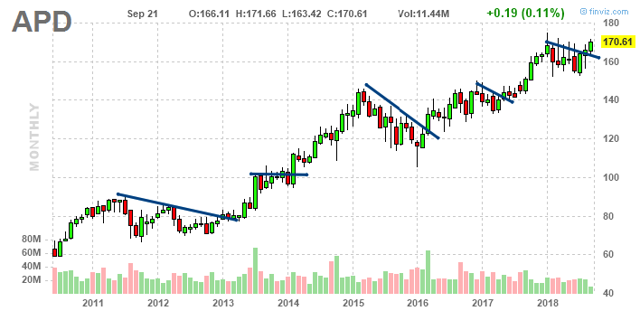 At this point, the stock is trading at 22 times earnings with a forward PE ratio of 20. It's nothing special and exactly what you would expect from a large company that can be considered a good trading vehicle for the chemicals industry.
That said, I expect the stock to continue its uptrend towards the $180-$190 range on the mid-term. The bull case seems to be very solid, and investors should prepare for further capital gains.
Stay tuned!
Thank you for reading my article. Please let me know what you think of my thesis. Your input is highly appreciated!
Disclosure: I/we have no positions in any stocks mentioned, but may initiate a long position in APD over the next 72 hours. I wrote this article myself, and it expresses my own opinions. I am not receiving compensation for it (other than from Seeking Alpha). I have no business relationship with any company whose stock is mentioned in this article.
Additional disclosure: This article serves the sole purpose of adding value to the research process. Always take care of your own risk management and asset allocation.