Key points
We see reduced near-term risk of flare-ups over eurozone cohesion, but still see non-eurozone assets offering better risk-adjusted returns.
Global equities rose last week, even as the U.S.-China trade conflict escalated. Value stocks rallied. The U.S. Treasury yield curve steepened.
The Fed is likely to raise rates this week and again in December, but its path in 2019 is less clear. Friday's inflation data could provide clues.
Fears of a fiscal showdown between Italy's new government and the European Union (EU) have roiled Italian assets this year - and renewed concerns about EU cohesion. How worried are we? We see a limited risk of near-term flare-ups, but are skeptical about the Italian government's commitment to fiscal discipline and Europe's ability to cope with the next downturn. We see better risk-return tradeoffs in non-EU assets.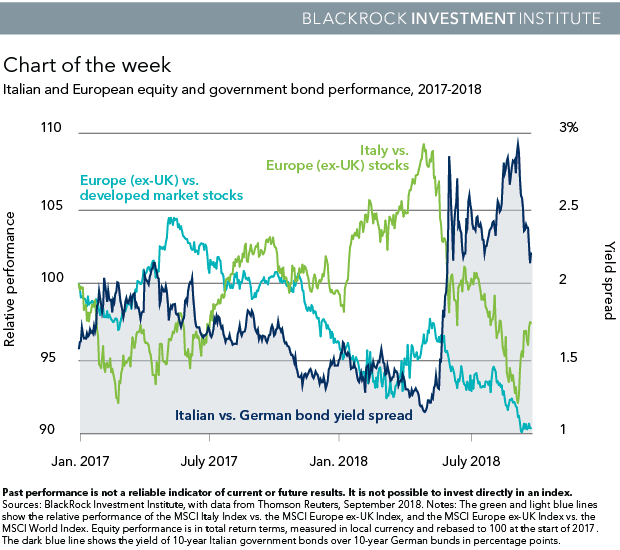 Italian assets have taken a hit this year. The selloff was sparked by fears that Italy's populist government would breach the EU's key budget deficit limit of 3% of gross domestic product (GDP), as the two major parties in the new governing coalition had vowed to cut taxes and boost welfare spending in their campaign. Italian 10-year government bond yields spiked after the March election, while local stocks fell. See the chart above. Italian assets have recouped some losses recently, only after Rome repeatedly assured it would respect EU rules in its soon-to-be released budget. We see scope for a further recovery in Italian asset prices, but do not see them returning to pre-election levels anytime soon. Why? A number of structural factors are weighing down both Italian and European assets. This helps explain why European stocks have underperformed other global developed markets in 2018.
Our budget base case
All eyes are on Italy's 2019 budget, which will be viewed as a gauge of the country's needed commitment to fiscal responsibility. Our base case: The budget - to be announced this week and submitted to the European Commission by mid-October - is likely to be moderate enough to win EU approval. This should create some room for assets from Europe's periphery to rebound further. Yet, structural issues bubble below the surface. A further deterioration in already weak Italian fundamentals - notably a debt-to-GDP burden above 130% and growth potential below 1% - would leave Italy vulnerable to a growth slowdown or external shock, though we see neither as imminent.
As for the region overall, the eurozone reform agenda is moving in the right direction. Yet, we see the progress in motion as likely too small to make a meaningful difference when the next downturn hits. Prospects of a common insurance scheme for bank deposits across the region now appear all but dead, and the framework that would deal with the winding down of a failing European bank is murky. German leadership has been weakened as Chancellor Angela Merkel faces a popular backlash against her party's immigration policies. It is also crunch time for Brexit negotiations. We expect a deal, but the road to that outcome looks bumpy. Market attention toward the risk of European fragmentation stands only marginally above the long-term average, as our BlackRock geopolitical risk dashboard shows. This means negative surprises could incite a sharp market reaction. At the same time, a truce in trade tensions between the U.S. and the EU has helped relieve some pressure on European companies, especially automakers.
Bottom line: We see a low likelihood of a flashpoint between Italy and the EU in coming months, but we remain cautious on longer-term political and economic dynamics. European earnings growth lags other regions, and we prefer U.S. stocks as a result, as well as emerging market (EM) equities. Within European equities, our preferences include the industrials and healthcare sectors.
Week in review
Global equities moved higher in a week characterized by a noteworthy change in market leadership toward value stocks. The materials and financials sectors outperformed, as did EM stocks, while more defensive sectors lagged. The U.S. Treasury curve steepened between two and 10 years as 10-year yields pushed above 3%.
The U.S. announced tariffs of 10% on $200 billion of Chinese products, lower than the 25% tariff some investors had expected. The rate is set to increase to 25% in 2019. China responded with tariffs on $60 billion of U.S. goods, but also hinted that it was considering broad-based tariff cuts on its global imports.
Japan's Nikkei equity index hit a seven-month high. Manufacturing PMI data showed an expansion. The Bank of Japan maintained rates and its upbeat economic outlook. Prime Minister Shinzo Abe was re-elected leader of the ruling party.
Week ahead
| Date: | Event |
| --- | --- |
| Sept. 24 | First day of U.S. trading after many funds adjust positions in advance of S&P Global Industry Classification Standard (GICS) sector changes. A telecoms revamp is the key change. |
| Sept. 26 | FOMC rate decision |
| Sept. 27 | Eurozone economic sentiment; Germany Consumer Price Index |
| Sept. 28 | China Caixin Manufacturing PMI; Japan industrial production; U.S. PCE price index; GICS framework officially shifts |
| Sept. 29 | Deadline for Canada to join the revised U.S.-Mexico NAFTA deal |
| Sept. 30 | China NBS Manufacturing PMI; U.S. government funding runs out |
We see the Fed raising rates another quarter percentage point at its meeting this week and then likely again in December, against a backdrop of solid jobs growth and inflation. The rate path appears less clear in 2019 given the uncertain economic impact of trade conflicts, but we see potential for two to three rate hikes. The Fed's "dot-plot" rate projections, which will extend to 2021 this week, may provide some clues, in addition to the Fed's preferred measure of inflation, core PCE, to be released Friday.
Global snapshot
Weekly and 12-month performance of selected assets
| Equities | Week | YTD | 12 Months | Div. Yield |
| --- | --- | --- | --- | --- |
| U.S. Large Caps | 0.9% | 9.6% | 17.2% | 1.8% |
| U.S. Small Caps | -0.5% | 12.5% | 20.1% | 1.2% |
| Non-U.S. World | 2.7% | -2.4% | 2.2% | 3.2% |
| Non-U.S. Developed | 2.9% | -0.6% | 4.1% | 3.3% |
| Japan | 3.8% | 1.1% | 10.4% | 2.2% |
| Emerging | 2.3% | -7.4% | -2.9% | 2.9% |
| Asia ex-Japan | 1.8% | -5.6% | -0.3% | 2.7% |
| Bonds | Week | YTD | 12 Months | Yield |
| --- | --- | --- | --- | --- |
| U.S. Treasuries | -0.3% | -1.8% | -1.9% | 3.1% |
| U.S. TIPS | -0.2% | -0.9% | 0.2% | 3.2% |
| U.S. Investment Grade | -0.2% | -2.5% | -1.2% | 4.1% |
| U.S. High Yield | 0.1% | 2.4% | 3.2% | 6.3% |
| U.S. Municipals | -0.4% | -0.6% | -0.1% | 2.9% |
| Non-U.S. Developed | 0.3% | -2.0% | -1.1% | 1.0% |
| Emerging Market $ Bonds | 0.5% | -3.7% | -2.6% | 6.5% |
| Commodities | Week | YTD | 12 Months | Level |
| --- | --- | --- | --- | --- |
| Brent Crude Oil | 0.9% | 17.8% | 39.6% | $78.80 |
| Gold | 0.4% | -7.9% | -7.1% | $1,200 |
| Copper | 6.5% | -12.2% | -1.4% | $6,363 |
| Currencies | Week | YTD | 12 Months | Level |
| --- | --- | --- | --- | --- |
| Euro/USD | 1.1% | -2.1% | -1.6% | 1.17 |
| USD/Yen | 0.5% | -0.1% | 0.1% | 112.59 |
| Pound/USD | 0.0% | -3.3% | -3.7% | 1.31 |
Source: Bloomberg. As of September 21, 2018
Notes: Weekly data through Friday. Equity and bond performance are measured in total index returns in U.S. dollars. U.S. large caps are represented by the S&P 500 Index; U.S. small caps are represented by the Russell 2000 Index; non-U.S. world equity by the MSCI ACWI ex U.S.; non-U.S. developed equity by the MSCI EAFE Index; Japan, Emerging and Asia ex-Japan by their respective MSCI Indexes; U.S. Treasuries by the Bloomberg Barclays U.S. Treasury Index; U.S. TIPS by the U.S. Treasury Inflation Notes Total Return Index; U.S. investment grade by the Bloomberg Barclays U.S. Corporate Index; U.S. high yield by the Bloomberg Barclays U.S. Corporate High Yield 2% Issuer Capped Index; U.S. municipals by the Bloomberg Barclays Municipal Bond Index; non-U.S. developed bonds by the Bloomberg Barclays Global Aggregate ex USD; and emerging market $ bonds by the JPMorgan EMBI Global Diversified Index. Brent crude oil prices are in U.S. dollars per barrel, gold prices are in U.S. dollar per troy ounce and copper prices are in U.S. dollar per metric ton. The Euro/USD level is represented by U.S. dollar per euro, USD/JPY by yen per U.S. dollar and pound/USD by U.S. dollar per pound. Index performance is shown for illustrative purposes only. It is not possible to invest directly in an index. Past performance is not indicative of future results.
Asset class views
Views from a U.S. dollar perspective over a three-month horizon
Asset Class
View
Comments
Equities
U.S.
Unmatched earnings momentum, corporate tax cuts and fiscal stimulus underpin our positive view. We like momentum. We prefer quality over value amid steady global growth but rising uncertainty around the outlook. Financials and technology are our favored sectors.
Europe
Relatively muted earnings growth, weak economic momentum and political risks are challenges. Its value bias makes it less attractive absent a growth story. We prefer higher-quality, globally-oriented names.
Japan
The market's value orientation is a challenge without a clear growth catalyst. Yen appreciation is another risk. Positives include shareholder-friendly corporate behavior, solid company earnings and support from Bank of Japan stock buying.
EM
Attractive valuations, along with a backdrop of economic reforms and robust earnings growth, support the case for EM stocks. We view financial contagion risks as low. Uncertainty around trade is likely to persist, though a lot of it has been priced in. We see the greatest opportunities in EM Asia on the back of strong fundamentals.
Asia ex Japan
The economic and earnings backdrop is encouraging, with near-term resilience in China despite slower credit growth. We like selected Southeast Asian markets but recognize a worse-than-expected Chinese slowdown or disruptions in global trade would pose risks to the entire region.
Fixed Income
U.S. government bonds
We see rates rising moderately amid economic expansion and Fed normalization. Longer maturities are vulnerable to yield curve steepening but should offer portfolio ballast amid any growth scares. We favor shorter-duration and inflation-linked debt as buffers against rising rates and inflation. We prefer 15-year mortgages over their 30-year counterparts and versus short-term corporates.
U.S. municipals
Solid retail investor demand and muted supply are supportive, but rising rates could weigh on absolute performance. We prefer a neutral duration stance and up-in-quality bias in the near term. We favor a barbell approach focused on two- and 20-year maturities.
U.S. credit
Sustained growth supports credit, but high valuations limit upside. We favor investment grade (IG) credit as ballast to equity risk. Higher-quality floating rate debt and shorter maturities look well-positioned for rising rates.
European sovereigns
The ECB's negative interest rate policy has made yields unattractive and vulnerable to the improving growth outlook. We expect core eurozone yields to rise. Valuations in the periphery appear tight. The exception is Italy, where spreads are reflecting simmering political risks. The upcoming end to the ECB's net asset purchases could dampen appetite for the asset class.
European credit
Increased issuance and political risks have widened spreads and created some value. Negative rates have crimped yields - but rate differentials make currency-hedged positions attractive for U.S.-dollar investors. We are cautious on subordinated financial debt despite cheaper valuations.
EM debt
We prefer hard-currency over local-currency debt and developed market corporate bonds. Slowing supply and broadly strong EM fundamentals add to the relative appeal of hard-currency EM debt. Trade conflicts and a tightening of global financial conditions call for a selective approach.
Asia fixed income
Stable fundamentals, cheapening valuations and slowing issuance are supportive. China's representation in the region's bond universe is rising. Higher-quality growth and a focus on financial sector reform are long-term positives, but a sharp China growth slowdown would be a challenge.
Other
Commodities and currencies
*
A healthy inventory balance underpins oil prices. Trade tensions add downside risk to industrial metal prices. We are neutral on the U.S. dollar. Rising global uncertainty and a widening U.S. yield differential with other economies provide support, but an elevated valuation may constrain further gains.

* Given the breadth of this category, we do not offer a consolidated view.
This post originally appeared on the BlackRock Blog.