By Gary Alexander
As the third quarter is about to end in five days, I think we can all take a deep breath, let it out, and then realize that we have dodged the most dangerous quarter of the year - Quarter #3 - and we are about to enter the strongest quarter of the year. But first, let's review the fundamentals keeping this market aloft.
In terms of economic growth, the Atlanta Fed's latest GDPNow model is back up to 4.4% for the third quarter, so we're likely to see the second straight quarter of 4%+ growth announced right before Election Day. We're also likely to see the third straight quarter of double-digit corporate earnings growth.
As amazing as S&P earnings are, the 10% growth in per share sales may be even more encouraging. According to Ed Yardeni (in "Remarkable Revenues," September 19), "The escalating trade war hasn't depressed US exports," which were up 9.6% y/y in July, and S&P 500 revenues per share are up 10.3%.
Yardeni summarized the revenue situation like this: "The bottom line is that the top line is all good: Revenues are strong across the board. This suggests that US corporate managements are doing a remarkably good job of bolstering their worldwide sales despite the challenging global environment. It may also be, dare we say, that Trump's policies of deregulation and tax cuts are working to stimulate the US economy, just as supply-siders predicted. Deregulation may be opening up more business opportunities. The 20% corporate tax rate makes America a great place to do business."
When it comes to historical quarterly stock market gains, there is no contest. Over the last 20 years, according to Bespoke Investment Group, the fourth quarter has delivered seven times more gains than the other three quarters combined. From mid-1998 through mid-2018, according to data from the August 31, 2018, Bespoke Report, the first nine months of the year averaged 0.85% gains, while the fourth quarter averaged a whopping 5.99%. In addition, three of the five best months of the year are in the final quarter.
| | | | |
| --- | --- | --- | --- |
| Quarter | Average Gains* | Best Months | Average Gain* |
| First | +0.90% | October | +2.49% |
| Second | +1.20% | April | +2.39% |
| Third | +1.24% | November | +2.39% |
| Fourth | +5.99% | March> | +1.80% |
| Full Year | +6.90% | December | +1.52% |
Going back 50 years, the fourth quarter outdistances the third by a long shot, gaining +3.78% versus +0.13%, on average. Going back even further, according to LPL Financial, from 1950 through late September 2017, the S&P has been positive in almost 80% of fourth quarters, and it has gained an average of 3.9%.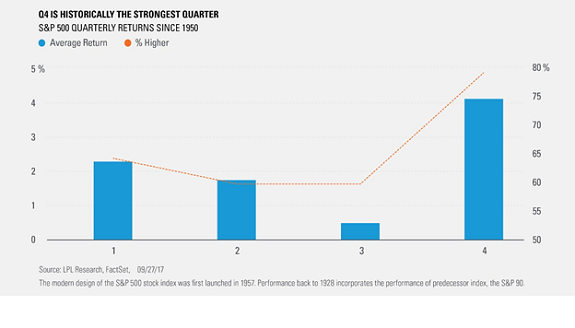 Graphs are for illustrative and discussion purposes only. Please read important disclosures at the end of this commentary.
Considering past October horror stories, October is amazingly not only the #1 month over the last 20 years, it also averages +0.84% (5th-best month) over the last 50 years and averages +0.40% over the last 100 years - a span which obviously includes 1929, 1987, 2008, and a few other scary October collapses.
I'm not predicting the Dow will rise 6% (or the S&P 4%) in the final quarter of 2018, but if either index gains 5% from last Friday, the Dow would close the year over 28,000 and the S&P would be at 3,075.
Gold Also Glitters Late in the Calendar Year
Gold is down about 8% so far in 2018, but like stocks, the yellow metal tends to shine late in the year. Ironically, it also tends to rally after the Fed raises rates - which is scheduled to happen tomorrow.
The second half of each year is the time when gold jewelry fabricators stockpile gold bullion to prepare for the late-year festival season in various cultures - including the wedding season and holy days in India, Christmas, and the Chinese New Year. Gold is usually flat from March through July, but August through January is stronger for gold demand over the last 40 years, as the following chart demonstrates: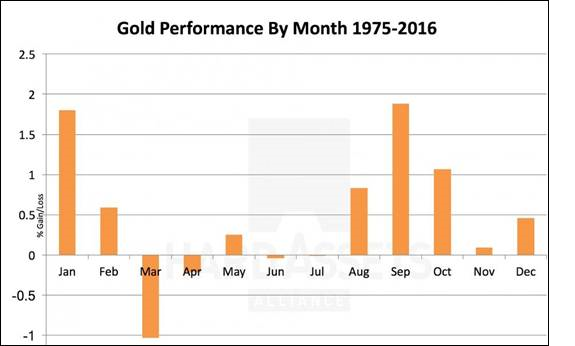 Graphs are for illustrative and discussion purposes only. Please read important disclosures at the end of this commentary.
The Fed is scheduled to raise rates this week. Pundits still argue that raising rates is bad for gold, since "gold doesn't earn interest," and it must compete with interest-bearing investments. That may sound elegant in theory, but that isn't historically accurate. During the Fed's previous rate-raising cycle (2004-06), gold rose from under $400 to over $600, and gold's strongest surge was from $103 per ounce in 1976 to $850 in 1980, at a time when U.S. interest rates soared to their all-time high, peaking at rates over 20%.
More recently, gold peaked in September 2011 at over $1,900 and fell to $1,050 in late 2015. During that entire time, the Fed Funds rate was near zero. At the time, most pundits said that gold would fall further as soon as the Fed started raising rates. During those years, I argued that this was historically inaccurate.
Sure enough, gold reached its bear market bottom on the precise day the Fed began to raise short-term interest rates in this cycle, December 17, 2015. Gold's price that day was under $1,050. Three months later, gold traded at $1,266.50, up over 20%. After each of the next four Fed rate increases, gold rose during the three-month period after the Fed's rate increase, contrary to the pundits' favorite theory.
Fed Rate Increases
Gold Price That Day
3 Months Later
Change
December 17, 2015
$1,049.40
$1,266.50
+20.7%
December 14, 2016
$1,162.25
$1,204.60
+3.6%
March 15, 2017
$1,198.80
$1,254.55
+4.7%
June 14, 2017
$1,275.50
$1,322.85
+3.7%
December 13, 2017
$1,242.65
$1,322.75
+6.4%
Gold price data: Kitco.com
Gold is currently out of favor, which is a positive factor from a contrarian viewpoint. It is so out of favor that the largest gold-oriented mutual fund, the Vanguard Precious Metals and Mining Fund Inv (MUTF:VGPMX), will change its name to Vanguard Global Capital Cycles at the end of this month. In doing so, it will drastically reduce its exposure to precious metals. The last time Vanguard changed the name of this flagship gold fund (by taking "Gold" out its name in 2001), gold traded at $255, at the very bottom of a long gold bear market.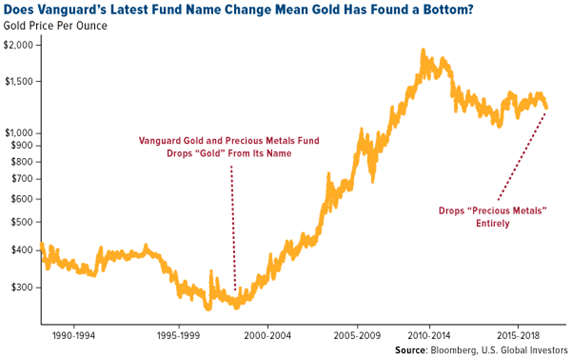 Graphs are for illustrative and discussion purposes only. Please read important disclosures at the end of this commentary.
Will history repeat itself? Could Vanguard's fund name change mark the end of gold's current dry spell?
Disclosure: *Navellier may hold securities in one or more investment strategies offered to its clients.
Disclaimer: Please click here for important disclosures located in the "About" section of the Navellier & Associates profile that accompany this article.