After writing my first three articles, on Conrad Industries and Friedman Industries, I've been wondering what stock I wanted to discuss next. I favor writing about a stocks I own. However, most of them have already been discussed extensively and satisfactory on SA. I therefore plan to update you every quarter on my value portfolio as a whole. With this approach I can give readers insight in how my holdings are (under)performing. It also gives me a chance to discuss with the readers why I own certain stocks without writing a full article on them. Furthermore, reading these kind of portfolio articles from other writers has been very helpful for me. Since identifying the great insights and mistakes of others helps a lot in the investing process. It also helped me understand that short-term success or failure is not definitive. Or as Winston Churchill once said: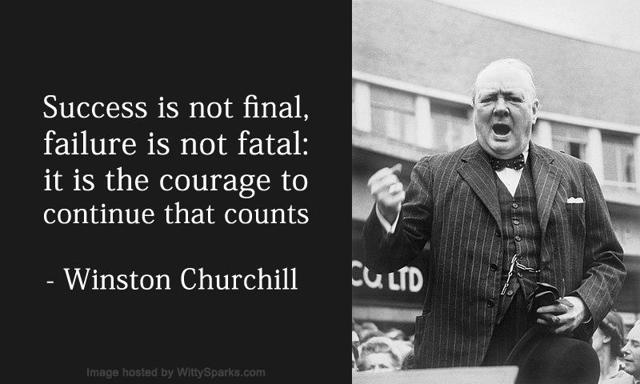 Source
Some of you may know that Churchill wasn't a financial genius but this quote still resembles value investing pretty well in my view. You always have to keep the long-term view in mind. How high your paper profits or losses may be. Thanks Winston! ;)
So here is the plan for this portfolio series. I want to write quarterly updates on my performance to remind everyone, myself included, how volatile value investing actually is.
In this first article I want to address the following things:
A short introduction into my value investing strategy
A summary of my holdings and why I bought them
An overview of my entire portfolio and how it is performing
I'll start off with explaining my, pretty straightforward, strategy. As you can read in my first blog post (here) I'm a rooky to the world of value investing. From July 2017 onwards I've just read a ton of books and annual reports. And in November 2017 my first investments followed. Value investing really caught on to me and I want to stick to that strategy more than anything else. To keep it simple I distinguish value investing as having two basic value strategies.
Buy fair companies at great price
Buy great companies at a fair price.
The first resembles the cigar butt investing of Ben Graham and the early Warren Buffett. The second is of course the strategy employed by Warren Buffett now, inspired by Charlie Munger and Philip Fischer.
The goal is, ultimately, to be able to make good investments in the second category. However, right now I feel this is still too hard for me as a beginning investor. Picking companies with a big moat and for fair prices requires more in depth knowledge and a wider circle of competence than I currently possess.
The first strategy is the one I employ right now. It is straightforward and the companies are easier to analyze. Rather than identifying a competitive advantage and a big moat I just have to make sure I pay a lot less for the companies than they are intrinsically worth.
Up till now I've found three sorts of investments within this category, all of which are included in my portfolio:
The classic cigar butt: Investments where stock sells for less than Net Current Asset Value or below a combination of cash/real estate or other hard assets.
Mediocre companies that sell for a very low cash flow multiple. These companies are usually out of favor because they operate in a declining industry. However, they still throw of so much cash that you can reasonably expect to get more cash out of it than the price you buy it for.
Companies that are struggling, but who's price is so low that the risk/reward situation is very favorable. The investment is thus not based on a calculated value of the assets or cash flow. The strategy is expressed eloquently by Charlie Munger: "We look for a horse with one chance in two of winning and which pays you three toone. You're looking for a mispriced gamble. That's what investing is."
As I read more books, learn more about industries, read more 10-K's and invest in more companies I hope that one-day, category two is no longer out of my circle of competence. For now, I will basically stick with these three sorts of value investments.
This concludes the first section and I'll now kick off talking about my portfolio by briefly describing each of my holdings. This is done in the order of which I bought them.
Conrad Industries OTCPK:CNRD: This Louisiana shipbuilder was the first value investment I made at the end of 2017. I wrote a detailed article on the company on SA (here). In short, I believe this shipbuilder has a very good chance of returning to meaningful profitability. The last few years have been harsh because of the energy downturn and a difficult investment in an LNG Barge. With the LNG barge finished and the energy market recovering a bit, I think Conrad could see big improvements in the next 12 months. Furthermore, the assets provide a good margin of safety, giving the investment proper downside protection.
ADDvantage Technologies AEY: This tiny company deals mainly in the business of providing telecom and cable television hardware to companies. With a market cap of 14.5 million dollars it is truly a microcap. It operates in a declining industry and the company is trying to diversify into telecom to offset the ongoing decline in the cable segment. While doing this, the company throws of 1-2 million a year in cash flow. Furthermore, the NCAV is at least $1.70 per share (with extra mark downs for obsolete inventory) and the real estate of the company should be worth $0.75 a share. The margin of safety is huge in my opinion. The new CEO is trying to turnaround the company and I believe this one could easily double in the next 12-18 months.
Cato Corporation CATO: This women's clothing retailer was already on my watch list when Timothy Stabosz wrote his article on Cato. Then I realized I'd been sucking on my thump (as Buffett would say). After checking the story, I quickly bought the stock. Up till now this is my most profitable investment. But then again you don't see a lot of companies with almost their full market cap in cash while paying a 12% dividend (when I bought it) while still being profitable. I have sold 2/3 of my position around $26. Holding onto the last 1/3 hasn't been a wise choice for now, so we will see how it plays out eventually.
Friedman Industries FRD: This is the other company I have covered already on SA (nr. 1 and nr. 2). This steel retailer was a classic cigar butt selling below NCAV when I bought. I you want to know more about the investment thesis I recommend reading the articles including those from SA author James Duade (here).
GameStop GME: One of the most discussed 'value' stocks on SA I think. I'm on the side of the bulls here. The company has a cash flow yield of approximately 25% while paying out a big dividend. While I can't imagine seeing GameStop stores 15 years from now, the company is just so cheap I believe investors can get an easy double (I bought in at $12,50) here just of the cash flows the company will likely generate the next few years. The recent takeover rumors provide for another catalyst.
Crown Crafts CRWS: This company designs and distributes infant and toddler products for the U.S market. New trends in de market combined with the bankruptcy of Toys R Us has dampened their profits and margins the last two years. But, they are still profitable, made two good acquisitions, pay a 5% dividend and have an excellent CEO. I have to be honest though. This investment really doesn't fit in one of the three categories I presented earlier. There is little asset protection since the company sells at 2.5 times tangible book value. Their cash flows have topped around 10 million in fiscal 2017. This declined to 2.5 million in fiscal 2018. So while they have proven they can generate significant cash the current cash flow yield isn't particular high with a market cap of 60 million. This investment is mainly based on the fact that the CEO has proven he can grow the business while achieving very high margins. The acquisitions they have made, make sense to me and they are shareholder friendly in terms of paying out extra dividends while they can. I view this one as my closest investment to a great business at a fair price. Although you have to see Crown Crafts as a Good Company at a Good Price.
Christopher & Banks CBK: This women's retailer intrigued me because of their large cash holdings (almost as big as their market cap) combined with the fact their new CEO seemed very capable of turning the business around. The company has made a consistent loss for the last few years and is struggling to find meaning for itself in the current market. With no debt and a big enough cash pile they still have time to sort things out. I view this investment as a very favorable risk/reward gamble. The company is priced as if going bankrupt. But with sales of around 360 million only a slight improvement in margins could propel this stock way higher. While I do not believe in their long-term prospects I do think it is priced favorably. One or two quarters with a profit could make this double/triple while downside is manageable because of their cash and the dirt cheap stock price. I view this as one of the more uncertain positions in my portfolio. It is truly a risk/reward gamble that could go either way. For now, I'm in the red since the last two quarters haven't been exactly going well...
Network-1 Technologies NTIP: I personally think his is one of the most interesting investments. This patent litigation company owns a lot of technology patents which they try to defend against the big tech companies. They have been extremely successful in the past with this. However, after they lost a case against their biggest royalty generator, Cisco, in a jury verdict, the stock price plummeted. The company has their market cap in cash and they have, in my opinion, a great chance to overturn the jury verdict in their favor. Furthermore, you essentially get their other patents for free. Meanwhile, the company is buying back stock and paying a $0.10 dividend. Due to the big cash pile the downside is very limited while the upside could be a double/triple. If you want to learn more about this case, I recommend reading Robert Leonard's articles on the stock (here).
Entravision Communications Corporation EVC: This Spanish TV and Radio broadcaster is another special situation in my portfolio. Selling some of their spectrum rights in an FCC auction for 260 million in 2017 made their debt load very manageable. Furthermore, it implies the rest of their broadcast rights are worth far more than their stated book value. And with yearly cash flows around 20 million they throw of a fine amount of cash in a business that is growing. And with their buyback program and dividend of $0.20, I get a reward immediately for holding the stock.
CSS Industries CSS: One of the more mundane companies in my portfolio. This company produces giftwraps, seasonal decorative products, craft and hobby products etc. etc. It is a boring industry that is slowly declining. A few recent acquisitions artificially suppressed their margins after which the stock tumbled to multi-year lows. The company is still throwing of decent amounts of cash while trying to turn around the business. It is a pure cash flow play supported by the tangible book value which is around 20 dollars while the share price currently stands at 15. Is CSS exciting? No! Is it a profitable company with a decent margin of safety? Yes! And that is enough for me.
Beter Bed Holding OTCPK:BBEDF: I would be surprised if any of my readers know this company. It is a Dutch small cap company selling bedding and bedding furniture in mainly the Netherlands, Belgium, Germany and Sweden. It has been a very profitable business the last 10 years or so. Recently, the company experienced a big downturn in Germany due to some scandals and a mismatch in inventory. And the recent half year loss has send the stock into an even bigger downfall. I bought in at 6 euro a share, the company is now at 5 euro's. I'm planning to buy some more in the 4-euro range. It is a well-known company and they have proven they can be very profitable. And above all Beter Bed is doing very well in the Netherlands, Belgium and Sweden. It is just Germany that needs a turnaround. Right now it is priced for bankruptcy which isn't fair at all. If the company can get the German operations back on track this could easily be a 15/20-euro stock.
Argan Inc. AGX: Argan mainly constructs and designs gas-fired power plants. The company has a lot of cash, around half their market cap of 680 million. The company has a record of having one of the best margins in the industry. Furthermore, they are still profitable and are on the verge of adding between 1-2 billion in backlog to their existing backlog. This seems like a very mispriced stock with a good margin of safety due to their continued profitability and big cash pile. This stock should give the portfolio an easy 50-75% profit in the next 12-18 months.
CKX Lands CKX: This is a very odd company with a tiny market cap of 20 million. The only thing it does is receiving oil, gas and timber royalties from the large chunks of land it owns in the Southwest of the US. This has proven pretty profitable for them the last decade. But the big catalyst is the price of the land. It sits on the books for a few decades now and my research indicated the land is at least worth double its book value. A few sales of pieces of this land should provide for a catalyst for the stock. Anyway the margin of safety is huge. When, and if, a catalyst for a higher stock price will occur is hard to predict. Fact for now is that the margin of safety is huge and in this big bull market, with big valuations, it doesn't hurt to own this stock just waiting for value to released.
| | | | | | | | | | | | | |
| --- | --- | --- | --- | --- | --- | --- | --- | --- | --- | --- | --- | --- |
| Company | Buy Dates | Amount of shares | Average purchase price in $ | Transaction Costs in $ | Total purchase price in $ | Current Share price (08-23-2018) in $ | Current Value in $ | Dividends received in $ | Dividend tax (15%) in $ | Net dividend in $ | Total paper profit/loss in $ | Paper profit/loss in % |
| Conrad Industries | 28-11-2017 | 42 | 18.20 | 0.00 | 764 | 19.25 | 809 | | | | 44.10 | 5.77% |
| ADDvantage Technologies Group | 1-16–2018 04-25-2018 | 1450 | 1.45 | 4.70 | 2100 | 1.40 | 2030 | | | | -74.70 | -3.55% |
| Cato Corporation | 03-08-2018 | 50 | 11.79 | 0.27 | 590 | 20.29 | 1015 | 115.50 | 17.33 | 98.18 | 522.91 | 88.66% |
| Gamestop Corporation | 03-29-2018 | 105 | 12.50 | 0.68 | 1313 | 16.52 | 1735 | 79.80 | 11.97 | 67.83 | 489.25 | 37.26% |
| Friedman Industries | 4-04-2018 | 110 | 5.55 | 0.70 | 611 | 8.96 | 986 | 6.60 | 0.99 | 5.61 | 380.01 | 62.17% |
| Crown Crafts | 04-19–2018 06-05-2018 06-06-2018 | 400 | 5.62 | 2.09 | 2249 | 5.95 | 2380 | 64.00 | 9.60 | 54.40 | 183.81 | 8.17% |
| Christopher & Banks | 04-23–2018 04-25–2018 | 1500 | 1.06 | 6.50 | 1593 | 0.81 | 1215 | | | | -384.50 | -24.04% |
| Network-1 Technologies | 5-7-2018 08-21-2018 | 1000 | 2.62 | 4.65 | 2615 | 2.95 | 2950 | 50.00 | 7.50 | 42.50 | 372.85 | 14.23% |
| Entravision Communications Corporation | 05-31-2018 | 150 | 4.00 | 0.88 | 600 | 5.10 | 765 | 15.00 | 2.25 | 12.75 | 176.88 | 29.44% |
| CSS Industries | 6-06-2018 | 100 | 15.29 | 1.14 | 1529 | 14.94 | 1494 | 30.00 | 4.50 | 25.50 | -10.27 | -0.67% |
| Beter Bed Holding | 7-06–2018 | 80 | 7.35 | 1.81 | 588 | 5.69 | 455 | | | | -134.28 | -22.78% |
| Argan Inc. | 7-18–2018 07-24–2018 | 25 | 38.28 | 1.09 | 957 | 44.05 | 1101 | 3.75 | 0,56 | 3,19 | 146.35 | 15.27% |
| CKX lands | 08-07–2018 | 250 | 10.30 | 1.17 | 2575 | 9.80 | 2450 | | | | -126.17 | -4.90% |
| | | | | | | | | | | | | |
| Total portfolio | X | 5262 | X | 25.68 | 18082 | X | 19384 | 364.65 | 54.70 | 309.95 | 1586.23 | 8.76% |
| | | | | | | | | | | | | |
| Sold Positions | | | | | | Price Sold | Value Sold | | | | | |
| Cato Corporation 1 | 06-21–2018 | 50 | 11.79 | 0.26 | 590 | 25.50 | 1275 | - | - | - | 685.24 | 116.19% |
| Cato Corporation 2 | 07-19–2018 | 50 | 11.79 | 0.26 | 590 | 26.50 | 1325 | - | - | - | 735.24 | 124.67% |
| | | | | | | | | | | | | |
| Current profit/loss portfolio | | | | | | | | | | | 3006.71 | 16.65% |
| Current Cash Position in $ | 11949.86 | | | | | | | | | | | |
Source (Autor's own portfolio)
As you can see I currently had one big winner, Cato, with Christopher and Banks being the loser. For most of the other holdings it is yet to early to predict how they will work out. But then again I'm just getting started. To conclude this first article, I'd like to talk about the plenty of mistakes I've made already.
The first big mistake doesn't show up on this portfolio sheet. As Warren Buffett has repeated many times, the biggest mistakes he made where of omission rather than commission. I've experienced this first hand already. Especially the retail meltdown around November 2017 provided value investors with a lot of opportunities. Names as Footlocker, Dicks Sporting Goods, Hibbet, Macy's etc. etc. are all good companies with a fine balance sheet and high cash flow yield. I looked at all of them intensively and did, well nothing… I'm still not sure why I didn't act then. Anyway it was a grave mistake that could have given me a big head start. I see this as the most valuable mistake. Only thing I can do now is learn from this fault and keep it in mind during the next big wave of opportunity
The second mistake I made was with Friedman Industries and Cato. Although I invested in them I put not enough money in these stocks. Especially Cato was such an obvious bargain. First, I needed Timothy's article to wake me up and even after that I only put $1500 dollars in the stock. It was by far one of the best value investing opportunities with the biggest margin of safety in the market. To a lesser extent this was also the case for Friedman. I've tried to correct this by putting more money in Network-1 and ADDvantage Tech. Both investments I view have a high margin of safety and lots of upside potential.
A third mistake I've made several times already was trying to 'trade' when buying stocks. When I wanted to buy some stocks I was so thrifty as to try to bargain a few cents of the price by putting in low limit orders. To give an example. I identified Office Depot as a great value opportunity this summer. When it was at $2.03 I put in an order for $2.00. It never again reached the price and after that ODP has seen a 60-70% gain in share price. I recognized the opportunity and the great value investment it was. In the end I failed to act because I was to thrifty, basing my limit order on nothing else than hoping it would reach that price.
All these mistakes combined have 'cost' me at least 5000 dollars already just by making rooky mistakes. And while I believe I will fall for some of these same mistakes again I hope to limit it to the bare minimum. To give myself one pad on the back though. The thing I'm most pleased with is that I haven't yet loosened my own standards for a sufficient Margin of Safety. I view downside protection as the most important value strategy I want to adhere to. And I would be on a very wrong path if invested in companies which I could not defend as having a sufficient MOS. Well done me! ;)
And on that positive note I want to conclude this article. I hope other value investors will gain insight in my portfolio strategy as I write new updates. For me it has been a valuable lesson to follow other portfolio's and see what choices investors make and why. Trying to identify the mistakes and valuable insights of others has helped me a lot in the learning process. And I hope these portfolio updates will do the same for other investors.
Disclosure: I am/we are long AEY. I wrote this article myself, and it expresses my own opinions. I am not receiving compensation for it (other than from Seeking Alpha). I have no business relationship with any company whose stock is mentioned in this article.
Additional disclosure: I'm long all the stocks presented in the portfolio.
Editor's Note: This article covers one or more microcap stocks. Please be aware of the risks associated with these stocks.