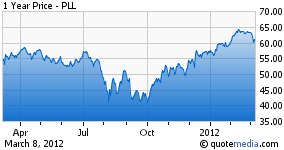 Filtration has been a popular niche within industrial and life science markets, and it's not hard to see why. Once a system is in place, the vendor can usually look forward to years of lucrative disposables/consumables sales and customers are disinclined to risk their reputations or systems (to say nothing of downtime) just to save a few bucks on a competing platform.
All of that speaks to why Pall (NYSE:PLL) should be a popular stock. Certainly the company has a great array of businesses, with relatively dependable markets like biopharmaceuticals and healthcare offsetting more volatile and cyclical industries like microelectronics and aerospace. That all being said, there's a fair value for every asset and Pall is going to have to deliver remarkable performance to live up to its present valuation.
Reasonable Performance In Q2
Pall did OK for the fiscal second quarter. Revenue growth of 8% slightly exceeded the high-end of the analyst range, as life sciences grew over 7% and industrial sales rose more than 9%. Diving deeper, biopharma drove the growth in life sciences (up over 12%), while aerospace (up 16%) and process tech (up 13%) more than offset less-than-feared weakness in microelectronics (down more than 5%).
Margin and profit performance was likewise OK. Gross margin was basically flat as the company offset weaker margins in industrial with higher margins in life sciences. Operating income growth almost matched revenue growth (about 8%), as industrial grew at a double-digit rate, and the company did beat expectations on an operating basis.
Nervousness Creeping In
Management seems a little cautious coming out of this quarter, and it's not too hard to see why that might be. Europe is a significant market for Pall and while life sciences is a large component of that, there are still risks in segments like microelectronics and process tech. At the same time, many analysts and investors are atwitter over prospects for growth in emerging markets like China and whether those economies are setting up more downside risk.
A sluggish order outlook doesn't help either. Orders were up about 3% in local currency terms, as 5% growth in consumables was offset by a 6% decline in system orders (due in large part to a tough year-ago comp).
Built To Last, With Room For Improvement
There's nothing out there that suggests Pall is seeing any real share erosion. Pall holds the No. 1 spot in many of its markets and major rivals like General Electric (NYSE:GE), Siemens (SI), 3M (NYSE:MMM) and Merck KgA are not dramatically chipping away at that position. In fact, at least in healthcare and biopharmaceuticals, Pall seems to be gaining on Merck KgA and GE.
That said, Pall did sound more cautious than either Donaldson (NYSE:DCI) or Clarcor (NYSE:CLC) did on their recent calls. Some of this could be attributable to the different addressable markets (both are more leveraged to growing aerospace and off-road vehicle markets) and different management temperaments, but it's worth asking if conditions have deteriorated in the time since those other companies reported.
Taking a step back, it seems unlikely that the biopharma or food/beverage businesses are going to get knocked off stride. Likewise, while orders for mining and construction equipment may slow, the usage for equipment in the field suggests good ongoing demand conditions. Beyond that, aerospace is still in a recovery/growth mode and microelectronics should start to rebound. All in all then, the medium-term outlook for Pall is still solid.
The Bottom Line
Pall would be an attractive acquisition for large rivals like GE, 3M and Siemens, and I think that fact underpins the stock's valuation to some extent. While this company certainly has fine margins and returns on capital for an industrial company, a DCF analysis suggests pretty robust expectations.
Working backwards, today's valuation seems to assume a decade of approximately 14%-16% compound annual free cash flow growth. Not only is that better than the trailing 10 years of Pall's history, but that sort of exceptional growth presupposes a fair bit of share growth against Merck KgA, 3M, GE and Siemens and/or a level of free cash flow conversion that would be rather exceptional in the industrial sector.
Can Pall grow against these large rivals and leverage its leadership even further in emerging markets? That's certainly a possibility, as we're seeing in life sciences. The question, though, is one of degree and risk-reward trade-off. I'm comfortable projecting low teens free cash flow growth on the basis of that strong share, strong high-margin consumables model, and ongoing margin expansion, but I'm just not comfortable with the sort of growth that today's valuation demands. Barring a pullback, this one will continue to sit on my watchlist.
Disclosure: I am long MMM.