It is the end of September hence it is time to summarize the progress that was made by my 4% dividend yield portfolio during this recent quarter.
I generate this portfolio back in November 2014 with the goal to generate a dividend cash flow that is constantly growing.
The portfolio includes today a total of 24 holdings.
The recent quarter was shy in term of dividends hike within my holdings. It was only BBL that announced a significant comeback to the levels of dividends it delivered before the 2015 commodities' prices meltdown. This is encouraging that my patience proved to be right but it is no proof to anything that would come about from here onwards.
As I look at the trend of the quarterly dividend alongside to the overall portfolio's value, the later was more or less flat during the last three months while the dividend has slightly increased.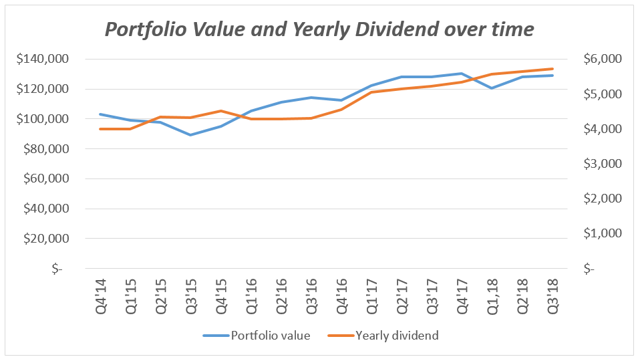 So there was only a single holding that increased its dividend (BBL) while the remaining left the dividend as it was a quarter ago. By generating the same portfolio at today's stock price one could achieve a dividend yield of 4.4%.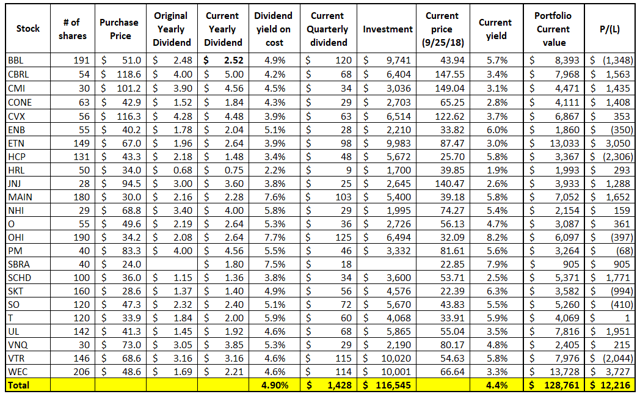 What's next (or, why do I still hold my dividends in cash)?
When I think about the midterm horizon I constantly follow the next three elements that appear on the next chart.
Those are the yield of the 10-years Treasury bond (the blue line), the FED's short term interest rate (in orange) and the U.S Inflation monthly rates (in grey).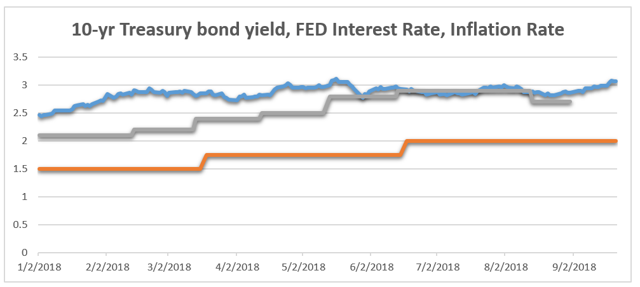 During the last quarter inflation rates continued to march forward reaching the range of ~2.8% while during the recent several weeks the 10-years treasury bonds prices fell pretty sharply leading the 10-years yield to reach 3.08%.
This is very close to the 3.11% yield which was recorded back in mid-May. It means that the market signals that he believes the FED would take action.
Assuming that the FED would take two more actions this year there is no reason to assume that the 10-years Treasury bond yield would not exceed the 3.11% levels and even reach 3.2-3.5%, pending on the expectations towards 2019.
It also means that some investors would start shifting their money from the Equity markets back to safely. These are investors which were used years ago to the safety that the bonds market offered but were bound to look elsewhere due to the low yields it delivered.
In the short-term this would have a negative impact on my portfolio holdings' stock prices while I do expect that the rush to the Bonds Market would trim down the yield hike in long term bonds.
In the mid-term it would depend on expectations towards 2019. If the FED signals that it would not expect too many hikes than the rush to bonds would be limited.
But, if it signals that he expects a couple of more hikes than the safe yield would continue to rise and I expect it to be very similar to the dividend yield in my portfolio. This would lead to a relatively significant pullback in stock prices.
The way I see it a 3.5% safe yield in long term bonds could be the turning point where a lot of investors would see as an opportunity to lock the yield of their investments and avoid risk, even if they give up the upside of improved financial results which interpreted to potential higher dividends in the future.
Which leads me to my long-term view: A pullback in the Equity market could signal a significant impact to some of the Pension funds which, based on a Pew Charitable Trusts' analysis, assumes an average of 7.5% median yearly return and carries about 34% of Net Pension liabilities.
A drag in performance due to a pullback in the Equity markets would mean a negative cash flow to some of the stressed funds which could lead to a more aggressive pullback in the markets. No one can predict when and if this scenario would take place but this could lead to great opportunities.
I therefore prefer to preserve some cash to address any significant pullback, when it arrives.
In the meanwhile I still keep my eye on the iShares 20+ Year Treasury Bond ETF (TLT).
TLT could be interesting in the event that the 10-years Treasury yield would fall down to the levels of 3.2-3.4%. In this case it would deliver a 3% dividend yield paid monthly.
Conclusions:
The portfolio that was aimed to deliver a 4% dividend yield and grow over time continues to produce positive growth in the dividend front. In 15 quarters the dividend went up from $1,000 to $1,428.
After 9 straight years of a Bull market this could be a time to be more careful and realistic about the upcoming events.
As Equity markets are reaching their all-times-high and while the FED seems to be serious about the upcoming hikes I prefer to stay with a cash cushion with the opportunity to pick up a Bond ETF should it yield would meet my goal.
Happy Investing.
Disclosure: I am/we are long CBRL, O, WEC, NHI, OHI, CMI, T, SCHD, VNQ, VTR, HCP, UL, SO, SBRA, MAIN, HRL, ETN, CVX, BBL. I wrote this article myself, and it expresses my own opinions. I am not receiving compensation for it (other than from Seeking Alpha). I have no business relationship with any company whose stock is mentioned in this article.
Additional disclosure: he opinions of the author are not recommendations to either buy or sell any security. Please do your own research prior to making any investment decision. If you want to get frequent updates on my portfolio, please push on the "Follow" button. Happy investing!