Hertz Global Holdings, Inc. (NYSE: HTZ) is interesting because of a few factors. First of all, famous activist investor, Carl Icahn, is long the stock. Icahn has a track record of finding companies whose value is trapped due to selfish/incompetent/corrupt management teams. Once he gains a substantial position on the stock, he usually seeks to outvote management and enact changes that would benefit shareholders. Overall, he's had an outstanding track record at this practice, and shareholders generally profit as well.
Furthermore, HTZ appears undervalued by traditional metrics. It sports an incredibly low PE of 4.5, PS of 0.17 and a PB of 0.97. Moreover, the car rental industry is undergoing structural changes due to disruption. HTZ's failure to adapt so far has caused its valuation to plunge. Icahn may be able to extract value from this situation, but for the ordinary investor, the upside remains unclear.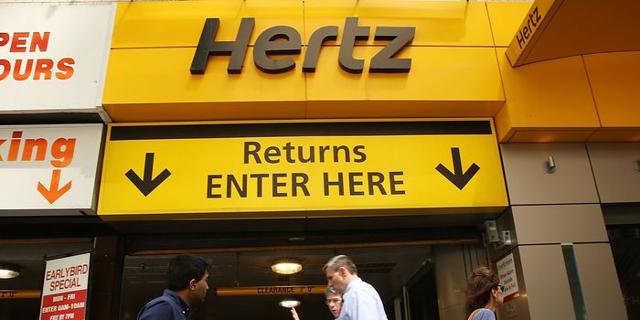 Business prospects
Unfortunately, HTZ has so far been a mess of a company. It's failed to adapt to industry changes and new market trends, which has impacted its profitability. Furthermore, to finance those loses, HTZ has leveraged itself considerably (through debt and other liabilities). In my view, HTZ's highly leveraged financial structure is its most significant value detractor. It hurts the company's valuation and profitability (through interest expenses).
Nevertheless, since Icahn entered the picture, investors have been promised the idea of a potential turn around. Management's turnaround strategy hinges on the following areas:
Fleet optimization.
Delivering excellent service to achieve organic growth.
Investing in technology.
Leveraging Hertz's brand through marketing.
Successful turnarounds can be quite profitable for investors. I imagine that Carl Icahn genuinely believes that HTZ can upgrade its operations, deleverage, and become profitable once again. However, he's also aware that even on a worst-case scenario, car rental assets should be immensely valuable to someone in some way. Maybe self-driving cars replace conventional vehicles in the future, and car rentals would stand to profit from the shift due to the higher demand for car fleets. Maybe Uber or Lyft will run into scaling issues that can only be solved through car rentals assets, which could be very profitable for HTZ. Alternatively, perhaps an Uber/Lyft copycat can disrupt the industry through the use of car rentals fleets.
The truth is that since the automobile was invented, the industry has gone through many profound periods of disruption and changes. It's highly unlikely that ordinary investors can accurately anticipate the results of present and future disruptions in the transportation sector. It's even more unlikely that such investor can also pick the precise stock to profit from such long-term changes in trends.
Hertz's structural flaws
HTZ's flaws are so profound that it's likely that fixing them would take at least another couple of years. Plus, the turnaround process can be plagued with further pain for shareholders. Problems like earnings misses, financing issues, marketing problems, increasing competition, and disruption can cause selloffs. Moreover, Icahn himself could be outright wrong on Hertz's potential. If he ever sold his position, then the stock would likely plunge. I have great respect for Icahn, but he's had his fair share of failures (no investor is perfect).
Nevertheless, I think it's useful to list the most prominent of Hertz's flaws:
High need for marketing spending to remain relevant in a changing industry.
Extremely capital-intensive business. Yearly car replacements are a drain on car rentals' liquidity.
Managing such a vast operation requires substantial overhead and SG&A expenses. Management is investing in technology that might mitigate this problem to a point. However, this will further drain the company's liquidity in the meantime.
Hertz's quarterly earnings depend on the value of used cars. This figure fluctuates based on exogenous factors (like oil prices for oil companies). This exposes investors to risks that are outside of HTZ's control.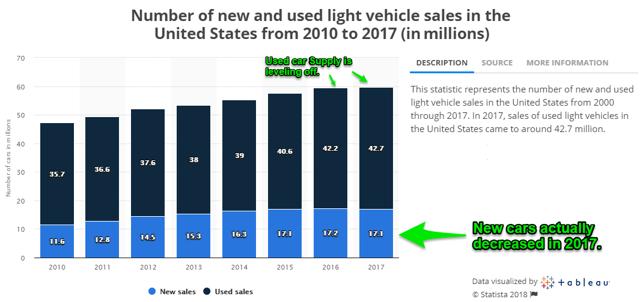 I want to expand a bit on the last point. The used car market isn't experiencing any substantial increments in supply or demand. Yes, the market is growing, but it's likely only keeping up with a modest rise in yearly demand. In fact, in 2017 new cars actually decreased a bit. Thus, I don't see an imminent plunge or increase in used car prices soon. Used car prices will probably remain stable and not materially affect HTZ in either direction. However, I have to hedge my opinion by stating that this could change due to disruption. Nevertheless, at this point, it's unclear how such a dynamic would play out.
Hertz is improving
Not all is bad on HTZ. As I said, the new management is taking the right steps towards modernizing its operations. Management has so far improved the company's utilization rate, which should translate into higher margins. Also, HTZ international growth of 10% (2017) is a great growth diver. Furthermore, cost control initiatives are resulting in lower SG&A figures.
(…) the significant investments we're making in operations and technology are putting a lot of pressure on earnings, but if we don't get it right, deficiencies in any one area can derail long-term growth, and getting it right takes time. - Kathryn V. Marinello, HTZ's CEO.

Source: Hertz Q2 earnings call, Seeking Alpha transcript.
Also, fleet management is a fascinating concept on paper. HTZ is attempting to decrease SG&A and fleet management expenses through technology. However, in reality, this is not a new idea. Even if they succeed, management recognizes that most changes will show in the long term. Hence, a turnaround might be undergoing, but it'll likely be a long time until shareholders see substantial results.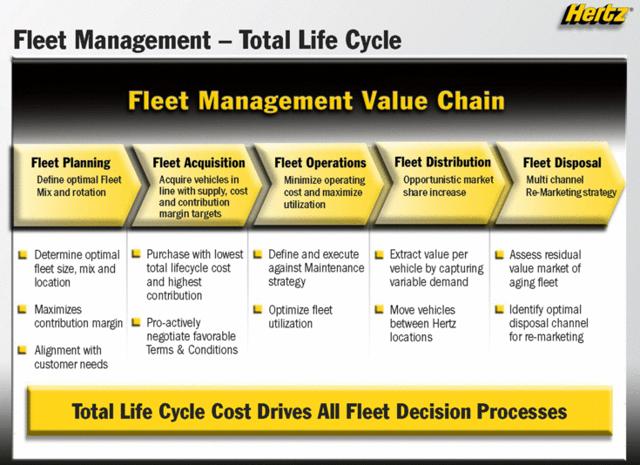 Source: HTZ's slides on Fleet Management from 2009. Not a new idea, but shareholders are hoping this time will be different.
How to value Hertz?
This is a tricky question. I usually run a two-stage model on the company's earnings (or similar figures) to obtain the company's fair value. Then, I'd add cash and equivalents and subtract the debt. However, that creates two problems: 1) HTZ's historical growth is actually negative, which severely punishes the valuation. 2) Once you subtract HTZ's total debt from the discounted fair value figure, the estimate of the company is negative. Hence, I've made favorable assumptions for HTZ to make the model viable. Below are the results.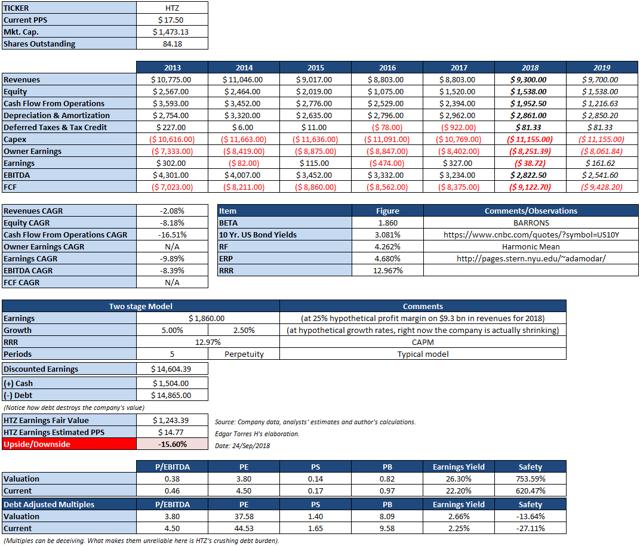 It's worth noting that HTZ's debt burden is absolutely crushing for any valuation model. Regardless of any turnaround success or failure, HTZ's leverage will likely keep the shares depressed for the foreseeable future.
Also, my model's inputs were favorable to HTZ. I assumed a 25% profit margin (optimistic estimate) on the highest revenue estimate available ($9.3 billion for 2018). Then I discounted such earnings assuming HTZ is actually growing (which it isn't). However, even under such favorable assumptions, the company appears to be overvalued.
Lastly, HTZ's debt-adjusted valuation metrics don't appear cheap either. My debt-adjusted multiples suggest that HTZ's real PE ratio is actually 44.5 (based on 2017 earnings). This further corroborates that HTZ isn't as cheap as it initially looks.
Hertz's most valuable item
I previously mentioned that HTZ's assets could be worth a lot more under certain industry shifts. However, as it stands, Hertz is a company that produces substantial revenues. This is something that's undoubtedly valuable. If the company didn't have any debt right now, then it could easily be worth 10x its current price tag. Thus, to me, it seems that the fastest way to return value to shareholders is by paying down its debt. The problem is that it also needs to invest in technology and spend heavily to retain its position. Hence, Hertz is stuck between a rock and a hard place.
Now, here, you see, it takes all the running you can do, to keep in the same place. If you want to get somewhere else, you must run at least twice as fast as that! - Lewis Carroll's Through the Looking-Glass.
Conclusion
I'll grant that a turnaround story is unfolding, but still, HTZ's debt will far outweigh management's efforts in the short-medium term. Also, there are better investment opportunities in the market right now. Why bother with an ostensibly overvalued stock with deep structural flaws? Assuming Carl Icahn is ultimately right about HTZ, what can assure that ordinary investors (or even Icahn himself) will profit? Moreover, such profits aren't likely to compensate for HTZ's extreme risks.
In the end, I think the company might have to restructure/refinance its debt. Maybe it'll have to do a spinoff where liabilities do not crush the resulting company. However, in any case, it's likely that current HTZ investors wouldn't benefit from such scenarios. Regardless, I'll leave the M&A speculation to investment bankers. As for investors, I think we'll find better risk-reward propositions elsewhere.
Thank you for reading and good luck.
Disclosure: I/we have no positions in any stocks mentioned, and no plans to initiate any positions within the next 72 hours.
I wrote this article myself, and it expresses my own opinions. I am not receiving compensation for it (other than from Seeking Alpha). I have no business relationship with any company whose stock is mentioned in this article.