OPEC is back in the news, crude oil is back in the $70s and the talking heads are again predicting $100 oil.
So what's new?
I've been hearing this OPEC argument for a year now and it has had little effect other than to bump oil prices $5-$10 one way or the other. As a crude oil trader, I would expect that to continue. Predictions of $100 are, in my opinion, misguided - and that is using a nice word for it.
Sunday's OPEC meeting in Algeria resulted in major oil producers ruling out an additional immediate output increase. As some in the trade were expecting an additional 500,000 barrels per day (bpd) increase, this was viewed as bullish. In addition, news of an attack on an Iranian military parade has geopolitical bulls on this week.
My take on this is that it changes nothing. For a bigger picture view of crude, I recommend watching our latest interview with TD Ameritrade which features our Crude Oil Outlook.
The bigger picture is important because "stories of the week" can often create opportunities for longer term investors. This may be one of those.
OPEC - The Other Headline
OPEC, for its part, simply left current production levels as is. And at this point, this is at least adequate. What the headlines missed was that OPEC also said non-OPEC nation production was seen rising by 2.4 million bpd while global demand was seen rising only 1.5 million bpd. This is likely a key reason OPEC is not eager to bump production right away.
OPEC must walk a tight rope between trying to squeeze as much revenue out of its oil as it can without tipping over the global economy (thus killing the golden goose). That sweet spot for this seems to be somewhere in the low to mid-$70 range.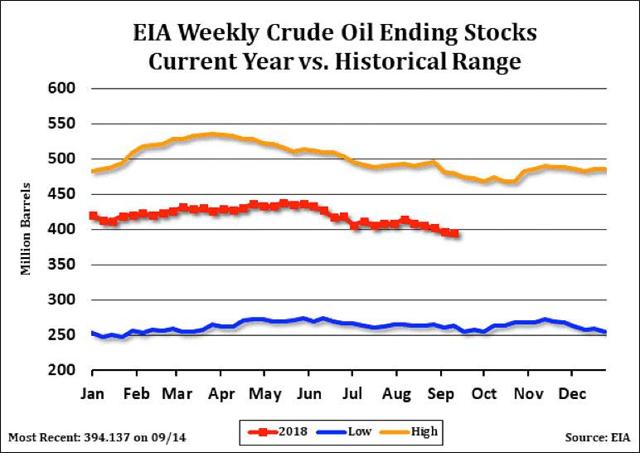 At 394 million barrels, US oil stocks are back to near seasonal norms.
Meanwhile, US producers pumped a record 11 million bpd last month while US supplies have come back to seasonal norms after a summer shortfall.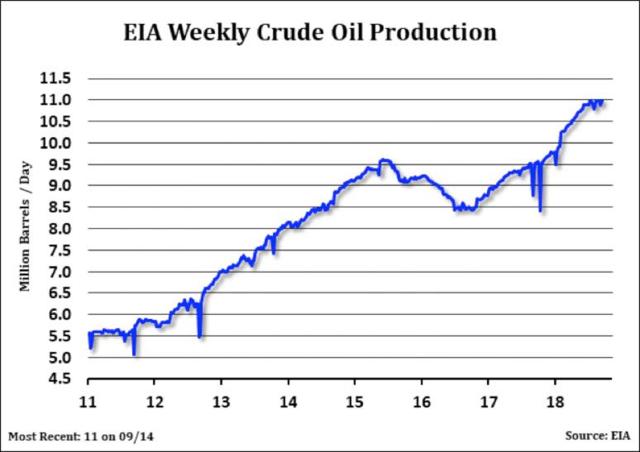 US oil production hit a record 11 million barrels per day last month.
Seasonal Headwinds
As you may know from our video seminar on seasonal tendencies, energy markets can see cyclical ebbs and flows in demand that can have an outsized impact on price. These cycles often coincide with the seasons of the year.
In crude oil, autumn marks the beginning of shoulder season. Shoulder season is a period of lower demand as driving season in the northern hemisphere has ended, while heating season has not yet begun. This has historically tended to correlate with a decline in the price of crude oil lasting into mid-winter. The chart below illustrates this tendency. (Past performance not indicative of future results.)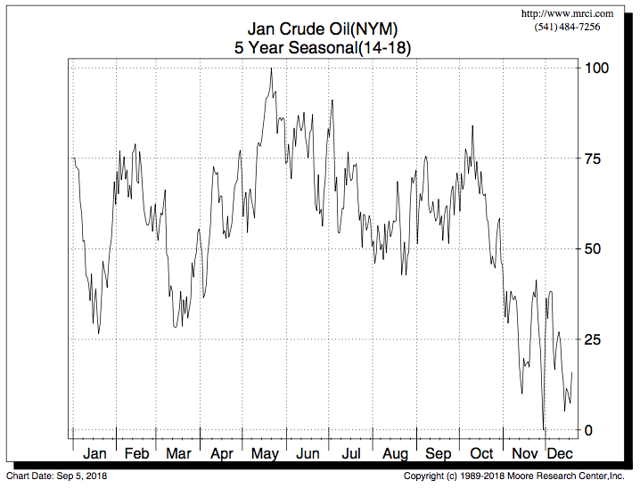 Oil prices have historically tended to decline into mid-winter as demand tends to weaken into autumn.
Conclusion and Strategy
It is important to monitor daily headlines in the crude market. But it is also important to put them in proper perspective. Be careful not to get carried away with media frenzy, which in 2018, is easy to do. OPEC news gets viewers whipped up. Interviewing the guy calling for $100 oil makes a good "pulling" headline on the blog.
But it's media cotton candy.
$80 oil likely starts to press the world economy. $100 oil probably blows it up. OPEC has no interest in doing that.
The global oil supply picture is nearly balanced now. OPEC is happy with prices where they are and doesn't want to unleash extra supply flow unless it has to. They have one eye on US producers and the other on the global economy.
Can oil rally into the upper $70s? Sure it can. Don't know if it will, but it can. We would be surprised if it went higher than that. The more likely scenario is a leveling off or slow but steady drift lower into winter.
The good news is, the latest rally is keeping oil in the news. And that brings out small speculators. And small speculators LOVE to buy calls. This increases demand and thus premiums from call options.
I don't like predicting what prices will do - too hard. But I do not believe crude oil prices can reach $100 anytime soon - not with stable oil fundamentals, record US production and a seasonal headwind blowing down on the bulls.
June 2019 Crude Oil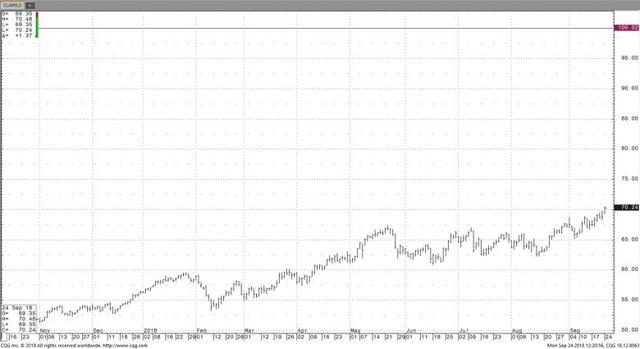 Selling the 100.00 Call
For that reason, selling speculator inflated call premium at the $100 strike seems like easy cash at this point.
We'll be pricing a number of strikes and months for oil call premium for our managed portfolios in the coming weeks.
Self directed traders can consider selling the July Crude Oil $100 call option for premiums of $700 or better should prices continue to rally. With margin requirements near $1,600 per option, ROI is attractive.
I've always believed one could make a living simply by fading the news. For those who follow that path, crude oil's headlines remain the gift that keeps on giving.