Share Price Up on Good News
Investor interest in Caladrius Biosciences (NASDAQ:CLBS) was rekindled after two recent news events. In March, Caladrius acquired the global rights to Shire's (SHPG) CD34+ stem cell therapy to treat medically refractory angina. Shortly after, in June, the therapy was granted the Regenerative Medicine Advanced Therapy (RMAT) status by the FDA.
Mr. Market reacted to this bit of news by lifting the share price CLBS up nearly 200%. A few lucky folks took some profits, but CLBS has nevertheless traded at an average price of $5.73 since July 1. This represents a sustained increase in share price of approximately 40%. CLBS spent an undisclosed but nominal upfront fee to Shire to acquire the CLBS14-RfA program and expended little capital to obtain the RMAT designation. The subsequent gyrations in share price represent market uncertainty around the value of these recent news events.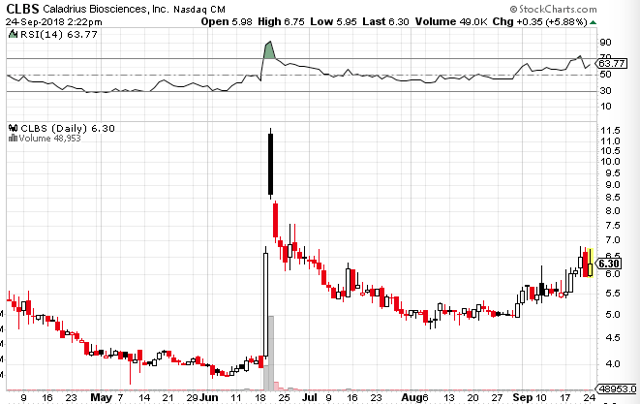 Figure 1 - CLBS is trading ~40% higher after positive news in June.
I don't believe investors have much to be excited about here. While there has been much positive coverage, both driven by Caladrius management and bullish analysts, a review of the facts reveals Caladrius is not in a position to advance this program. I hope to highlight details that have been absent from recent coverage of Caladrius.
A Review of the CD34+ No-Option Refractory Angina Clinical Trial Data
Angina is defined as chest pain due to impaired blood flow to myocardial tissue. A subset of patients, approximately 1 million in the US, have inadequate symptom relief from initial first-line and second-line medications and are not candidates for cardiac bypass or stenting procedures. This subset, known as no-option refractory angina, currently has no effective treatment available. CD34+ therapy is a possible option for these patients.
In brief, stem cells are harvested from the patient's own bone marrow and the CD34+ cell line is amplified. These cells are then directly injected into the heart's circulation through coronary artery catheterization, which is performed by a cardiac interventionist in an angiography suite supported by a full surgical team. Needless to say on a per-patient level, this therapy is not cheap.
To-date, 3 clinical trials have assessed the efficacy of CD34+ cell therapy in the no-option refractory angina population. A 2018 meta-analysis combining results from these 3 clinical trials demonstrated improved total exercise time, lower frequency of angina symptoms, and a significant decrease in all-cause mortality.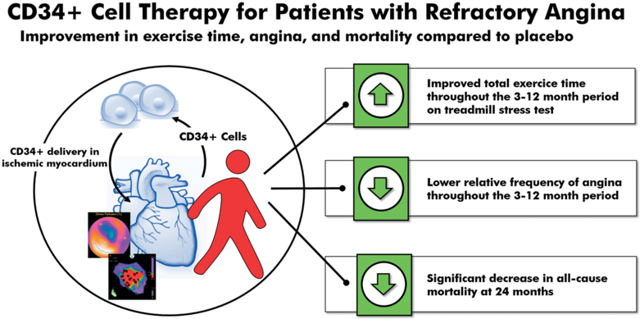 Figure 2 - Overview of CD34+ therapy for no-option refractory angina from a 2018 meta-analysis. European Heart Journal, Volume 39, Issue 23, 14 June 2018, Pages 2208-2216.
While it seems that Caladrius has acquired a trove of positive data for a nominal upfront cost, investors should see past this and ask two questions:
How close is the CLBS14-RfA program to FDA approval?
Does CLBS have the resources, either financial or infrastructural, to advance this program?
How close is the CLBS14-RfA program to FDA approval?
This question hinges on whether the FDA will require Caladrius to conduct further clinical study to demonstrate the efficacy of the CLBS14-RfA therapy. Caladrius acquired the rights to data from 304 patients from a Phase 1/2a trial, the Phase 2 ACT-34 and ACT-34 extension studies, and the Phase 3 RENEW study.
The results from these 3 studies were combined into the aforementioned meta-analysis published in the European Heart Journal. Much of the recent bullish coverage of Caladrius has highlighted the results of this 2018 meta-analysis. But when the results of the individual trials that make up the meta-analysis are considered by themselves, the results are less promising.
The Phase 3 RENEW study will likely be of most interest to FDA regulators because the study patients were receiving the current medical standard-of-care management and 24-month follow-up data was collected. In the Phase 1/2a study and the ACT-34 study patients were not receiving ranalozine treatment, which has become standard-of-care since those studies were completed.
The Phase 3 RENEW study did not meet statistical significance for its primary endpoint of improvement in total exercise time (TET) at 12 months with a p-value of 0.43. In addition, it did not meet statistical significance for its secondary endpoints of improvement in TET at 3 or 6 months or decrease in angina frequency at 3 or 12 months1.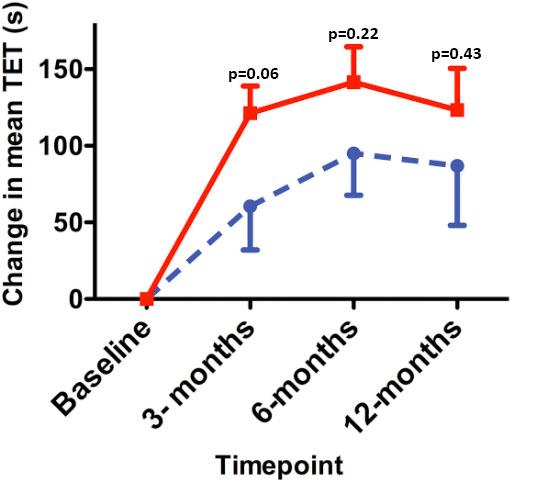 Figure 3 - The Phase 3 RENEW trial did not meet statistical significance for its primary endpoint of improvement in total exercise time at 12 months (p=0.43). JACC: Cardiovascular Interventions, Volume 9, Issue 15, Pages 1576-1585
The RENEW study investigators commented that when compared to the ACT-34 study, the RENEW study utilized more rigorous blinding procedures, which resulted in a significant placebo effect and failure to meet the primary endpoint:
RENEW showed large improvements in exercise times in placebo-treated patients, attesting both to effective blinding in the trial and supporting the known significant placebo effect in this highly symptomatic patient population. The placebo effect observed in our study (mean of approximately 90 s) is considerably larger than that observed in ACT-34 (58 ± 146 s)
Meta-analyses can provide rationale for future studies, but as noted by the RENEW study investigators, the FDA has repeatedly articulated their policy of requiring confirmation of results in independent studies. Although the pooled meta-analysis showed statistically significant results, the three studies that comprise the meta-analysis used differing treatment protocols, inclusion criteria, and clinical endpoints and did not all individually demonstrate statistically significant results.
Cardiologist Dr. Thomas Thum in an editorial in the European Heart Journal commented that he believes an additional larger study is needed to validate the results of the meta-analysis:
However, caution is needed as these analyses were performed retrospectively from three different trials, which used comparable but importantly not similar designs. For instance, ranolazine treatment has only been used in the newest (third) study but not in the other two (as it became available only later). This retrospective meta-analysis shows safety and beneficial effects on refractory angina patients. However, larger studies are needed due to the relatively heterogeneous refractory angina patient population. The meta-analysis is also underpowered to define definitively a treatment effect on clinical outcomes.
In the Q2 Earnings Call Transcript, CEO David Mazzo commented that clarity surrounding the CLBS14-RfA program will emerge after a fall meeting with the FDA. At this meeting, scheduled for late October or November, the FDA will provide further regulatory guidance to Caladrius regarding the CLBS14-RfA program. It is my expectation that the FDA will not accept the existing data as it stands and will ask Caladrius to conduct an adequately powered Phase 3 trial.
According to fillings from Baxter Healthcare (BAX), which sponsored RENEW, a trial to demonstrate efficacy of CD34+ cells for no-option refractory angina would require approximately 400 patients to be adequately powered. As Caladrius management is no doubt aware, clinical trials involving CD34+ stem cells are enormously expensive to undertake. Baxter chose to cancel the RENEW trial for "strategic" considerations. The RENEW study investigators commented that these "strategic" considerations included unclear and complex regulatory guidance and high cost, which impacted the commercial viability of CD34+ therapy.
The desire to have an agreement in place regarding regulatory requirements for this complex therapy before starting RENEW led to a 50-month delay between enrollment of the last patient in ACT-34 and the first patient in RENEW. Randomization was projected to continue into at least 2015, and the Food and Drug Administration had articulated their policy on requiring confirmation of results in independent studies. Each of these factors impacted the commercial viability of this therapy.
In summary, the precedent indicates it is highly likely the FDA will ask Caladrius to undertake a very costly and time-consuming Phase 3 trial in order to advance the CLBS14-RfA program.
Does CLBS have the resources to advance this program?
In March 2017, Caladrius sold its majority interest in its revenue-generating subsidiary PCT to Hitachi Chemical netting approximately $75M. At the time of its Q2 2018 regulatory filing, Caladrius had approximately $23M in cash and $52M of total assets.
Caladrius had an operating cash burn of $12.2M in the first six months of 2018. In the 2018 Q2 earnings call, CFO Joe Talamo indicated Caladrius would need to secure additional funding by 2020 to simply fund its existing programs, "...we can fund our existing clinical development programs into 2020 while we continue to pursue additional strategic value creating opportunities."
Additional funding could include issuance of additional common stock under an existing ATM facility with H.C. Wainwright. Non-dilutive funding opportunities are limited. Caladrius' limited cash puts it in a poor position to negotiate additional funding from lenders on favourable terms. It is possible, however, that Caladrius could be the recipient of new research grants that would provide additional operating capital, although management has not mentioned any substantial prospects.
Funding a Phase 3 trial of CLBS14-RfA will require significant capital. It is not clear how Caladrius could obtain sufficient capital to advance this program. In addition, the 22 employees who work at Caladrius have not previously managed a trial of this size or complexity. In their 2017 10-K filing, Caladrius management acknowledged this fact:
Our management team does not have significant experience in completing late stage clinical trials and the management of late stage clinical trials is more complex and time consuming than early stage trials.
In summary, Caladrius does not have the capital or expertise to fund a late-stage trial. In order to fund existing early stage programs, Caladrius will require additional funding by 2020 and will likely have to issue additional stock well before then.
The Myth of Caladrius
In Roman mythology, the Caladrius was a bird that would absorb the sickness of its owner before taking flight, dispersing the sickness, and healing both itself and its owner. I have followed Caladrius for years and I've repeatedly seen its share price fly higher on positive news. But unlike the Caladrius of old, the real Caladrius quickly settles back to earth, sicker than ever.
I expect investors to sicken after Caladrius receives disappointing regulatory guidance this fall. It will become clear that Caladrius has acquired a program that it has neither the funds nor the expertise to advance. In the near term, the share price will settle back down to under $4.00.
Footnote:
1. The RENEW trial showed a reduction in angina frequency at 6 months with a p-value of 0.05.
Editor's Note: This article covers one or more microcap stocks. Please be aware of the risks associated with these stocks.