Market Intro

CNBC: 10:40 AM EST
Global stocks (ACWI) have put in a scattered performance over the past 24 hours. The US session (SPY, DIA, QQQ, IWM) has thus far put in a forgettable showing. The materials sector (XLB) is down about three quarters of a percent, while the much larger Communications (XLC) and health care (XLV) sectors are sporting gains around half a percent. Click here for details.

Today's big attraction is the FOMC announcement on its two-day meeting. A rate hike for today is expected by all, and so the real news comes in the form of clues to the future of the target Fed Funds rate.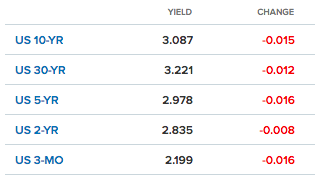 CNBC
Going into the meeting, US Treasury rates (IEF, TLT, AGG) are little changed. Yields have climbed through most of the year; the 3M T-Bill now perches squarely above 2.00%. Consider that the US10-Yr was not far off that level just a year ago!
Thoughts on Volatility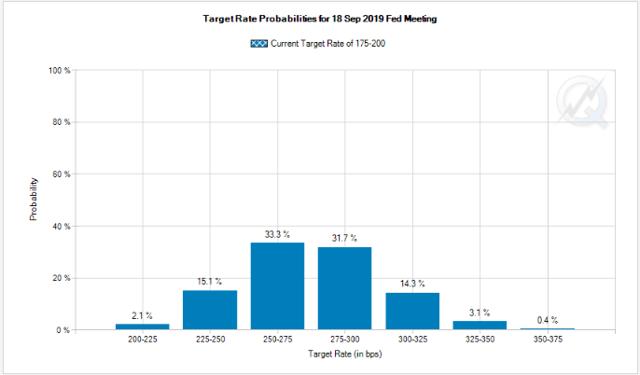 More important than today's certain rate hike is where short-term rates will be over the next year. Observe from the CME's FedWatch Tool that there is considerably more uncertainty as to the FOMC's target rate for September 2019. My opinion is that the Fed is quite resolute, and we will be at the high end of that range in a year. This in turn is likely to stir up risk-asset volatility.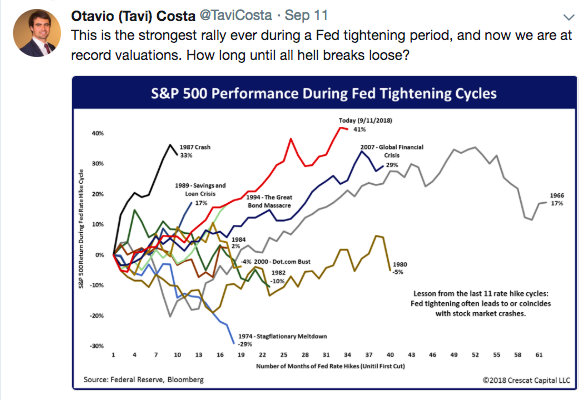 Otavio asks an interesting question (the Tweet is a couple weeks old at this point, but I like the visual). S&P performance for this tightening is quite impressive. Because the circumstances surrounding this cycle are so unprecedented, there is likely little value in using past observations except only to highlight contrasts.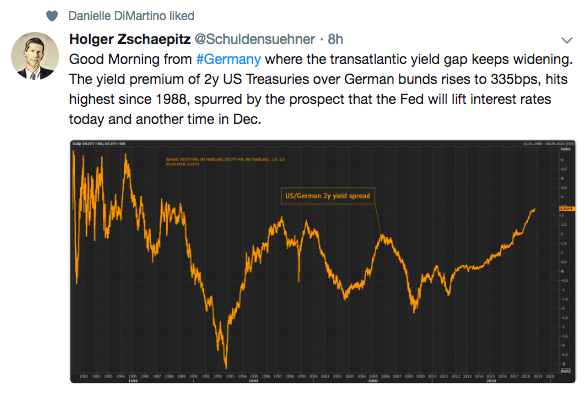 But if the Fed's policy response to the threat of deflation really pales next to that of the ECB or Japan. Otavio Costa asked in the previous Tweet "how long before all hell breaks loose". I think that there is a much better chance that hell strikes in another region of the globe before the US. Personally Japan has my vote, at least so far as it concerns developed market equity (EFA).
Term Structure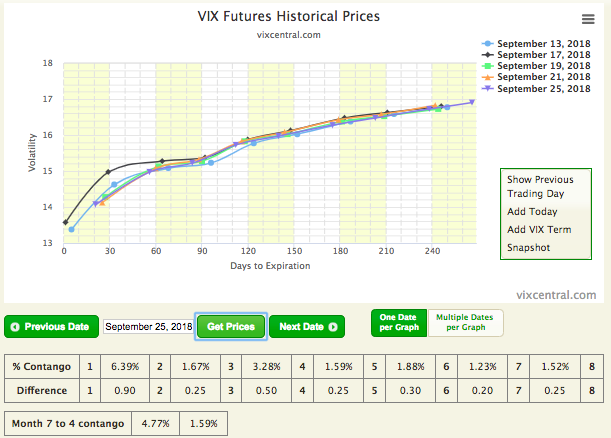 Nothing to see here… no really. The above graphic displays the shape of the VX term structure, every other trading day, since September 13. Rightly or wrongly, that curve seems to show little interest in being disturbed.
A rousing FOMC meeting could probably loosen those joints, but I doubt our monetary engineers have any interest in rocking the boat, particularly before the midterms.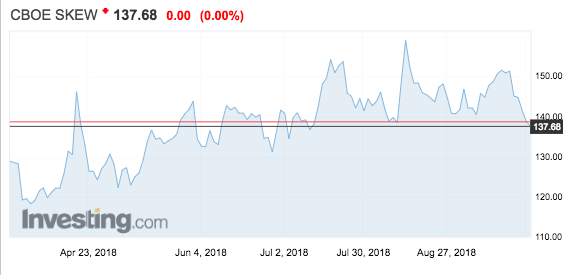 The CBOE Skew index hit its six-month bottom right around mid-April, just when the SPX was working through most of the worst of its issues. The real bottom came on May 3, when the S&P hit about 2590.
Since then, the index has crawled higher, and there have been a few fitful moves between now and then (late May, late June spring to mind). SKEW hit its all-time high in late July, and is now working its way lower. In historical terms, this reading is still impressive. It appears that S&P upside is getting more valuable in the options market relative to downside of late.
Conclusion
If this is your first time reading Market Volatility Bulletin, thanks for giving it a try. If you're a regular, we thank you for your ongoing contributions in the comments section.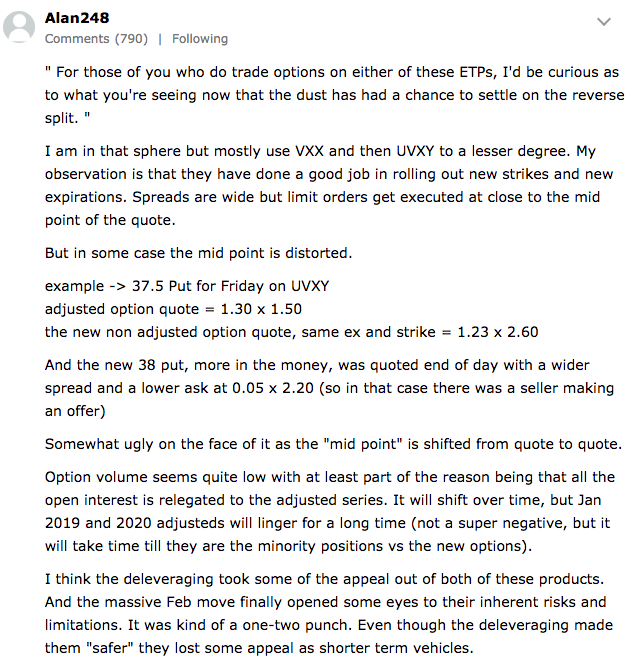 In yesterday's Bulletin I asked readers who trade options in the ETPs if they'd be willing to share their take on the options market for UVXY and SVXY since the reverse split from about 10 days ago.
Alan offered more helpful insights (the message above is truncated), and I recommend that you click this link to read up more fully and benefit from his perspective.
Thank you for reading.
Please consider following.
Disclosure: I/we have no positions in any stocks mentioned, and no plans to initiate any positions within the next 72 hours. I wrote this article myself, and it expresses my own opinions. I am not receiving compensation for it (other than from Seeking Alpha). I have no business relationship with any company whose stock is mentioned in this article.
Additional disclosure: I actively trade the futures and options markets, potentially taking multiple positions on any given day, both long and short. I also hold a more traditional portfolio of stocks and bonds that I do not "trade". I do believe the S&P 500 is priced for poor forward-looking returns over a long timeframe, and so my trading activity centers around a negative delta for hedging purposes.