If 2017 was the year marked with cryptocurrencies, then 2018 has become the year that will be remembered with cannabis and crazy stock market performances. ETFs are an easy and effective way to get into this nascent sector and plenty of investors have made lots of money by simply buying one of the few ETFs available on the market. New ETFs and managed funds have emerged and we are seeing diverging performances among the funds.
It is important for investors to understand which fund is the best for you based on the different strategies employed by each fund. We will start by reviewing how each ETF has done in 2018 so far, then we will explain why their performances differed and what are the key takeaways for investors. We discussed each of the available ETFs in details back in March, and we strongly encourage you to read this article before proceeding: "Which Marijuana ETF Is Best For You?"
The three ETFs we will discuss in this article are the following. We focus on these three as they are the preferred choice for most investors. FYI we have discussed other ETFs such as the Purpose Marijuana Opportunities Fund and Evolve's The Marijuana ETF in the March article.
Horizons Marijuana Life Sciences Index ETF (OTC:HMLSF) ("HMMJ")

Horizons Junior Marijuana Growers Index ETF (OTCPK:HZEMF) ("HMJR")

ETFMG Alternative Harvest ETF (MJ) ("MJ")
Historical Performances
We think the best way to start is to review the performances of the three ETFs and then we will discuss the reasons why some outperformed others. First of all, when looking at how the three most popular ETFs performed, we can see that both HMMJ and MJ performed in line with ~20% return in 2018.
However, HMJR is the clear laggard with a 6% negative return so far this year, despite the ETF only started trading on February 14 this year. It is also worth mentioning the massive run these ETFs have been seeing in the last few months. We have documented the current rally in much detail in our recent article "Are We Heading Into Another Meltdown For Pot Stocks?"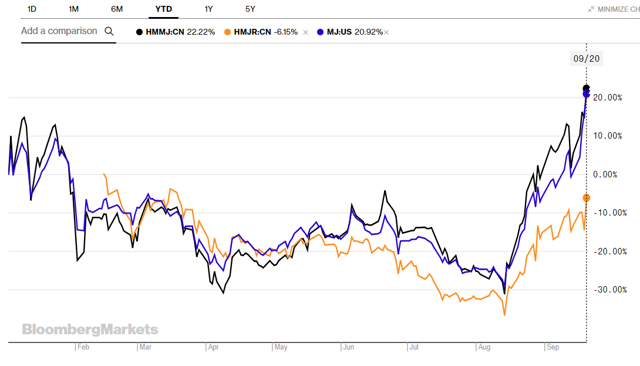 (Source: Bloomberg)
Why Did HMJR Underperform?
The biggest reason why HMJR became a laggard in 2018 was that the fund focuses on the smaller pure growers, instead of the large-cap names that have become more diversified. As we discussed in our detailed update on this ETF, the fund had the following holdings. You can see that the ETF has steered away from the large-cap names such as Canopy (CGC), Aurora (OTCQX:ACBFF), Aphria (OTCQB:APHQF), Cronos (CRON), Tilray (TLRY) and instead focused on smaller growers that have been largely left out of the current rally.
The reason is that the latest rally was initially spurred by the Constellation (STZ) investment into Canopy and was further fueled by the Hexo (OTCPK:HYYDF) and Molson (TAP) deal. Recent speculations of Diageo (NYSE:DEO) and Coca-Cola (NYSE:KO) getting into the cannabis space further contributed to the speculation that has been supporting the share price gains at the large-cap names. Because the smaller growers have less potential to receive investment from outside parties and are less likely to be able to partner with the large alcohol and beverage companies mentioned above.
To be completely open, we have been arguing for a pair trade that involves shorting HMJR and long HMMJ from the beginning of the year. Our regular readers would have known from our Weekly Cannabis Report that we foresaw the challenges that will be faced by pure growers and the small-cap sector, and advised investors to stay away from HMJR.
Our thesis remains the same as we think commoditization is inevitable and consolidation is only a matter of time for the sector. The process of elimination will weed out the undercapitalized companies that sit at the bottom of the value chain, namely the small-cap pure growers. For HMJR, an ETF that focuses on emerging growers, we think the future is looking more challenging from a fund performance perspective.
| | |
| --- | --- |
| Ticker | Weight |
| Cann Group Ltd. | 7.86% |
| SUPREME CANNABIS CO. INC .THE NEW | 7.75% |
| Terrascend Corp. | 7.63% |
| Auscann Group Holdings Ltd. | 6.97% |
| NEWSTRIKE RESOURCES LTD. | 5.66% |
| LIBERTY HEALTH SCIENCES INC. | 5.34% |
| Mpx Bioceutical Corp. | 5.18% |
| Abcann Global Corp. | 5.11% |
| Maricann Group Inc. | 4.04% |
| Icc Labs Inc. | 3.41% |
| Weedmd Inc. | 3.28% |
| Hiku Brands Co. Ltd. | 3.17% |
| Emblem Corp. | 2.79% |
| Invictus MD | 2.65% |
| Harvest One Cannabis Inc. | 2.56% |
| Liberty Leaf Holdings | 2.54% |
| Friday Night | 2.40% |
| Benchmark Botanics Inc. | 2.38% |
| Nutritional High International | 2.25% |
| THC Biomed | 2.23% |
| Delta 9 Cannabis Inc. | 2.19% |
| Valens Groworks Corp. | 1.77% |
| Hempco Food And Fiber Inc. | 1.72% |
| MGC Pharmaceuticals Ltd. | 1.39% |
| Hydroponic Co Ltd. | 1.36% |
| Beleave Inc. | 1.34% |
| Cresco Pharma Ltd. | 1.28% |
| Matica | 1.24% |
| Indiva Ltd. | 1.01% |
| Heritage Cannabis | 0.89% |
| Hydropothecary Corp. | -- |
| PUF Ventures | -- |
| Marapharm Ventures Inc. | -- |
| Canada House Wellness Group Inc. | -- |
| Australian Dollar | 0.05% |
(Source: company website)
Choose Between HMMJ And MJ
The biggest two ETFs currently in the market right now are the Horizon's Marijuana Life Sciences Index ETF and ETFMG's Alternative Harvest ETF. We think there are a few things that investors need to know in terms of the differences between the two ETFs. For more detailed information on each ETF, please refer to our previous updates on them published in July.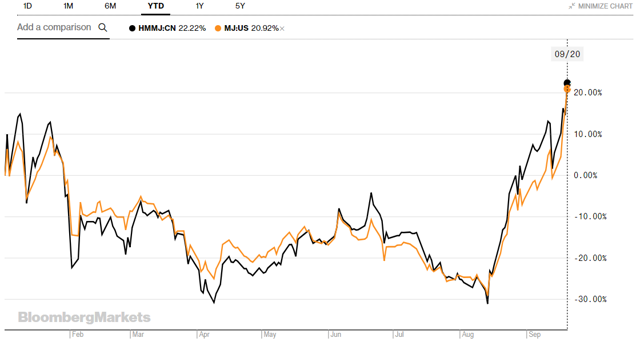 The first difference is that HMMJ does not hold Tilray. Based on what Tilray has been able to do in the stock market, HMMJ has missed out on a huge rally that could potentially impact its NAV in a meaningful way. HMMJ has a policy of rebalancing its portfolio at the end of each quarter and we are confident that Tilray will be first stock to be added at the end of September, although HMMJ had to pay a much higher price than MJ did.
On the other hand, MJ has benefited from having Tilray in its holdings and its U.S. listing made it easier for U.S. retail investors to buy. The Bloomberg chart below shows that for the past two weeks, there was even a negative relationship between the share price of Tilray and HMMJ, indicating that HMMJ investors would not have benefited from the Tilray mania.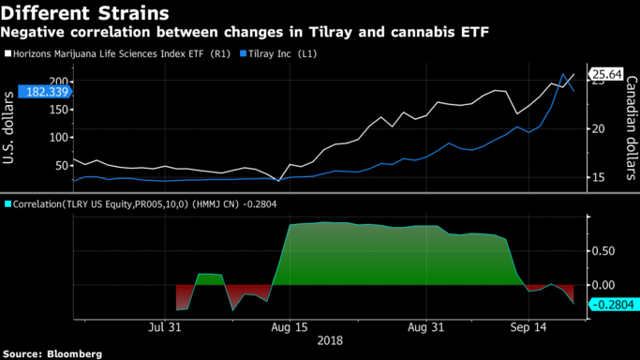 The second difference between HMMJ and MJ is that the two ETFs have a slightly different approach for a small part of their portfolios. Both ETFs hold most of the large-cap names such as Canopy, Aurora, Aphria, etc. However, MJ also holds a material portion of the fund in tobacco and pharma companies. We have questioned the >15% allocation to tobacco as none of the tobacco companies have any material investment in the cannabis sector just yet, similar to pharma.
HMMJ, on the other hand, has a much more concentrated holding that focuses exclusively on direct or ancillary cannabis plays. There are no weird pharma or tobacco names in HMMJ and you can expect to find most of the cannabis firms in this ETF. In summary, HMMJ seems like a more efficient way of getting exposure while MJ's decision to have 15% in tobacco is head-scratching and premature.
Conclusion
Horizon's HMMJ remains the largest ETF in the sector and its AUM passed C$1.0 billion earlier this month. MJ is the second largest with an AUM of $560 million and still growing. We think investors should focus on these two ETFs as their primary way of getting exposure to the cannabis sector. Horizon's HMJR has not lived up to its expectations and its narrow on early-stage growers is a recipe for failure, in our view.
We would strongly advise investors to stay away from investing in HMJR given our 5 predictions for the cannabis industry, one of which discussed the commoditization of cannabis and the negative outlook for pure growers. Between HMMJ and MJ, we prefer HMMJ for its superior allocation and best-in-class exposure to cannabis and related stocks. MJ has too much allocation towards tobacco, which is irrelevant at this point.
Author's Note: Follow us to receive our latest publications on the cannabis sector. We also publish a widely read Weekly Cannabis Report, which is your best way to stay informed on the fastest-growing sector today.
Disclosure: I/we have no positions in any stocks mentioned, and no plans to initiate any positions within the next 72 hours.
I wrote this article myself, and it expresses my own opinions. I am not receiving compensation for it (other than from Seeking Alpha). I have no business relationship with any company whose stock is mentioned in this article.
Editor's Note: This article discusses one or more securities that do not trade on a major U.S. exchange. Please be aware of the risks associated with these stocks.