With markets bursting to all-time exuberant highs, I find myself sitting at the China Pavilion in beautiful downtown Lisbon nursing my drink and grousing. It's a lovely bar, so beautiful that I like to bring my Ipad in and do paintings of the people and objects I see.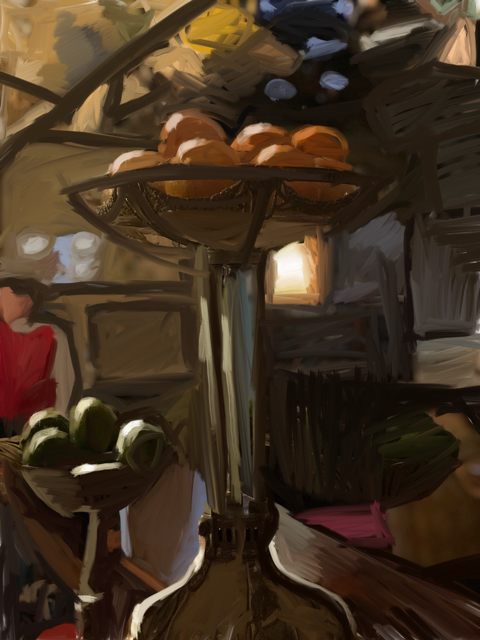 But although it is a lovely place, I'm sulking nevertheless. Why? Because I am taking a brooding walk down memory lane into the murky shadows of the great financial crisis of 2008. It was around this time ten years ago that firms (not just banks and financial institutions, but all manner of businesses in all manner of industries) began to violently slash their dividends at what must have been the absolute least convenient time for retired dividend investors.
There are quite a few of us out there on SeekingAlpha - investors who allocate portfolio capital into businesses with reliable dividend growth histories, and who expect our portfolio income to only grow with time. Some of us aspire to withdraw zero principal from our portfolios, thereby insulating our retirement lifestyles from violent market swings (in theory, at least). If you're not a forced seller, why care about stock prices? When the next financial crisis hits and stock prices crash by 60%, we shall glibly go about our business of collecting an ever-increasing stream of dividend checks to cover our monthly bills. Better yet, we might even hope to invest some extra dividends into more shares of dividend paying stocks that will be trading at bargain levels after the next crash comes. We may even think that we shall celebrate the next market crash, as our reinvested dollars throw off that much greater yield, boosting our portfolio income even faster than before!
This pleasant sounding dream is only that. A dream. Why? Because that's not how it played out last time around, and it's silly to expect that somehow it will play out any differently this next time around. Once waves from the next financial crisis start crashing onto the shores of the stock market, my friends, all ships shall bear the brunt.
So with these happy thought, I'm sitting here thinking back and I start to wonder. If you can cover your living expenses entirely with reliable dividends from safe, seasoned blue chip companies, good for you. But the question you might want to ask is how much EXTRA dividend income does your portfolio need to insulate you from the inevitable dividend cuts that are assuredly going to happen at the worst possible moments during the next financial crisis.
I'm going to say that with history as any guide, the answer is 30%. You need your portfolio dividends to be large enough to cover at least 130% of your living expenses if you want to simply ignore the next financial crisis and not have to dip so much as one little pinky toe into savings or portfolio principal when stock prices are down.
How did I come up with that number? Easy. I looked at the dividend histories for four of the largest dividend growth ETFs that existed back in 2008 and that are still around today.
(1) Ishares Dividend Select ETF (DVY) - this is a passive index ETF comprised of over 100 U.S. stocks with at least a 5 year record of paying dividends. From 2008 to 2009, the dividend on this fund dropped from $2.42 per share to $1.66 per share - representing a perfidious 31% decrease. DVY dividend history.
(2) SPDR S&P Dividend ETF (SDY) - this is a passive index ETF comprised of companies in the S&P500 that have consistently increased their dividends for at least 20 years. From 2008 to 2009, the dividend on this fund dropped from $2.21 per share to $1.73 per share - representing a displeasing, consternation-inspiring 22% decrease. SDY dividend history.
(3) Vanguard Dividend Appreciation ETF (VIG) - this is a passive index ETF comprised of companies in the NASDAQ US Dividend Achievers Select Index, with at least ten years of consecutive dividend increases. From 2008 to 2009, the dividend on this fund dropped from $1.03 per share to $.75 per share - representing an unwelcome and deeply concerning 27% decrease. VIG dividend history.
(3) Oooooh. And then there is the Vanguard High Dividend Yield ETF (NYSEARCA:VYM). This is a passive index ETF comprised of companies in the FTSE High Dividend Yield Index that pay relatively high dividends. From 2008 to 2009, the dividend on this fund dropped from $1.44 per share to $.89 per share - representing an agonizing, howl-at-the-moon-and-roll-around-on-the-floor 38% decrease. VYM dividend history.
Toss equal portions of these vile historical tidbits into the blender, hit the red button, wait about five seconds, and then pour. There you have it, folks. A toxic elixir of dividend cuts equal to 29.5% on average.
Dark times were these indeed, but not for those who knew how to pinch pennies and that had the moxy to reinvest savings into the gaping maw of the financial crisis. Even as the price for their portfolios sagged, they scooped up bargains with their savings, shoring up portfolio income in the process. Ten years into the future, some of these lucky investors may have ended up with dramatically HIGHER portfolio income than they enjoyed prior to the eve of the financial crisis itself. In a word, they had a margin of safety. They could spend at least 30% less than their dividend income on the eve of the great financial crisis.
So, my friends, while the stock market parties on, fueled with madly priced cannabis stocks paid for with Bitcoins, I'm going to say that now is a fine time for us to sober up. Dividend growth isn't a straight line, and as with every form of sound investing, we must always aim for a healthy margin of safety. Go for 30% more dividend income than you absolutely need to survive the next great crash, and expect that at least some portion of your cherished dividends will end up on the chopping block for a couple of years. And ten years later, you will ABSOLUTELY thank yourself for doing so.
Disclosure: I am/we are long DVY, SDY, VYM. I wrote this article myself, and it expresses my own opinions. I am not receiving compensation for it (other than from Seeking Alpha). I have no business relationship with any company whose stock is mentioned in this article.
Additional disclosure: This is not investment advice and I am not an investment advisor or anything like one. This article is written for entertainment purposes only, and can't be relied upon for any reason by any person at any time or in any place.