We ran a screen of the best 'quality' funds from a fundamental standpoint. These are funds that exhibit certain characteristics. Those include:
Trade at a discount
UNII is zero or above
UNII trends are "up"
Coverage ratio is 98% or greater
Earnings trends are "up"
While there are very few buy-and-hold closed-end funds available today, these are likely to be the closest. These are the true target funds where we can start investigating whether these should be bought today.
The PIMCO funds are excluded from this report. This is not because all of the funds trade at a premium. The data provider uses the financials from the semi-annual and annual reports, not the monthly tax accounting figures. Still, the purpose of this analysis is to find more plain-vanilla funds that are showing nice UNII and coverage figures, including trends, that are trading at a discount to NAV. Most PIMCO funds show a negative UNII on their financials for this reason.
Some may quibble that the inclusion of the discount/premium as a variable is not really a fundamental factor and is really based on retail investor trading sentiment. This is true; however, it doesn't really affect the results. If we remove the first characteristic above (trade at a discount), it only adds one additional fund, (Barings Corporate Investors (NYSE:MCI)).
The results of the screen show just 8 equity funds out of the 45 funds that meet the screen. This makes sense since most of the income distributed by equity funds are typically composed of either a return of capital or a short- or long-term capital gain. This eliminates most of the equity funds from the coverage ratio variable (most equity funds generate NII of about 50-60% of the distribution).
20 of the funds are taxable bond funds with that split primarily between high yield bonds and floating rate loan funds. There are a few outside of those categories including a mortgage bond, multisector, and some others.
Another 18 funds are in the muni space with that split evenly between national muni funds and single state muni funds. Many of the names meet our muni analysis work but others do not for various reasons. Those include low yields (despite leverage), high call risk, and a target term structure.
Top Selections:
Central Securities Corp. (CET): This is a FANTASTIC long-term holding that investors can use to access mid-and-large cap stock exposure. Few fund managers can boast beating the S&P 500 over a ten-year period. This is one that we want to buy around a 19% discount to ensure our margin of safety. What does this mean? This means that the NAV could rise by 5%, but if the discount widens to 19.5% (from the current 16%), your return would be 1.5%. We would rather play this from the safety of a wide discount and capture the closing versus buying high and experiencing a headwind from discount widening.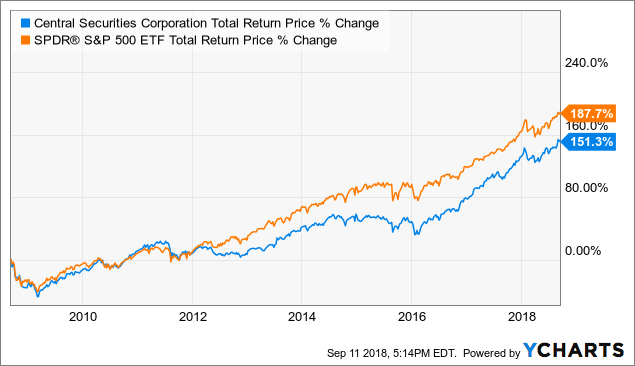 Aberdeen Global Dynamic Dividend (MUTF:XAGDX) is a global dividend equity fund that yields 7.39% with more than 50% of that being QDI (qualified dividend income) which gets capital gains tax rates. The dividend income is based on multi-cap, multi-sector, and multi-style investment opportunities. It is a very tax efficient way to gain exposure to global equities with a solid income stream. We think the discount could close a point or two as global equities recover.
The fund has nicely outperformed the iShares MSCI EAFE ETF (EFA) over the last five years (though the benchmark isn't a 'best fit' given XAGDX has a lot of U.S. stocks). Despite the fact that XAGDX has 45% in foreign stocks, it has kept pace with the S&P 500 until earlier this year.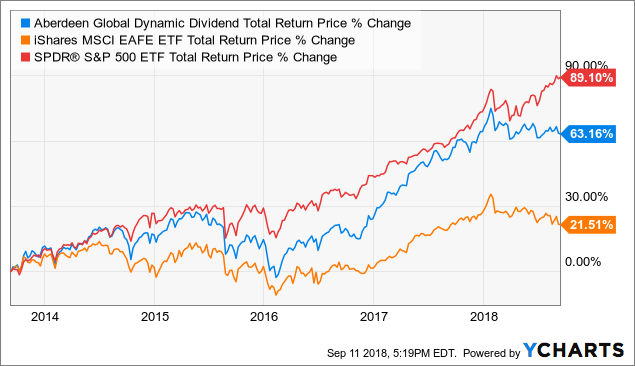 Blackrock Limited Duration (BLW): We highlighted this fund a few times, especially on the last monthly letter as we increased the weighting. This fund remains attractive at current levels given the nice and stable NAV trends, the wide discount, and the strong fundamentals. The NAV has been a strong performer over the last five years which encompasses a high yield bear market. The coverage and UNII have been improving in the last several months.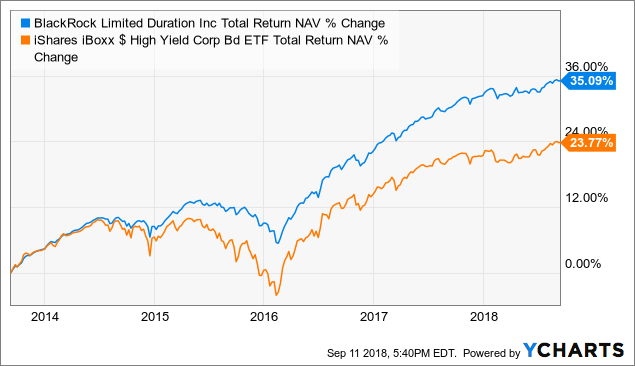 Ares Dynamic Credit Allocation (ARDC): Another fund we have been stressing recently. This is a junkier fund with a large allocation to CLOs at over 26% of the portfolio. Of that, about 8% are equity tranche (the riskiest level of the CLO stack). The debt CLOs are lower quality as well. Overall, half of the portfolio is floating rate (mostly loans) with most of the fixed rate positions being high yield bonds. ~20% of the portfolio is CCC-rated, meaning it is almost like investing in stocks (most of that are likely the CLOs). Compared to the other choices in the bond space, this is the more risky selection.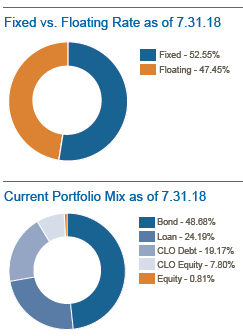 (Source: www.arespublicfunds.com)
Invesco High Income 2023 Target (IHIT): This is a target term fund set to liquidate in late 2023 at $9.85. The portfolio is largely investment grade composed of commercial mortgages. This is a high-quality fund that is levered about 28%. Coverage remains above 100%, though modestly so. Given the high NAV right now, we do not think they will have to cut the distribution anytime soon unless earnings really erode (not expected). The NAV is up a strong 5% YTD with the price up over 6.3%. At a 1.5% discount, the shares aren't that compelling but keep an eye on this one for an opportunity to get in at a 3% discount or greater.
Invesco High Income 2024 Target (IHTA): Similar to IHIT but with a liquidation date one year later. The yield is roughly the same as IHIT, but since it has a slightly higher duration, we think that it's causing it to trade at a wider discount. The holdings are largely the same, but on CEFConnect, it only shows 50% in BBB and 64% overall in investment grade. This is because of the 25% in the other/not-rated category. But looking on the actual fund snapshot page from the sponsor, only 12.5% in not-rated with 73%+ in investment grade.
* Our full list is available to members of our investing community Yield Hunting
Concluding Thoughts
These higher quality funds that exhibit the best qualities that we can find and the closest thing we would recommend to buy-and-hold like open-end mutual funds. However, closed-end fund investing is a laborious effort that takes a large amount of time. For example, we know that many of the muni holdings on the list have significant issues that could hit them in the next two years: calls. The screen above is backward looking and doesn't incorporate any forecasting tools.
But it can be a good source of idea generation and a tool we use a lot to find attractive funds. These are just some high-level variables that are good for helping to identify opportunities.
There are a bunch of our names on the list that we did not write about mostly because we've covered them recently. They are still attractive at the right price. Members can refer to the Google Sheet for that trigger.
Yield Hunting
At Yield Hunting, we use a proprietary model to evaluate a large portfolio of CEF and alternative investments, including REITs, Munis, BDCs, Baby Bonds, and High Dividend Equities to weed out the best investments for you. We focus on retirement income planning and help members construct appropriate portfolios for generating income during retirement.
We help you find the perfect mix based on our selections and give specific warnings when we are buying, selling, or holding these investments based on our extensive research. This not only saves you a lot of time researching and evaluating investments, but also the huge 1%+ fees a broker would charge you to do the exact same thing.
We believe if you give our strategy a try, you will not be disappointed.
Disclosure: I am/we are long BLW, CET, ARDC, IHTA.
I wrote this article myself, and it expresses my own opinions. I am not receiving compensation for it (other than from Seeking Alpha). I have no business relationship with any company whose stock is mentioned in this article.