After a collective 10% slump at the onset of the year (as measured by Vanguard's REIT Index ETF, VNQ, REITs have crawled back over the past six months to an effective YTD flat line).
Early year selling was precipitated by a robust rise in bond yields. As yields started to drift sideways during the spring, investors appear to have been increasingly confident in buying up some of the beaten-down names. Despite this accumulation, there does not appear to be any dramatic sea change in sector prospects.
With the 10-year Treasury having reached its highest payout in about seven years, however, investors should probably start to wonder if some of those near-term paper gains are in jeopardy.
REITs and Rates
Despite the price fluctuation that tends to affect REITs on a wholesale basis during rate/yield volatility, investors should not become obsessed over rates. They should also not assume that a continuing rising rate environment will be a wholesale disastrous environment for the entire group. For those REITs with high leverage, generally shaky credit, or otherwise weak business models, rising rates could prove to be a problem. For others with stronger internal cash flow, credit, and growth attributes, rising yields could prove to be a non-event or potentially a positive.
As we've seen through the years, and, as it will likely continue to be, performance from REIT to REIT will not be homogeneous. Looking ahead, avoiding the near-term black swan disasters that pop up like Government Properties Income Trust (GOV-OLD) will be just as important as getting in on the ground floor of secular growth stories like cell phone tower names American Tower (NYSE:AMT) or Crown Castle (CCI).
The Collective
On an aggregate basis, I continue to be somewhat tepid on REIT prospects. If you look at a longer-term chart of VNQ, you can see that today's price is about the same as it was way back in 2007.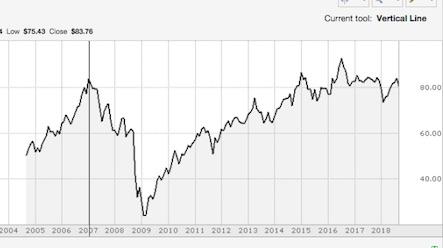 Source: Ameritrade
You'd have been in better total return shape and had taken less risk if you had bought a long-term corporate bond. In any case, despite some of the uber-bullish REIT commentary one tends to read on SA, I don't think there's substantive reason to believe that VNQ does anything remarkable in the years ahead.
While on a valuation basis one could probably make the case for REITs today versus plain vanilla indexed equity, one could also easily argue that a large chunk of the REIT universe is cheap for a reason. The marquee reason would be a lack of strong across-the-board growth. Other subcutaneous reasons would include external managements with shareholder alignment conflict and economically-disruptive exogenous factors that are pressuring various corners of the real estate market, particularly retail REITs.
The Individuals
Even when you look at a REIT grouping such as retail, you will find a number of subsets with variable performance, prospect and valuation multiple. A-malls, which I continue to like (SPG, TCO, MAC) are priced vastly different than the B-malls (WPG, CBL). Priced somewhere in the middle are shopping centers like Kimco (KIM), which I'd probably recommend buying, and Tanger (SKT), which I probably wouldn't. Then there are your old standbys - triple net REITs - like Realty Income (O), STORE Capital (STOR), and National Retail (NNN), which generally own single tenant properties with long-term leases attached. Triple net is about the most boring real estate operative, but probably the most conservative for the investor who can be apathetic to near-term yield gyrations.
Given the somewhat general lull in the REIT market, private equity continues to target deep value opportunity across the REIT sphere, which certainly provides a signal that many REITs are worth continuing to own. Blackstone (BX) has made two large moves this year, and is set to close on industrial property owner Gramercy (GPT) soon. It lost out on its bid to acquire LaSalle Hotel Properties (LHO), which saw a superior offer from fellow hotel-REIT Pebblebrook (PEB). Within the last week, Greystar Realty Partners closed on its acquisition of student housing provider EdR (f.k.a. Education Realty Trust). With about 225 publicly traded REITs (according to Nareit), I would expect continued M&A proclivity via private equity buyouts and peer consolidation.
Elsewhere, I'd be watching the near-term sell-off in data center REITs closely. This continues to be one of my favorite buy-and-hold ideas in the REIT space. Digital Realty (DLR) and Equinix (EQIX) are the two 900-pound gorillas here, but I think you do well by owning CoreSite (COR) and CyrusOne (CONE) also. The latter two would be prospective consolidation targets.
REIT spaces that I'd probably avoid at this time include: healthcare, apartments and self-storage. While I see nothing disastrous in the offing for any of this triplet, there appears little reason to see dramatic upside either. Healthcare kingpin Ventas (VTR), which has flatlined for the past five years, is an overloved company in my opinion. Dividend growth is slowing to a pittance, and I wouldn't expect a reversal anytime soon.
A name I've been fond of in the past, SE landlord MAA, is one I still own, but the growth path there appears to be similarly challenged. Frankly, I'd like to see the company put itself up for sale. The assets and cities it operates in are quite attractive despite the dampening growth outlook.
With home ownership rates seeming to have bottomed near-term, this could provide challenge to both the landlords and self-storage purveyors alike. The time to have been accumulating self-storage was 10 years ago, not now in my opinion. Although if interest rates continue to creep up, it's doubtful that home ownership rates will as well.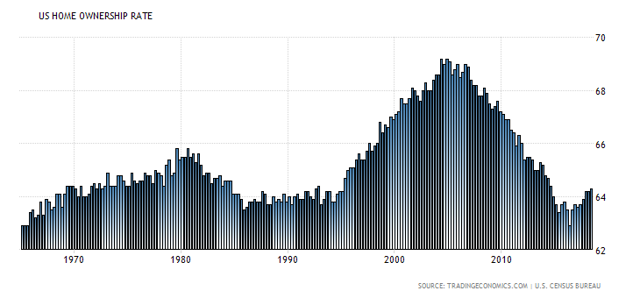 Conclusion
On a collective basis, I think we've indeed experienced somewhat of a dead cat bounce in the REIT space here in 2018. Again, that does not mean that value is necessarily absent, but you MUST be selective.
Finally, while I don't see the trap door falling out from under most REITs, I think you need to have generally restrained expectations with total returns potentially amounting to no more than purchased yield points, depending on where you specifically look. Chasing yield for yield's sake is a dangerous undertaking and, as we saw with GOV, can turn black swan disastrous. Don't put yourself in that position.
GOV - One-year price chart - Source: Ameritrade



Disclosure: I am/we are long DLR, MAA. I wrote this article myself, and it expresses my own opinions. I am not receiving compensation for it (other than from Seeking Alpha). I have no business relationship with any company whose stock is mentioned in this article.