JetBlue (NASDAQ:JBLU) is a low-cost U.S. airline that has largely flown under my radar for as long as I have covered the space. A closer look at the company's performance over the past 10 quarters, however, reveals that JetBlue is worthy of some attention, considering what I believe to be very decent performance and a robust financial position.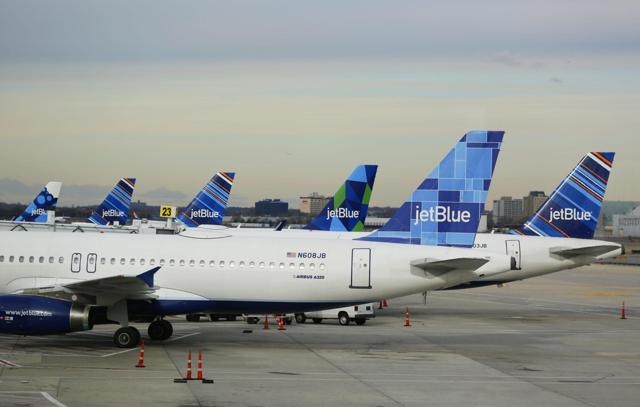 Credit: Upgraded Points
If analyzed metric by metric, JetBlue rarely comes up as the best-in-class name in the domestic airline industry. For example, all of the full-fare players, including Delta (DAL), American (AAL) and United (UAL), have produced higher and faster-growing per-seat mile revenues. On the cost side, Spirit (SAVE) is a much leaner company, and even Alaska Air Group's (ALK) CASM (cost per available seat) was lower than JetBlue's in 2Q18. Regarding debt, the Long Island City-based airline is more heavily leveraged than low-cost peer Southwest Airlines (LUV). JetBlue does not have the largest, nor the fastest-growing, nor the youngest aircraft fleet in the country.
But in all the metrics mentioned above, JetBlue claims the top two or three spots, suggesting that it may be the most "well-rounded" airline in the country. PRASM (passenger revenue per ASM) has averaged a respectable $11.57 cents per quarter since 1Q16, having deteriorated the least YOY in 2Q18 compared to its low-cost peer group. Helping to sidestep the revenue squeeze is a load factor of 86.2% reported last quarter, higher by an impressive 100 bps YOY, that only trails Delta's sector-high metric. The robust occupancy rate suggests solid execution at first glance, and possibly a competitive advantage as an able operator of a strategic, high-traffic New York City main hub.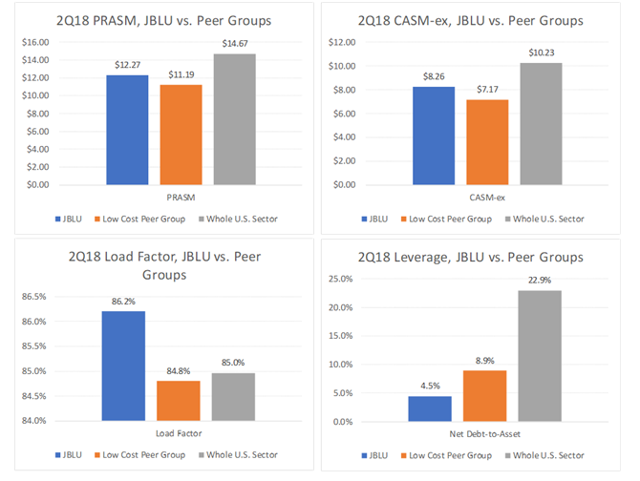 Source: DM Martins Research, using data from multiple company reports
On the balance sheet side, net debt has been increasing at a fast pace (of 55% YOY in the most recent quarter), but off a very low base. Relative to total assets, JetBlue's leverage of less than 5% is substantially better than the peer group's average, including on the low-cost side (see graph above). Considering a total owned and leased fleet of 247 planes that has grown at a healthy clip of 6% YOY, I believe JetBlue is doing a competent job at growing its assets, primarily by taking advantage of its annual $1.5 billion produced in CFOA over the past eight quarters.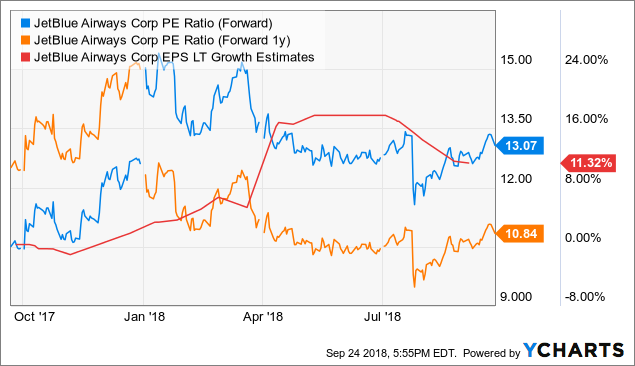 Further supporting the JBLU investment case is the stock's reasonable valuation. On a current-year earnings basis, the 13.1x multiple is the lowest in the low-cost arena, and so is next-year's P/E of 10.8x. Expected long-term earnings growth of 11% is not stratospheric, but is healthy enough to pin forward PEG at a 1.2x multiple that I find very enticing.
The verdict
I believe JetBlue strikes a very interesting balance of healthy growth, robust operational performance, pristine balance sheet and stock valuation that is far from aggressive. In the low-cost space, JBLU would probably show up near the top of my list of stocks to include in my portfolio.
However, considering the volatility of the airline sector, I continue to have a soft spot for peer LUV. The very low levels of debt, a conservative fuel hedging policy and robust op performance allow me to be invested in the space without the same exposure to the downside.