South Africa - What Is Fair Value For The Rand In A World Of Normalized Interest Rates?
Summary
After 2 quarters of contraction, GDP growth may show technical rebound in H2 2018.
However, a rebound will be tepid, with global growth now late cycle and renewed downside risks to South Africa growth profile likely to reemerge in 2019.
Given global and domestic factors, the currency remains overvalued with further downside likely over the next 12 to 18 months.
South Africa's large concentration of non-resident inward portfolio investment, large current account deficit, and small FX reserve buffer remains a key vulnerability.
In this article, we will review the latest economic data for South Africa and discuss some of its implications as it relates to the outlook for the country's financial assets, including the MSCI iShares South Africa exchange-traded fund (NYSEARCA:EZA). More importantly in the final part of this article, we will detail what we consider a reasonable downside target for the currency, based on the assumption that the global liquidity backdrop (specifically $ liquidity) will continue to tighten further over the next 12 to 18 months.
As we have detailed in prior articles published earlier in the year, we expressed concern regarding the economic outlook for 2018 given a number of evolving factors, some of which were cyclical or transitory (an overvalued currency, drought) and others structural (the crisis at the country's state-owned electricity utility company Eskom as one example).
In these articles, we suggested that it would prove challenging for the economy to meet the optimistic GDP growth forecasts issued at the start of the year following the election of the perceived reformist Cyril Ramaphosa as president of the ANC. In these articles, we also cautioned that the new-found optimism and expectation of an instant transformation in the country's economic fortunes was likely to prove misplaced.
First, the policy manifesto adopted by the ruling ANC at its elective conference in December 2017 provided a clear indication that the party's more populist grassroots membership would serve to constrain the ability of Ramaphosa to embark on dramatic policy reforms, and perhaps even force him to adopt more populist policy proposals (such as controversial land reform) despite his better instincts. Secondly, structural factors which have limited the country's potential growth rate in the past, including a continuing micro-macro disconnect would mean that it would take many years to affect a real and durable transformation, even with the necessary political will.
We discuss the country micro-macro policy disconnect in greater detail here, but another example that has resurfaced this year is the government's stance towards the embattled mining sector. Trade unions and the administration are opposed to any restructuring that involves the mass retrenchment of miners, despite the fact that in certain sectors such as the platinum mining industry, most companies continue to report losses.
In fact, following the recent announcement of a proposed restructuring plan by the country's second-largest platinum group metals miner, Impala Platinum (OTCQX:IMPUY) the government reportedly expressed an interest in taking over some of the company's mining shafts in order to preserve jobs. On the one hand, the government maintains an apparent commitment to maintaining some fiscal discipline as well as via the central bank's mandate or currency stability founded on its inflation-targeting framework. On the other hand, it would apparently prefer to nationalize loss-making mines. Perhaps it would be easier to just call a spade a spade and change the mandate of the central bank, explicitly adopting a" weak Rand" policy in order to 'bailout' the mining sector indirectly, rather than once again pursuing a populist or interventionist micro policy.
As such it was not an entirely a surprise when GDP data for the second quarter of 2018 once again disappointed, showing a second consecutive and surprising (consensus estimates pointed to marginal q/q growth) contraction, placing the economy in a technical recession.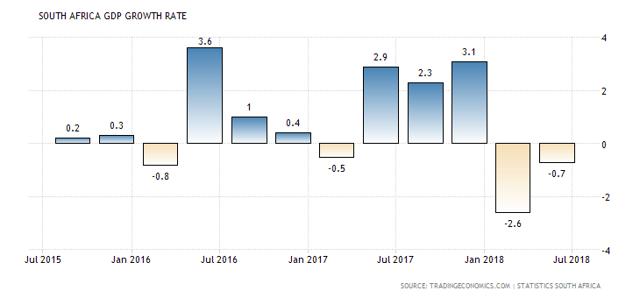 Source: Trading Economics
Although there were some technical and 'once-off' factors that placed a drag on GDP output during H1 2018, the simple fact remains that in order for the economy to register an overall positive growth rate for the entire year, growth in H2 2018 (H2 relative to H1) would have to average at least 2.5%. Some of the non-recurring factors included a severe drought in the Western Cape region, which negatively impacted on the agricultural sector, while protests and a temporary closure of a key port during June negatively impacted the transport sector.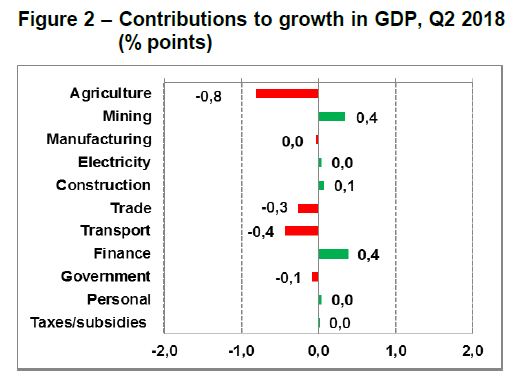 Source: Statistics South Africa
As such, and considering, that the annual wage hike for public sector employees only took effect from July, it is entirely reasonable to expect a modest rebound in growth during H2 2018. However, some of the leading data for Q3 2018, once again, remains fairly uninspiring. As depicted below, the Standard Bank PMI for August declined unexpectedly to the lowest levels since early 2016, a period during which the central bank was raising interest rates due to a steep devaluation in the currency in late 2015.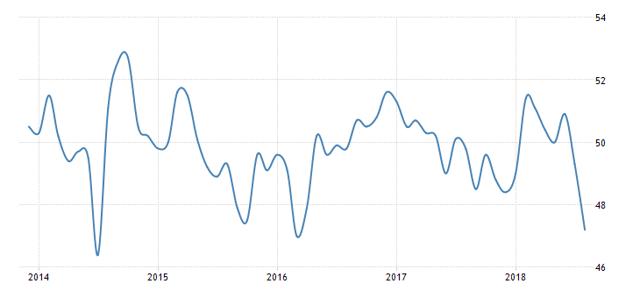 Source: Standard Bank PMI- August 2018
Similarly, the RMB/BER business confidence index for Q3 2018 also showed a second consecutive quarterly decline after reporting a large jump in confidence in Q1 2018.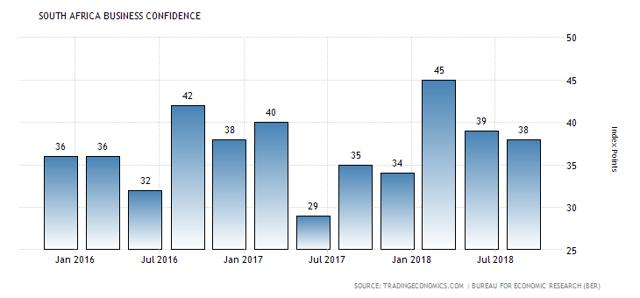 Source: tradingeconomics.com, bureau for economic research (BER)
We still believe (mainly due to technical factors) that overall GDP growth will be positive in the second-half of the year, assuming the central bank remains accommodative and does not raise interest rates. However, based on the above trends it is clear that overall growth in the second-half of the year will probably not be sufficient to offset the contraction in the first-half of the year.
In this context, it is somewhat surprising that the consensus continues to see the economy generating overall positive growth, albeit revised lower from earlier in the year. Most notably, ratings agency Moody's said it still expected overall GDP growth of between 0.7% and 1% this year (albeit revised lower from 1.5%) and accelerating to 1.5% in 2019. Moody's outlook and its assessment of the South African economy remain quite important given that it is the last of the three major ratings agencies to retain an investment grade rating on South Africa's sovereign debt.
Moody's affirmed its rating in March 2018 when it kept the country's local and foreign debt at Baa3, which is one notch above junk. A downgrade by Moody's of South Africa's debt to sub-investment grade would see the country automatically removed from the Citi World Government Bond Index and Barclays Global Aggregate Index, forcing foreign asset managers with investment grade mandates to sell local bonds.
As such, Moody's fairly generous assessment of the country's outlook at this time and indication that a ratings downgrade is not imminent has no doubt provided something of an underpin for the country's financial assets, and specifically the currency. As we can see in the two charts below, the Brazilian Real (often considered in a similar risk bracket to the South African Rand) has already returned to its early 2016 lows, while the Rand remains some 10% to 15% above this level.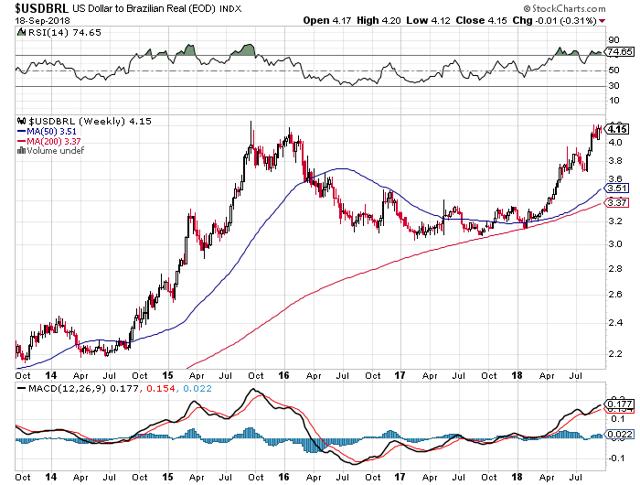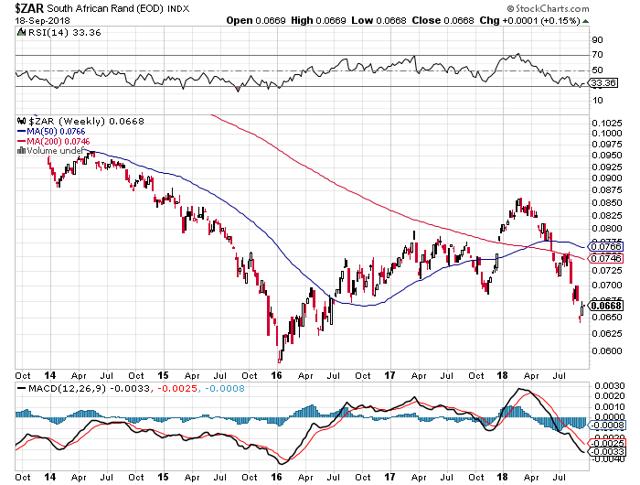 Source: Stockcharts.com
Nevertheless, an eventual downgrade by Moody's over the next 12 to 18 months still appears likely. As we have detailed in prior articles, structural factors, a lack of political will, and inconsistent policy will likely conspire in tandem with a downturn in the global growth cycle to constrain the country's ability to engineer a more robust growth outcome. There can be little doubt that the current global cyclical upturn must be entering its final stages, particularly given the shift towards monetary tightening in the developed world, most notably the United States.
As the chart below shows, a broad survey of global activity, the JP Morgan Global Composite PMI, already appears to be rolling over. Although the current reading remains above the key 50 level marking an ongoing expansion, it appears that cyclical momentum has peaked. Evolving risk factors such as escalating trade tensions between the world's major trading regions will only further exacerbate the downside risk to the global growth backdrop over the next 2 to 3 years.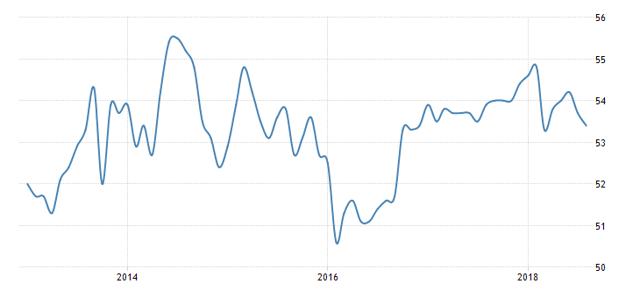 Source: Trading Economics
Recent developments with regard to the country's embattled state-owned utility company Eskom, such as a further deterioration in the coal supply situation and another delay in the long-awaited release of a detailed restructuring plan, continue to raise questions over the solvency of the parastatal. Without massive (implying yet another negative growth shock) electricity tariff increases, the parastatal will remain for all intents and purposes insolvent, suggesting that some or even all of its debt load (much of which is already guaranteed by the national government in any event) will end up being transferred to the national government.
An interesting side note on the Eskom situation is the government's apparent renewed commitment to expanding the share of electricity generated from renewable sources. This may be well intentioned and even make economic sense on an individual project basis, but as this article from Bloomberg illustrates, where renewable projects have priority feed-in (to the grid) they can actually end up cannibalising the output, revenues and profits of legacy utility operators or in this case, Eskom.
When a further ratings downgrade does eventually materialize, we would expect to see the Rand underperform relative to its EM peers at least for a few months. The expulsion from the Citi World Government Index would likely temporarily place the currency under some pressure, given the high foreign ownership level (around 40% of all outstanding debt) of the country's public debt.
The exact reaction is hard to predict since some foreigners forced to sell due to their mandate requiring them to track the index or invest solely in investment grade bonds, may be more or less offset by bargain hunters with more unconstrained mandates, including local asset managers and pension funds. Naturally, over the longer term it will be the evolution of the country's macro fundamentals as well as associated fiscal position, influenced by the global macro environment that will determine the pricing of local financial asset prices.
However, even without the ratings downgrade, the downside risk to the currency remains significant in our opinion, particularly in an environment of rising global oil prices where South Africa remains a large net importer of oil for transportation requirements. As we have detailed in this article, although South Africa does not have the same level of foreign-currency denominated debt as say Turkey or Argentina, the net external debt level is still fairly high, as reflected in the table below. It is also high in the context of the country's relatively small official foreign exchange reserves.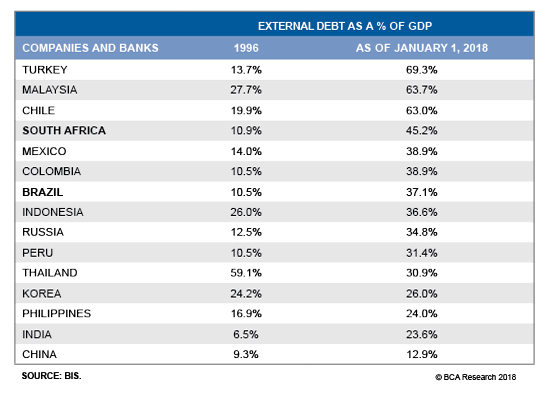 Source: BCA Research
This vulnerability becomes even more acute when we consider the fact that the country continues to run a structural current account deficit of around 4% of GDP. Although the deficit narrowed in the second quarter of 2018, the continued rise in oil prices and relative decline in gold, platinum and iron ore (key export commodities) suggest that the deficit (deteriorating terms of trade) will widen considerably for the full calendar year, when compared to 2017. Therefore, even a low level of foreign-currency debt, when taken together with a large current account deficit and small FX reserve buffer, will expose the currency during periods of tightening global liquidity.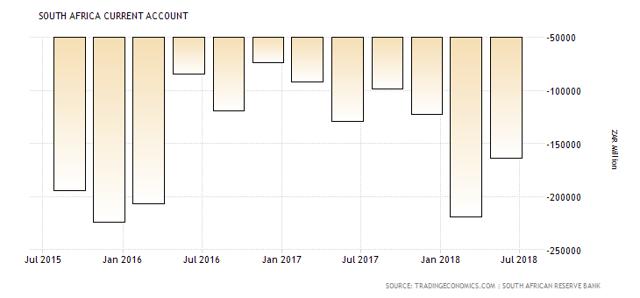 Source: Trading Economics
The structural current account deficit largely reflects a large income deficit, in turn a legacy of the country's low savings rate, particularly between 2004 and 2012. When we include all portfolio investment (including therefore equities), we can see that South Africa during the period 2015-17 (and likely extending into early 2018) received some of the largest relative (as a % of GDP) portfolio inflows from non-residents in the investable EM universe, on a par with Argentina.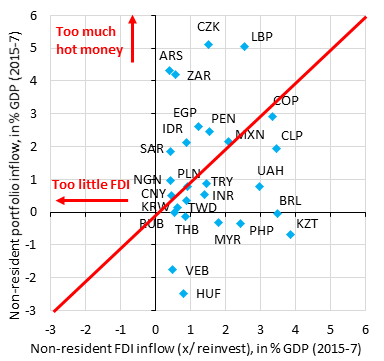 Source: Robin Brooks, @RobinBrooksIIF
In fact, as the table below shows, total portfolio investment therefore, including bonds and equities amounted to ZAR 3.47trn at the end of Q1-2018 or roughly 74% of GDP. This figure increases even further to almost 90% if we include the "other investment" category, which generally reflects loans extended by foreign entities as opposed to the purchase of domestic debt securities (classified under portfolio investment).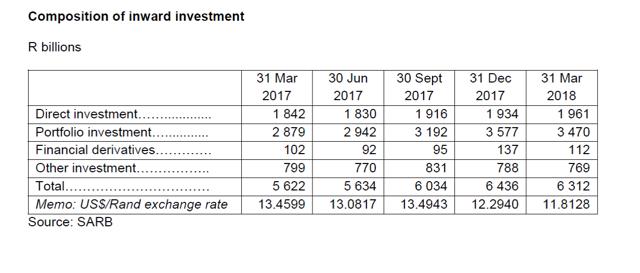 Source: South African Reserve Bank
Although the value of South Africa's foreign assets exceeded the value of its foreign liabilities (as at end-March 2018) as depicted in the graphic below, the composition of these assets and liabilities and the income they generate result in an overall and persistent deficit.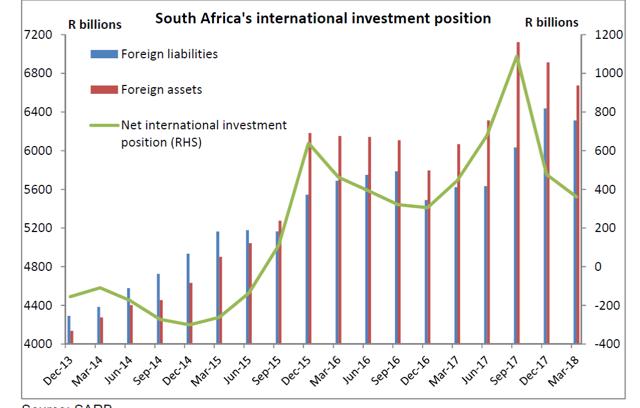 Source: South African Reserve Bank
As the table below shows, a much larger proportion of the country's foreign assets comprise direct investments, typically larger or controlling equity* stakes which may not provide recurring income or dividends. Even in terms of the outward portfolio investment, a large proportion is invested in equities, while given the lower interest rates in many jurisdictions, the income generated by these portfolio investments is significantly less.
*A large portion of South Africa's foreign equity assets are comprised of Naspers (OTCPK:NPSNY) equity investment in the Chinese internet company, Tencent (OTCPK:TCEHY)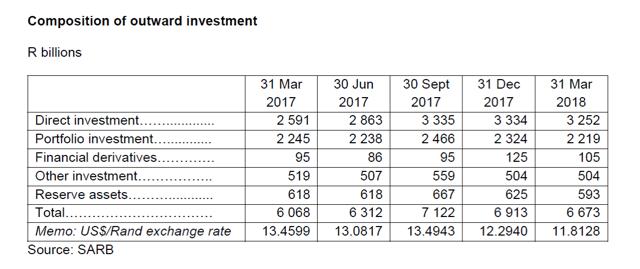 Source: South African Reserve Bank
But does a large non-resident portfolio liability matter?
We think it does matter, regardless of the size and extent of a country's offsetting foreign portfolio assets. If there is a loss of confidence amongst foreign investors, there is no guarantee that local investors will step in to buy these same financial assets, even at a discounted price. So, while having a large stock of foreign portfolio assets is helpful in generating foreign income, which following a currency devaluation typically increases*, it does not necessarily mitigate the risk of a sudden sell-off in the currency and financial assets of that country.
In our view, it all depends on the level of investor confidence in the prospects of the economy, and by association the perceived returns that can be garnered by investing in the financial assets of that country. Countries with larger economies and domestic financial savings pools with AA or AAA investment grade ratings can usually manage a large level of foreign portfolio investment quite comfortably.
As an example, if we look at the United States Gross International Investment Position depicted below, we can see that its portfolio liabilities and other investment liabilities amounts to roughly 100% of GDP, only modestly larger than South Africa's. However, the United States is the largest economy in the world and also has the benefit of having the world's de factor reserve currency.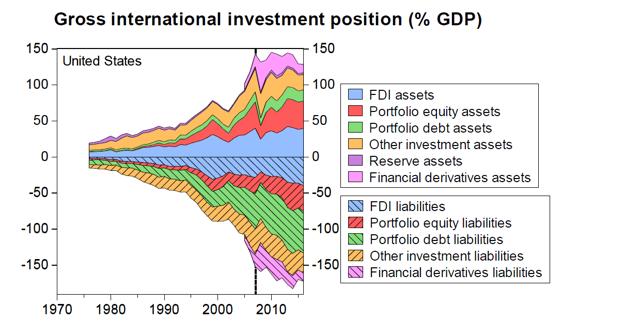 Source: Bruegel
How does South Africa compare to other emerging market economies then, if we consider them more reliable comparisons? Well, in the case of Turkey we can see that portfolio liabilities were only around 20% of GDP in 2016 (when the data was compiled), although other investment liabilities (loans to the country's banking sector predominantly) adds another 40% of GDP.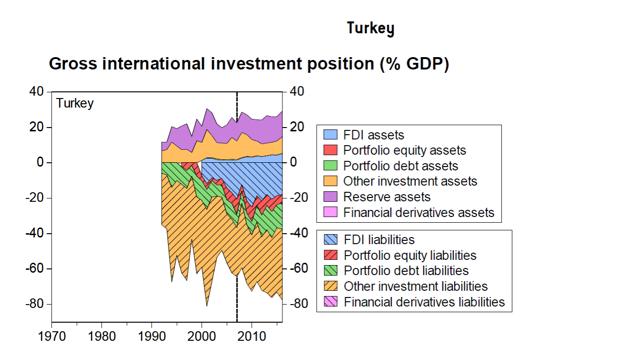 Source: Bruegel
Some Eastern European countries such as Poland (depicted below) also have fairly large levels of portfolio liabilities. However, their proximity and partial integration with the European Union as well as the general expectation of their eventual membership of the single currency, acts as a safeguard. Of course, should the European Union begin to disintegrate (a clear geopolitical objective of the current Russian regime), then these safeguards may be called into question at some point.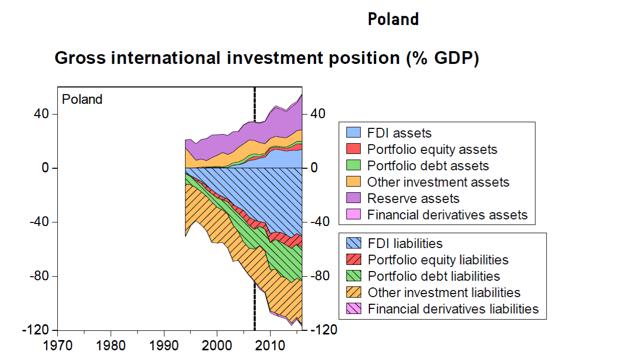 Source: Bruegel
Looking at two other comparable emerging market economies, Brazil and India, we can see that in both instances their stock of foreign portfolio liabilities is far lower than South Africa's, once again underscoring the key vulnerability that South Africa has in this specific area.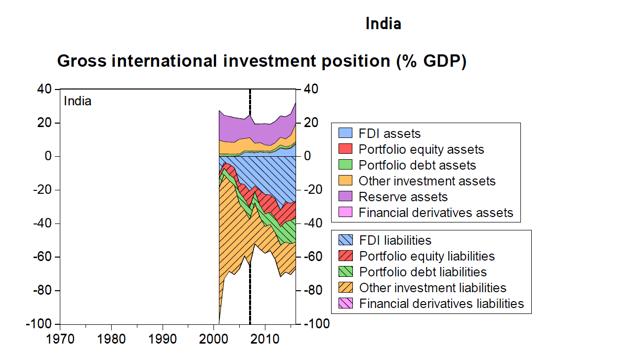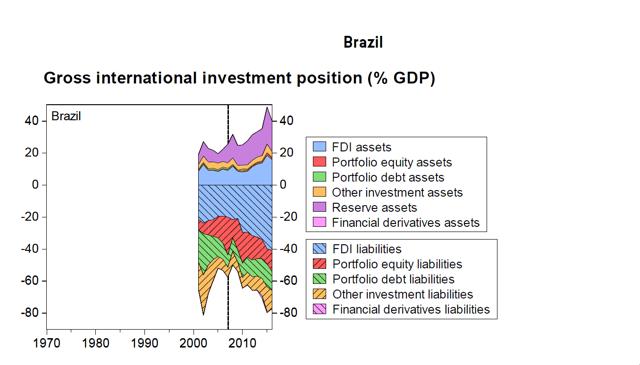 Source: Bruegel
Why does South Africa have such a large stock of foreign portfolio liabilities?
There are many reasons and two that come to mind are the fact that South Africa's capital markets are quite developed, well regulated and liquid. It is easy for foreign investors to buy and sell in these markets, specifically relative to some other EM peers. So, in a world of zero interest rates (or at least in the developed world) with investment decisions driven by the "search for yield", South Africa's comparatively higher yielding financial assets, became an obvious destination for foreign portfolio investors in the aftermath of the Global Financial Crisis or GFC (2008-09).
The other main reason is that the country itself has remained savings deficient, while the Rand in turn has been largely overvalued as it pertains to the competitiveness of the mining sector since the GFC. This ensured that the country's current account remained in deficit and thus providing a large "gateway" for foreign portfolio inflows into the economy without necessarily having an outsized impact on the currency and local financial conditions.
However, another reason that is not often mentioned is what we believe to be an over-reliance placed on macro factors as opposed to micro factors by foreign portfolio investors. Foreign portfolio investors focus solely or mainly on macro type factors such as the country's investment grade status, independence of the central bank etc. as opposed to the country's various micro issues.
The problem with this is that "investment grade" macro policy is simply not consistent or sustainable with junk or non-investment grade micro policy. Sooner or later, the drag on economic performance from these micro factors will lead to rising populism, which eventually impacts macro policy. This is something we already starting to see, for example as it relates to the country's ruling party's (ANC) recent shift on the land expropriation issue and decision to temporarily cap fuel prices.
*Assuming a country's foreign portfolio liabilities are mainly local currency denominated, a large currency devaluation would lower the value of these portfolio liabilities relative to a country's foreign portfolio assets. This in turn would presumably narrow (widen) the income deficit (surplus), an important component of the overall current account deficit. However, if a country's portfolio liabilities are mainly denominated in foreign currency, a depreciation in the currency will not lead to an improvement in the country's net investment position nor the income account.
According to data from the World Bank (Q1 2018), South Africa's foreign currency denominated external debt stands at $75bn or roughly 21% of total portfolio liabilities and other investment liabilities. This suggests that a large currency devaluation would probably have a fairly significant impact on the country's income account (narrowing the deficit) over several quarters following the devaluation.
Conclusion
In conclusion, we will detail a few thoughts on what, in our view, constitutes a fair or equilibrium value for the South African Rand, given the country's structural constraints, weak growth profile and evolving shift in the global macroeconomic landscape. What do we mean when we say" equilibrium value"? Assuming the "new normal" or steady-state for the global economy is one where US policy rates fluctuate between 3% and 4% (or 1% to 2% real) and China's economic growth rates continue to slow and converge to those of other more demographically mature economies (hence reduced consumption intensity for various industrial commodities), then we feel that an equilibrium value for the Rand is one that is consistent with a balanced current account.
South Africa currently has a structural current account deficit of around 4%, mainly due to the aforementioned income deficit. If we were to assume that the trade account remains balanced in this projected future" steady-state" global macroeconomic environment, then we can estimate a rough value for where the currency should trade in order for the income generated by the country's foreign assets to match those paid on its foreign liabilities.
We will exclude direct investment from this analysis and assume that any dividend paid to foreign direct investors is matched by dividend income repatriated back to South Africa from the country's offshore direct investments. Based on the recently reported data for Q2 2018, we can see that primary income receipts amount to roughly ZAR 80bn per annum or a yield of roughly 3% considering total portfolio assets and other investment assets.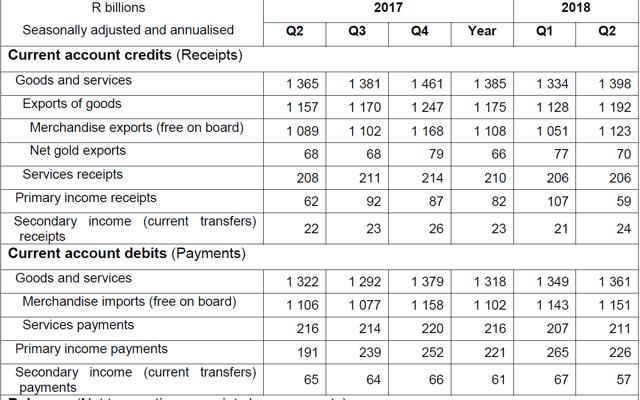 Source: South African Reserve Bank
Income paid amounts to roughly R220bn or a yield of roughly 5.5%. We also disregard secondary income payments (current transfers) given that the deficit here mainly reflects agreed customs payments to neighbouring countries which are not likely to be impacted by a devaluation in the Rand. Obviously, we are calculating our estimate income yields excluding the effect of direct investments, which suggests that the overall yields may in fact be lower.
However, for purposes of arriving at a rough estimate, we think this is a sufficient methodology. Based on our calculated yield differential and a nominal GDP of ZAR 4.7trn, narrowing the current account to below 1% of GDP will require at least ZAR 140bn in incremental foreign income receipts per year. This implies that assuming a 3% yield, the stock of foreign portfolio assets will need to increase by around 67% to roughly ZAR 4.7trn.
This in turn implies a fair value for the Rand of roughly (using USD/ZAR 11.80 as at the end of Q1 2018) 20 to the USD. This would then imply similar downside to EZA, based purely on the currency devaluation and excluding any downward re-rating in the individual equity securities that comprise this exchange-traded fund.
We believe this a fair target for the currency over the next 12 to 18 months, but there are a number of caveats as well which could lower this fair value estimate or see the currency even overshoot this level -
1) If the Federal Reserve were to pause or end its hiking cycle before its policy rate reached 3%, this would likely make the global liquidity backdrop somewhat more benign allowing South Africa to maintain a small current account deficit and thus implying a lower target or equilibrium level for the currency.
2) The local central bank responds aggressively to any further currency weakness and raises its policy rate by 200 to 400 bps over 12 to 18 months. This would result in significant domestic demand compression, lowering imports and thus balancing the current account via lower imports and not higher foreign income receipts. This would imply a lower (less than 20) fair value or equilibrium level.
3) A significant improvement or deterioration in the country's terms of trade, mainly encapsulated as the basket price for platinum, gold and iron ore relative to oil. In the case of the former, it would imply a return to a possible trade surplus and lower current account deficit, which would require a much smaller increase in foreign income to balance the current account. The latter obviously would imply the opposite.
3) A downgrade by Moody's could lead to a temporary overshoot of the aforementioned fair value or equilibrium level, particularly if it occurs as downside risks to the global growth outlook become more pronounced.
*Technical Note
Some may ask why we do not use a methodology such as Purchasing Power Parity (PPP) for arriving at a fair value for the currency. Most PPP models show the currency as undervalued at current levels. In our view, using a PPP model is flawed, especially as it pertains to commodity exporters. PPP capture relative pricing differences on ALL services and goods produced in a country. However, if only a small portion of those goods and services can ever be exported then a PPP model will provide an inaccurate measurement.
The result is PPP-based "groupthink" analysis which perennially shows a currency as undervalued, while the trade and current account balances never improve. If the South African Rand was truly undervalued, exports would be growing, while imports would be falling resulting in a trade or current account surplus. This has never happened and those that continue to rely on a PPP-based model should ask themselves why? The main reason is that it is really the terms of trade and competitiveness of South Africa's mining sector that will determine the trend or trajectory of the country's trade and current account balances.
It does not help that South Africa's produces and sells a Big Mac hamburger for far cheaper than many other countries when those Big Mac burgers can never be exported. Yes, an undervalued reading based on PPP can serve as a leading indicator for an eventual improvement in the country's trade and current account balances. The theory being that imports will gradually be substituted by locally manufactured goods and new export industries or businesses will be started. But this can take many years and also requires an investment friendly climate. So, while a PPP model can provide an indication of the trend in exports and imports going forward, more detailed and granular industry specific analysis is also required to confirm the validity of the signal provided by a PPP model.
Disclosure: I am/we are long IMPUY. I wrote this article myself, and it expresses my own opinions. I am not receiving compensation for it (other than from Seeking Alpha). I have no business relationship with any company whose stock is mentioned in this article.
Editor's Note: This article discusses one or more securities that do not trade on a major U.S. exchange. Please be aware of the risks associated with these stocks.