Introduction
Wednesday morning's report on new home sales winds up the important housing data for August, and the bottom line is: while there are contrary indications, there is more evidence that housing sales are rolling over.
Let me repeat my housing mantra:
interest rates lead sales
sales lead prices
prices lead inventory
This doesn't mean that inventory doesn't have an effect on prices, or that prices don't have an effect on sales. They do. It simply means that the effects of high prices, e.g., will show up in sales even as prices continue to rise.
Mortgage interest rates
Let's start with a look at mortgage rates, and their effect on sales.
Here are mortgage rates since their low in May 2013, from which I've subtracted 4.5%: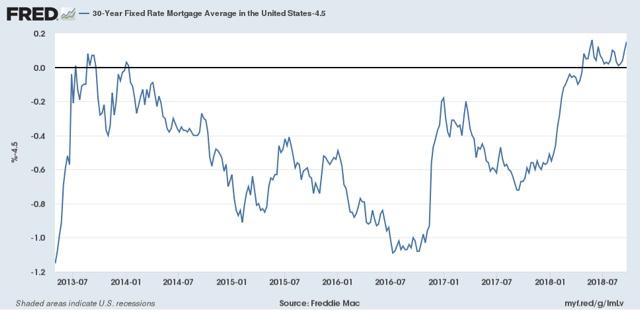 What this shows is, although the immediate move in the 2013 "taper tantrum" was more dramatic, interest rates only remained elevated for a limited time: only five months of the next nine over 4.4%, and only two months total over 4.5%. This year they have remained over 4.4% for seven straight months, and above 4.5% for the last five.
Now let's see how that affected housing sales, by adding in single family permits (the least volatile metric) in red (right scale):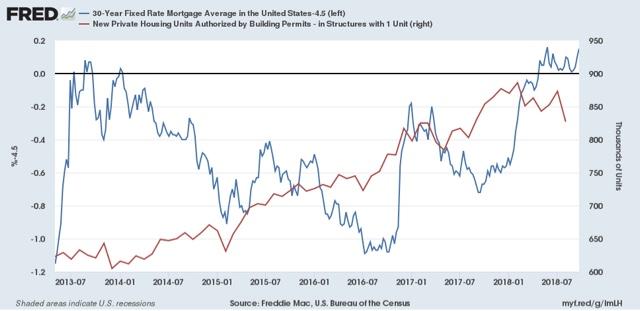 Notice that increases in housing permits stopped in late 2013 and for the first 8 months of 2017, slightly after hefty increases in mortgage rates. In the beginning months of 2016, they also slowed down briefly. By contrast, when mortgage rates declined in late 2014-15, and the last eight months of both 2016 and 2017, shortly thereafter issuance of housing permits increased at an accelerated pace.
This year the trend in permits has actually been downward since February, the steepest such decrease since the bottom in 2011.
Since mortgage rates remain at seven-year highs, we can expect continued pressure on sales.
Housing sales
Next, here's a comparison of single family starts (blue), permits (red), and new single family home sales (green) since the beginning of 2016: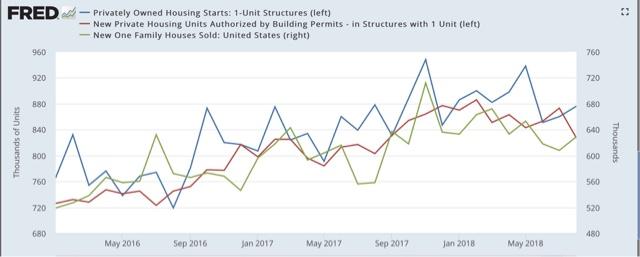 Both new home sales and single family starts have not made new highs since last November, 9 months ago. Single family permits have not made a new high since February. Although I have not shown them, since the NAR does not allow FRED to retain more than one year's data, existing home sales have not made a new high since March of 2017, 1 1/2 years ago!
Next, to show you the longer term trend in this expansion, here is the YoY% change in all three series since the beginning of 2013: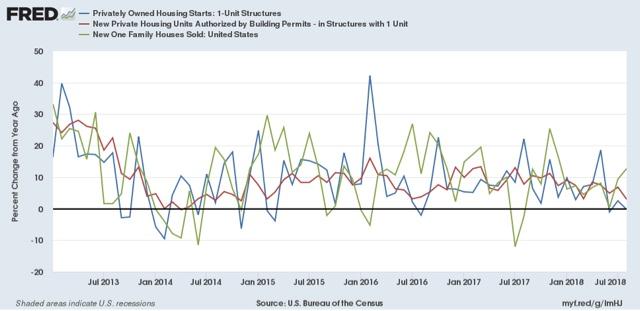 Since it's hard to distill signal from noise in that spaghetti, here's what the YoY% change of the three averaged all together looks like: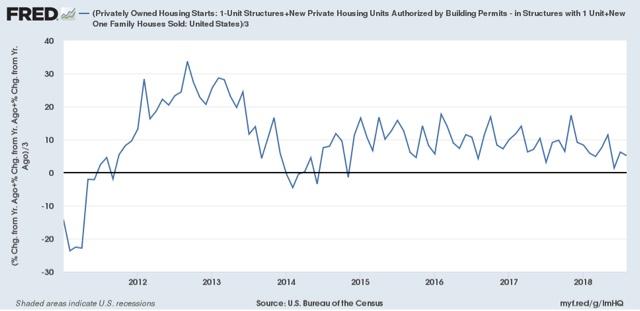 Now it's easy to see that the "taper tantrum" caused a complete stall in the housing market in the first half of 2014, and while we haven't gone negative YoY yet this year, the decelerating trend is apparent. With, as mentioned before, mortgage rates at a seven-year high, it is likely this decelerating trend will continue, likely reaching zero in three months.
Finally, another good indicator for the housing market is to subtract new houses for sale from new houses sold, as this typically turns down well before any recession begins. Here's what that looks like now: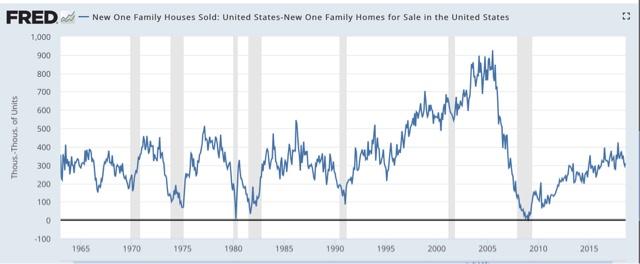 This indicator has turned down by 25% since last November, although it is still within the range of noise. Should this decline to 33% off its high, that would be a significant negative indicator.
Housing prices
Earlier this week, both the Case-Shiller (national NSA index, blue in the graph below) and the FHFA (purchase only, green) house price indexes showed continued increases, albeit at a more subdued level, in contrast with single family permits (red) as discussed above: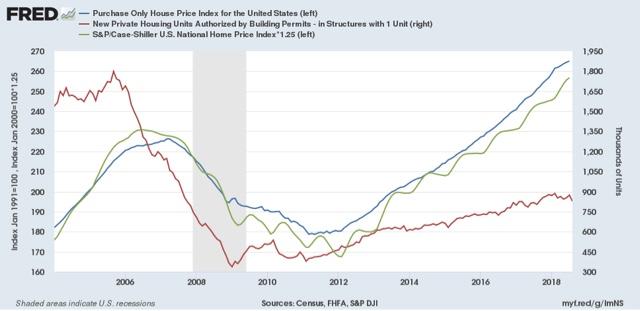 So we see that, even though sales as measured by all metrics have recently declined, prices are continuing to increase.
In contrast to 2014, when house prices had recently bottomed, house prices as compared with median household income, are at or near all-time highs, including the bubble period. Earlier this week, Sentier Research reported that on a monthly basis, real median household incomes had risen 2.8%, in contrast to house prices, which were up over 5% YoY.
With prices continuing to increase, this will only add to the downward pressure on sales.
Inventory
Housing inventory, at 6.1 months, is at its cycle high: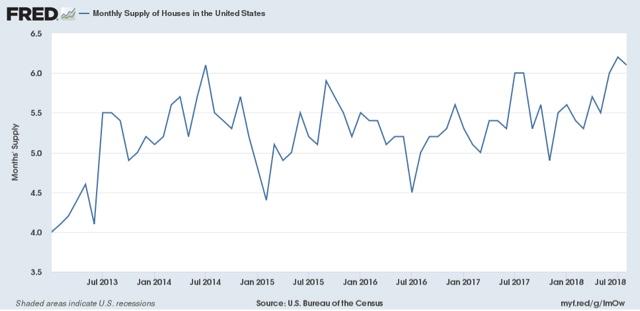 And here is actual inventory (blue), compared to the 20 city Case-Shiller housing price index (green), to show how inventory lags prices at least slightly: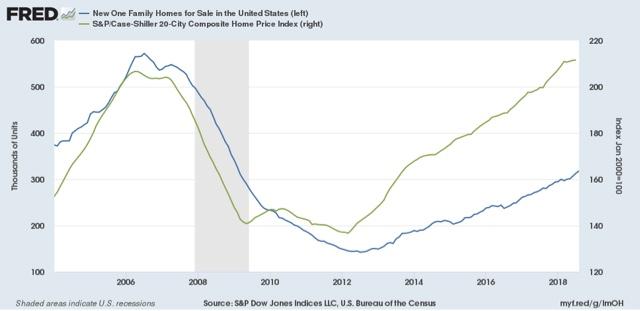 So I expect new home inventory to continue to rise.
Contrary signs
While my expectation is that, contrary to the last two years, there will be no autumn surge in sales to ride to the rescue of the housing market, there are a few contrary signals to what I have set forth above.
First of all, the Mortgage Bankers Association's weekly report of purchase mortgage applications has risen at nearly 4% YoY over the last four weeks. Below is the seasonally adjusted data. The most current readings contrast with some of the lowest readings of all last year: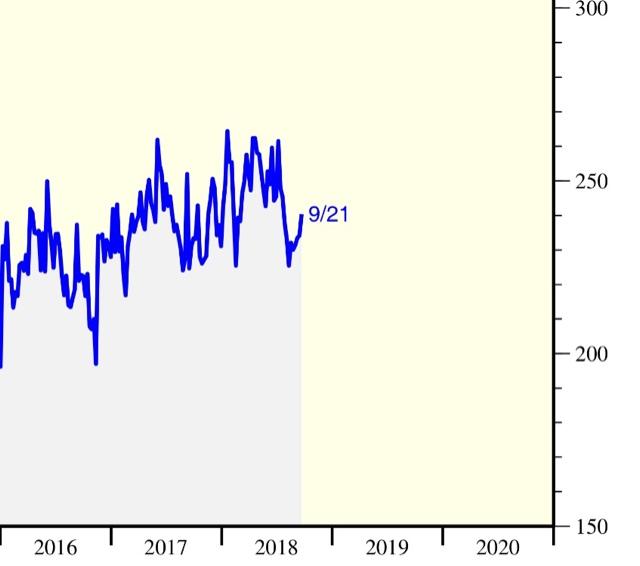 Since last September showed a big monthly increase in housing permits and sales, to a level close to the peak, that would suggest that the same may happen this year. Because the series is so volatile, and the message from mortgage rates so clear, I am discounting this, but I recognize the contrary signal.
Secondly, prices for new homes peaked on a non-seasonally-adjusted basis last November: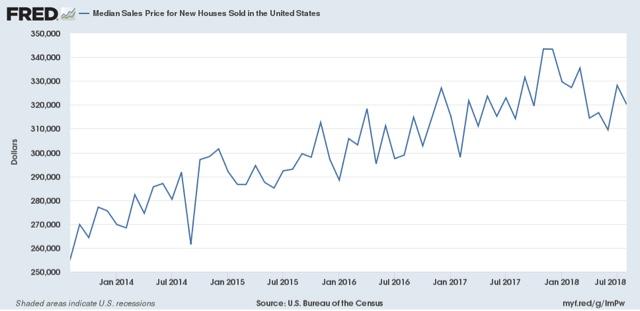 My rule of thumb for non-seasonally-adjusted data is that, when the YoY% increase declines by more than half, the top (at least temporarily) is probably in. YoY growth in prices peaked at 10% in February, and has been below 5% ever since. That would make the peak in prices simultaneous with the peak in single family permits. Again, because the series is so volatile, I am willing to discount it, although if prices are indeed declining, that would presumably help put a floor under sales.
Finally, existing home inventory, which is also only measured YoY, continued to decline until just a couple of months ago (graph courtesy of Calculated Risk):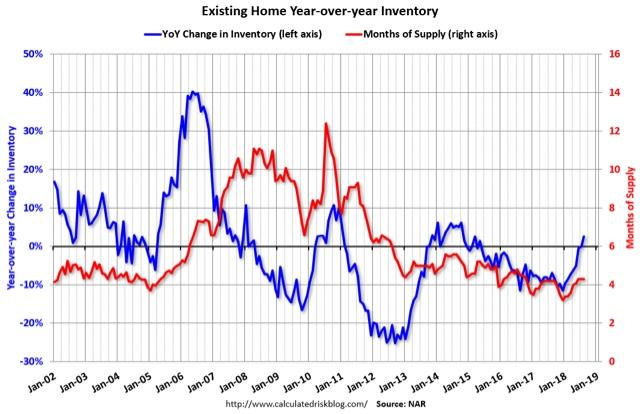 This is very much contrary to my mantra. But of all the series, existing home sales is the least important. And the explanation for the declining inventory here is probably the 30% premium on median price for a new home vs. an existing home, whereas historically the premium has typically been about 10%. In other words, extraordinarily high prices in the most desired good have led to something of a buying panic for the substitute good, depleting inventory. In any event, existing homes now feature declining sales, increasing prices, and increasing inventory. I would not expect sales to increase until prices react.
Conclusion
In summary, mindful of the fact that there is some conflicting evidence, the large preponderance of evidence leads me not to expect any significant new highs in home sales for the rest of this year, and more likely than not, sales will continue to stagnate or decline.
Further, if this situation persists one more month, and if both the last remaining positive - housing starts - and the neutral indicator of quarterly private residential investment in the GDP roll over, then the long leading indicator of the housing market will be firmly negative.