With several well-known institutional investors inside this company, 23.17% y/y revenue growth and a large market opportunity, Upwork (NASDAQ:UPWK) seems very undervalued at 4.70x forward sales. It seems a very clear buy at $11. Having said that, the only serious risk of Upwork is its goodwill, which comprises 40.72% of the total amount of assets. Goodwill impairments could make the stock price decline in the near future.

(Source: Company Prospectus)
Innovative Business Model, Large Clients And Powerful Shareholders
Founded in 2003 and incorporated in Delaware, Upwork operates an online global marketplace which helps businesses find talented freelancers. The platform is large. In the year ended June 30, 2018, the company facilitated 2.0 million projects with freelancers and 475,000 clients.
As shown in the image below, almost every industry can commence projects thanks to Upwork. It is a multi-category marketplace with accountants, programmers, web developers, marketing specialists and sales professionals, among others.

(Source: Company website)
The platform is trusted by large conglomerates from different industries, such as Dropbox (DBX), Zendesk (ZEN), Accenture (ACN) or GoDaddy (GDDY). In addition, the company has received a lot of interest from large institutional investors such as Sigma Partners and funds and accounts advised by T. Rowe Price Associates, Inc.
With all this information in mind, the business model, financial performance and financial resources of Upwork should interest the market.
The Marketplace
The prospectus reads that clients use Upwork because they seem to find talented freelancers at cheaper rates than on more traditional channels. But that's not all. The company seems to be offering other capabilities that both clients and freelancers seem to appreciate. Among these tools, it offers machine learning capabilities to predict availability, interest and skill relevance of the freelancers. Both the growth in clients and client retention rates show that these features are making Upwork a useful business model.
As of December 31, 2017, client spend retention was equal to 99%, and core clients grew at 12.94% y/y to 0.0864 million clients:

(Source: Company Prospectus)
How does the platform function? Freelancers create their professional profile exhibiting their expertise, education and previous projects. Besides providing their prices, they are also responsible for enhancing their online reputation. The image below provides a profile created in Upwork. Note that the feedback from previous clients can also be consulted by clients: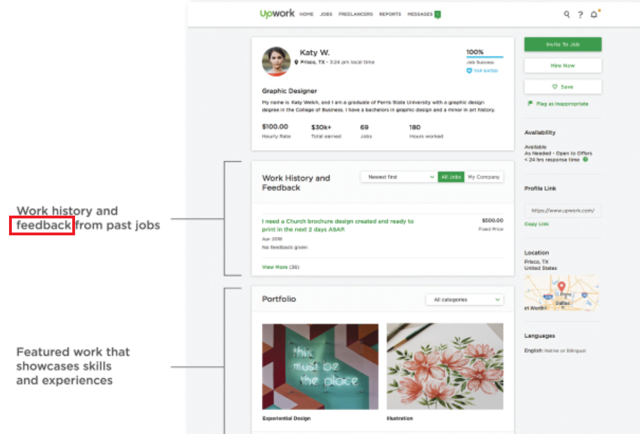 (Source: Company Prospectus)
Upwork also offers several ways to test the skills of freelancers, including over 300 skill tests and storage space to show their previous portfolio of projects. Additionally, freelancers can include links to professional certifications, which are often used by programmers, engineers and technical professionals. The following lines provide further details on this matter:

(Source: Company Prospectus)
How do clients interact with freelancers? Clients are responsible for creating projects, in which skills needed and approximate budget are set. Freelancers can find these projects thanks to several research tools included in the Upwork website, as shown in the image below: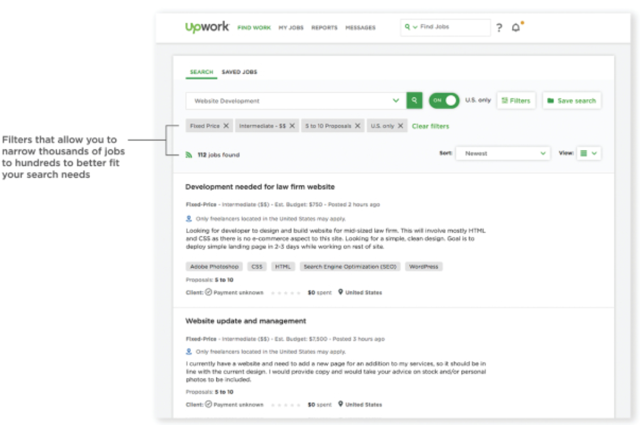 (Source: Company Prospectus)
Once freelancers get to know the contract, they are able to bid and offer their skills to the client who created the project. Upwork provides chat, video call and software that facilitates negotiation and collaboration. In addition, both clients and freelancers can share files, which could include previous projects or details about future ones. The image below provides further details on this matter: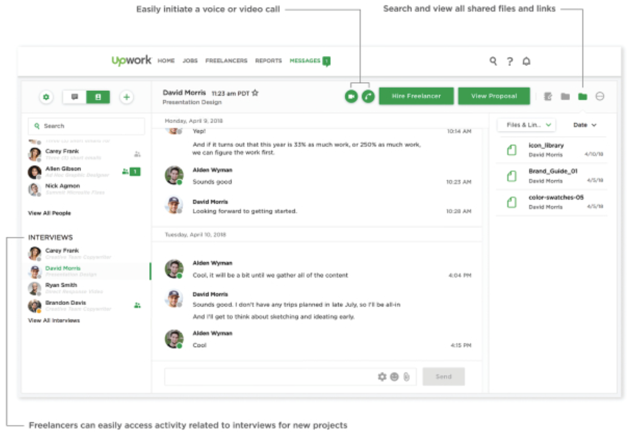 (Source: Company Prospectus)
Freelancers get paid in about 10 days after the client pays for the work delivered. The company says that other platforms often pay in 30 or more days. Take a look:
"Freelancers on our platform get paid faster than through traditional arrangements where they often get paid 30 or more days after the date of the invoice. On our platform, freelancers are paid within 10 days from the date the client is invoiced for hourly contracts and five days after the client releases a milestone or final payment for fixed price jobs."

- Source: Company Prospectus
With that, investors need to know that freelancer.com, which seems to be one of the closest competitors of Upwork, pays freelancers in a shorter period of time.
Finally, freelancers and clients can opt to work using different milestones or use hourly contracts. In the first option, freelancers get paid once they deliver work achieving certain objectives. When clients sign hourly contracts, they pay freelancers for the time spent. Upwork offers software to supervise the work of freelancers, which includes automatic review of screenshots, as shown in the image below: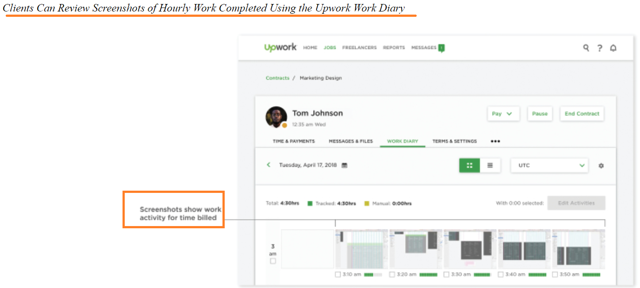 (Source: Company Prospectus)
Large Market Opportunity: $560 billion in 2017
The company seems to have space to grow in the future, since the market opportunity estimated by Upwork is quite large. The prospectus reads that the global opportunity was equal to $560 billion in 2017. Additionally, independent research conducted by the Oxford Internet Institute's Online Labour Index shows that project-based work done online increased by 26% y/y in 2017. If these figures are correct, Upwork stock price should increase in the near future as the company acquires market size.
23.17% y/y Revenue Growth
With revenue growth growing at an impressive 23.17% y/y to $202.55 million in 2017, many growth investors will be attracted by Upwork. In addition, gross profit has also been large, equal to $137.10 million in 2017. The net income is not positive, which does not really matter at this stage of development. If growth and good gross profit margins continue, growth investors will not care about the losses at the net income level.

(Source: Company Prospectus)
On the cash flow front, the company is in good financial shape. CFO for the year 2017 was negative, equal to -$4.00 million, but the CFO for the period of six months ended June 30, 2018 was equal to $10.40 million. The cash flow statement is quite promising. If Upwork is able to deliver stable and positive CFO value, investors will be interested in this name. Take a look at this in the image below:

(Source: Company Prospectus)
Goodwill Comprises 40.72% Of The Total Amount of Assets
With an asset/liability ratio equal to 1.88x, the financial situation appears to be favorable. However, there are several points to make here. First of all, the amount of goodwill shown represents 40.72% of the total amount of assets, which seems a large amount.

(Source: Company Prospectus)
The goodwill was created after Elance and oDesk combined forces in 2014. The prospectus reads as follows with regard to this matter:
"Goodwill represents the excess of the aggregate fair value of the consideration transferred over the fair value of the net tangible and identifiable assets acquired in 2014 as a result of the combination of Elance and oDesk. The total accounting purchase price of this combination was $147.4 million."

- Source: Company Prospectus
The goodwill could represent a serious risk for Upwork. If accountants believe that the value of the goodwill should be reduced, the total amount of assets would decrease, which could lead to share price declines. Assessing its value on each quarterly report seems a must on this name.
On the liability front, the company shows escrow funds payable, which are funds that should be delivered to freelancers. Remember that the company holds payments for some time, which is interesting for Upwork. With this money, it does not need a lot of financing from banks.

(Source: Company Prospectus)
The amount of debt is not that significant, equal to $34 million. Additionally, the contractual obligations are not worrying, at $40.32 million. Bear in mind that the sum of the cash in hand and funds held in escrow is larger than the total amount of contractual obligations.

(Source: Company Prospectus)
Use of Proceeds: $10 million To Repay Debt
With the company receiving more than $70 million form the IPO, investors will not appreciate that Upwork expects to use $10 million to repay a loan. It is a small amount of money, but it doesn't really matter. It is not a beneficial feature. With that, it is interesting that the company could use new cash to acquire other businesses. The lines below provide further information on this matter:

(Source: Company Prospectus)
Valuation
With $23.88 million in cash and assuming that the company should have $86.9 million after the IPO, net debt should equal -$63.02 million. With 104.079 million shares outstanding at $11 per share, the market capitalization will equal $1.144 billion. Note that convertible equity will not be outstanding after the IPO, which seems favorable. Stock dilution risk does not seem a problem with this name:

(Source: Company Prospectus)
With revenues of $121.89 million in a period of six months ended June 30, 2018, assuming 2018 forward revenues of $243 million seems reasonable. Using this figure, Upwork is selling shares at 4.70x forward sales, which does not seem that expensive.
The company seems to be competing with traditional service providers like Adecco Group AG (OTCPK:AHEXF), Randstad NV (OTCPK:RANJY), ManpowerGroup Inc. (MAN), and online businesses like Microsoft Corporation (MSFT), PayPal (PYPL), or Payoneer (PAYO). The issue is that they provide services that compete with certain services provided by Upwork, but their business models are not similar. The only companies competing with Upwork are Fiverr and Freelancer (OTCQX:FLNCF), but they are private or don't trade on a big exchange. They cannot be used for comparing their business with that of Upwork. The image below provides information on this matter:

(Source: Company Prospectus)
Is 4.70x forward sales a cheap ratio for Upwork? Yes, it is. Other online businesses that executed their IPOs recently traded at higher valuations. BlackLine (BL), with an enterprise value of 2.21 billion, gross profit margin of 72.22% and revenue growth of 36.63%, trades at 10.9x sales. SurveyMonkey (SVMK), with less revenue growth than that of Upwork and not much better gross profit margin, is also selling shares at more than 5.86x forward revenues. Finally, Dropbox, with gross profit margin of 68.48% and enterprise value of $12.19 billion, is trading at 9.77x sales.
Some Shareholders Will Sell Shares
The fact that some shareholders will be selling shares in the IPO is not ideal. However, it is worth mentioning that most directors will maintain almost the same number of shares:

(Source: Company Prospectus)
Additionally, venture capital firms with shares will not sell large stakes. Please note that well-known venture capital investors Sigma Partners and T. Rowe Price Associates, Inc. are among the shareholders in the company. The fact that institutional investors are interested in Upwork is very positive.

(Source: Company Prospectus)
Conclusion
Showing 23.17% y/y revenue growth with a huge market opportunity, institutional investors inside and shares being sold at 4.70x forward sales, the stock seems a buy at $11. With that, the only serious risk to monitor after the IPO goes live is Upwork's massive amount of goodwill. Goodwill impairments could reduce the share price in the near future.