With the second-longest recovery on the books, looking to become the longest, investors have to wonder how much longer the good times will last. It is not a matter of there being a specific rule that says it has to end just because of its long duration, but unless we entered a new era in global economics where economic cycles will no longer occur, we can expect something to eventually come along, which will combine with typical mature cycle factors, which will eventually put an end to the current cycle.
It is with this in mind that I am personally looking to consider adding some more recession-resistant stocks to my portfolio, which is why I am looking at Kraft Heinz (NASDAQ:KHC) as one of the many options which would meet my personal goal of owning an investment which would be worth keeping through a recessionary period.
With the intensification of the trade war, I think there are some additional reasons to start looking at this company as well as some others which might benefit from some of the side effects. With this in mind, I intend to start exploring a number of potential investment opportunities, which meet the criteria of recession-resistant stocks.
Financial profile.
Kraft Heinz stock is down YTD from $77/share, to $55 currently. One of the reasons behind this move down may have to do with its declining earnings, where its net operating profit for the latest quarter of 2018 are down to $756 million, from $1,159 million in the same quarter of last year. Revenues were up only slightly, by less than one percent compared with the same quarter from last year. The cost of sales however increased by almost 3%.
It is by no means a disastrous increase in costs, but it does nevertheless pose a serious problem if the increase in cost of sales will surpass the growth rate in sales on a constant basis. The increase in interest costs is also something that needs to be highlighted as a potentially negative long-term trend. Interest expenses amounted to $318 million, which is equivalent to about 4.7% of revenues. It is also an increase of just under 4% compared with the same quarter from the previous year. As is the case with the cost of goods produced, the increase in interest costs is far outpacing the rate of increase in revenue.
Cost of sales may decline thanks to lower input prices, due to trade war effects.
Most of the talk in regards to the effects on the economy due to the intensifying trade war, especially between the US and China is in regards to inflation that may work its way through the economy, as well as losses that retailers and other businesses may suffer as a result of higher import prices. For food and beverage producers in the US, we may in fact see the opposite effect. Chinese and other counter-tariffs have been focusing on US soft commodities as a way to exact a political toll on the current administration, given the strong support that it received from the American rural electorate in the last election.
While the effects on farming households may prove to be devastating in the longer term, even with the support that the government is providing them, the likes of Kraft Heinz could see a boost to profitability as a customer of those cheaper soft commodity prices.
This is of course mostly the case in regards to its US operations and sales, because it is mostly the US market that is affected by the trade war. US sales do make up about two thirds of total Kraft Heinz sales, therefore whatever happens in the US market tends to dominate its results. Some of the key soft commodity inputs that tend to go into its products in the US are seeing a significant fall in price.
For instance, its dairy products such as Philadelphia can benefit from a 10% decline in milk prices for the year to date.

Source: YCharts.
Corn prices are not down year to date but have also declined significantly in the past few months from the year's highs.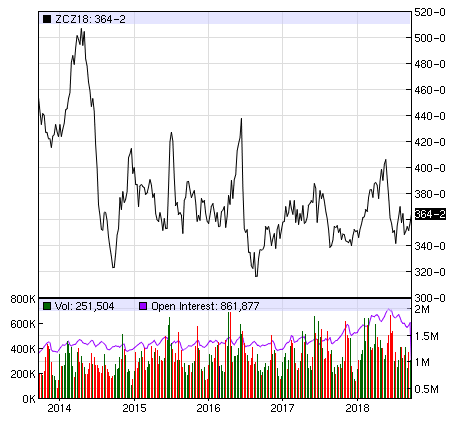 Source: Nasdaq.com.
I personally think that corn prices could go a lot lower going forward, especially if the trade war continues to focus on tariffs on such US products as US meat. Corn tends to be an important feed crop for pigs, cattle, poultry and other such livestock, a lot of which is grown for export, with China being a very important and growing market.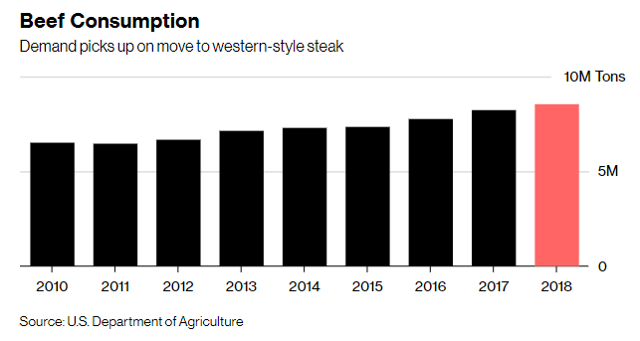 Source: Bloomberg.
Beef imports from the US just resumed recently, after a ban was lifted, but the tariffs being imposed will likely prevent any significant increase in exports. In fact, US farmers may even lose the small foothold they gained in the past year or so.
US pork producers are the big potential losers, and there are signs that farmers are starting to cut back on future plans in regards to livestock size.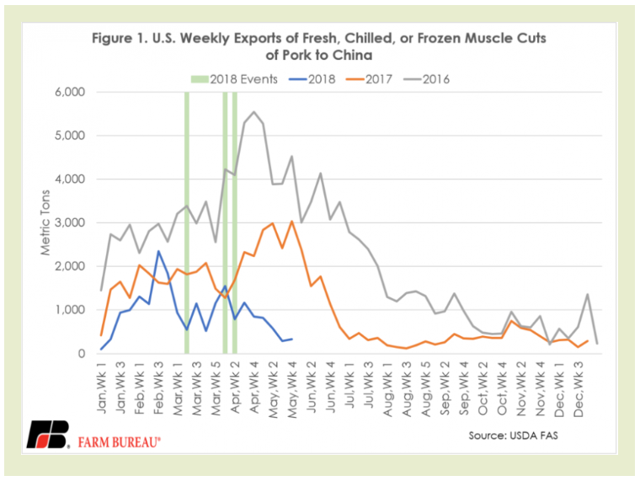 Source: AFBF.
As we can see, pork exports, which were significant in the past few years, are now plunging. This will in turn have a delayed negative effect on feed crop prices, as the size of the livestock will shrink. Corn and soybeans are very important ingredients used in swine diets. These commodities are also often found as ingredients in various grocery products. With demand for US grown soybeans and corn in decline, in large part due to the trade war unfolding between the US and various trade partners, most notably China, companies like Kraft Heinz stand to benefit from lower input prices, thus leading to higher operating profits.
Kraft Heinz is a good stock to look at given the mature economic cycle.
Aside from the potential benefits that Kraft Heinz could reap from lower ingredient prices for its products, at least here in the US, it is also currently an interesting potential investment in my view because it belongs to the category of stocks that are generally seen as defensive investments. It provides a steady and relatively generous dividend, currently at 4.50%. At the same time, it is not likely to see a major decline in its stock value in the face of any potential downturn going forward.
I recognize the fact that it may potentially still be a bit too early to start looking at defensive stocks as a means to ride out the next recession, given that there are currently very few obvious signs that another downturn is coming. The fact that the current global economic recovery is now about a decade old is by no means an indication of another imminent downturn. Given the right conditions, this recovery could still last a few more years. There is however also a good chance that a number of factors could intervene, which could lead to an abrupt end to the current extraordinarily long run of economic expansion we experienced in the past decade.
Some of the factors which could provide an abrupt stop to the current economic cycle include a potential oil price spike, especially given the Iran sanctions situation. In my view, it will leave the world with no significant sustainable spare production capacity. Any major unforeseen disruptions would therefore be felt immediately and it would most likely lead to an oil price spike, which might only be stopped by demand destruction therefore perhaps another recession.
Even if there is no major disruption, the fact that Iranian oil is being taken off the market while there are currently few potential sources of supply growth, aside from North American unconventional production, does set us up for a potential supply deficit scenario, which might be sustained for years.
An oil price spike did precede the last recession and in my view, it contributed to triggering it. I think that a repeat of that scenario, where it might combine with a number of other factors to cause another economic downturn is quite plausible, and the start of the process may not be too far off, given the November start date for full sanctions against Iran.
The current unfolding trade war could also lead to an end to the economic expansion, also perhaps in concert with a number of other factors. There are also a number of other events which could potentially have enough of a global financial and economic impact that it might lead to an economic downturn. Brexit is only months away and things are not looking good at the moment in terms of a deal between the EU and UK.
In my view, there is a very influential Euro-enthusiast faction within the EU, which desires a rough divorce, in order to dissuade other nations from leaving the EU, which makes a messy, thus destructive parting next year very likely. No deal on most major issues would likely lead to a chaotic divorce, potentially throwing the European continent into an economic tailspin, potentially dragging the rest of the world along, as an economic downturn could easily morph into another Euro currency crisis.
The list of potential dangers to the global economy I provided are only the known unknowns. There are of course the unknown unknowns, which could strike any time. I do believe that the longer a recovery lasts, the larger the list of unknown threats to the economy can become, ranging from problems that have been temporarily swept under the carpet, to perhaps a sudden and unexplained hiatus of the global consumer.
Perhaps at some point, enough households will decide that they have most things that they need after years of improving incomes, except for a reasonable financial buffer, therefore enough people will start saving, that it could lead to a consumer-driven recession. Even if consumers do so eventually, for whatever reasons, the products that Kraft Heinz offers are not entirely optional, but rather a part of current typical household eating habits.
Given the effects of the trade wars, Kraft Heinz also stands to gain from lower input prices. This is potentially a perfect scenario, which could see this stock going higher, within the context of most other investments doing the opposite. The timing of it may not be easily pinpointed, but one gets paid to wait in the form of a 4.5% dividend.
While I am not yet ready to start positioning for a coming recession just yet, this company will definitely remain on my radar as a good potential opportunity, which might make it into my portfolio in coming months. In the meantime, I think there is plenty of time to continue exploring other such opportunities, which I intend to do in the next few months.