Editor's note: Seeking Alpha is proud to welcome Vincent Wong as a new contributor. It's easy to become a Seeking Alpha contributor and earn money for your best investment ideas. Active contributors also get free access to the SA PRO archive. Click here to find out more »
The ongoing trade war tensions between the United States and China have sparked a decline in nearly all sectors in the Chinese stock market. Hence, I see this as an opportunity to buy quality companies that mainly derive their revenue domestically, Mainland China, where consumption remains robust. One company that caught my eye is Inner Mongolia Yili Industrial Group (600887:SHSE), and I believe it is undervalued as of now.
Company Analysis
Business Model: Inner Mongolia Yili Industrial Group is a dairy producer that operates in four different segments mainly: Liquid Milk, Ice Cream, Milk Powder and Milk Products, and Mix Feeding Stuffs and Others. The management aims to maintain its leading position in China by offering affordable, safe, healthy, and high-quality dairy products to consumers. It achieves this by constantly upgrading its global quality management system and extending the strict quality control standard throughout its value chain so as to avoid food safety incidents. The company has also expanded internationally within the last five years into countries such as the US, the Netherlands, Italy and New Zealand either by entering into strategic partnerships or setting up R&D facilities.
Sector Contribution to Group Revenue in 2017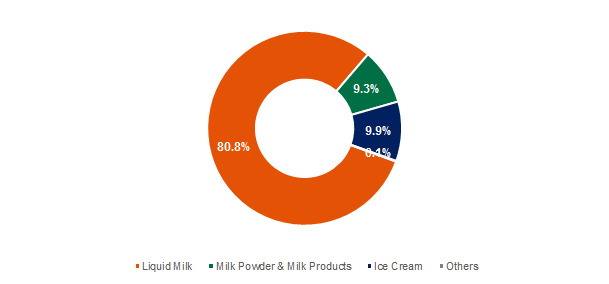 Source: Company data
Management Analysis: Inner Mongolia Yili Industrial Group's Board of Directors consists of 12 key professionals, many of whom have been at the firm for over 10 years. Members of the Board of Directors played a crucial role in steering the company to become one of the top 10 world's largest dairy companies.
A key figure to note is current Chairman of the Board and President Pan Gang, who has assumed this role since June 2005. Pan Gang has been instrumental in the success of the company, where in 2008, it became the only dairy enterprise that has served the 2008 Beijing Olympic Games. In 2010, it was also a sponsor of the Shanghai World Expo, and all these have put Inner Mongolia Yili Industrial Group on the world map by giving the international community exposure to its products. In addition, Pan Gang has won numerous accolades under his belt such being the 2009 Asia Pacific Outstanding Business Leaders and 2010 China Corporate Social Responsibility Outstanding Figures.
Other positive results for the company include revenue CAGR of 15.41% from the period 2005 to 2017 (as shown below), strategic partnership with Italian dairy giant Sterilgarda Alimenti, and opening up of R&D facility centers in the Netherlands. All these can be attributed to a stable and proven management team.

Source: Company data
Value Chain Analysis: I also did a value chain analysis of Inner Mongolia Yili Industrial Group to understand more about the set of interrelated activities the company uses to create value for its end consumers. The firm is said to own the largest scale and most complete product line in the China dairy industry.
Primary Activities

Support Activities

Inbound Logistics

Yili's inbound logistics including receiving, warehousing and inventory control have been sound over the years with continuous training to staff for better logistics management.

Procurement

Yili made significant improvements in procurement which includes input cost control, direct sourcing, and importing.

Operations

Yili operates mainly in China with other operations in the Netherlands and New Zealand. The management has strong familiarity in the segments it operates in with average tenure of ~10 years.

Infrastructure

Yili's management has been continuously improving on its supply chain infrastructure to improve its competitive position. It has one of the largest scale and most sophisticated network compared to its peers.

Outbound Logistics

Yili has several central distribution channels which efficiently distribute finished products to supermarkets and hypermarkets, and then to consumers. Its vast distribution network is able to reach many parts of the rural areas in China.

Human Resource

One of the key driving force behind the success of Yili stems from its employees. Employees are committed, passionate, and hardworking. This can be attributed to strong human resource management which provides employees with the right training for empowerment and personal development.

Marketing and Sales

Marketing campaigns include sponsoring the 2008 Beijing Olympic Games and 2010 Shanghai World Expo. Yili also participates in several reality shows for brand promotion.

Technological Development

Yili has been receptive to technological advances and has made significant investments in IT infrastructure and systems to enhance productivity.

Services

Yili aims to offer higher end products to consumers such as Satine (UHT drink), QQ Star (kid's beverage), Ambrosial (UHT yogurt) and Chang Qing (probiotic drinks).
Source: Author's work
Key Figures
Financials: Based on the below figures, we can see Inner Mongolia Yili Industrial Group having healthy growth in revenue over the years, with profit margin maintaining over 30% in the last four years. This trend is likely to be maintained in the coming years with strong consumption in the domestic dairy market in China. Furthermore, earnings per share have been increasing from 0.55 CNY/share in 2013 to 0.99 CNY/share in 2017.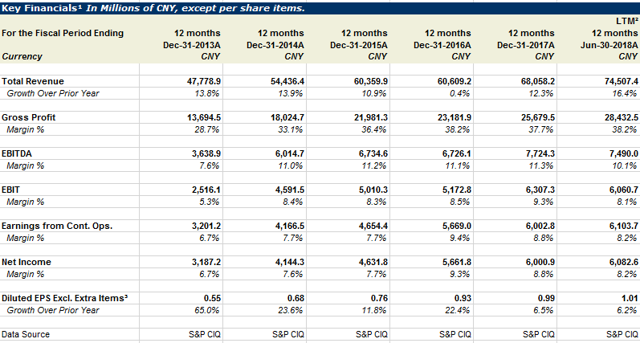 Source: CapitalIQ
The company's dominant position in China's fragmented dairy industry has provided it with meaningful returns over the past few years. Returns on equity have been consistently over 20% as shown below from the period 2013 to 2017.

Source: CapitalIQ
Dividend Rate: In addition, dividend rate has improved steadily over the years at a CAGR of 8.43% from the period 2013 to 2017, bringing greater value to shareholders.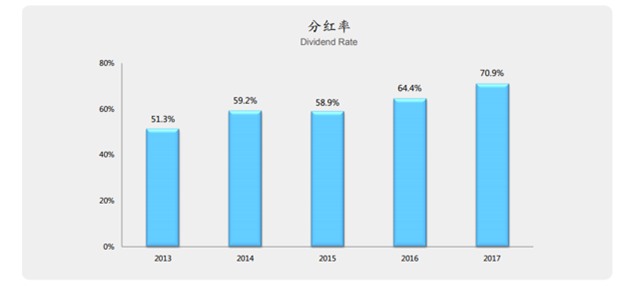 Source: Company Data
Industry Overview
Strong Growth in Chinese Dairy Sector: The Chinese dairy sector remains one of the fastest growing sub-sectors of the China's food industry. Production and consumption of dairy products in China, especially milk and whole milk powder (WMP), have increased tremendously in recent years. This is largely driven by rising disposable incomes, increased urbanisation, the improved affordability of domestic cold storage facilities, and a growing awareness of the potential health benefits of dairy consumption. The table below from BMI Research shows the actual data and forecast of dairy production and consumption from the period 2013 to 2020, and the data of milk production and consumption shows strong growth.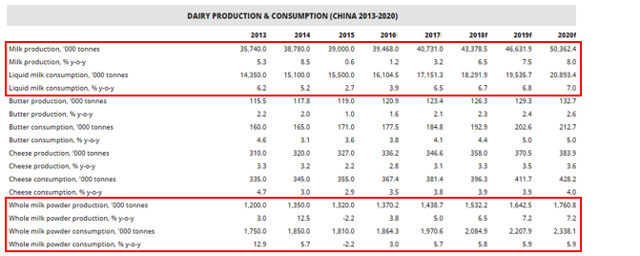 Source: BMI Research
Furthermore, on a per capita basis, China's dairy consumption remains low compared to the Western and neighbouring countries. It is forecasted that dairy consumption per capita in China will grow at a CAGR of 2.67% from 2016 to 2025.

Source: OECD, DBS Vickers
Room to Grow for Liquid Milk in Rural Areas: As China's urbanization rate increases, demand for liquid milk is likely to grow. Despite significant growth in rural areas in the past few years, consumption gap between rural and urban areas still remains large. The figure below from CEIC Data shows the increasing urbanization rate and the higher GDP per capita forecast in China.

Source: CEIC Data
Greater Demand for Higher-Margin Products: In China, with growing health awareness amongst consumers, higher-margin dairy products are demanded. Specifically to Inner Mongolia Yili Industrial Group, higher-margin products such as Satine (UHT drink), QQ Star (kid's beverage), Ambrosial (UHT yogurt) and Chang Qing (probiotic drinks) will be key profitability drivers. This has been the case in FY2017 and will continue into FY2018.
This trend can be observed across its competitors like Bright Dairy & Food Co. Ltd., where higher-margin brands such as Momchilovtsi, UBEST, and Changyou are growing in demand. Its organic sales growth, which commands a higher margin, has also been doing well. The same can be said of China Mengniu (OTCPK:CIADY) where its higher premium products such as premium milk has been gaining in momentum.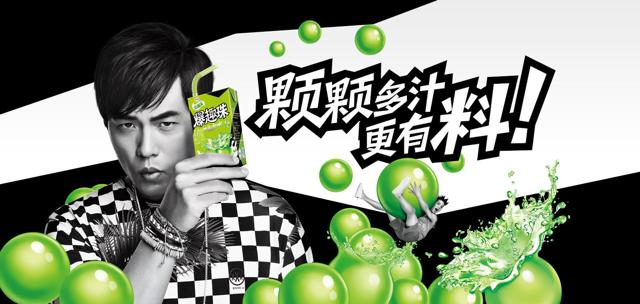 Source: Company website
Market Share of Dairy Companies in China: Based on a Euromonitor report, the three main dairy companies in China are Inner Mongolia Yili Industrial Group, Mengniu Dairy, and Bright Dairy & Food Co. Ltd. which command a market share of 27%, 27%, and 8% respectively. The rest are divided amongst smaller Chinese dairy companies and international dairy companies. As the three main dairy companies only recorded a market share of slightly less than 65%, there is room for each of them to capture greater market share in the fragmented dairy industry in China. In addition, Inner Mongolia Yili Industrial Group's management team has been on the lookout for sound M&A opportunities due to its strong cash position.

Source: Euromonitor
Valuation
I did a comparable analysis with companies of similar market capitalization, revenue lines, and region, and based on my analysis, Inner Mongolia Yili Industrial Group is trading at a discount to its peers. Its next-twelve-month (NTM) forward P/E ratio of 18.8x is below the industry average of approximately 19.56x (China Mengniu trading at 21.43x). Hence, I believe there is a good upside potential for this company. With Inner Mongolia Yili Industrial Group's net cash position of 15 billion CNY, I foresee the firm will be on the hunt for potential M&A opportunities to further build up its existing product line.

Source: CapitalIQ
Recent Pullback in China Stock Market Presents Buying Opportunity
Current Share Price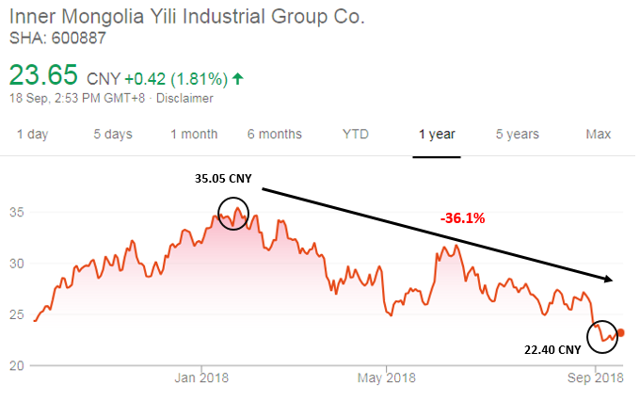 Source: Author's work. Chart pulled as of 18 September 2018
The recent trade war fears between the United States and China have sparked a decline in nearly all sectors in the Chinese stock market. Since the high of Inner Mongolia Yili Industrial Group's share price of 35.05 CNY on 24 January 2018 to the low of 22.40 CNY on 6 September 2018, the share price has decreased by 36.1%. Hence, I believe the recent pullback in share price presents investors a compelling buying opportunity in a company which is fundamentally sound and with further room for growth.
Investment Risks
Of course no investment is fool-proof, and I have identified several investment risks that may go against my thesis.
Food Safety Concerns - Food safety is a huge concern amongst consumers especially since the 2008 melamine scandal which led to Inner Mongolia Yili Industrial Group's gross margin to plunge in Q3 2008. However, since then, China's dairy supply chain has undergone rigorous scrutiny with more government policies implemented to ensure enhancement in food safety. This has led consumers to regain confidence in the dairy industry.
Regulatory Risks: Like many other companies/sectors in China, one risk affecting Inner Mongolia Yili is regulatory risks. A DBS Vickers Industry Report mentioned that the China's State Council aims to raise the breast feeding rate, targeting 50% by 2020 from less than one-third at the moment. This might dampen demand growth stemming from new births and income growth. Furthermore, there have been news that China is considering a ban on advertisements for infant formula, a move which illustrates the government's intention to promote breastfeeding. This might affect overall margins for Inner Mongolia Yili on its milk powder segment.
Threat of Rising Input Costs: Potential increase in raw material cost and packaging cost may dampen profit margins of the firm, but a likely fall in advertising and promotional expenses could offset it.
Effects of a Potential Trade war: I do not see this as too much of a concern because most of the revenue from Inner Mongolia Yili Industrial Group is derived locally in China. A robust Chinese economy is likely to allow the firm to maintain healthy margins.
Conclusion
Despite some of the investment risks presented, Inner Mongolia Yili Industrial Group still remains one of my favourite picks for the longer term. It is a gem in the dairy industry having broken into Rabobank's Global Top 10 Dairy Companies in 2017 (8th place in fact) and only being one of the two Asian dairy companies in that list. The firm has a proven management team resulting in significant competitive advantages in the market which is likely to grow bigger over time with M&As and strategic partnerships. The recent inclusion of Inner Mongolia Yili Industrial Group's stock in the MSCI A share index is also a testament of its strength in the China market. Lastly, favourable trends in the Chinese dairy sector is likely to be beneficial for the continuous growth of the company.
If you enjoyed my piece of work or have comments for improvements, click the follow button at the top of the page to receive notifications or write me a note.
Disclaimer: Opinions expressed are author's own using various research sources and publicly available materials.
Disclosure: I am/we are long INNER MONGOLIA YILI INDUSTRIAL GROUP (600887:SHSE).
I wrote this article myself, and it expresses my own opinions. I am not receiving compensation for it (other than from Seeking Alpha). I have no business relationship with any company whose stock is mentioned in this article.
Editor's Note: This article discusses one or more securities that do not trade on a major U.S. exchange. Please be aware of the risks associated with these stocks.