I'll admit I was a little surprised when shares of CooTek (CTK) stumbled in its initial public offering. Sure, the company had a lot of risks to balance out against its high growth, but CooTek's -21% performance in its IPO marks it as one of the worst-performing IPOs of the year - even among Chinese IPOs, which have been poor performers in general. There were many things I liked about CooTek that continue to hold appeal for me - including the company's high growth, >150 million MAU count, highly rated smart keyboard app, and expansion into new app categories.
Even Viomi (VIOT), another Chinese technology company that went public in the same week as CooTek, fared better. Viomi ended up pricing its IPO at the low end of its range as well, but it stood flat in its first day of trading, as opposed to down double digits like CooTek. In contrast to CooTek, Viomi is a lower-growth hardware company with far worse gross margins and scalability potential.
See CooTek's one-day trading chart below. Shares attempted a strong opening above $11, but proceeded to tumble all throughout the day to close in the mid-$9 range: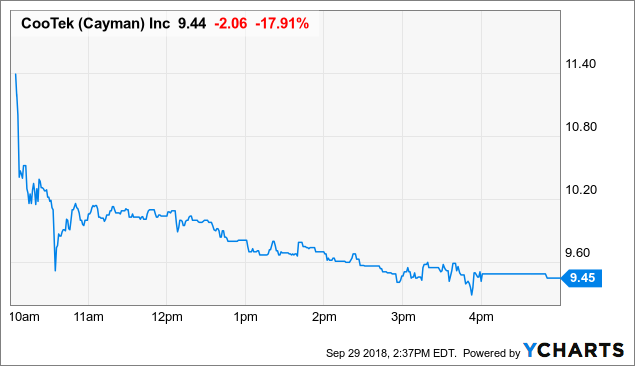 In my view, investors are misunderstanding CooTek and underestimating its potential. Recall that of the many Chinese technology companies that have gone public this year, it's these high-margin internet companies that have performed the best. Bilibili (BILI), an anime gaming company, has risen by a modest 17% since its IPO; iQIYI (IQ), often called the "Netflix of China", is hands down one of the strongest IPO performers of the year, having nearly doubled from its IPO price.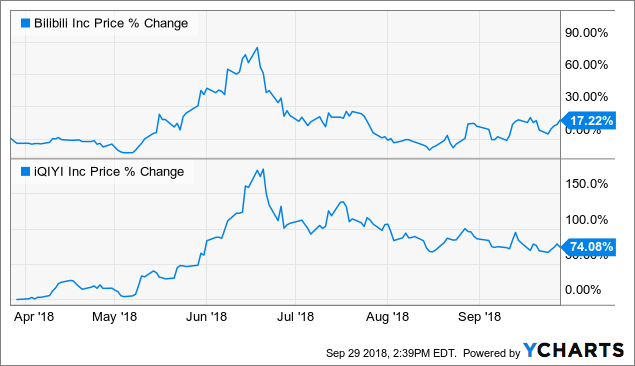 You'll notice that in each of these preceding IPOs that they initially started off weak, before spiking a few months after their initial launch. In my view, CooTek has the same potential. Like both of these companies, CooTek is growing at a breakneck pace, and its loss profile isn't downright frightening either. In addition, CooTek's keyboard products have a multinational appeal, and its newest forays into health-related applications bring with it plenty of fresh growth avenues.
Given the micro-cap nature of this stock, CooTek is one of the rare IPOs that can return huge amounts for early investors willing to bear risk. The fundamentals of this company certainly check out, so opportunistic investors are encouraged to scope out an entry point in this stock.
Final offering details
Here's a look at how the details shook out in the CooTek IPO:
CooTek's American Depository Shares priced at $12 apiece, at the low end of the initial range of $12-$14.
Shares opened for trading above $11 on September 28, but quickly sank throughout the day to close at $9.44, indicating a terrible -21% opening day performance (standing in sharp contrast to other internet and software IPOs that have seen +40% performance or better on the first day of trading).
The company sold 4.35 million ADS in the IPO, raising $52.2 million in gross proceeds.
After netting out investment banking expenses and legal fees, CooTek expects to raise $45.1 million in net proceeds from the IPO.
Its intended use of proceeds are vague, listing R&D as well as sales and marketing as the most likely and pressing uses of cash.
Each ADS offered in this IPO represents 50 Class A shares, implying that CooTek's per-share price is $0.188.
Post-IPO, there are 3.195 billion shares outstanding, consisting of 2.949 billion Class A shares and 0.246 billion Class B shares. Class B shares share an equal economic interest in the company as Class A shares, but have a 25:1 voting ratio.
The ADS sold in the offering represent 217.5 million Class A shares, or a relatively small (7%) of the total company. Most IPOs tend to sell between 10 and 20% of the company in the deal.
A standard 15% greenshoe option is still open, leaving the possibility of selling an additional 652,500 ADS (32.6 million shares) at $12 apiece and raising another $7.83 million.
Insiders are subject to the typical 180-day lockup period.
The deal was led by Credit Suisse, Bank of America Merrill Lynch, and Citigroup.
Here's a look as well at the company's post-IPO cap table:
Figure 1. CooTek major holders

Source: CooTek finalized prospectus
Karl Kan Zhang, the company's co-founder and chairman of the board, owns all of the supervoting Class B shares - though only owning ~8% of the company, he holds 68% of the voting power. Michael Jianliang Wang, the company's co-founder and CEO, owns ~7% of the company in Class A shares. Other than these leaders, the major institutional holders include Qiming Funds and Sequoia Capital.
Valuation update
As previously noted, at the current ADS price of $9.44, CooTek's implied per-share price is $0.188. That puts the company's current market cap at $603.2 million.
If we also take into account the $27.7 million of cash on CooTek's current balance sheet plus $45.1 million of expected net IPO proceeds, the company is left with an enterprise value of just $530.4 million.
As a refresher, here's a look at CooTek's financials:

Source: CooTek finalized prospectus
As I noted in my original article, CooTek has seen tremendous growth, achieving 5.5x revenue growth to $50.3 million in the first half of FY18 alone and surpassing FY17 revenues completely - the high growth rate, of course, is largely due to the fact that CooTek started off from such a small base. Calculating a growth trajectory for such a rapidly growing company is difficult, but let's assume that CooTek can achieve ~2x revenue growth over the next twelve months. This allows for a reasonable rate of deceleration while giving credit to the fact that CooTek has only recently started monetizing its products and expanding into new areas.
Applying a 2x growth rate on CooTek's trailing twelve-month revenues of $78.5 million, we arrive at a forward twelve-month revenue estimate of $157.0 million. This puts CooTek's current valuation at just 3.38x EV/FTM revenues, far lower than the wide majority of CooTek's contemporaries in the internet space.
We can also view CooTek's valuation from a user base perspective, as many VCs do. CooTek most recently reported 194 million MAUs, about 172 million of which came from its Smart Keyboard users. Against CooTek's market cap of $603.2 million, this represents a per-MAU valuation of $3.10.
Here are a couple of benchmarks to gauge that against:
Twitter (TWTR): $21.6 billion market cap and 335 million MAUs, or $64.48 per MAU.
Facebook (FB): $474.8 billion market cap and 2.234 billion MAUs, or $212.53 per MAU.
Of course, these two comps have much more heavily monetized user bases and are hugely profitable, so it makes sense that they are valued more on a per-user basis. Still, the difference in valuations is stark.
Key takeaways
For a high-growth internet company with ~85% gross margins, a wide portfolio of applications, and nearly 200 million MAUs built on a top-ranked smart keyboard application, it certainly seems like CooTek isn't getting the respect it deserves. I'm hopeful that CooTek can achieve the same flavor of success that iQIYI was able to do post-IPO. While this is certainly a high-risk play, CooTek's lowball valuation and tremendous potential as a small-cap stock make it worth a small investment.
Disclosure: I/we have no positions in any stocks mentioned, but may initiate a long position in CTK over the next 72 hours. I wrote this article myself, and it expresses my own opinions. I am not receiving compensation for it (other than from Seeking Alpha). I have no business relationship with any company whose stock is mentioned in this article.