In this article, we examine the significant weekly order flow and market structure developments driving WTI price action.
23-28 September 2018:
As noted in last week's WTI Weekly, the development of potential sell excess, 71.80-71.40s, at/near key supply implied the highest probability path for this week based on market structure was for price discovery lower, barring failure of the sell excess. This inference was negated early this week as buying interest drove price through the prior sell excess as price discovery higher developed, driving price higher to 73.73s, closing at 73.25s.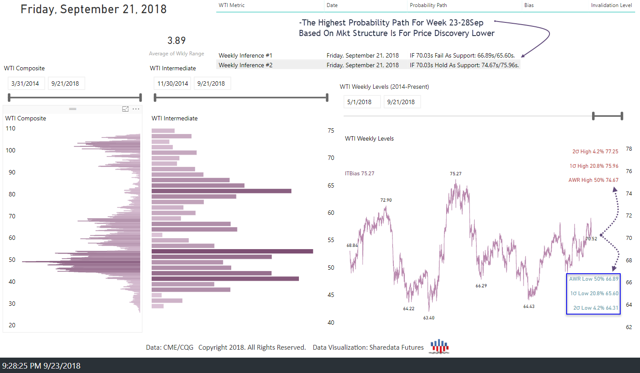 This week's auction saw price discovery higher early week into the key sell excess area, 71.40s-71.80s, negating the area as resistance. Initiative buying interest emerged in size, 71.80s, driving price higher, achieving a stopping point, 72.78s, into Tuesday's auction. Buyers trapped there, 72.78s-72.67s, halting the buy-side auction as balance development ensued. Price discovery lower developed through this week's API and EIA inventory releases, achieving a stopping point low, 71.47s. The sell-side attacked the key demand, 71.80s, as the probe lower was rejected into early Thursday's Globex. Balance development continued through Thursday's auction as a high-volume trade cluster developed, 72s-72.35s. This volume development provided indication that consensus was developing around this area. Consensus often implies impending directional activity.
The failure of the sell-side to drive price through key support, 71.80s, and the emergence of large buying interest, 72s/72.15s-72.25s, provided structural indication that the stopping point high, 72.78s, would likely be challenged and/or fail as resistance. In Friday's auction, the market saw exactly that. A buy excess developed Friday, 71.88s-72.13s, as the large buying interest emerged, driving price higher through key resistance, achieving the stopping point high, 73.73s, within the major supply overhead. Selling interest emerged there, 73.73s-73.60s, halting the buy-side auction as a pullback developed to 73.13s, ahead of Friday's NY close, settling at 73.25s.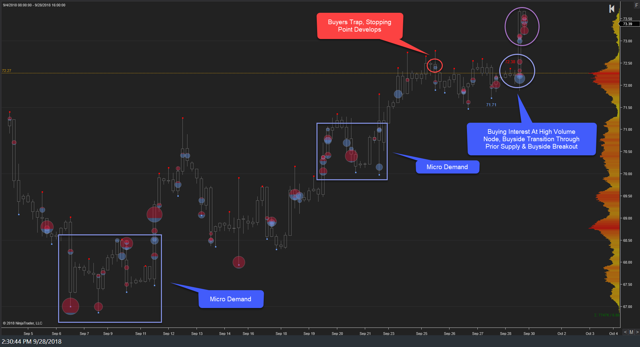 NinjaTrader
As noted last week, market response to sell excess, 71.40s-71.80s, was key. The sell-side failure there early week provided a structural "tell" that price discovery higher was likely. While the first weekly inference failed, the structural significance of that event implied that price discovery higher had become the likeliest directional path on a weekly basis.
Looking ahead, this week's auction saw continued price discovery higher into the major supply area overhead, 72s-75.25s. Failure of the micro supply area, 70.70s-71.80s, that developed early September has resulted in price discovery higher into the major supply cluster, 72s-75.25s, that developed in July. Given this week's buy-side breakout and lack of sell excess, the likeliest near-term probability path is to the buy-side as major supply continues to be tested. Key areas of resting supply overhead are at 73.90s/74.95s-75.25s.
Selling interest developed late in this week's auction, 73.10s-73.50s, and response to this area should be key going into next week. Sell-side failure to drive price below that area will result in continued price discovery higher toward the key resting supply overhead, 73.90s/74.95s-75.25s. Alternatively, should new selling interest emerge driving price back below 73.50s-73.10s, this would imply price discovery potential lower to re-test the key demand clusters below, 72.50s-71.50s/68.50s-67s.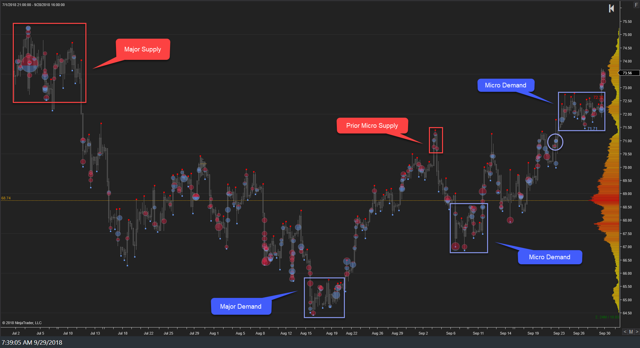 NinjaTrader
It is worth noting that based on the Commitment of Traders report, Open Interest (OI) remained largely unchanged as the deleveraging within the WTI market continues. Additionally, the Managed Money (MM) net long position which peaked in January 2018 at 495k contracts currently declines to 332k contracts. MM short posture increased modestly (-26k contracts) near multi-year lows. Importantly, the MM short posture trend remains key. Without increasing MM long posture and substantially higher MM short posture, it will be difficult for the market to trade beyond the key supply overhead, 72s-75s. Additionally, given the typical seasonal price weakness of WTI, asymmetry in risk would remain to the downside based on the market generated data. The coming days and weeks are a critical juncture for WTI in the larger context.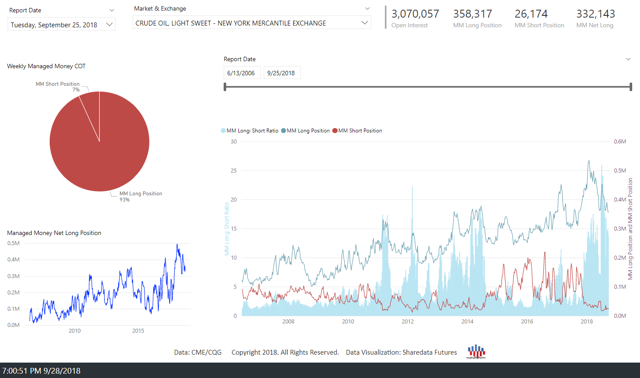 The market structure, order flow, and leveraged capital posture provide the empirical evidence needed to observe where asymmetric opportunity resides.
Disclosure: I/we have no positions in any stocks mentioned, and no plans to initiate any positions within the next 72 hours.
I wrote this article myself, and it expresses my own opinions. I am not receiving compensation for it (other than from Seeking Alpha). I have no business relationship with any company whose stock is mentioned in this article.