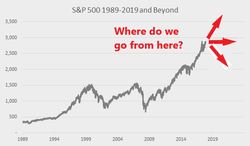 What happened last week. What we're watching for next week.
Nothing can stop this bull market. Well, almost nothing.
I'm what they call a "nervous bull." What this means to me is that I am worried that the bottom could fall out of this market at any time, but I'm not willing to bet my money or my reputation on that happening. So I continue to be nearly fully invested (20% cash) and I watch and wait for signals that it's time to get more defensive.
What could stop this bull?
First and foremost, a recession. My recession model says we have early signs that the next business cycle peak is within sight, the signals are not yet clear enough to take any action. My best guess as of today is that the next recession will begin in June 2019, give or take a few months on either side. I know that's not very helpful, but I have to stick to what my model is saying.
Second, and less foremost, is a European financial crisis precipitated by Italy. I put the odds of that happening in the next 6 months at 35%. That's big enough to be concerned about, but not to do anything about it now.
Third is a policy mistake either by the Fed raising rates too aggressively or the Administration pushing through yet another tax cut or spending bill that isn't paid for. Our ballooning debt burden will one day catch up with us, but it's too soon to take cover at this time.
Fourth is the immutable law of mean reversion. One can argue that the market is overvalued, but how overvalued is it, really? Are we waiting for the market to match or exceed the overvaluation we saw in 2000 before we start to get concerned? Are we waiting for a major financial institution to run into problems that are so big they must seek relief from the U.S. Treasury?
These things may not be on the immediate horizon, but they are always lurking just beneath the surface.
Chart 1. S&P periodic returns.
This Week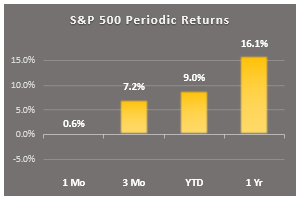 Last Week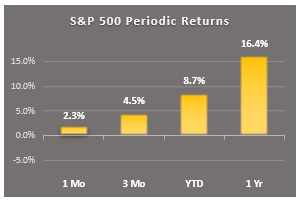 The numbers have slipped since last week, but everything is positive. Stay invested.
Chart 2. Distance from Key Markers
This Week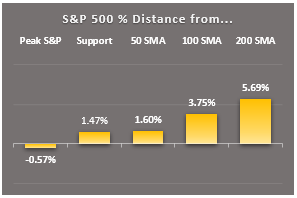 Last Week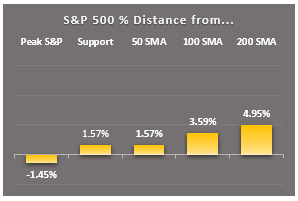 We are still comfortably above the key markers that the technicians watch. It's steady as she goes for now.
Chart 3 - chart of the week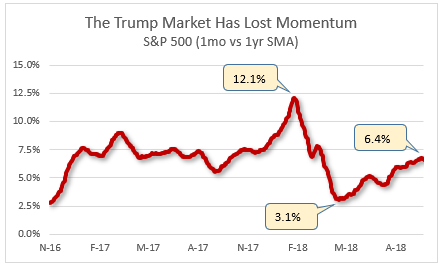 Some of you will take this chart as a political indictment against the Trump administration. It's not. I only report the numbers, and this chart is important. It shows that the Trump rally peaked in February 2018, and despite the new all-time highs, the momentum in the market has only recovered about half of what it was.
When we compare the 1-month moving average to the 1-year moving average, we get a more steady view of the direction and momentum of the stock market. It's food for thought, for those who enjoy eating and thinking.
Chart 4. The Market Dashboard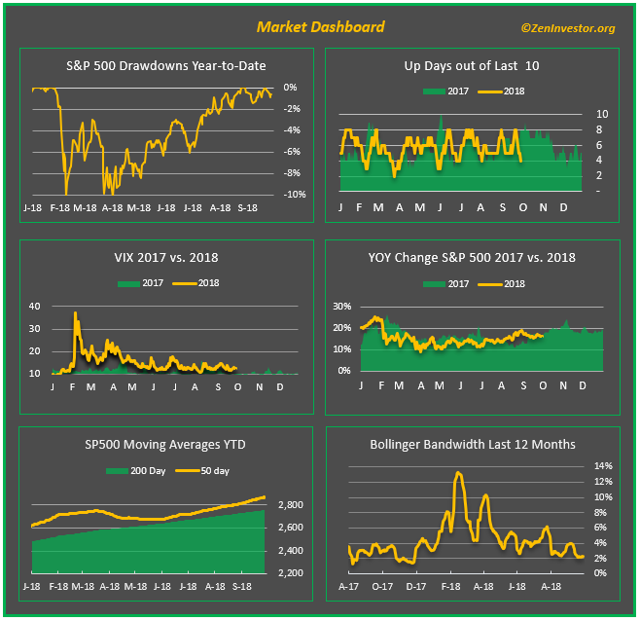 I would like to draw your attention to the chart in the upper right corner of the dashboard. This is the count of the number of up days out of the last 10 days. Last week we very nearly hit 9 up days out of 10, which would have been a significant and rare event in the long arc of market history.
But we just couldn't get the ball over the goal line. And so the next few days saw a string of minor losses, which brought this indicator down hard. Does it mean anything? Probably not. But to me, it's another sign of weakening momentum.
Final Thoughts
This week I'm watching for the employment report on Friday. The news has been pretty great lately, and I expect that to continue. If the average hourly earnings tick up again, it might bring more attention to the inflation numbers, which is something the Fed watches closely.