As if stuck on repeat, oil and natural gas were up, midstream was down this week. The S&P 500 paused its upward trajectory, and utilities were negative for a second straight week. Income securities had a rough month generally, and it feels like midstream is being painted with the "income stock" brush rather than the "energy stock" brush.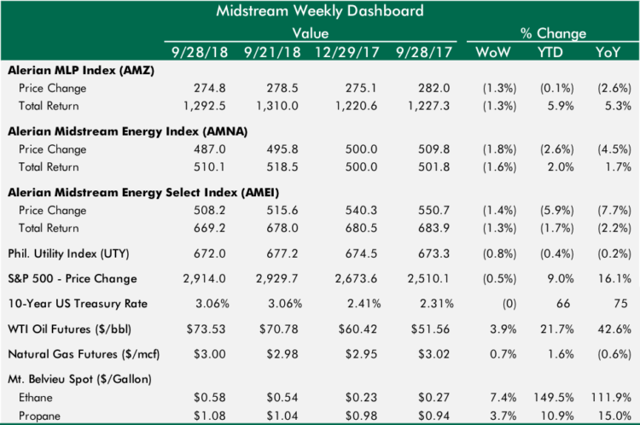 Energy stocks more broadly traded well in September, alongside a second straight positive month for oil, which punched back through the $70/bbl ceiling and has some technical analysts calling for $100/bbl.
Midstream investors seemed to wake up Monday to the realization that several MLPs (beyond just Noble Midstream (NYSE:NBLX)) would be impacted significantly if Proposition 112 in Colorado were to pass. We discussed the impact here over a month ago, going so far as to list out specific tickers exposed to changes in production in Colorado.
It also felt like investors may not have wanted to hold Colorado-exposed MLPs into quarter-end. In other words, it felt like window dressing played a role, especially early in the week. Later in the week, midstream stocks caught a relief rally that was dominated by some of the more volatile and lower quality names.
Yawn of the Dead
News this week reinforced several 2018 trends: rising cost of completing pipeline projects in NE (see EQT Midstream (NYSE:EQM)), new projects driving capital expenditures higher (see ONEOK, Inc. (NYSE:OKE)), and the creation of zombie MLPs…
All over the MLP universe, there are MLPs that still trade even though their fates are already sealed or have lingering uncertainties that make them zombies. Just in the last two weeks, American Midstream (NYSE:AMID) and Dominion Midstream (NYSE:DM) became zombie MLPs. Other zombies: Enbridge Energy (NYSE:EEP), Spectra Energy (NYSE:SEP), Energy Transfer Partners (NYSE:ETP), TransMontaigne (NYSE:TLP), and KML-CN. Other potential zombies include: Andeavor Logistics (NYSE:ANDX) (if MPLX (NYSE:MPLX) were to bid for it), EQT GP (NYSE:EQGP)/EQM, TC Pipelines (NYSE:TCP), Antero Midstream (NYSE:AM), EnLink (NYSE:ENLK), Western Gas (NYSE:WES). Oh, and Colorado-impacted MLPs may act like zombie MLPs through election day.
These lingering MLPs create noise and reasons for investors to hold off on adding to MLPs. It also makes waiting on simplification announcements even worse (Antero board members, hello?), because investors are waiting for simplification announcements that will be followed by a lengthy period waiting for the deals to close.
Plenty of zombie tickers have been put out of their misery this year (TEP, BWP, NSH, WPZ, CQH), but a staggering number remain, stumbling around in the market, waiting for the end.
These zombie MLPs are not the super aggressive zombies of World War Z or dancing ones from Thriller. They're the drooling, slow-moving ones from traditional zombie films like Romero's 1978 classic Dawn of the Dead.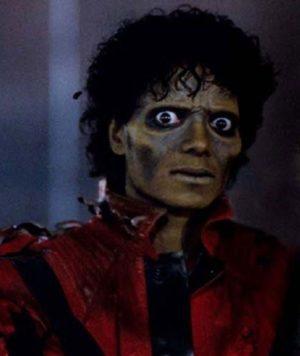 Back in the real world last week, Tiger Woods won a golf tournament, his first on the Tour in more than 5 years. Tiger will never be as dominant as he once was, but he does appear to have regained some of his swagger. And the public remains hungry as ever to see him succeed, as evidenced by the crowds following him last week…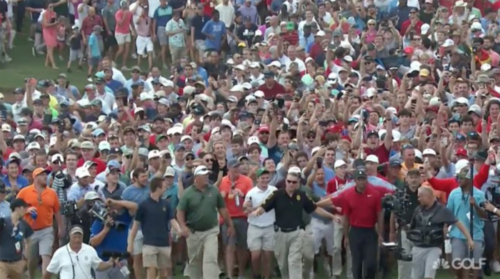 Like Tiger, MLPs probably will not regain their former dominance. Their streak of beating the S&P 500 for 11 straight years from 2000 to 2011 isn't likely to happen again. But, midstream fundamental and financials are improving, and it seems inevitable that midstream stocks will make a sustained comeback. The major difference: Midstream doesn't have crowds, unless you count the zombies.
Status Update: 28 Days Later, Month of the Living Dead Money…
MLPs were negative in September, but closed out their second straight quarter of positive total returns. MLPs are down since the end of 2016, even including distributions, and the MLP Index value closed the month 5% lower than at the end of 2015, before the bounce in 2016.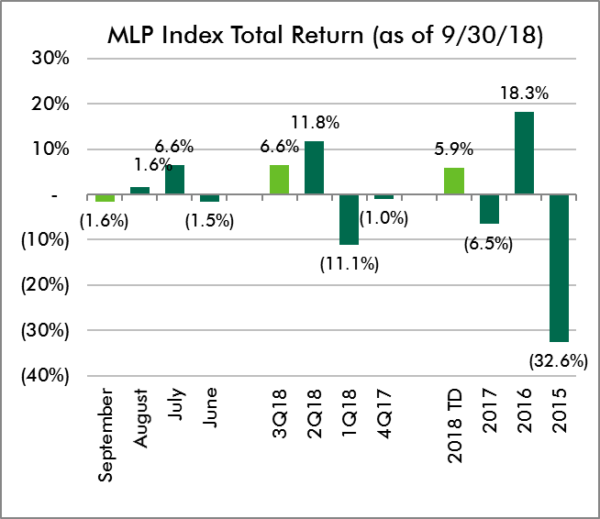 Looking forward to October, prior to 2014, October was a consistently positive month, one of the better months of the year, along with others that kick off a fresh quarter (January, April, July). In 3 of the last 4 years, however, October posted greater than 4% declines, including each of the last 2 years.
Broader Midstream (as measured by the AMNA) was down for a second straight month, underperformed the MLP Index for a third straight month, underperformed by almost 500 bps in 3Q and trails by nearly 400 bps year-to-date.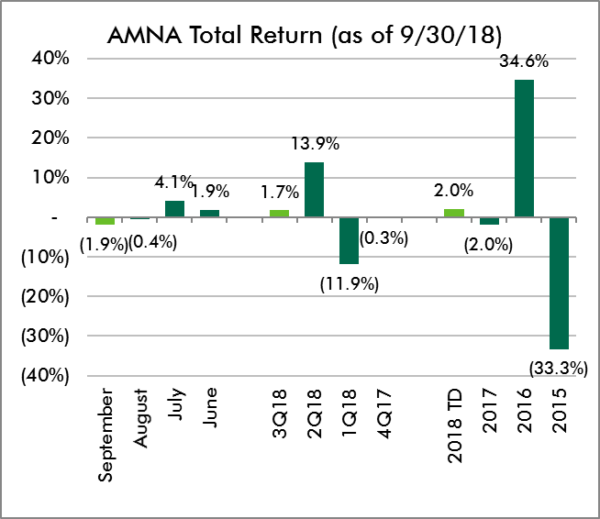 MLPs are the catch-up trade this year, and benefitting from sticky MLP-dedicated capital that is frequently re-balanced as big MLPs consolidate and/or exit the structure.
Winners And Losers
The best two performers in MLP land were shipping MLPs this week. Other big winners were smaller MLPs, including AMID which rallied Friday after receiving a takeout offer from its sponsor. On the downside, Ferrellgas (NYSE:FGP) was crushed after disappointing quarterly results. HCLP was hammered when it reported idling a plant, inconsistent with its extremely aggressive distribution growth announcement last quarter. SMLP dropped nearly 11% on no news, including a steep selloff late in the day Friday on big volume.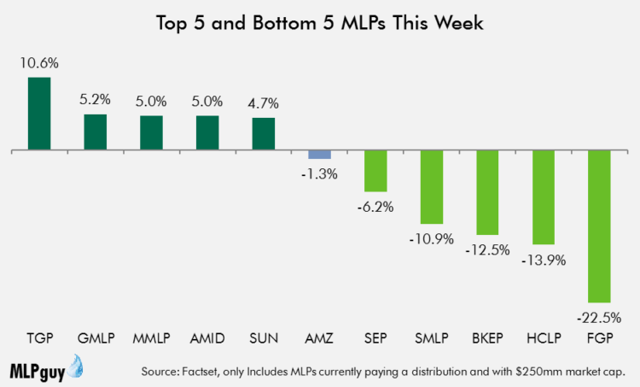 Golar LNG (NASDAQ:GMLP) made it two straight top 5 finishes. It was enough to get GMLP out of the bottom 5 of the YTD leaderboard. Blueknight Energy (NASDAQ:BKEP) was in the bottom 5 again this week, solidifying its spot among the bottom 5 on the YTD leaderboard.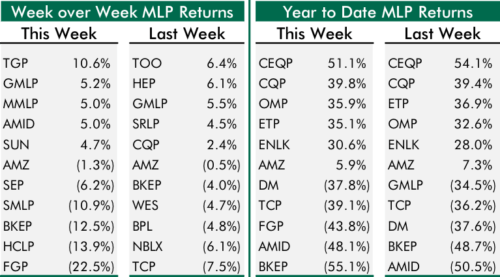 General Partners And Midstream Corporations
Within the GP and midstream corporation group, Cheniere (NYSEMKT:LNG) paced the group with nearly a 4% gain, but Plains GP (NYSE:PAGP), Tallgrass Energy (NYSE:TGE) and SemGroup (NYSE:SEMG) were notable bounce backs from last week. Colorado regulatory uncertainty took Western Gas Equity (NYSE:WGP) down another peg, EQGP sold off hard after the updated Mountain Valley Pipeline cost estimate update, and OKE underperformed after another huge capex announcement.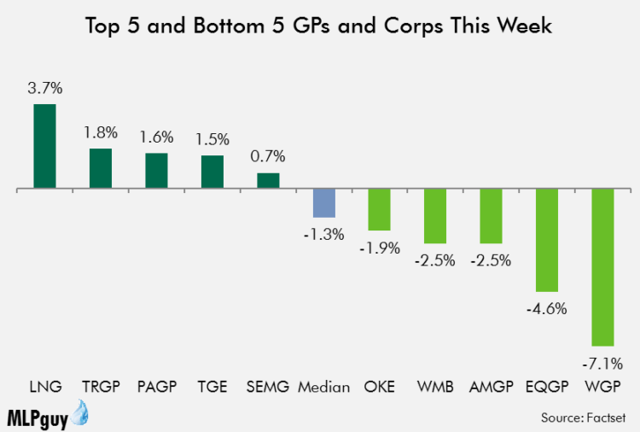 LNG was the only repeat among the biggest winners from last week, while WGP was the only repeat among the biggest losers from last week. On the YTD leaderboard, LNG gained ground on OKE, and is ahead on a price-only basis. Among the bottom 5, SEMG was the only positive performer this week.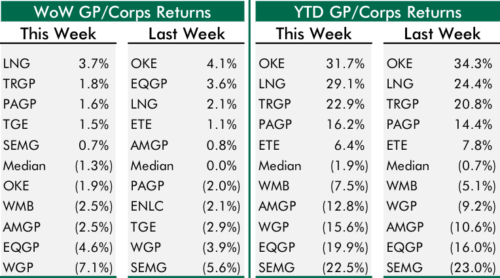 Canadian Midstream
In Canada, Pembina had a positive update on Monday, raising guidance and adding growth projects, which helped it outperform the group this week. Canadian energy got a boost Thursday when a producer signed a 3-year rail transportation agreement, which may be a sign that rail companies are ready to step-in and alleviate some of the constraints that have blown out differentials for Canada oil. Canadian midstream might get some attention if Canada LNG reaches FID in the next few weeks as many expect.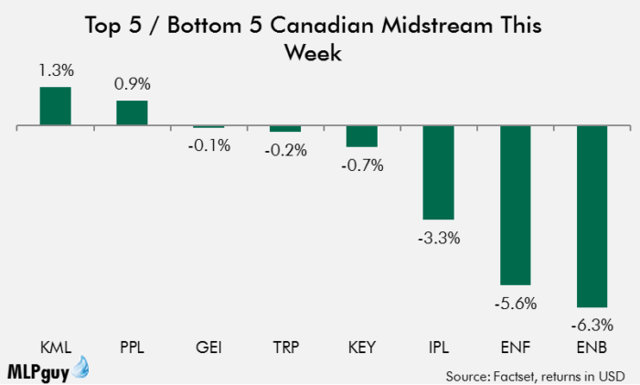 Gibson management has been travelling the country on a non-deal roadshow, and it appears to be paying off. Gibson leads Canadian midstream by a wide margin, wider after ENF's selloff this week. ENB gave up recent separation from TRP this week, both are down 14% in USD terms this year. Pembina has separated from its two other (much larger) large cap Canadian Midstream peers.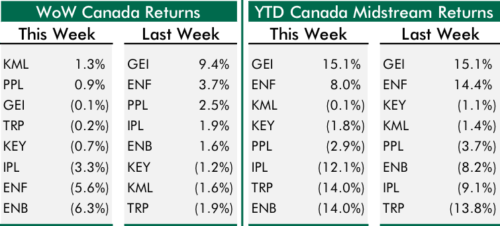 News Of The (Midstream) World
Plenty of news this week, including some good capex increases (OKE) and some bad increases (EQM), some small signs of life from the equity capital markets, further private equity participation in projects (Lotus) and in creating zombie MLPs (AMID).

Capital Markets
Growth Projects/M&A
Other