About the Dividend Champions List
The Dividend Champions list is a monthly publication tracking companies with a history of consistently increasing their dividends. Wider in scope than the well-known S&P 500 Dividend Aristocrats and Nasdaq Dividend Achievers, the Dividend Champions covers all companies listed on exchanges in the United States. In order to be included in the list, the annual split-adjusted dividend payout of a company (based on calendar year) must be consistently increasing. The Dividend Champions list is separated into three categories based on how long companies have maintained the streak of annually increasing dividends: Champions (25 or more years), Contenders (10 to 24 years), and Challengers (5 to 9 years). The Dividend Champions list was created by David Fish in 2007 and is currently maintained by Justin Law. The Dividend Champions list may be obtained for free for personal, non-commercial use from The DRiP Investing Resource Center. Data in the Dividend Champions list is provided "as is" with no guarantees of accuracy, completeness, or timeliness.
Finally Fall
It's been quite a busy summer this year, with many companies declaring larger-than-expected dividend increases or multiple increases this year. Now that it's fall, things have slowed down a bit. Only 29 companies declared higher dividends in the past month, with an average increase of 11.3% over their previous payouts. The latest version is available at the DRIP Investing website and is also attached below:
U.S.DividendChampions_9-28-2018.xlsx
The CCC universe remains steady at 896 companies. The average dividend streak is 13.6 years. The average yield has increased slightly to 2.67%.
Additions to Challengers: PS Business Parks (PSB), Logitech (LOGI), and Masco (MAS) (former Champion).
Additions to Contenders: Evergy Inc. (EVRG) (this company was formed out of the merger between Westar Energy and Great Plains Energy and inherits the dividend streak of Westar)
Deletions:
GGP (GGP) was acquired by Brookfield Property Partners (BPY).
XL Group (XL) was acquired by AXA (OTCQX:AXAHF).
First Federal of Northern Michigan Bancorp (FFNM) was acquired by Mackinac Financial (MFNC) (this occurred in back in June, but I missed it for several months).
Spirit Realty Capital (SRC) completed a spin-off of Spirit MTA REIT (SMTA) and has cut its dividend.
Promotions: None.
A Few Minor Tweaks
As I mentioned last month, I have stopped providing coverage of fundamental data for stocks which are traded over-the-counter (OTC). The reason behind this was the significant amount of time required to add this data to the CCC list and the generally low interest in and ownership of these stocks. Per reader request, I have maintained coverage of OTCPK:AMNF and OTCQX:CSVI. As previously mentioned, I am still tracking the dividend streaks of all OTC stocks on the CCC list. I have added an extra column at the end of the sheet to indicate these stocks.
An interesting idea popped up in the comments last month – the categorizations of "Challenger" "Contender" and "Champion" are rather arbitrary (and you may have seen other categorizations on Seeking Alpha such as "Dividend Kings" – growth over 50 years). Clearly, not all Dividend Champions are created equal. What if we instead looked at how many recessions a dividend growth streak has survived? I've added two new columns: the year a dividend streak began and the number of recessions it has survived. For the purposes of the latter metric, I'm categorizing based on if a dividend streak began before the recessions in 1953, 1958, 1960, 1970, 1973, 1980, 1990, 2001, or 2008. What do you think? Is this useful information?
Bonus
That's all for this month. I'll leave you with some charts, as Dave was wont to do. Make of them what you will.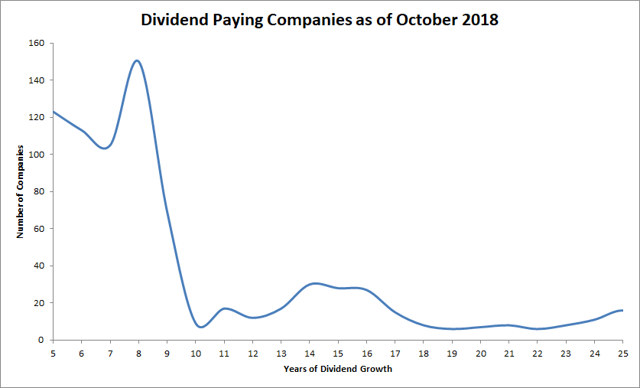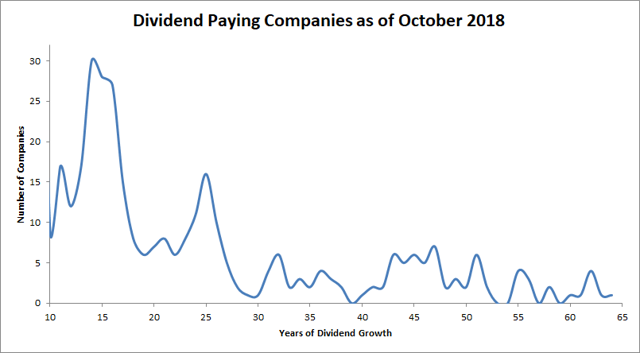 How you can help
Feedback Needed: I've made quite a few changes to the list over the last few months. I'm content with the current format of the list and don't have any more major changes planned in the near future. Please let me know your thoughts.
Errors? Let me know! I don't have time to manually verify every piece of data presented in this list. If you run across something that is clearly wrong, let me know in the comments or send me a message and I will do my best to get it fixed.
Suggestions? I am always open to your ideas on how the list can be improved.
Spread the word. There may still be people who used to follow David Fish and are unaware that this list is still being produced. Let them know!
Disclosure: I/we have no positions in any stocks mentioned, and no plans to initiate any positions within the next 72 hours. I wrote this article myself, and it expresses my own opinions. I am not receiving compensation for it (other than from Seeking Alpha). I have no business relationship with any company whose stock is mentioned in this article.
Editor's Note: This article covers one or more microcap stocks. Please be aware of the risks associated with these stocks.