Still room to run
Last year, Chinese equities were among the world's best-performing assets. The MSCI China Index was up 54% in 2017, outpacing broader emerging markets, which were up 37%, and more than double the 22% return of the S&P 500 Index.1 Chinese equities have struggled year-to-date, with the MSCI China Index down -5.8%. However, we are constructive on Chinese equities amid a stable growth environment, ambitious reform agenda, and solid earnings outlook.2
To be sure, trade tensions represent a risk to Chinese markets yet markets have already priced in most of these risks, in our view. Our base case sees a full-blown trade war being averted but we anticipate an extended period of tensions ahead. Moreover, China's trade openness peaked over a decade ago as domestic growth drivers took on added importance, suggesting the economy may be relatively insulated from the effects of higher tariffs.3
We continue to see a strong reform agenda following the 19th National Party Congress supporting China's pivot away from the "old economy" of credit-intensive, heavy industry and towards the "new economy" driven by technology, consumer spending, and healthcare. The shift towards faster-growing, less credit-intensive sectors has the dual benefit of supporting headline GDP growth while also improving the "quality" of economic growth.
President Xi Jinping's remarks on April 10th at the Boao Forum highlighted several reform efforts aimed at further opening China's markets and which could help alleviate strained Sino-American relations. In particular, President Xi outlined plans to further open China through:
Widening market access by raising foreign equity caps in the financial sector, easing restrictions on foreign financial institutions and reducing limits on foreign investment in manufacturing industries, including autos.
Improving the investment environment by aligning domestic policies with international economic and trading norms.
Expanding imports by lowering import tariffs on vehicles and holding the first China International Import Expo as a major policy initiative.
Strengthening intellectual property rights (IPR) by re-instituting the State Intellectual Property Office to enforce IPR and raise the cost of violating IPR to increase deterrence.
China: Too big to ignore
The positive outlook for China occurs against a backdrop of a significant development in the way investors can access Chinese equities. This June, MSCI added 226 stocks from the China A-shares market to the MSCI China Index with a 2.5% inclusion factor. The second tranche goes into effect September 3 as the inclusion factor rises to 5.0% and increases the number of stocks to 236. The MSCI EM Index currently has an approximate 30% weight to China by way of offshore-listed Chinese companies, the majority of them being those listed in Hong Kong ("H-shares").4
Historically, foreign investors have had unrestricted access to only about half of China's equities market (largely through H-shares). The remaining half is comprised of A-shares, the "onshore" stocks, which were only available to foreign institutions under strict quotas set by the Chinese government.
After the upcoming MSCI rebalance, the weight of A-shares in MSCI China will increase from 1.1% currently to 2.3%. China A-shares representation in the MSCI EM Index will move from ~41bps to 75 bps. What lies beyond a 5% inclusion factor is widely unknown, but two future steps could include 1) the consideration of mid-cap A-shares for index addition, or 2) a higher inclusion factor for the existing basket. In order for mid-cap A-shares to be considered for index addition, Chinese authorities would need to continue to align with international accessibility standards.
Eventually, A-shares could account for 9% of the broad EM index after 50% of the A-shares are included, and then 17% after full inclusion. A complete, 100% inclusion of A-shares could then raise China's MSCI EM index weight to more than 40%. For investors, having a view on China is moving from "nice to have" to "have to have" – it's simply too big to ignore.
Exhibit 1: The road to full inclusion into the MSCI EM Index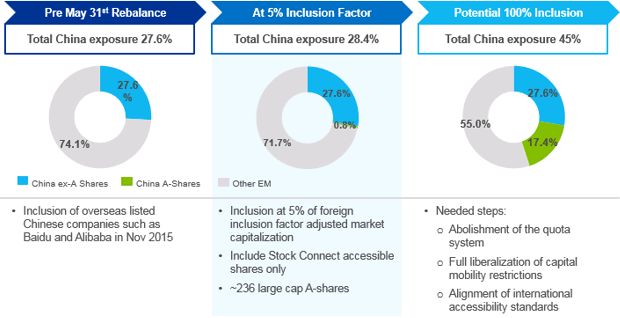 Source: MSCI, BlackRock, as of August 2018. The A-Shares weighting for the 5% inclusion factor has been rounded up from 0.75% to 0.8%.
Implications for investors
The inclusion of A-shares provides investors with a more accurate picture of – and access to — the Chinese market. A-shares provide access to sectors of the economy currently underrepresented in other share classes, with larger weights in sectors such as materials, industrials, consumer discretionary and healthcare.
The "new economy" in China – areas such as the tech, consumer, and healthcare segments – is mostly represented in the offshore H-shares market. The fact that the onshore A-shares market is the second largest equity market globally suggests that these secular growth themes are currently underrepresented in foreign investors' portfolios.
Fortunately, deciding between A-shares and H-shares isn't mutually exclusive. The complementary nature of A-shares exposure can also be seen through its low correlation with global equity markets. Investors should consider holding exposure to both markets instead of picking one over the other. Given the lingering operational complexities facing foreign investors, and the breadth of A-share names, investors may want to consider investing via an ETF structure, which removes operational burdens as well as providing cost-effective, liquid and broad-based exposure.
Flows
As China's EM Index concentration grows, investors may be well served to adopt a single country focus on China and rethink EM as EM ex-China instead. Global ETP flows suggest investors are doing just that: EM equity flows have been increasingly single country-focused over the past year – a notable contrast to developed market flows which have favored broad exposures.
ETP flows into China-focused products have remained resilient year-to-date. U.S. listed ETPs with dedicated China exposure have gathered over $2.2bn in inflows year-to-date. That's in stark contrast to the $750mm in aggregate outflows across dedicated country funds across the EM ex-China universe. The chart below also shows dedicated China ETP flows tend to be 'stickier,' with steady inflows and relatively muted outflows. Dedicated country ETP flows across the EM ex-China universe show much greater reversal periods, including most recently in the third quarter.
Dedicated China ETPs inflows continue to outpace all other EM dedicated country fund flows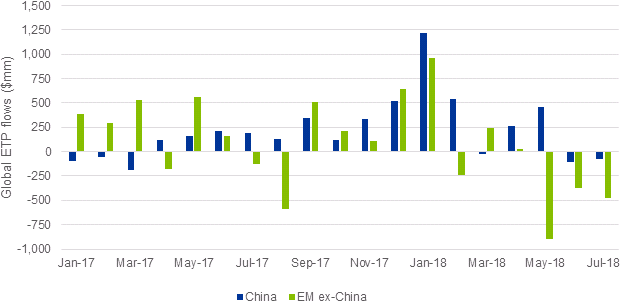 Source: BlackRock, as of August 2018. Global ETP flows shown for all U.S. listed EM single country fund flows.
Conclusion
The opening of China's A-share market and accompanying index inclusion is a landmark event for the global investor community. For long-term investors, the A-shares vs. H-shares decision is a false dilemma given complementary exposure. The real question is how much China does one need in their portfolio. As China's concentration in broad EM indexes eventually grows north of 40%, investors should start taking a view on China and EM ex-China separately, just as investors do with U.S. and non-U.S. developed markets. Global ETP flows suggest investors are beginning to do just that.
Article was originally on iShares.com.
© 2018 BlackRock, Inc. All rights reserved.
1 Source: BlackRock, Thomson Reuters as of 8/27/2018. Emerging markets based on the MSCI Emerging Market Index.
2 Source: BlackRock, Thomson Reuters as of 8/27/2018.
3 Source: World Bank, as of August 2018. Trade openness is measured by the combined volume of exports and imports as a percentage of GDP.
4 Source: MSCI, as of August 2018.
---
Carefully consider the Funds' investment objectives, risk factors, and charges and expenses before investing. This and other information can be found in the Funds' prospectuses or, if available, the summary prospectuses, which may be obtained by visiting the iShares Fund and BlackRock Fund prospectus pages. Read the prospectus carefully before investing.
Investing involves risk, including possible loss of principal.
International investing involves risks, including risks related to foreign currency, limited liquidity, less government regulation and the possibility of substantial volatility due to adverse political, economic or other developments. These risks often are heightened for investments in emerging/ developing markets or in concentrations of single countries.
The iShares MSCI China A ETF (the "Fund") seeks to invest in A-shares through Stock Connect, a securities trading and clearing program that aims to provide stock access between the People's Republic of China and Hong Kong. Trading through Stock Connect is subject to a daily quota (the "Daily Quota"), which limits the maximum net purchases under Stock Connect each day, and as such, buy orders for A-shares would be rejected once the Daily Quota is exceeded. The A-shares market has a greater risk for market suspensions than other global markets. These risks may cause the Fund to have higher tracking error and/or greater costs than other international investments.
This material represents an assessment of the market environment as of the date indicated; is subject to change; and is not intended to be a forecast of future events or a guarantee of future results. This information should not be relied upon by the reader as research or investment advice regarding the funds or any issuer or security in particular.
The strategies discussed are strictly for illustrative and educational purposes and are not a recommendation, offer or solicitation to buy or sell any securities or to adopt any investment strategy. There is no guarantee that any strategies discussed will be effective.
The information presented does not take into consideration commissions, tax implications, or other transactions costs, which may significantly affect the economic consequences of a given strategy or investment decision.
This document contains general information only and does not take into account an individual's financial circumstances. This information should not be relied upon as a primary basis for an investment decision. Rather, an assessment should be made as to whether the information is appropriate in individual circumstances and consideration should be given to talking to a financial advisor before making an investment decision.
The information provided is not intended to be tax advice. Investors should be urged to consult their tax professionals or financial advisors for more information regarding their specific tax situations.
The Funds are distributed by BlackRock Investments, LLC (together with its affiliates, "BlackRock").
The iShares Funds are not sponsored, endorsed, issued, sold or promoted by Barclays, Bloomberg Finance L.P., BlackRock Index Services, LLC, Cohen & Steers Capital Management, Inc., European Public Real Estate Association ("EPRA® "), FTSE International Limited ("FTSE"), ICE Data Services, LLC, India Index Services & Products Limited, JPMorgan Chase & Co., Japan Exchange Group, MSCI Inc., Markit Indices Limited, Morningstar, Inc., The NASDAQ OMX Group, Inc., National Association of Real Estate Investment Trusts ("NAREIT"), New York Stock Exchange, Inc., Russell or S&P Dow Jones Indices LLC. None of these companies make any representation regarding the advisability of investing in the Funds. With the exception of BlackRock Index Services, LLC, who is an affiliate, BlackRock Investments, LLC is not affiliated with the companies listed above.
Neither FTSE nor NAREIT makes any warranty regarding the FTSE NAREIT Equity REITS Index, FTSE NAREIT All Residential Capped Index or FTSE NAREIT All Mortgage Capped Index; all rights vest in NAREIT. Neither FTSE nor NAREIT makes any warranty regarding the FTSE EPRA/NAREIT Developed Real Estate ex-U.S. Index, FTSE EPRA/NAREIT Developed Europe Index or FTSE EPRA/NAREIT Global REIT Index; all rights vest in FTSE, NAREIT and EPRA."FTSE®" is a trademark of London Stock Exchange Group companies and is used by FTSE under license.
©2018 BlackRock, Inc. All rights reserved. BLACKROCK, BLACKROCK SOLUTIONS, BUILD ON BLACKROCK, ALADDIN, iSHARES, iBONDS, iSHARES CONNECT, FUND FRENZY, LIFEPATH, SO WHAT DO I DO WITH MY MONEY, INVESTING FOR A NEW WORLD, BUILT FOR THESE TIMES, the iShares Core Graphic, CoRI and the CoRI logo are registered and unregistered trademarks of BlackRock, Inc., or its subsidiaries in the United States and elsewhere. All other marks are the property of their respective owners.
590978
Disclosure: I/we have no positions in any stocks mentioned, and no plans to initiate any positions within the next 72 hours.
I wrote this article myself, and it expresses my own opinions. I am not receiving compensation for it. I have no business relationship with any company whose stock is mentioned in this article.