I know what you're all thinking. "What is this Club, and how come I've never heard of it before?" Or, "I want to join; how do I become a member?" Or maybe even," I'd never want to join a Club that would have me as a member."
Actually, the Club doesn't have individual members, and in reality, it is not a Club at all. It is a collection of companies that I put together based on a highly proprietary set of indicators to allow me, as well as readers of my articles, to look at several companies at once, grouping companies with like characteristics together to compare and contrast both strategies and results.
Many of you will be familiar with my 'Bottom of the Barrel Club' companies, those which had the highest leverage and worst stock fundamental stats from mid-2014 to late-2015. Of the 35 companies in that grouping, over 20 have now gone bankrupt, with more coming. I recently set up a second grouping of the formerly-bankrupt companies I call the 'X-11 Edition' to follow those companies since they have emerged healthier than many of their still solvent brethren.
The 'Middle of the Road Club' will be presented in two parts; the 'Non-Permian' group and the 'Permian' group. The E&P industry can be sliced and diced just about any way you want. Some do it by market cap (ignoring debt), some by basin, some by product (oil vs. natural gas), etc. Companies compete for capital against all other producers, so I will mention distinctions between the companies that may fall within one category or another, but will not dwell on them. I constructed the list based on certain criteria like market performance since June 30, 2014, price (>$5), total enterprise value and debt as a % of TEV ('low' is better), and just my own opinion about the companies.
I will refer to the Club as the 'MOTR Club', just because I like the way that sounds. This is merely a starting point, and it is very possible I will reorganize the various lists again at year-end. 'Middle of the Road' is not intended to be derogatory, as in 'unexciting' or 'ordinary,' but rather as having wide appeal to a large group of investors. What would be clear upon looking at performance during this oil downcycle is that the stocks of these companies have generally outperformed the 'Bottom of the Barrel Club' members, but are also generally not thought of as the leaders in the industry … a group I may cover later as a 'Tier One Producer' or 'TOP' Club. So, I have a TOP, a Middle and a Bottom group that may or may not reflect the best investments or trades at any one time, but is a way that I generally rank their fundamentals long term… subject to change.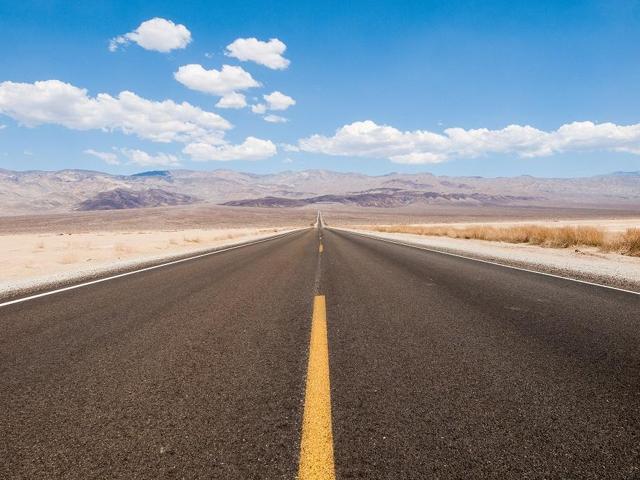 Source: commons.wikipedia.org (Road through Death Valley, CA)
Ok, now to introduce the MOTR Club: The Non-Permian group in this article include Alta Mesa Resources (AMR), Carrizo Oil & Gas (CRZO), Extraction Oil & Gas (XOG), Gulfport (GPOR), Oasis (OAS), PDC Energy (PDCE), Range Resources (RRC), Southwestern Energy (SWN), SRC Energy (SRCI), Whiting Petroleum (WLL) and WildHorse Energy (WRD). For those of you keeping track, this group includes a couple of members from each of the following areas: DJ Basin (XOG, PDCE and SRCI), a couple from the Mid-Continent (AMR and GPOR), a couple from Appalachia (RRC and SWN), a couple from the Williston Basin (OAS and WLL) and a couple from the EagleFord (CRZO and WRD).
The format for this article will be slightly different than for my previous BOTB Club articles, which have 3 years (!) of history now. This will be a deep-dive report masquerading as a shallow-dive one, in that I will present a lot of information and a lot of data, which can then be used (or not) by readers to do their own analysis, in addition to thoughts I may offer. As with all of my articles, I do not offer specific recommendations due to differing investment strategies, timeframes, etc., but I am pretty open with answers to questions about these companies. The first section will be a visual overview of each of the companies (for those who may not be familiar with a particular company), followed by my notes on each company from their 2Q releases, current presentations, etc., then the actual 2Q financials (and '17 reserves), concluding with some thoughts I haven't put together as I write this introduction!
Company Overviews
All of the charts/slides below are from company presentations unless otherwise noted, and links to each presentation are presented at the end of each company's overview.
Alta Mesa Resources-- AMR is a 2017 IPO, formed as Silver Run II, whose purpose was to merge with an E&P company it located and agreed to merge with within 2 years of formation (a SPAC). In early 2018, its sponsor, Riverstone, a PE firm, located Alta Mesa, a separate midstream company called Kingfisher Midstream, assets owned by another PE firm, Bayou City, and other assets owned by other parties, and "rolled them up" into what is now AMR. Rather than go into great detail again on AMR, I would refer you to my two previous articles on AMR:
E&P Skirmish In The Shallow STACK? Alta Mesa, Chaparral And Gastar; and
Should E&P Investors Take A Seat At Silver Run's 'High Table'?
The following chart shows an overview of AMR and its core holdings in the shallow STACK area of Oklahoma: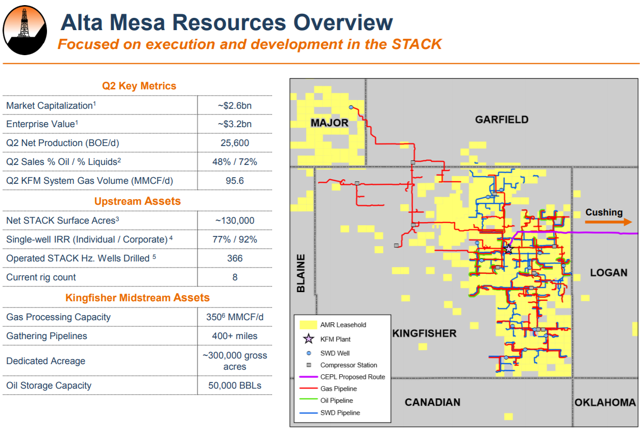 The chart below shows a detailed map of operator positions in the STACK, including other public companies like Marathon Oil (MRO), Continental Resources (CLR), Newfield Exloration (NFX), Devon (DVN), Cimarex (XEC) and Chesapeake (CHK).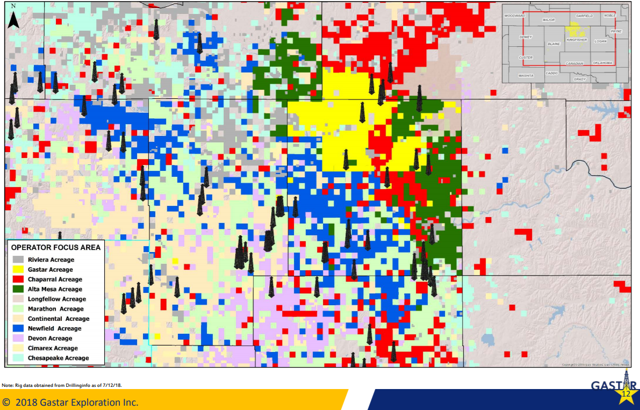 Alta Mesa Resources presentation
Carrizo Oil & Gas -- CRZO is currently primarily an EagleFord producer, although it has recently expanded into the Permian Basin as well. The chart below shows their strategic overview: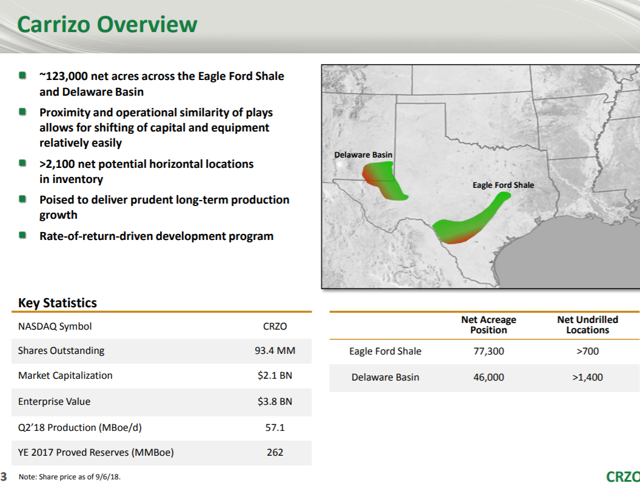 Carrizo Oil & Gas presentation
Extraction Oil & Gas -- XOG's strategic overview has not only their own acreage position and strategic business plan, but also the acreage positions of other operators in the DJ Basin as well. That group includes SRC Energy (SRCI), PDC Energy (PDCE), Bonanza Creek Energy (BCEI), Whiting Petroleum (WLL), Noble Energy (NBL) Anadarko Petroleum (APC), EOG Resources (EOG) and Conoco (COP). My original article on XOG was published as: E&P Investors Should Not Call For This Extraction.
One key factor in the DJ Basin currently is the upcoming early November ballot initiative 112 (proposed as #97 initially) that would effectively ban all new, future drilling in the state if is adopted and passed. A good, recent overview article of that initiative is [here]. This initiative could potentially impact companies that are focused almost exclusively on the DJ Basin like XOG, SRCI (see below), BCEI (a member of the BOTB Club) and PDCE (see below).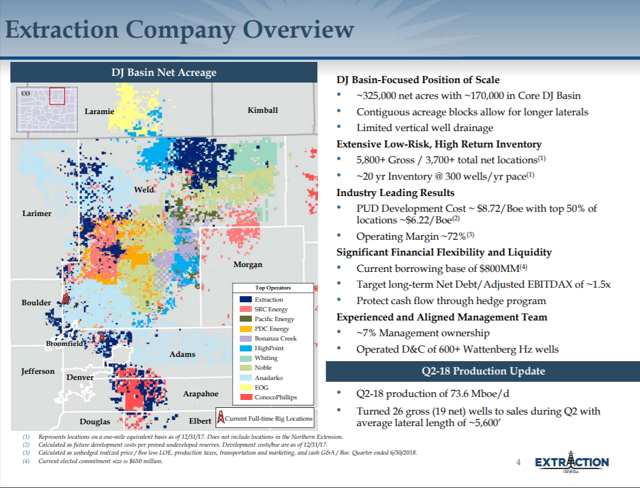 Extraction Oil & Gas presentation
Gulfport Energy -- GPOR is somewhat of a unique company these days. It was initially an operator in Appalachia, and specifically the Utica Shale area, but decided to diversify its asset base in late 2016. GPOR purchased Vitruvian II Woodford, LLC , a portfolio company of PE firm Quantum Energy Partners, to acquire approximately 46,400 net surface acres in the core of the SCOOP, including approximately 183 MMcfe per day of net production, for a total purchase price of $1.85 billion. Its results therefore reflect a combination of those two areas, although its activities in the SCOOP area have taken precedence lately.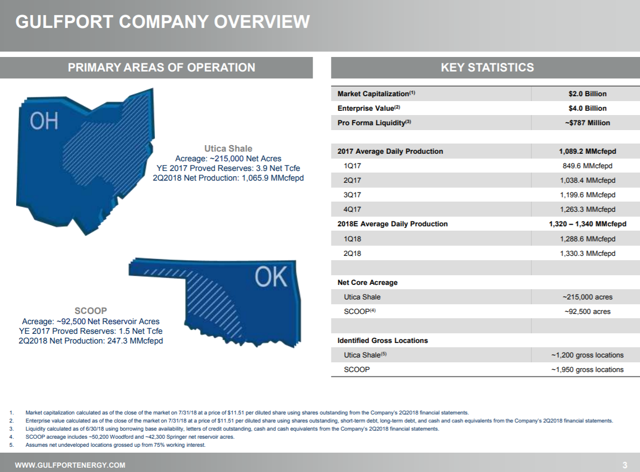 The SCOOP area, like the STACK discussed above with respect to AMR, lies in Oklahoma over an area that is known as the Sooner Trend, which has been a prolific area for many years. The following chart shows GPOR's SCOOP acreage near the bottom of the map; an area called the "Merge" sits between the two, where operators like Roan Resources (NYSE:ROAN) and Jones Energy (OTC:JONE) have acreage.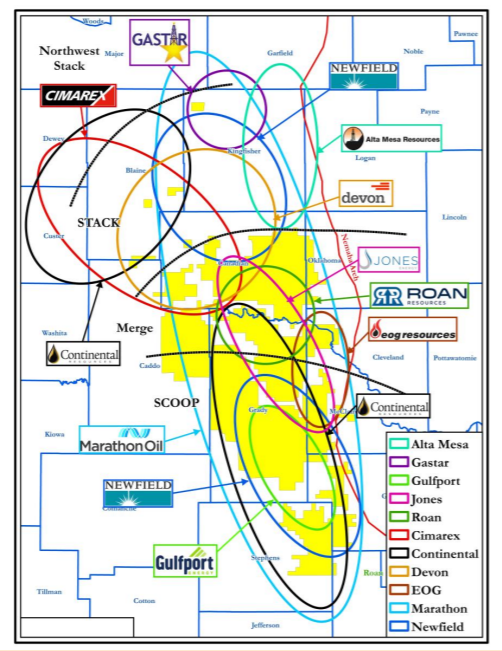 Source: Camino Minerals
Oasis Petroleum -- OAS is primarily a Williston Basin Bakken operator, although it is shifting some of its emphasis to the Delaware Basin after a recent acquisition (Dec. 2017) from Forge Energy, a portfolio company of PE firm EnCap, for $946 mm (50% cash/50% stock). It has sold assets in 2018 to help pay for that acquisition, but its CAPEX plans are shifting only modestly until transportation bottlenecks in the Permian/Delaware Basins are resolved with new takeaway capacity.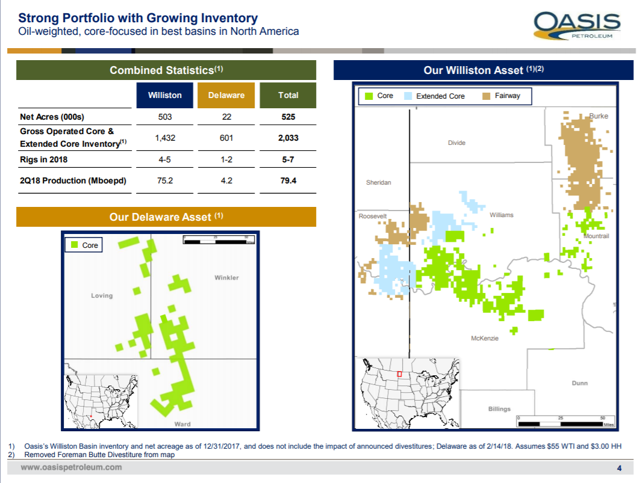 PDC Energy -- PDCE was originally a significant DJ Basin operator only. In 2016, though, it acquired two private operators in the Delaware Basin that were portfolio companies of PE firm Kimmeridge Energy, for $1.5 billion (60% cash/40% stock). They had begun to shift CAPEX towards the Delaware before the Initiative 112 issues came up, and it remains to be seen what impact that will have on further shifts, especially since in the short term the Delaware is capacity-constrained.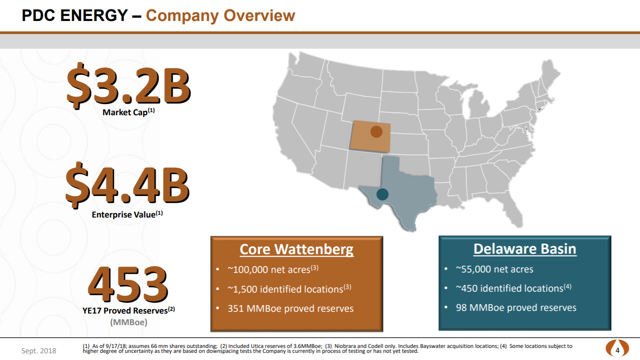 Range Resources -- RRC is another Appalachian producer that decided to diversify by expanding to another core area, in their case the Haynesville Shale. In late 2016, it merged with Memorial resource Development in an all-stock transaction valued at $4.2 billion. Many analysts and investors have since criticized them for that move and punished the stock as well.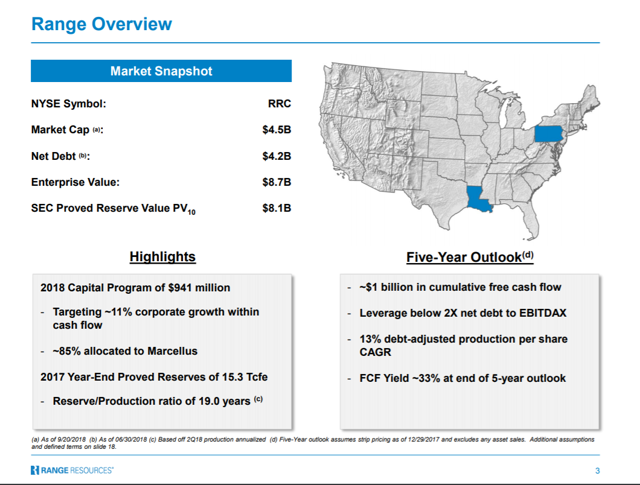 Southwestern Energy -- SWN is somewhat of an outlier now, a company that is selling one of their core areas to focus strictly on Appalachia. In a sale announced in September 2018, SWN announced that they were selling their Fayetteville Shale (AR) to Flywheel Energy, a portfolio company of PE firm Kayne Anderson, for $1.8 billion plus the assumption of $438 million of future contractual liabilities. Once that sale closes in 3Q, SWN will focus exclusively on its Marcellus/Utica operations, also reducing debt with a portion of the proceeds from the sale.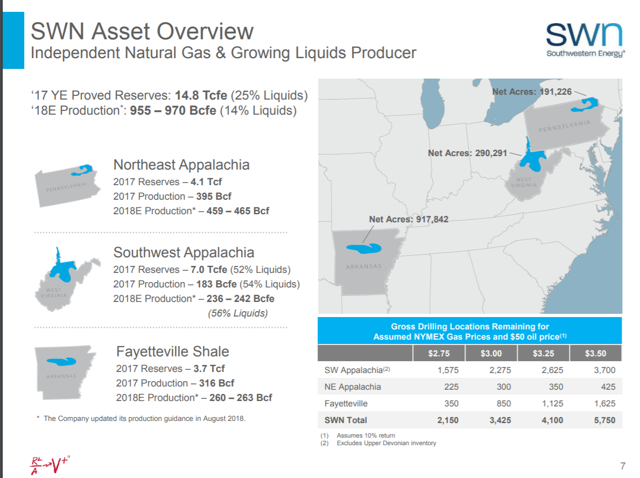 Southwestern Energy presentation
SRC Energy -- Another DJ Basin producer, whose acreage and strategy are outlined below. A year ago, SRCI acquired additional DJ assets from fellow operator NBL for $608 million in cash. What was non-core to NBL thereafter became part of SRCI's core acreage.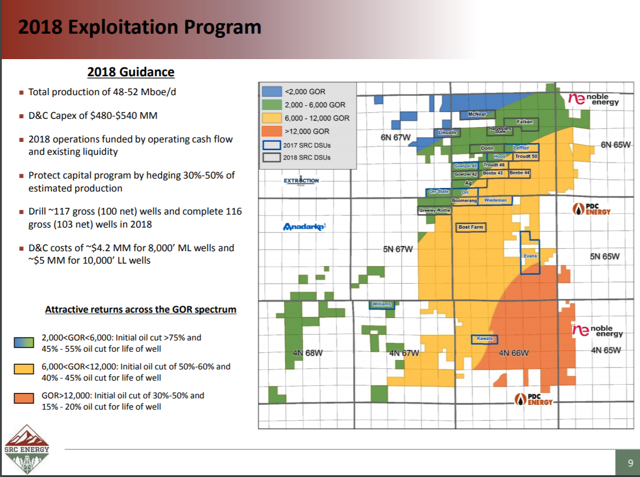 Whiting Petroleum -- WLL has been a top producer in the Williston Basin Bakken for quite a while. It attempted to expand through a leasing and development program into the greater DJ Basin in the Redtail Area, but had poor results there. It then acquired some of the acreage that OAS sold, for $283 million, another example of acreage that became non-core to OAS (when it bought the Delaware position) but was added to WLL as core acreage.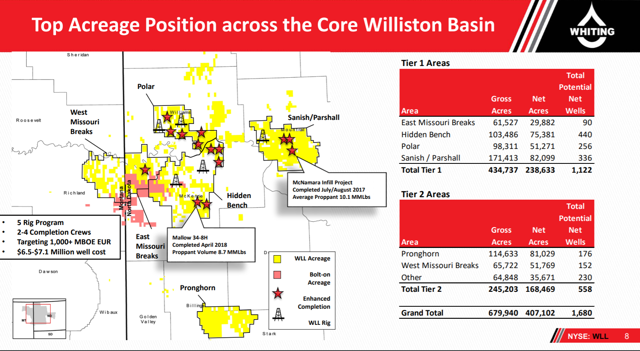 Whiting Petroleum presentation
WildHorse Resource-- WRD has been an aggressive purchaser in the EagleFord since it came public in early 2017. My initial review of their company was published as: E&P IPO: Investors Say 'Neigh' as WildHorse Comes Up Lame. The stock declined from a $16 IPO price to $10 before rebounding to $28, then selling off to its current price of $23.64.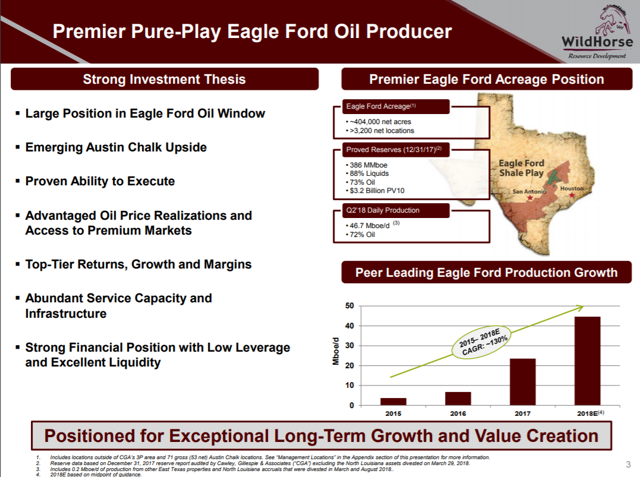 Similar to some of the other companies' presentations, there is a nice overall summary and map of the acreage positions of EagleFord operators, including EOG, BP, Magnolia (MGY), Sanchez (SN), CHK, Apache (APA), COP, SM Energy (SM), Murphy Oil (MUR), MRO, EP Energy (EPE) and Dilverbow (SBOW).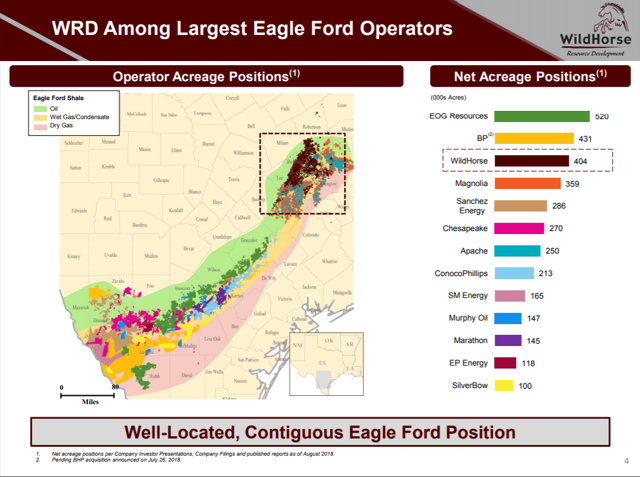 WildHorse Resource Development presentation
The above data is included to avoid merely repeating what is already in company materials, while also giving a good pictorial overview of what is actually a significant part of US basin activity outside of the Permian. Also, while readers may be familiar with one company that operates in a particular area, sometimes such an overview creates an interest in looking at other companies, either for investment or for comparative purposes.
Review of 2Q results
I am not sure whether putting my notes first or the numbers first works best, so I will try the notes first since I know many readers may not enjoy combing through figures. The notes below are solely mine, and while I have tried to highlight the most important features from my own perspective, other readers may have different highlights to note.
Financial results
First, the disclaimer: I have obtained the figures in the following charts from public sources including company press releases, SEC filings and press releases. I have tried to check and double-check these numbers and the formula impacts of my own calculations, but invariably there will be mistakes and inconsistencies. Readers are advised to use these data as a source of analysis, but also to do their own research and analysis before making an investment decision.
Reserve data is from 2017 year-end disclosures. Production and prices, income statement data and adjusted EBITDA are taken from 2Q figures and, in some cases, annualized for comparative purposes. This is done primarily because 2Q pricing data, and therefore results, are likely to be more comparable to current prices than 1Q. CFFO data is YTD through 2Q to minimize the impact of quarter to quarter swings in CAPEX.
As readers may have noticed in my prior articles, I often start my review of a company with existing proved reserves, because past is prologue in many cases. After all, a company gets no cash flow without existing reserves to produce (or capital). Past Finding and Development Costs often translate into fairly good estimates of future CAPEX needs to replace or grow reserves and production as well.
In all of the charts, readers will see certain cells highlighted in red or green. A green highlight indicates that a company's data places it in the top 4 among MOTR/NP companies, while a red highlight means the company is in the bottom 4 in that particular category.
Cost Incurred (lines 15-20), Reserves and Changes to Reserves (lines 22-44), Standardized Measure and Changes to Standardized Measure (lines 46-71) and F&D Costs (lines 73-78) all deal with 2017 results, and are not updated except in connection with annual reports. Prices will have a positive impact on the numbers reported for '17 as long as companies are able to at least replace reserves with current CAPEX.
In the chart, absolute measures of reserve volumes most often just confirm the relative size of each company; bigger companies tend to have bigger reserves. One thing that is important to track is the % mix of oil and natural gas, which is shown in lines 22-34. Those lines also show the % of reserves that are PD/PUD.
What is more important, though, is how much of a change in reserves companies were able to achieve. Lines 37-43 "walk forward" the reserves from 1/1/17 to 12/31/17 by the type of activity, showing reserves added by price increases, purchases, extensions/discoveries, etc. On line 44, red and green highlights show the companies with the lowest % gain and the highest, respectively.
Lines 56-73 likewise show the "walk-forward" of reserves from 2016 to 2017, using the same format that engineers and accountants use to show components of the changes, as with reserve volumes. The thing that sticks out the most to me there is that, as a group, these companies produced roughly 50% of their beginning value in 2017 (line 57/ line 56). Price increases (line 59) saved the day, and new CAPEX added reserves as well (line 64). Overall, a 58% increase in reserves (line 44) translated into an SEC value gain of 130% (line 71).
Finding & Development (F&D) Costs are set out in lines 73-78. These are usually used to reflect the capital efficiency of each company in adding new reserves with CAPEX expended during that year. Overall, the group added reserves at a $/BOE cost of around $5. Rather than relying strictly on one year's results, analysts will usually use a 3-year average of F&D costs to compute future drilling returns, and a 3-year replacement % is also often calculated. I obtained the 3-year figures from an EnerCom publication.
Like reserves and reserve values, production figures (lines 81-86) largely show which companies are larger, but their primary benefit is to show the breakout between oil, natural gas and ngl volumes. Lines 98-103 show the %s by product; what they show is influenced greatly by inclusion of GPOR, RRC and SWN, all primarily gas producers. At least I was surprised by a figure of only 23% for oil production, but I was also expecting to be able to show that even companies that readers think of as oil producers may also have significant volumes of natural gas and ngls, products that receive a lower price/BOE than the 6:1 heating equivalent price would imply.
Lines 88-91 show prices for each product, and also a weighted average price received for all three. Companies received roughly $66/bo in 2Q, but the net prices/BOE ranged from $13 (for the natural gas producers) to $55. While not necessarily determinative of anything, those low prices will factor into the net margins in the charts following.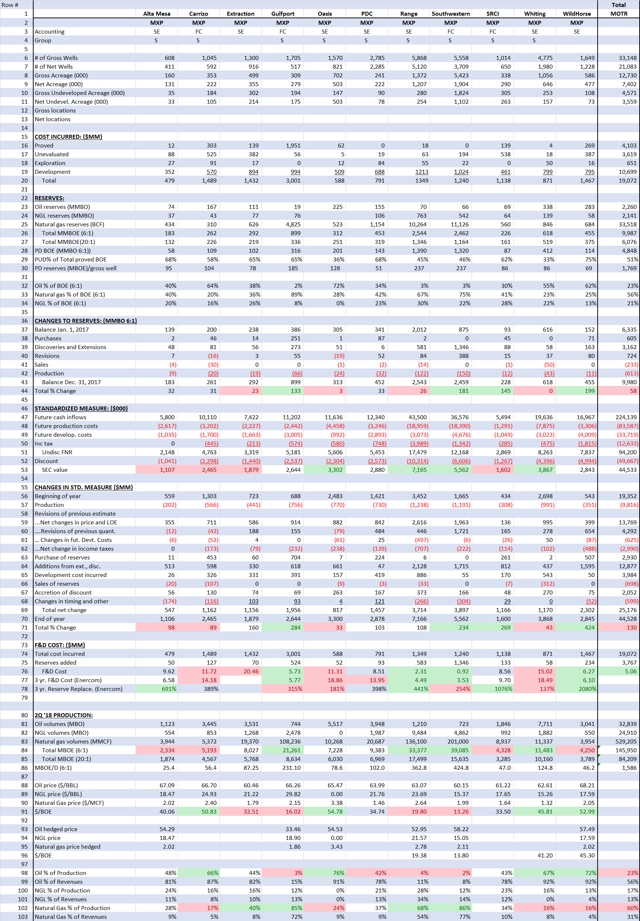 Following production into the income statement (lines 105-137) shows the product of volumes produced times price received for total revenues. In my analysis, I always break out property revenues from other corporate items, because reserve values are based on what the properties throw off for cash flow. Particular line items to watch include the GPT (Gathering, Processing and Transportation) line (113), the line for derivative gains/losses (123) and the line for impairments (128). GPT is often not addressed directly by managements (who much prefer to focus on LOE instead for obvious reasons).
The latter two items are non-cash, so it is important to note them but not to dwell on them. Looking at line 137, which adds back both figures, shows that excluding those items, net income for every member of the group would have been positive, a result that is far better than for those companies I recently reviewed in the BOTB Club.
The $/BOE disclosures in lines 139-149 show the breakouts by each major category of revenue and expense, including the impacts of G&A, DD&A and interest. In many cases, management guidance only includes the property level numbers; some include G&A, but rarely do you see DD&A or interest (that I recall). However, those figures are real cash expenses or, in the case of DD&A an estimate of what CAPEX will cost, so to construct real bottom line income or cash flow estimates, those are needed. To be perfectly true, the costs of legacy debt would also have to be factored into cash flow in some way, because none of the other items assume that principal payments have to be considered even if no actual payments are made.
The recycle ratio (line 150) can be a very useful indicator. It shows, for each $1 invested, how much cash flow is returned; a number below 1:1 essentially shows that a company is just cycling cash while likely not adding any value, while the higher the ratio, the more effective a company is in using its CAPEX. For now, again these numbers are substantially better as a group than the companies in the BOTB Club, certainly something you would want to see in companies higher up on the food chain.
The Balance Sheet numbers are on lines 152-183. Most analysts would focus on lines 156-159, which shows the Plant, Property & Equipment (PP&E) balances. Unproved properties are usually revealed at year end, and show how much companies have paid for their unproved acreage, while proved property balances show similar balances. Unproved properties are not amortized as part of DD&A. The other primary focus would be on debt (line 168 for bank debt and 169 for other long term debt).
Comparing bank debt of $3 billion to $40 billion in proved PP&E shows that these companies are in good stead with their banks. Overall, though, $22 billion in other debt puts total debt at a little over 60% of PP&E, not a particularly comfortable level at then-current prices. That level as a % of NAV would put companies near the upper limit on most credit scales. Prices and/or reserve levels still need to go up.
The cash flow data shows how companies are trying. However, as a group the companies had a negative Free Cash Flow ('FCF') of around $1 billion; only 3 companies spent within cash flow through 2Q. CAPEX budgets may be spent earlier in the year to produce more volumes later in the year and/or in the following year, though. Guidance for 2019 usually doesn't get issued until 1Q '19, but some companies could issue it in 4Q '18.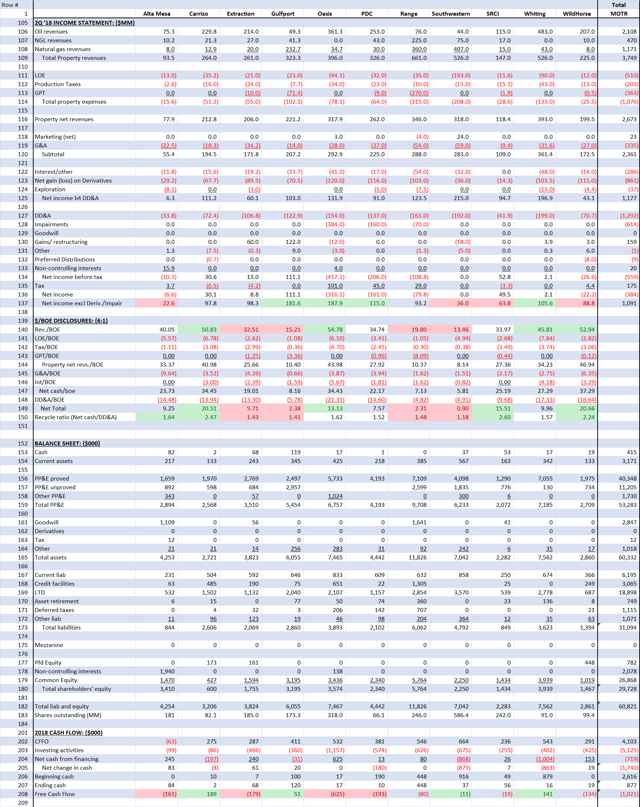 Lines 210-251 have details that are normally associated with debt metrics. Lines 216-219 illustrate companies that are far removed from current financial distress, with EBITDA/Interest of almost 9:1 and net debt/EBITDA of <2:1. Most companies have set targets of debt/EBITDA of < 2:1 on a recurring basis, and many are already there.
Although lines 221-222 show amounts that are less than specified in most bank agreements, current assets often include in their definition the undrawn portion of bank lines. Whenever a quarter-end comes around that matters, the companies can simply draw down their line and repay it later if need be. few companies are anywhere close to the limit.
Lines 224-235 show debt in different ways. These cos. as a whole are nowhere close to borrowing bases, with liquidity (line 229) of almost $9 billion and amounts drawn as a % of borrowing bases of only 34%. Other metrics from lines 236-238 and 245-251 (don't worry about the number gaps) show Total Enterprise Values ('TEV') of < 5:1, very respectable with the growth prospects companies seem to outline for 2019.
Lines 255-268 look good, although I must admit to thinking they would look even better after reviewing what had come before them. Debt of $22 billion is almost 40% of TEV, which might seem very healthy compared to recent years, but is still not what I would expect from companies generating the kinds of Adjusted EBITDA or cash flows in the rest of the chart. I am wondering if that is due to higher decline rates or something else, so that deserves further inquiry.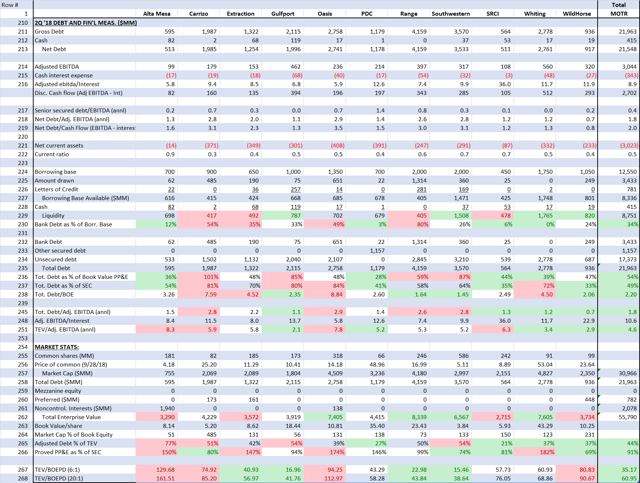 Production and CAPEX Guidance
The chart below shows initial CAPEX and production guidance from earlier this year. Although some companies have updated these figures since then, I think it also makes sense to review how things may have changed since the beginning guidance; these figures will show that when compared to the guidance companies issue in connection with 3Q reports in November. Plus, the actual $/Boe from lines 139-150 above will also prove useful in comparing to forward guidance. I expect there could be changes to Permian producer results based on both current oil and natural gas pricing and takeaway constraints, in particular.

Discussion
We've gotten this far into the data without discussing individual companies much, and that is on purpose. All of these companies might, at some time, present great opportunities for trades and/or investment, and it is often hard to determine upfront, without volume and price cues, when that will be.
To go beyond this detail, I would probably head to the respective presentations for hedging detail, which can change from moment to moment, and also to review any other details of comparison of actual vs. projected results. While companies have begun stressing undeveloped acreage and the number of prospective locations they have, I would be very careful in extrapolating short term results over an extended period of time, certainly a risk when companies talk of decades of locations to drill.
Even in the shale plays, there still is not enough data to confirm or reject certain assumptions, but in terms of quantifying risk, such disclosures represent the potential for conditional probability risk to crop up. That is, once the results of a certain number of those "locations" are known, companies may very well adjust their future plans based on results to date, and the number of locations and their valuations may change greatly. This is particularly a risk as companies "step out" in drilling (i.e. so-called "Tier 2" or "Tier 3" locations, as well as drill infill locations ("child wells") compared to original locations ("parent wells). Geology does not change, but interpretation of geology is always changing based on recent data and results.
I included the DJ Basin companies in this report, and they look good once the #s and the corporate presentations are reviewed. However, until the November ballot issue is resolved one way or the other, I would not recommend those as trades yet because of their speculative nature at this point. For those who wish to follow the entire small cap operators there, in addition to XOG and SRCI here, BCEI and HPR in the BOTB Club are now much healthier financially after recent transactions. I have them all in a separate watchlist, but do not include PDCE in that list because of its Delaware exposure.
Likewise, while I think that natural gas companies may perform well in the (very) long term, I am not anxious to jump into RRC, SWN or even GPOR because of that natural gas exposure. While current storage levels are low, and while that may present a short term risk if the winter is much colder than expected, I do not see the market being undersupplied for very long. Despite all the talk about exports to Mexico and LNG exports, the benefits of those arrangements, even if they do come about, will flow to companies like Cheniere and others purchasers rather than producers, in my opinion.
For me, that narrows the list to operators like OAS (which I have owned before) and WLL (both primarily Bakken producers), AMR (which I currently own and will likely add to at some point soon), and CRZO and WRD, both EagleFord producers. Then again, once the DJ issues get resolved, those companies could become attractive as well. One thing that all of these companies may have going for them is that they are NOT primarily Permian producers ... a status that likely comes with valuation issues of their own.
Also, I must admit to being a bit reticent to invest much before the impact of the Iranian sanctions, the trade war impacts and the midterm results are known. Obviously, there are always risks out there that relate in one way or another to E&P, but this fall is shaping up to be very volatile, in my opinion, even apart from the fact that October is often a brutal month for stocks.
Conclusion
Apart from the issues noted above (DJ Basin especially), the group of companies in the MOTR Club look like very worthwhile companies to follow and possibly trade or invest in the future. At least leverage is not an issue like it is with so many companies, so members should be able to implement their strategies without the baggage of legacy debt to contend with. While progress still needs to be made, and/or needs to be supplemented by further price increases, the current price environment may prove to have the tailwind that companies need to be more than merely FCF neutral or low growth from this point forward.
As an introductory overview, I have supplied a lot of data and information which will hopefully be of use to readers. While no recommendations are made by me, hopefully this article also serves as a takeoff point for further research by some readers, and in any case I appreciate any input you have about this kind of article as to whether it proves useful.
As a final disclosure, the companies that will follow in the MOTR Club (Permian Edition) include Callon Petroleum (CPE), Centennial Resource (CDEV), Cimarex Energy (XEC), Earthstone (ESTE), Jagged Peak (NYSE:JAG), Laredo (NYSE:LPI), Matador Resources (MTDR), Parsley Energy (PE), QEP Resources (QEP), Ring Energy (REI), Rosehill Resources (ROSE), SM Energy (SM) and WPX Energy (WPX). I expect to have an article on them ready by early next week.
Companies that are in the TOP Club may or may not be followed by me, depending on the response to these other articles, or they may be followed on some sort of modified basis. Those companies would include Anadarko Petroleum (APC), Antero Resources (AR), Apache Corp. (APA), Cabot Oil & Gas (COG), Concho Resources (CXO), Continental Resources (CLR), Devon Energy (DVN), Diamondback Energy (FANG), EOG Resources (EOG), Newfield Exploration (NFX), Noble Energy (NBL) and Pioneer Natural Resources (PXD).
P.S. I am curious how many viewers thought of the yellow line in the picture near the start of the article as the "middle." While it is the "center line," the middle of the road extends equidistant from that line on both sides by 1/2 the width or a vehicle on the road. So ... roughly 1/2 of the road taken out of the "middle" still leaves 1/4 of the road on either side of the "middle." Therefore, the MOTR Club has more members than Clubs outside of the middle, and more overall appeal to investors than for those outside of the middle range. Simple, yes?
The fact that the road in the picture is through Death Valley might be symbolic of the last 4 years for companies, adding a touch of irony that was not originally intended.
Disclosure: I am/we are long AMR. I wrote this article myself, and it expresses my own opinions. I am not receiving compensation for it (other than from Seeking Alpha). I have no business relationship with any company whose stock is mentioned in this article.
Editor's Note: This article covers one or more microcap stocks. Please be aware of the risks associated with these stocks.