Since rallying sharply in August from sub-$19 to $24, shares of CenturyLink (CTL) gave back most of those gains and is back to around $21. Analysts are still positive on the company's prospects, forecasting a stock price target of around $23.70 and implying upside of 11.6 percent. Should investors buy the stock after the sharp dip?

CenturyLink reported net income of $292 million and cash flow of $919 million in the second quarter, which excluded integration-related expenses and a special item of $108 million. With 1.06 billion shares outstanding, the company's annualized $3.6 billion in cash flow is more than enough to cover the $2.29 billion in annual dividends, which yields over 10 percent. CenturyLink is addressing pension obligations responsibly by contributing $100 million in the period and $500 million year-to-date. This was done despite revenue slipping slightly from $6.04 billion last year to $5.90 billion.
The company increased its EBITDA and free cash flow targets for the year. EBITDA will be in the range of $9 billion - $9.15 billion, compared to $8.75 billion - $8.95 billion. FCF will be as high as $3.8 billion. The solid management leadership team gets credit for the higher guidance. Adjusted EBITDA margin will rise to 38.5 percent, up from 35.7 percent last year.
Elevated Debt
The company exited Q2 with net debt to adjusted EBITDA at 4.2 times, which is still above its target range of 3 – 4 times. As long as the synergies from the Level 3 transaction progresses, CenturyLink will build on its $675 million in annualized EBITDA synergies.
Below: CenturyLink's high debt will scare of income investors who hold AT&T (T) or Verizon (VZ) stock: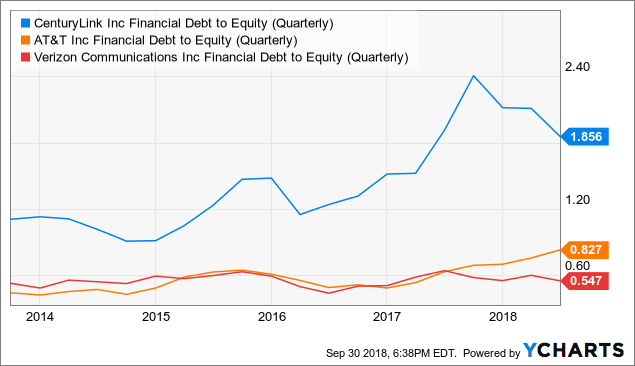 CTL Financial Debt to Equity (Quarterly)
Growth Opportunities
CenturyLink is combining on the strengths from each unit's products to grow sales. Security, SD-WAN, and Cloud are some of the products that will enable the company to compete more effectively in the marketplace. Operationally, the company is signing master contract agreements to drive new sales, while simplifying the arrangement with customers and helping customers get what they want, sooner.
The drive to target only profitable sales will ultimately give profit margins a lift. On its conference call, management said it would close deals that had low or no margin:
" you will see us continually evaluating our existing business and moving away from unprofitable revenue. Consistent with this approach, last quarter we noted we were discontinuing our linear and over-the-top consumer video products. This quarter, Sunit mentioned a couple of larger contracts we are exiting given the profitability profile of that business."
Source: SA Transcript
In the enterprise space, CenturyLink will continue supporting legacy businesses due to the profitability but it's evaluating its product portfolio. As customers go toward Hybrid IT and Hybrid Networking, the company must keep its network solution flexible so that it may address their needs.
5G is another area of explosive growth for Century Link. On its conference call, management gave few mentions of the technology. It did note that its investments in fiber will take advantage of IoT's revolution in the years ahead. 5G small cells will be more than capable of supporting this. For now, the growth in bandwidth demand, due to people consuming more entertainment on mobile, will support its quarterly performance. Enterprise demand for such bandwidth will drive demand for hybrid network and SD-WAN.
Valuation
Per Tipranks, the average price-target is $23.67, implying upside of 11.65 percent on CTL stock. Last week, Oppenheimer set a $24 price-target and a "buy" rating. Conversely, an analyst at Cowen & Co. rated the stock as a "hold" and set a $20 target. Based on expected revenue growth, a DCF model would imply a fair value of between $23 - $29 on CTL stock.
Your Takeaway
CenturyLink is strategically positioned to benefit from the uptick in IoT and the continued demand for bandwidth. The need for higher bandwidth will only increase over time, setting the stage for accelerated growth for the company. Despite the stock's steady rise this year, CenturyLink's generous 10 percent dividend yield will give support for its shares. Income investors, who are used to buying Verizon or AT&T, should take another look at CenturyLink.
Please [+]Follow me for value stocks on sale. Click on the "follow" button beside my avatar. Get 15+ top pick ideas from the do-it-yourself investing service. Watch in real-time as the portfolio shifts from technology and biotech holdings to dividend-growth investing (DGI) ideas like CenturyLink.
…
Disclosure: I/we have no positions in any stocks mentioned, and no plans to initiate any positions within the next 72 hours. I wrote this article myself, and it expresses my own opinions. I am not receiving compensation for it (other than from Seeking Alpha). I have no business relationship with any company whose stock is mentioned in this article.