Investment Thesis
Investing for Immediate income outperforms more conservative established investment within a 35 to 38-year time frame - longer than most find themselves actively investing or retired. I recast my projects and fine-tuned the process due to concerns about the previously included ETF.
A Simple Definition
Due to previous confusion, whenever I write concerning immediate income investing, I feel it is necessary to define what I'm speaking of when doing so. I define immediate income investing as: Investing with a taxable account seeking immediate high return via dividends.
Due to this focus, I am not concerned with total return or overly focused on capital appreciation. I am a long-term buy and hold investor who is willing to sell if necessary. I often explain you can milk your cows or slaughter them to unlock value - I'd rather milk them.
Three S&P 500 Representative Stocks - AKA "Safe Dividends"
For the three representative stocks, I used: Coca-Cola (KO), Procter & Gamble (PG), and Emerson Electric (EMR). Together, these three stocks have an average yield of 3.1% and a 3-year average dividend growth rate of 4.11%.
Sure Dividends - Dividend Kings
For this comparison redo, I decided against using a singular ETF like the ProShares S&P 500 Dividend Aristocrats ETF (NOBL) due to its history of cutting the dividend - meaning it itself failed the Aristocrat test. To replace it, I used the Dividend Kings listing from Sure Dividends. This listing was taken from their site on 9/29/18. The yield and growth average numbers are taken from Seeking Alpha.
| | | |
| --- | --- | --- |
| Ticker/Stock | Dividend Yield | 3 yr avg Growth |
| ABM Industries Incorporated (ABM) | 2.02 | 2.85 |
| American States Water Company (AWR) | 1.79 | 6.15 |
| Cincinnati Financial Corporation (CINF) | 2.7 | 4.67 |
| Colgate-Palmolive Company (CL) | 2.5 | 3.84 |
| California Water Service Group (CWT) | 1.76 | 3.47 |
| Dover Corporation (DOV) | 2.17 | 5.5 |
| Emerson Electric Company | 2.5 | 3.03 |
| Farmers & Merchants Bancorp (OTCQX:FMCB) | 1.9 | 2.18 |
| Federal Realty Investment Trust (FRT) | 3.15 | 6.27 |
| Genuine Parts Company (GPC) | 2.83 | 5.49 |
| Hormel Foods Corporation (HRL) | 1.88 | 19.35 |
| Illinois Tool Works Inc (ITW) | 2.76 | 16.47 |
| Johnson & Johnson (JNJ) | 2.58 | 6.35 |
| Coca-Cola Company | 3.38 | 6.65 |
| Lancaster Colony Corporation (LANC) | 1.5 | 9.71 |
| Lowe's Companies Inc. (LOW) | 1.69 | 22.84 |
| 3M Company (MMM) | 2.6 | 11.18 |
| Nordson Corporation (NDSN) | 0.97 | 12.53 |
| Northwest Natural Gas Company (NWN) | 2.76 | 0.67 |
| Procter & Gamble | 3.43 | 2.64 |
| Parker-Hannifin Corporation (PH) | 1.6 | 8.45 |
| Stepan Company (SCL) | 1 | 6.78 |
| Stanley Black & Decker Inc (SWK) | 1.78 | 5.86 |
| Tootsie Roll Industries Inc (TR) | 1.2 | 17.9 |
| Vectren Corporation (VVC) | 2.5 | 5.41 |
As a whole, this group has an average yield of 2.198% and an average 3-year dividend growth rate of 7.85%. Dividend Kings must have 50 years or more of dividend growth, providing a time-tested reliability for dividend growth investors.
For immediate income stocks, I divided my top 10 current choices between "Safer" and "Riskier" options. Personally, I would buy any of these choices and hold the majority of them already, but some have a higher perceived risk and that's why I decided to split them apart to allow investors to see how either group would perform.
"Riskier" Immediate Income Stocks
This group of stocks is made of 5 securities believed to be riskier - thus often avoided or relegated to small portions of a portfolio. These securities are:
InfraCap MLP ETF (AMZA) is the first choice here and pays a monthly dividend that yields 16.81%. I've written in depth about AMZA here and discussed its risk/reward value.
Oxford Lane Capital (OXLC) is the second security included in this group, it is a closed-end investment management company that purchases collateralized loan obligations, CLO. It yields 15%. I've dug into it deeper here and explained what a CLO is.
Eagle Point Credit Company (ECC) yields 13.32% and is the sister company of OXLC, it invests in CLOs also. ECC is actually less risky than OXLC and thus yields less. Further reading is available here.
Uniti Group (UNIT) offers investors a 12.37% yield. Recently, it was yielding much higher after its largest revenue source Windstream (WIN) entered into a protracted legal dispute. UNIT has a soundly covered dividend and is an often written about stock, further reading can be found here.
Last but not least for the "riskier" stocks is Capital Product Partners (CPLP). Normally, this shipping stock offers around a 10% yield but currently sports an 11.26% yield. A well-articulated article can be read here regarding their dividend.
These 5 securities average a yield of 13.37% - for the purposes of this comparison, we will assume no dividend/distribution growth.
"Safer" Immediate Income Stocks
For this group, CPLP is also included again.
The second stock is CONSOL Coal Resources (CCR), it yields 11.26%. CCR is a pure play coal MLP that has a solidly covered yield and is thinly traded - read more here.
Alliance Resource Partners (ARLP) provides a 10.48% yield - which is growing and covered. They are also primarily a coal play, but management is wisely allocating its funds to reduce debt and grow its covered distribution.
Sachem Capital (SACH) is a hard money lender who specializes in short-term asset-based loans. Their dividend is set to grow since they are a REIT and has out-earned its required payout. SACH offers a 10.38% yield. Further reading available here.
KNOT Offshore Partners (KNOP) operates specialized tanker vessels under long-term contracts. KNOP's revenue is secured by these contracts and its dividend is covered and unexpected to grow. KNOP offers a yield of 9.27. Further reading is available here.
These 5 securities average a yield of 10.58% - for purposes of this comparison, we will assume no dividend/distribution growth even though some of these stocks are set to do so.
Growing Immediate Income Stocks
This final group is a new addition also. It is a portfolio of four high-yielding stocks with growing distributions all of them are MLPs
| | | |
| --- | --- | --- |
| Ticker | Dividend Yield | 3-yr avg Growth |
| USA Compression Partners, LP (USAC) | 12.6 | 2.07 |
| Sprague Resources LP (SRLP) | 10.02 | 15.32 |
| PBF Logistics LP (PBFX) | 9.15 | 5.03 |
| Sunoco LP (SUN) | 11.85 | 17.17 |
These 4 stocks have a yield of 10.09% and an average 3-year dividend growth rate of 9.9%.
The Comparison Test
For this test, I gave my sample investors $10,000 and 50 years. I calculated the total income received. This is the amount of funds they received from their bundle of stocks and factored in the growth of the dividend also.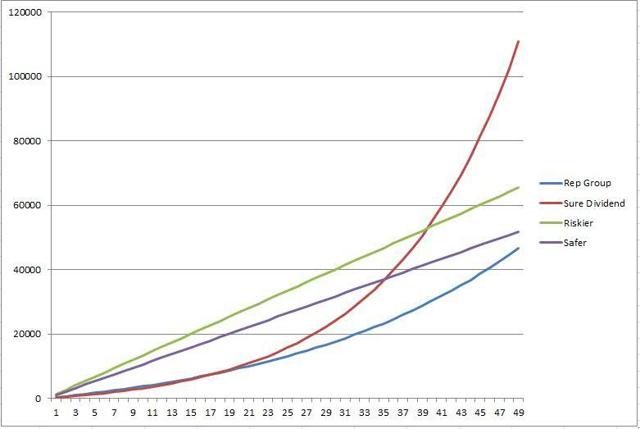 Source: Author's Calculations
The results are telling. The Dividend Kings eventually outperform all the other groups (note: I did not include the Growing Immediate Income stocks, more on this below). It took 39 years before the total income received from the King's overcame the Riskier group and only 35 years for it to overcome the safer group of immediate income stocks. Where are the growing stocks? Look here: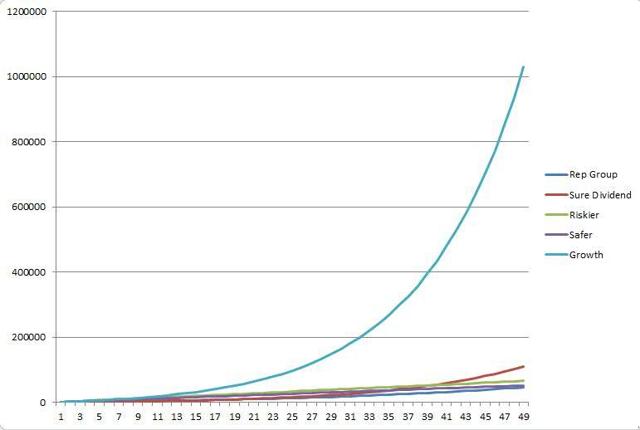 Source: Author's Calculations
The growing immediate income stocks vastly outperforms the other groupings. This is why I broke it out into its own graph. The growing immediate income stocks are a mix of both worlds - high yields and growing distributions.
Risks Involved
Investors should always do their due diligence, this process of projecting 50 years into the future has its limitations. At any time, one or more of these securities may cut their dividends. The Dividend Kings are less likely to do so but the risk remains.
This process assumes that these bundle of companies will continue to increase their respective dividends or distributions are a steady rate. This would be easier for lower-yielding stocks vs. high yielding ones.
This process also assumes absolutely no dividend or distribution reinvestment whatsoever.
Investor Takeaway
This process allows us to review different investment ideas in a contained environment. But it has its limitations, since it cannot accurately predict market-driven events, mergers etc. Immediate income stocks continued to show that within 35-39 years, they outperform more conservative investments for dividends.
Immediate income investing is a valuable style that should not be ignored or avoided.
Disclosure: I am/we are long SRLP, UNIT, ECC, OXLC, AMZA, CPLP, KNOP, SACH, PBFX.
I wrote this article myself, and it expresses my own opinions. I am not receiving compensation for it (other than from Seeking Alpha). I have no business relationship with any company whose stock is mentioned in this article.
Editor's Note: This article covers one or more microcap stocks. Please be aware of the risks associated with these stocks.