Commentary
Stepping outside the capital appreciation box is hard to do, but necessary for any sense of purpose in creating income when using RIC (registered investment company) investments. The mindset determination to switch from price watching to income certainty makes all the difference in becoming a successful income investor. It's not easy and takes time, but sooner or later, the reality of chasing income will overtake the exhilaration of chasing price. Few people are in this camp, but the ones I have seen in the SA community are successful. The few high-yield investors that publish articles continue to absorb the negative backlash that is overwhelming at times, but truth and knowledge are our shields to deflect the arrows of disbelief; Joe HYI.
Introduction
Three quarters of the year are now in the books, and the market has recovered from the first quarter correction. Despite political and trade turmoil, the market keeps trudging along. I continue to make changes to my portfolio in the pursuit of sustainable dividends.
Price is the most misunderstood aspect to high-yield RIC investments. Price growth by itself may not occur, but high income reinvested provides the growth. I will explain my ideas and concept of price when investing in high-yield assets. My strategy is to focus on the tangible cash dividend and not the paper volatility of price. Three aspects of price are located in sections;
Selling Stock Defeats Intent
A Bird (Income) In Hand…
Price is fluid, Value is purpose
Presented are three charts from POT5.n (Portfolio Online Tracker) that shows a number of charts/metrics of my current holdings. I use the quote tracker every day to evaluate current market conditions along with its built-in technical analysis calculations. Three charts for dividends and price are located in sections;
YTD (year-to-date) price gain/loss
Dividend increase/decrease for the year
Stock price value is plotted between their 52 week high and low
The 9-month 2018 performance of the 50/50 (50% BDC, 50% mREIT) portfolio continues to grow the income stream; see Chart 4. The portfolio balance has continued to accelerate since the February 2018 correction along with the market. Staying true to the high-yield concept continues to pay off in accelerating income cash flow.
In the final section of this article, I provide a list of my current holdings; see Table-1. Please note links to stock symbols are included in the table. With 3 months left to the year, I will have completed my first full year in retirement. The focus this year has been to replace underperforming and merged stocks with ones I believe will at least maintain their current dividends. Changes to investments are listed under the table.
Background
I retired at my FRA (full retirement age), and this is my first full year in retirement. I'm taking distributions and reinvesting surplus dividends back into the IRA portfolio. This high-yield portfolio method was built at the beginning of 2014 with the intent of generating high income during the distribution (retirement) phase.
Six years before retirement, I went through the numbers for my current expenses, and using my starting IRA balance determined, I needed a 10% yield. With high yield and compound growth in a short period of time (4 years), I had the ability to enter retirement as planned. The method I have chosen uses high yield BDCs (business development companies) and mREITs (mortgage real estate investment trust) to withstand either a Bull or Bear market based on previous studies.
I built a performance tracking chart introduced in a previous article that will not only document the past 5 years but record the next 5 years. The parameters are taken directly from my brokerage account that keeps track of stock holdings, distributions, and cash. The linked article will establish a reference point for my 50/50 (BDC, mREIT) investment method beginning 2014 and going to 2023; total of 10 years. It will update the performance article on a yearly basis beginning January 2019 (five year anniversary).
As of September 28, 2018, the YAM (yield at market) was 9.86%. The price of some stocks in the portfolio has moved up from June 2018 when the YAM was 10%.
Selling Stock Defeats Intent
I have been asked this question many times; "How do I know when to sell a stock?" For a little background, I have owned stock in the past that doubled. At the time, it was a good company, and I expected the stock to increase in price. Then, the price started to decline, and I kept holding expecting things to turn around, but finally sold at a loss.
This is the untold "illusion of confusion" (Should I buy? Should I sell?) I keep talking about watching price and hoping for continued capital gain. You need to watch price like a hawk and act fast before others, it becomes a match between you and professional traders. My trading experience was back in 2000 before the tech-wreck, and everyone was a genius back then no matter what you purchased it went up in price. Needless to say I'm not in the price speculation camp any longer.
Now, in retirement, as a "high-yield" investor, I understand price is the least understood aspect of the market. Price does not have to be logical, and most of the time, it's irrational. We think in rational terms when we make a decision to purchase an investment, but the market does not care. I have come to the conclusion price of a stock is not a key metric to watch after purchase. At times, price will become irrational not to be taken seriously until you want to initiate a purchase. At that point, it becomes the cost of an item to create future value (income).
So, to answer the question, "How do I know when to sell a stock?", I don't sell as long as the original intent of the purchase remains intact. I buy, hold, and collect the dividends generated by the investment without the added stress of watching price. I have total control of the income created and not the illusion of price. Dividends are tangible cash hitting my account and not the paper gain/loss of price.
A Bird (Income) In Hand…
With price out of the way, fear and greed are removed from my investment planning process. The only thing left is the tangible income received from capital invested. The following picture depicts how I invest for income and not the perceived capital appreciation so many people worship. It's not that hard, invest the capital and, with an open hand, receive the income.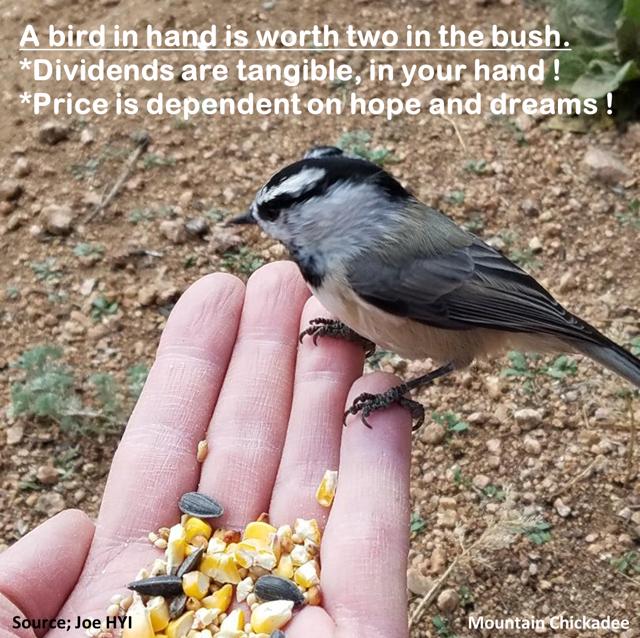 This pretty much sums up my investment style. I do not count on the imaginary two in the bush speculation, but the tangible value in hand. I have many little birds (figuratively speaking) added together to produce all the income I need on a yearly basis.
I have learned over the past few years dividends received are tangible, while price is controlled by a manic depressive market. The whole point to high-yield investing is the massive income that hits my account. I no longer think of price as anything meaningful except when making a purchase.
This simple philosophy gives me the upper hand in taking control of the market and not the other way around. Fear and Greed have no place in my investment strategy since I'm always buying not trading.
The only risk I take comes from income creation and sustainability, nothing else. How's that for a unique perspective just like when working for a paycheck? Cash is king before and after retirement without the misguided pretense played by the market.
Price is fluid, Value is purpose
This quote from Warren Buffett is well known;
Price is what you pay; value is what you get.
Think about this phrase for a second, sure price is what you're paying, but more importantly, value is what the investment produces every year.
Why invest in something if you do not receive anything in return? Are you going to purchase an investment on the illusion of price appreciation controlled by others? The purchase of an income producing asset is a single event, but future value (income) is the continual purpose for the acquisition; year after year.
The value of an asset is the productivity of that asset. Warren Buffett understood this principle explained in his farm example. Back in February 2014, Warren Buffett wrote an article for Fortune titled "What you can learn from my real estate investments". The article revealed the importance in trying to value an investment before purchase. Warren Buffett bought a 400 acre farm and proceeded to estimate the property as an income producing asset.
It cost me $280,000, considerably less than what a failed bank had lent against the farm a few years earlier. I knew nothing about operating a farm. But I have a son who loves farming, and I learned from him both how many bushels of corn and soybeans the farm would produce and what the operating expenses would be. From these estimates, I calculated the normalized return from the farm to then be about 10%. I also thought it was likely that productivity would improve over time and that crop prices would move higher as well. Both expectations proved out.
For me, thinking of value is the future cash flow productivity of an asset and not the possibility of price appreciation. Warren Buffett still owns the farm despite the capital appreciation of the land. The productivity of the farm was his initial intent of the purchase and not the gains of the property. Warren Buffett is not a speculator of assets, but a buy-and-hold investor that collects the dividends from his companies to purchase additional assets. Bingo, we both have something in common that works!
I also prefer to be a value investor and not a speculator of asset price. Price appreciation is just icing on the cake, but its true value is creating income, year after year. Evaluating a high-yield asset generating 10% yield tells me value is being created, and the only aspect left to the investment will be earnings sustainability.
Portfolio Online Tracker - YTD
The following three charts contain the ability to display metric parameters after a quote update (POT5.n Excel application). I use the tracker every day to get a sense of market activity for all my holdings in one visual display.
Chart-1; YTD price gain/loss

Chart-1 displays the YTD stock price change from December 29, 2017, to September 28, 2018. It has been a rough year for the S&P 500 during the January - February correction, but managed to come back with 8.99% price gain YTD. For the most part, high yield stocks are above/below their starting price with some above the S&P gain.
This is the reason I do not depend on stock price once an investment is purchased. Some people worry if the price moves over net asset value by a lot and want to sell. They become traders and not true income investors. Once I have found a good stock with good management and shareholder-friendly, I hold on and collect the sustainable income no matter what price does.
Chart-2: Dividend increase/decrease for the year

This chart displays the dividend increase in 10 stocks and 1 decrease from the 50/50 portfolio. It has been my priority this year to select and retain investments with sustainable dividends. I do not include special dividends, but welcome the added kicker to the bottom line.
The only dividend decline is "BDCL", 2xLeveraged Long Exchange Trade Note. Included in the ETN index are many individual companies with poor results. This is the reason I try to select the best individual BDC companies and add them to the portfolio. Note: links to tickers are located in Table-1.
With "BDCL" dividend reduction of 22%, the impact to my total future income will be a decline of 0.58%. This is the reason I distribute the total income to 40 individual money machines. I know my biggest risk to income is the decline of an individual or multiple dividends. Spreading the risk over multiple income machines is prudent as an investment strategy.
This is one of the reasons I have built into my portfolio design a margin of safety limiting my distribution amount to 60% of my total dividend income. This gives me time to build up the dividend income with the remaining 40% reinvested back into the portfolio. Important note: always provide a backup plan to all financial stress conditions and mitigate as many negative what-if scenarios as possible.
Chart-3: Price value between their 52 week high and low

This chart displays the stock price between their 52 week high and 52 week low. The high yield investments have been in an uptrend along with the general market. Notice how many stocks are approaching their 52 week high (100%). I use this chart to indicate possible purchase near their 52 week low (-100%).
Price of everyone's portfolio seems great when your balance keeps rising but is detrimental in the accumulation phase. In my first half 2018 report, I demonstrate how being retired, and in the distribution phase, I continue to reinvest surplus dividends to provide future income growth.
9 Months 2018 Results; Stock Holdings Only
The performance chart displayed in Chart-4 illustrates three metrics. This one chart displays all I need to know on how my business is performing.
Note: the following data contains stock holdings only and does not include any distributions or surplus-cash from the IRA account.
Chart-4: Nine Month 2018 Performance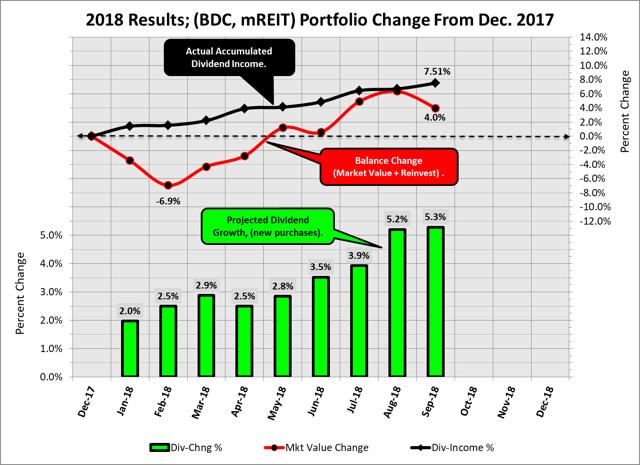 The first metric is total portfolio balance "red line" that indicates the decline in price for the first two months of 2018. Notice the February decline of almost 7% where I introduced my RIP method and purchased more income shares. In the accumulation phase, I want price to stay steady or decline to add more cost effective shares.
The portfolio balance is basically price of all my investments not in my control but controlled by the fear and greed of investors. The only control I have is reinvesting surplus dividends that grow the balance, but price is the over-controlling force to balance value. YTD, the balance is back to positive territory.
The second metric is the actual accumulated dividends "black line." My challenge is to obtain companies with sustainable dividends and grow my income during the year. The accumulated income will continue to increase for the remainder of the year and is unaffected by price.
The third metric displayed with "green bars" is the projected income growth. Every time I purchase shares, future income increases. The same holds true for dividend changes (increase or decrease) during the year. I went shopping in August and the reason for the large bump in projected future income.
Portfolio Table
The following tables list my current stock selections for the first 9 months of 2018. As I said previously, the BDC (Table-1) and mREIT (Table-2) portfolio is dynamically updated based on the ability of each investment management team navigating the changing economic environment. The end game is to find dependable income producers where dividend declines are held to a minimum.
Table-1: 9 months 2018

Type

Description

Symbol

Yield

%Inc.Alloc.

Weight

YTD DivChg

BDC

PennantPark Investment

(PNNT)

9.7%

0.9%

0.9%

0.0%

BDC

Goldman Sachs BDC Inc.

(GSBD)

8.1%

1.1%

1.4%

0.0%

BDC

TCG BDC Inc.

(CGBD)

8.9%

1.3%

1.5%

0.0%

BDC

MAIN Street Capital

(MAIN)

6.1%

1.6%

2.5%

2.6%

BDC

Golub Capital BDC Inc.

(GBDC)

6.8%

1.6%

2.3%

0.0%

BDC

PennantPark Floating Rate Capital

(PFLT)

8.7%

2.0%

2.3%

0.0%

BDC_ETN

2xLeveraged Long Exchange Trade

(BDCL)

14.7%

2.0%

1.4%

-22.4%

BDC

Gladstone Investment Corporation

(GAIN)

7.0%

2.0%

2.8%

3.1%

BDC

Solar Capital Ltd.

(SLRC)

7.7%

2.1%

2.7%

2.5%

BDC

Newtek Business Services Corp.

(NEWT)

8.6%

2.3%

2.6%

12.5%

BDC

TPG Specialty Lending Inc.

(TSLX)

7.7%

2.6%

3.3%

0.0%

BDC

Fidus Investment Corporation

(FDUS)

10.7%

2.6%

2.4%

0.0%

BDC

Monroe Capital Corporation

(MRCC)

10.3%

2.6%

2.4%

0.0%

BDC

Apollo Investment Corporation

(AINV)

11.0%

2.6%

2.3%

0.0%

BDC

New Mountain Finance Corporation

(NMFC)

10.1%

2.7%

2.6%

0.0%

BDC

TCP Capital Corp.

(TCPC)

10.1%

2.7%

2.7%

0.0%

BDC

Hercules Capital Inc.

(HTGC)

9.4%

3.1%

3.3%

0.0%

BDC

Stellus Capital Investment Corp.

(SCM)

10.0%

3.2%

3.2%

0.0%

BDC

Ares Capital Corporation

(ARCC)

9.1%

3.7%

4.1%

2.6%

BDC

TriplePoint Venture Growth BDC

(TPVG)

10.6%

4.5%

4.2%

0.0%

47.2%

50.8%

Table-2: 9 months 2018

Type

Description

Symbol

Yield

%Inc.Alloc.

Weight

YTD DivChg

mREIT

Ares Commercial Real Estate Corp.

(ACRE)

8.3%

0.4%

0.4%

7.4%

mREIT

TPG RE Finance Trust

(TRTX)

8.6%

0.5%

0.5%

13.2%

mREIT

Ladder Capital Corp Class A

(LADR)

7.7%

1.8%

2.3%

8.3%

mREIT

Starwood Property Trust Inc.

(STWD)

8.9%

1.9%

2.1%

0.0%

mREIT

Dynex Capital Inc.

(DX)

11.3%

2.5%

2.2%

0.0%

mREIT

PennyMac Mortgage Investment Trust

(PMT)

9.3%

2.6%

2.8%

0.0%

mREIT_CEF

PIMCO Dynamic Credit and Mort.

(PCI)

8.2%

2.6%

3.2%

0.0%

mREIT

Invesco Mortgage Capital Inc.

(IVR)

10.6%

2.7%

2.5%

2.4%

mREIT

Blackstone Mortgage Trust Inc.

(BXMT)

7.4%

2.7%

3.6%

0.0%

mREIT

MFA Financial Inc.

(MFA)

10.9%

2.7%

2.5%

0.0%

mREIT_CEF

Guggenheim Strategic Opportunities Fund

(GOF)

10.4%

2.8%

2.6%

0.0%

mREIT

Chimera Investment Corporation

(CIM)

11.0%

2.8%

2.5%

0.0%

mREIT

Two Harbors Investment Corp.

(TWO)

12.6%

3.0%

2.3%

0.0%

mREIT

AGNC Investment Corp.

(AGNC)

11.6%

3.1%

2.6%

0.0%

mREIT

Apollo Commercial Real Estate

(ARI)

9.8%

3.1%

3.2%

0.0%

mREIT

Annaly Capital Management Inc.

(NLY)

11.7%

3.2%

2.7%

0.0%

mREIT

Cherry Hill Mortgage Investment

(CHMI)

10.8%

3.3%

3.0%

0.0%

mREIT

AG Mortgage Investment Trust

(MITT)

11.0%

3.4%

3.1%

5.3%

mREIT

New Residential Investment Corp.

(NRZ)

11.2%

3.7%

3.3%

0.0%

mREIT_ETN

ETRACS Monthly Pay 2XLeveraged

(MORL)

21.0%

4.2%

2.0%

0.3%

52.8%

49.2%

Every $100,000 investment at 9.86% yield = $9,860 income at today's stock price.

This (BDC, mREIT) portfolio has been generating 10% yield since the beginning of 2014.
Each table is sorted by income allocation percentage; the "%Inc.Alloc." column. The goal for each of the 40 individual stocks is to generate 2.5% of the total income. Some are over-allocated where I do not add to that position but will add to stocks less than 2.5% when surplus dividends are available.
I have also identified dividend changes for each company (the last column). This year, my challenge is to find investments that will at least keep their dividends steady. I do not count special dividends toward the investment yield since they can be stopped at any time. To date, I have ten dividend increases and one decline.
The following list of stocks have semi-annual and supplemental dividends; MAIN, CGBD, GAIN, FDUS, GBDC, and TSLX not included in the tables.
Portfolio Changes
I was not expecting to sell any investments, but FSIC came out with unexpected performance results. The latest concern is credit issues with continued investments being marked down. Not sure if the dividend could be affected, but I'm not hanging around to find out. I sold all shares and am going to wait until FSIC can normalize their performance.
With the proceeds, I completed a full position in both GOF and TWO. I also started a small position in PNNT that currently has about 13% of its investments in energy. I believe the oil industry is turning around. The company is also repurchasing shares since the stock is trading at greater than 15% discount to its NAV. None of their loans is in non-accrual as of June 2018.
As of the first nine months of 2018, my turnover rate is under 18%. With careful selection in future years, I believe I can get this down to 5% per year.
Conclusion
For the first 9 months of 2018, my accumulated total income is 7.5% greater than last year. With reinvesting surplus dividends, the future growth is 5.3% YTD. The balance of the portfolio will constantly change depending on market perception, but the underlining fact is steady and climbing dividends. This is the main reason to generate enough income for expenses and not be forced to sell shares in a volatile market. Chart-4 demonstrates this fact.
When investing in high yield, you get a substantial amount of return from your investment. The payback is usually less than 10 years. The point I'm trying to make is the reason for being in the high yield space to begin with; receiving value (income) upfront instead of the imaginary hope and dreams of future price gain that may not materialize. The bird in hand method is a tangible event that has been working over the past 5 years.
Disclaimer: I am not a financial adviser, but an independent investor. Please note the stocks included in the 50/50 portfolio are not recommendations. They were personally selected by the author and contain a great deal of investment risk. The stocks in the portfolio are BDCs and mREITs. Both investment vehicles are " Regulated Investment Companies" and required to distribute at least 90 percent of their earnings as dividends to investors.
This is a live active IRA portfolio that I believe will withstand the markets' bull or bear cycles based on my own research. The progress will be updated and tracked for feasibility of this investment method over the years. The article titled 50/50 Portfolio (BDCs And mREITs) Baseline 2014 details how the portfolio was constructed. It must be noted that investment selections are dynamic and based on management's ability to navigate economic conditions. I have made changes during the years as any portfolio manager is expected to perform.
Disclosure: I am/we are long ALL STOCKS IN TABLE-1.
I wrote this article myself, and it expresses my own opinions. I am not receiving compensation for it (other than from Seeking Alpha). I have no business relationship with any company whose stock is mentioned in this article.