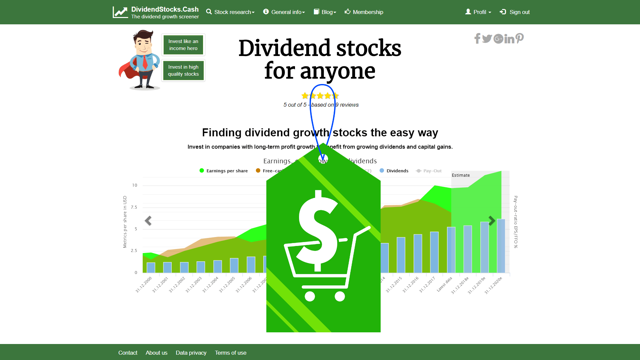 Welcome to the September edition of "U.S. Dividend Stocks On Discount". Each month, I create a list of U.S. dividend stocks with more than 5% discount in the last month. The purpose is to identify potential bargains for dividend investors.
Though, we need to be careful! As you surely know, a dropping stock price typically means one of two things: either it is an opportunity to get more bang for your buck, or it is a warning sign that the company is facing serious headwinds and future dividends may be in trouble.
To assist you in evaluating the situation, I look at the 3 dividend stocks with the highest discounts. The objective is to give an overview of the company's current situation by checking the most essential aspects. Namely:
checking the long-term profit-growth based on earnings and cash flows.
checking if dividends are secure by looking at cash-flows, and if necessary debts and assets as well.
checking the current valuation using a dividend focused perspective by comparing current to historic dividend yield.
This is done by what I call the relative dividend yield, which is based on the logic of the implied volatility rank used in option trading. In short, the relative dividend yield examines the current dividend yield in relation to its historical context. The metric's value ranges from 0 to 100. 100 means the current dividend yield is on all-time-high. If the current dividend yield is on all-time-low the relative dividend yield is 0.
checking the current valuation by calculating fair values based on historic multiples of metrics like earnings per share (FV PE), operating cash-flows per share (FV OCF) or fund from operations per share in the case of REITs.
Please do not expect multiple in-depth analysis in this one article. Instead, I present to you what I think to be the most essential aspects to give you a solid idea if it's worth digging deeper.
The list of dividend discount stocks considers more than 300 of the most popular dividend stocks in the U.S. To ensure a minimum quality and attractiveness of all stocks, each stock needs to match the following criteria:
Dividend increase of at least 5 years in a row (dividend contender)
Current dividend yield of at least 2%
Market capitalization of at least 1 billion USD
Before we start, let's look back at what happened to the stocks on discount in the previous edition of August, with the S&P 500 remaining unchanged.
| Symbol | Company | Price Change % | Yield % | Relative Dividend Yield | Years Of Dividend Increase |
| --- | --- | --- | --- | --- | --- |
| SO | The Southern Company | -0.4 | 5.4 | 57 | 17 |
| CVX | Chevron Corp | 3.2 | 3.6 | 33 | 30 |
| PM | Philip Morris International | 4.7 | 5.4 | 63 | 9 |
| PDCO | Patterson Companies | 8.4 | 4.3 | 84 | 8 |
| UVV | Universal Corporation | 8.7 | 3.7 | 24 | 47 |
September price changes of the stocks in the August edition of US Dividend Stocks On Discount.
The average capital gain of all 5 stocks in September was 4.9%, and all stocks except SO achieved capital gains. Additionally, PM paid dividends with ex- date on the 25th of September. Regarding the future of PM I published an article on SA here.
New Dividend Stocks On Discount
The table below contains the U.S. dividend stocks with discounts of more than 5% in September:
| Symbol | Company | Discount % | Yield % | Relative Dividend Yield | Years Of Dividend Increase |
| --- | --- | --- | --- | --- | --- |
| KLAC | Kla-Tencor Corporation | -12.4 | 2.6 | 49 | 7 |
| WFC | Wells Fargo | -10.1 | 3 | 42 | 7 |
| DLR | Digital Realty Trust | -9.5 | 3.5 | 10 | 13 |
| TMP | Tompkins Financial | -7.6 | 2.4 | 21 | 31 |
| FLO | Flowers Foods | -7.4 | 3.8 | 78 | 15 |
| MCY | Mercury General | -6.9 | 5 | 20 | 31 |
| PII | Polaris Industries | -6.9 | 2.4 | 12 | 21 |
| ADI | Analog Devices Inc | -6.6 | 2.1 | 9 | 13 |
| GIS | General Mills | -6.6 | 4.6 | 91 | 14 |
| MXIM | Maxim Integrated Products | -6.4 | 2.9 | 19 | 7 |
| WSM | Williams-Sonoma | -6.4 | 2.5 | 17 | 8 |
| OZK | Bank of the Ozarks | -6.3 | 2 | 38 | 19 |
| TROW | T. Rowe Price Group | -5.8 | 2.5 | 35 | 32 |
| UPS | United Parcel Service | -5.3 | 3.1 | 35 | 8 |
| PSA | Public Storage | -5.1 | 4 | 42 | 8 |
| LTC | LTC Properties | -5.0 | 5.2 | 18 | 8 |
US dividend stocks with discounts in September 2018
This list is quite long – at least much longer than I expected with the S&P 500 remaining unchanged. At the end of the article you will find two more lists containing these dividend stocks to help you pick the most interesting ones.
Kla-Tencor (KLAC)
KLAC is a high science tech company. Its mission is helping "manufacturers in the semiconductor and related nanoelectronics industries accelerate time-to-market for innovative electronic devices. These defect inspection, metrology, and data analytics solutions are designed to help fabs achieve more." If you want to get a better idea of what this means. I recommend visiting their website.
In the current year, KLAC's stock price is constantly moving up and down.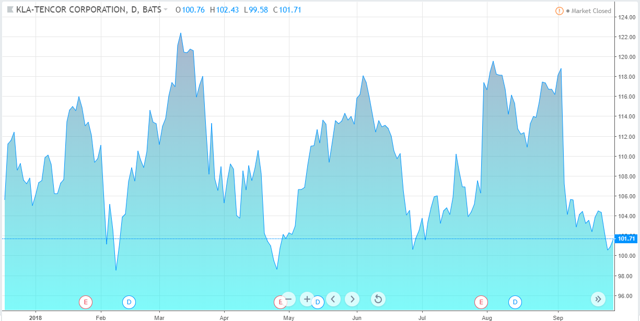 KLAC: Current year's stock performance goes up and down
Yet the chart of the last 10 years shows lucrative capital gains with a stock price climbing from below 20 USD during the last recession, to more than 100 USD today.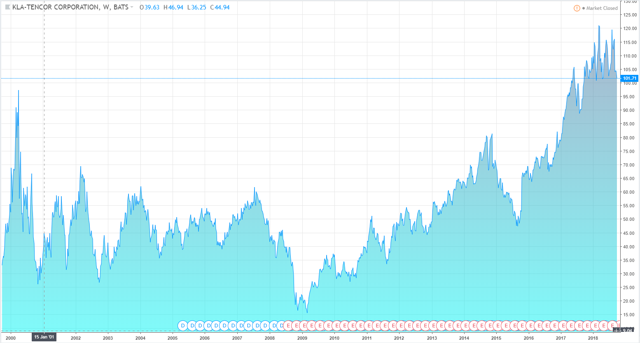 KLAC: Profit-growth since 2009 leads to capital gains
In the long-run, stock price and profit-growth correlate. Accordingly, KLAC's stock price reflects its long-term profit-growth including setbacks in 2009 and around 2015.

KLAC: Long-term profit- and dividend-growth
The company started paying dividends in 2005, increasing them every year since the Financial Crisis with a yearly average of 10% within the last 5 years. The current dividend yield is 2.6% and dividends are nicely covered by the free-cash-flow with a modest pay-out-ratio of 36.3%.
The Relative Dividend Yield is 49 out of 100 points. This means the current dividend yield of 2.6% represents the historic average. At the end of the current business year in June, projected dividend increases should raise the dividend yield to 2.9%.

KLAC: Relative Dividend Yield is 49 out of 100 points
Regarding fair value calculation, the historic fair value based on operating cash-flow (FV OCF) seems to be the appropriate choice because it closely correlates with the historic stock price. Today's FV OCF indicates slightly over-valuation with 96 USD compared to a stock price of 102 USD. Yet, at the end of the current business year in June 2019, the operating cash-flow is expected to increase from 7.82 USD to 9.55 USD per share. As a result, the FV OCF also increases from 96 USD to 115 USD.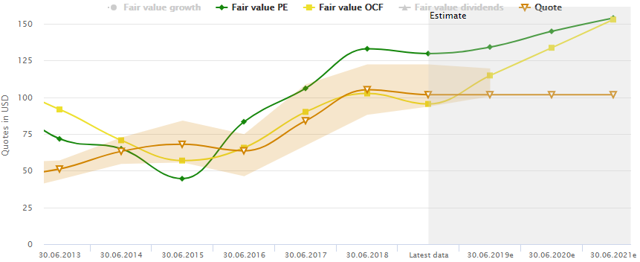 KLAC: Historic, current and future fair values based on earnings and operating cash-flows
Overall, KLAC seems to be a solid dividend payer with the necessary long-term profit-growth to please investors. If you want to learn more details about the company and its competition in the semiconductor industry, I recommend the articles on SA from Robert Castellano.
Wells Fargo (WFC)
WFC is known by both western lovers and investors around the world. In September, the stock lost 10.1%. Nothing new for investors of WFC, because the bank was haunted by a several scandals in the last years – severe penalty payments included.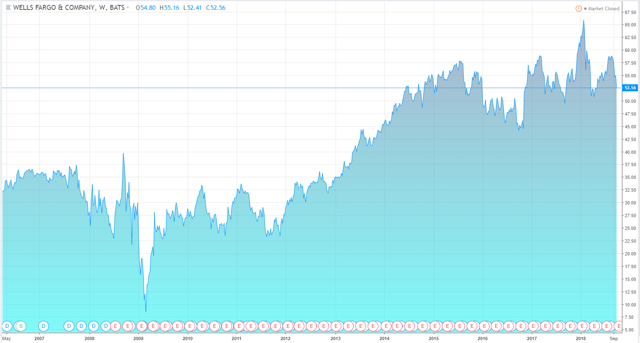 WFC: Since the outbreak of diverse scandals in 2015, the stock's price lacks momentum
The (very) long-term profit-growth profile shows that WFC was a very solid investment until the outbreak of the financial crisis when its earnings sharply declined, and dividends were cut. It seems that the impressive recovery of earnings afterwards came along with heavy sales pressure on WFC's employees. This probably favored misbehavior and was – at least partly – responsible for the scandals, bringing the recovery to a halt. Analyst estimates are remarkably optimistic and should be taken with a grain of salt.

WCF: A long period of solid growth overshadowed by the impacts of the financial crisis and most recent scandals
The Relative Dividend Yield of 42 indicates the dividend yield to be close to the historical mean.

WCF: Relative Dividend Yield is 42 out of 100 points
Dividend growth in the last three years was very low, with dividends increasing from 1.48 USD in 2015 to 1.52 USD in 2016 and 1.54 USD in 2017. Similar to estimated earnings, the estimated dividend increase to 1.64 USD in 2018 and 1.83 USD one year later shouldn't be taken for granted.
According to Fair Value PE of the last twelve trailing months, the stock is slightly over-valued with a fair value of 48 USD versus a stock price of 52.57 USD. Again, any forward-looking statement should be handled with caution.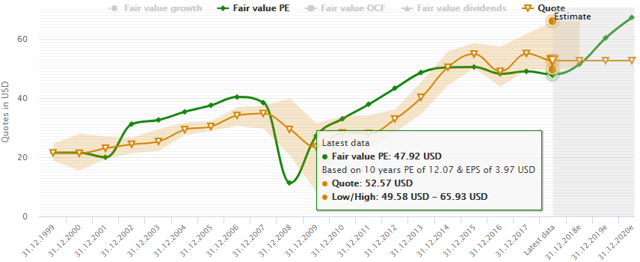 WCF: Historic, current and future fair values based on earnings
Today, WCF is a dividend stock to be observed closely before and after investing. Both risk and reward potentials are rather high. Fortunately, the stock is well covered on SA.
Digital Reality Trust (DLR)
DLR's is a REIT. But unlike many other REITs, it's not engaged in the challenging brick and mortar retail business. Instead, DLR is hosting data centers to meet the ever-increasing demand for digital information. Although the business seems future-proof, the stock price declined by 9.5% in September. A chance to buy the dip?
Since DLR started paying dividends in 2004, its long-term profit-growth is without any flaws. Funds from operations increased by an average of 7.2% within the last 5 years, easily supporting the dividend growth of 5.2% for the same period.

DLR: Steadily growing funds from operations
Though the recent drop in stock price, DLR's dividend yield of 3.5% is rather low compared to most other REITs. In the past, the dividend yield oscillated between 5% and 8%. Accordingly, today's Relative Dividend Yields of 10 points is very low.

DLR: Relative Dividend Yield is only 10 out of 100 points
The modest dividend yield is the result of the stock's strong performance starting in 2016. Despite the latest decline, the stock's valuation based on FFO seems to be ambitious. On the one hand, the business looks future-proof, on the other hand latest FFO growth-rates of moderate 7.2% make it hard to justify the current stock price.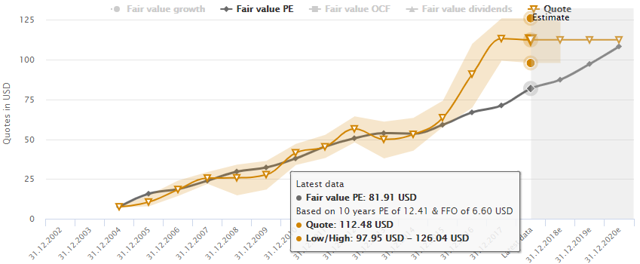 DLC: Historic, current and future fair values based on funds from operations
DLC owns a solid growth business. Anyway, you may consider waiting for the stock price to further approach its fair valuation. Find more about the stock on SA here.
Final overview
The table below shows all stocks with more than 5% discount in September, including some more dividend related data.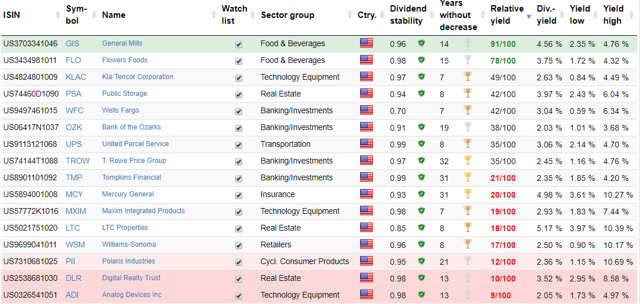 Overview of the Relative Dividend Yield including some additional dividend related data
Dividend Payment Months
The screenshot below is taken from the Dividend Calendar. It shows in which month you need to own which stock to claim dividends based on the ex-date (bell symbol) and when dividends get paid based on the payment date (dollar symbol):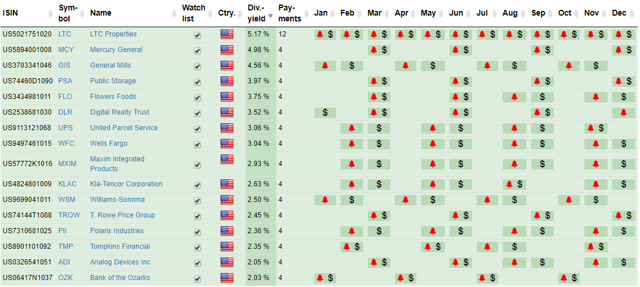 Dividend ex-dates and payment months
Conclusion
I presented a list of U.S. dividend stocks with highest "discounts" in September and tried to introduce the "top 3" stocks to give you an idea if they are worth any further analysis. What do you think? Did you find a stock of interest? Did you even take the chance to "buy the dip"?
Disclosure: I am/we are long PM. I wrote this article myself, and it expresses my own opinions. I am not receiving compensation for it (other than from Seeking Alpha). I have no business relationship with any company whose stock is mentioned in this article.