On Wednesday, September 26, 2018, the U.S. Federal Reserve announced that it would no longer signal its intentions for monetary policy.
Federal Reserve Chairman Jerome Powell has a new message for financial markets: watch the data on jobs, wages and inflation for signals on monetary policy - not the U.S. central bank's words or forecasts.

That's a big change for the Fed, which for most of the past decade has done what it could to steer markets on its policy intentions as it nursed a fragile economy to recovery after the financial crisis.
It is also a very big deal. Over the last decade, the Fed has been using forward guidance as one of the principal tools in its arsenal to influence markets, where we've documented its impact upon U.S. stock prices, where we've been able to use the Fed's statements to help identify how far forward in time investors are looking, and where its guidance has had a profound impact on both the level of stock prices and their direction.
So much so that we've used the Fed's statements to calibrate our dividend futures-based model of how stock prices work. The Fed's most recent meeting provided the latest opportunity to check that calibration, where we can confirm that investors are currently predominantly focused on the expectations associated with 2019-Q1 in setting current-day stock prices.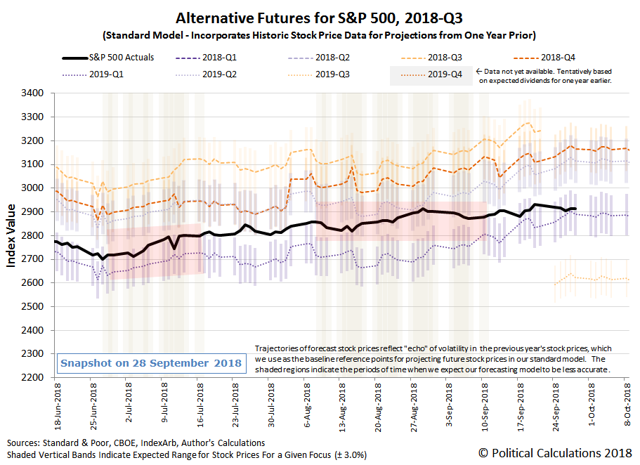 For his part, the new Fed Chair, Jerome Powell, had the following to say at the Fed's post-interest rate hike announcement press event.
Noting the U.S. economy is having a "particularly bright moment," with unemployment expected to remain low, inflation stable, and no recession in sight, Powell said in a press conference on Wednesday that the removal of the "accommodative" wording was not a policy signal at all.

"The question we are answering is, how do we provide the economy just the right amount of support - not too much, not too little - to sustain the recovery and achieve our statutory goals" of full employment and 2 percent inflation, Powell said.

"We don't want to suggest either that we have this precise understanding of where accommodative stops or suggest that's a really important point in our thinking. What we're going to be doing... is carefully monitoring incoming data."
In the absence of the Fed's policy of forward guidance, investors will likewise have to monitor incoming data and news, such as the headlines that we made special note of during the fifth and final week of September 2018.
Monday, September 24, 2018
Tuesday, September 25, 2018
Wednesday, September 26, 2018
Thursday, September 27, 2018
Friday, September 28, 2018
For more of the week's other economics and market-related news, be sure to check out Barry Ritholtz's succinct summary of the week's positives and negatives.