Project $1M is the concentrated portfolio that I am running with the aim of growing a ~$275k base into $1M over a 10 year period.
My broader investment focus with Project $1M is the purchase and long term hold of a clutch of high growth, cash generating businesses that are powered by secular tailwinds. The advantage of these secular tailwinds should be to allow the selected businesses to grow under any economic conditions that may be experienced over the life of the Project $1M portfolio (a decade or more).
Markets may move the prices of Project $1M businesses around, here and there, depending on sentiment, however I am focused on the long term returns on invested capital that my businesses can generate and the opportunity to deploy that invested capital at high rates of return over a long term horizon. For those that are new to the Project, here are Part 1, Part 2 and Part 3 of the initial investments in the portfolio.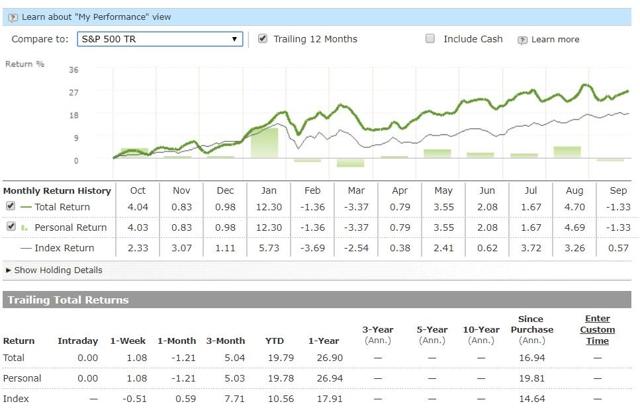 Project $1M clocked up a respectable 5.03% return over Q3 2018, underperforming the S&P500, which returned just under 8%. In spite of the poor relative quarterly performance, Project $1M has still comfortably outperformed the S&P 500 year to date, clocking up a pretty pleasing 19% return after the first 3 quarters of the year.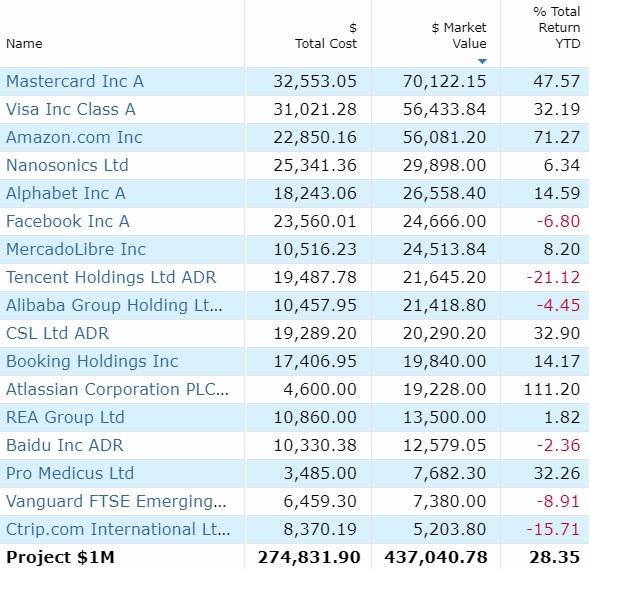 The single largest contributor to the poor Q3 performance was Tencent (OTCPK:TCEHY), with poor performances from Alibaba (BABA) and Facebook (FB) also playing a part. Tencent's share price has still not recovered from the poor quarterly result that was delivered in the most recent quarter. In spite of a healthy 39% increase in revenues, the company was aggressively sold off as results missed expectations and a slew off items have contributed to poor investor sentiment. Tencent is down close to 19% on the quarter, and was the most material detractor from Q3 performance.
Alibaba and Facebook also had a material negative impact on Q3 performance. While Alibaba reported generally good performance this quarter, the taint associated with the Trump tariffs has steadfastly remained with the company. I maintain my view that Alibaba should be viewed as a domestic China consumption story which is riding the twin secular trends of increasing per capita discretionary income in China as well as a shift to digital commerce.
Facebook has similarly been negatively impacted by a shift in investor sentiment. The stock is still reeling from comments that growth will slow over the next few years, which should be expected from a business that has already signed up over 2.2B users to its service. An equally large overhang on business performance is the new GDPR privacy regulations that have been enacted in Europe, which impact how a user's data can be monetized. While these are real issues, Facebook's valuation is now compelling, and at ~23x forward PE, the business now represents a slight premium to the market in terms of valuation, while offering substantially better growth prospects.
Tencent: WeChat is the hidden jewel here
Much has been made of the Chinese government's crackdown on Tencent's gaming franchise. Tencent has been unable to monetize newer gaming titles, and those that have been released have been very quickly pulled, such as Monster Hunter: World earlier this year. While it is possible that there may be a more concerted crackdown on violent gaming content a more reasonable explanation is that the change in regulatory agency has delayed approval of online gaming content in China. Thus I expect the earning impact to be largely a timing issue, which should start to reverse itself during 2019. Even if this the start of a more concerted regulatory intervention, the subsequent slow bleed of gaming developers may ultimately still benefit Tencent, as the amount of gaming content reaching the market slowly starts to dry up.
Much as Tencent's gaming franchise is the financial powerhouse of the company today, the crown jewel in the Tencent empire is really WeChat. WeChat has becoming the digital epicenter of life for millennials in mainland China. Everything from money management to payment to taxi booking can be done from the comfort of the WeChat app. The truly impressive thing about WeChat is that monetization of this property has barely scratched the surface. It can be expected that all manner of brands will be willing to pay handsomely for the chance to promote content to more than 1B users.
Tencent's stock price has languished due to concerns around gaming regulation and the rhetoric over the Trump tariffs. Both events have presented opportunities to acquire stock at very favorable prices, which I have recently chosen to do. I feel highly optimistic that my Tencent holding will be materially higher at Project $1M's conclusion.
Facebook: Negative news cycle obscures value
Facebook doesn't seem to be able to catch a break in the popular media today. Concerns from election manipulation, data privacy issues, monetization in Europe, to recent security issues affecting millions of accounts have all played havoc with the stock price over the last quarter. Facebook's business appears to clearly be slowing down. That said, it still expects to grow revenue north of 20% annually for the near to medium term. Facebook and Instagram have become an essential part of daily life for those users who engage with it. Monetization of the Facebook and Instagram properties is also in its infancy in international markets, where revenue per user lags well behind North America.
Much of Facebook's woe's are arguably priced into the company's stock price. This is a company that trades on a forward P/E multiple of 23x earnings, and offers the potential for greater than 20% EPS growth for at least the next few years.
Atlassian: Superb execution continues
On the positive side, my best performer by share price return over the last quarter was Atlassian (TEAM). The enterprise collaboration software maker delivered a 53% share price return over the last 3 months. Atlassian owns the market for R&D issue tracking and resolution with its Confluence and Jira products. The beauty of this software is that once it becomes embedded in a corporation, it typically spreads to other departments and becomes the tool for collaboration on all projects among all users. Atlassian saw revenue rise almost 40% in its latest quarterly filing as usage trended higher and penetration across enterprises increased. My only regret here is that I didn't acquire a larger weighting in this high quality business.
Concluding thoughts
Next month will mark Project $1M's 3 year anniversary since inception. I have clearly benefited from the trend toward high quality growth. With that said, the business performance and execution by the various company's in the portfolio has generally been very strong. While the portfolio underperformed over the last quarter, I remain optimistic that the laggards I've called out will turn around their performance at some stage over the remainder of the portfolio term.
In the near term, I expect that some of my stronger performers such as Amazon (AMZN), Visa (V) and Mastercard (MA) will pull back a little, and that I will not end the year materially higher than where the portfolio balance is today. However, I believe 2019 will continue to be a year of strong growth for Project $1M as the underlying businesses in the portfolio continue to advance and the secular forces driving the portfolio remain solidly in place. I believe a return of 10% in 2019 should be possible for the portfolio.
Disclosure: I am/we are long ALL STOCKS MENTIONED.
I wrote this article myself, and it expresses my own opinions. I am not receiving compensation for it (other than from Seeking Alpha). I have no business relationship with any company whose stock is mentioned in this article.
Editor's Note: This article discusses one or more securities that do not trade on a major U.S. exchange. Please be aware of the risks associated with these stocks.