AltaGas (OTCPK:ATGFF) has been a stock that we have been rather negative on. Don't believe us? Just look at our resume on the subject.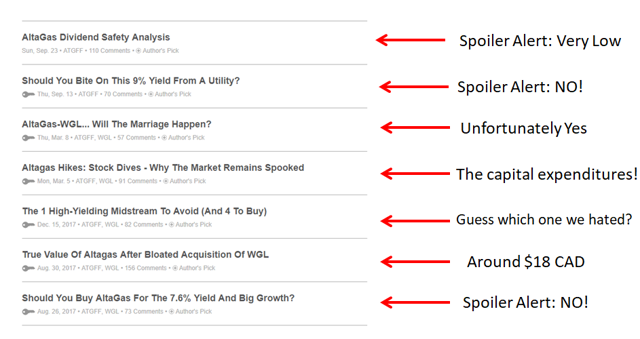 Source: Author's AltaGas article list
However, with the stock now on the verge of cracking $20, we are seeing enough pain here to ratchet our stance up to neutral. We explain why below and tell you what will make us bullish.
Two factors that have changed
The first is clearly the price. At $20.40, the stock trades at less than 7X our funds from operations (FFO) estimates. That is definitely a multiple that is discounting some risks. We have repeatedly warned though that the FFO itself ignores the giant utility capex and we have trouble reaching an adjusted FFO (AFFO) multiple for this stock. Yes, utility capex will be recovered but the sheer bulk of it means that AltaGas will have to continue selling assets or risk breaching the debt to EBITDA multiples in the next few years. Also, we doubt that AltaGas will recover the cost of equity that it wants. We can, however, discount these into the multiple.
There are few different ways to do this, but the most extreme way would be to assume that AltaGas will recover only the cost and no return on equity. AltaGas will, of course, get some ROE out of this, but we also believe that these rate hikes will be detrimental to AltaGas volumes down the line. So assuming a zero ROE adequately discounts both risks.
AltaGas will spend about $2.1 billion of utility non-expansionary capex over the next 3 years and that comes to $700 million a year.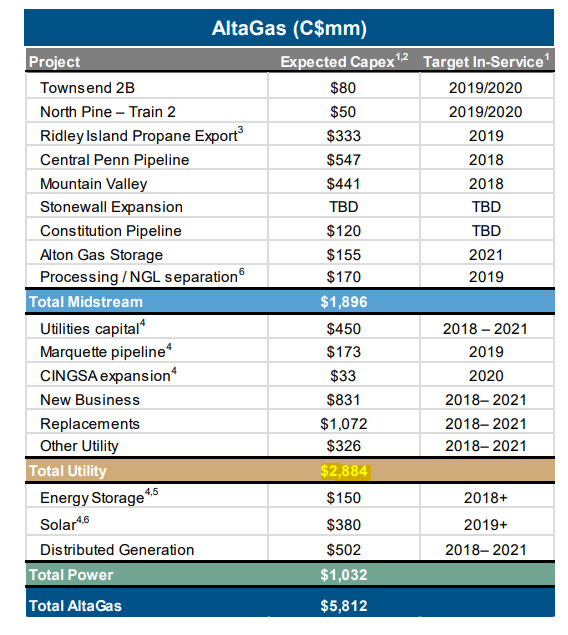 Source: AltaGas investor presentation
If we assume that AltaGas is financing this, on a pure equity basis, that is a loss of $70 million a year. Again, this is an extreme level of discounting but one worth doing here as the company is in no-man's land with their issues. AltaGas' remaining maintenance capex is hard to estimate as well as it does not break down numbers. But as a high-end guide, we can assume about 10% of overall EBITDA as true maintenance expense. We estimate around $1.45 billion for 2019 EBITDA but the number is really fluid on asset sales. We can still take a rather punitive $145 million as maintenance expense.
Combining the two we get about $215 million deducted off the FFO to get our real AFFO. That puts our real AFFO around $2.30-$2.40/share. We think that gets investors a good return as they are buying under 9X AFFO.
The second factor is the sudden influx of insider buying. While we view insider buying as an important factor, it never sways things for us single-handedly.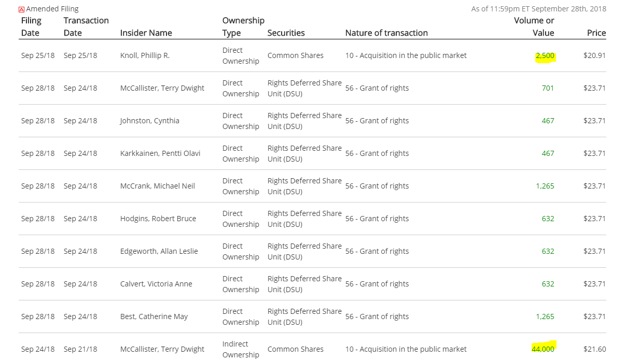 Source: CanadianInsider.Com
Here, however, in combination with the other information we have, we do believe it helps sway things to neutral.
What will make us bullish
We just cannot see the capex being funded without requiring another round of asset sales in 2019. The numbers just don't add up. One additional factor to consider is that the hydro asset sales and California asset sales were likely done at significant premiums to tax values and cash taxes could bump up significantly. The company also acquired another asset and while we like the acquisition, these are additional dollars that the asset sales will have to cover.
Hence, while we have pulled ourselves to a neutral, we cannot get bullish. Not just yet. However, if one of three things change, we will change our minds.
1) If the stock does move lower into the $17 range, we believe we can ignore even the funding issues and take a long stand here.
2) If the dividend is cut, we believe it will create a massive capitulation opportunity and even if that price is higher than the price above, we will take that as our signal to go long.
3) Finally, if AltaGas can offload a portion of the recently acquired WGL assets in the form of a minority stake at decent multiples, it will give them a badly needed cash influx as well as dwindle down future capex requirements.
Conclusion
AltaGas made a very big error in overpaying for WGL. The price has discounted a lot of the problems. Management is in the penalty box now and the DRIP is diluting the current equityholders. The bombed out AFFO number though still shows good value and investors going long here will likely earn a competitive 10-year return, even though they may have to spend some of it on dramamine in the short run. The fact that you can earn a competitive return from this price makes it fair value to us. We are upgrading this to a hold and will be watching for our catalysts to materialize for a further upgrade.
For more analysis such as this, along with real-time alerts on income stocks on both sides of the border along with option income ideas, please consider subscribing to our marketplace service Wheel of Fortune.
Disclaimer: Please note that this is not financial advice. It may seem like it, sound like it, but surprisingly, it is not. Investors are expected to do their own due diligence and consult with a professional who knows their objectives and constraints. All amounts referenced are in Canadian dollars. Tipranks: Hold
Seeking Alpha has changed its policies. Previously "following" someone required a ritualistic commitment and an offering of not less than 4 oxen or 3 breeding horses. Now, all it takes is one click! If you enjoyed this article, please scroll up and click on the "Follow" button next to my name to not miss my future articles. If you did not like this article, please read it again, change your mind and then click on the "Follow" button next to my name to not miss my future articles.
Disclosure: I/we have no positions in any stocks mentioned, and no plans to initiate any positions within the next 72 hours. I wrote this article myself, and it expresses my own opinions. I am not receiving compensation for it (other than from Seeking Alpha). I have no business relationship with any company whose stock is mentioned in this article.
Editor's Note: This article discusses one or more securities that do not trade on a major U.S. exchange. Please be aware of the risks associated with these stocks.