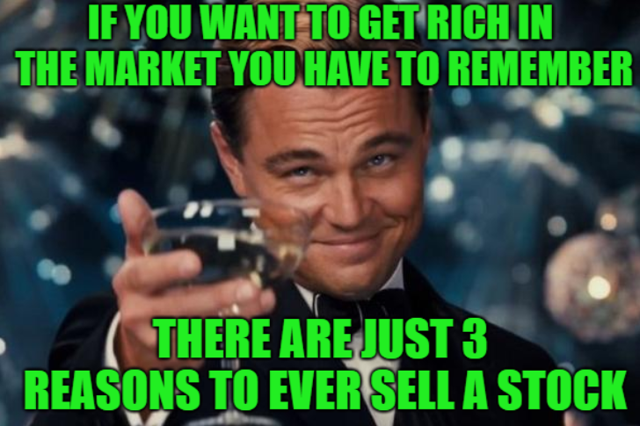 (Source: imgflip)
Note that due to reader requests, I've decided to break up my weekly portfolio updates into three parts: commentary, economic update, and portfolio summary, stats, and watch lists. This is to avoid excessively long articles and maximize the utility to my readers.
This week's commentary explains why another financial crisis is inevitable, but why investors necessarily shouldn't lose sleep over it.
This week's economic explores three important tech trends that could double long-term GDP growth.
Introduction
First, let me be very clear that this is my personal portfolio tailored to my specific financial situation, risk profile, time horizon, and personality traits. I am not recommending anyone mirror this portfolio. My situation is that I'm about to turn 32 but consider this portfolio an income-focused retirement one (though in a taxable account, so I can use modest amounts of margin).
I'm also working full-time (self-employed) and thus able to continually add to this portfolio. I do not plan to actually tap the portfolio's income stream for 14 to 20 years when I plan to move my family (and help support my parents) to the promised land of my people (retired dividend investors): Coastal Florida.
What this portfolio can be used for is investing ideas; however, this portfolio includes high-, low-, as well as medium-risk stocks, so it's up to each individual to do their own individual research and decide which, if any, of my holdings are right for you.
For a detailed explanation of my methodology, please read my introductory article to the EDDGE (Eternal Daily Dividend Growth Experiment) 4.0 portfolio. However, keep in mind that the portfolio is not static, and both it and the underlying investment strategy will evolve and adapt over time. This is because a changing world, new knowledge, and more experience will cause me to fine-tune it over coming years and decades to maximize my income and total returns.
Also, note that this is a highly sector concentrated portfolio. That's because I received my professional training working at The Motley Fool's energy desk, specializing in midstream MLPs (and also lots of renewable energy YieldCos). Thus, my comfort with these high-yield and very fast-growing industries. Since moving to Seeking Alpha (and becoming an analyst for Simply Safe Dividends), I've branched out into covering all industries. I now look at about 200 companies per year in detail.
The bottom line is that researching dividend stocks are both my greatest passion and my profession. Thus, you should only use these updates as sources of ideas, but not mirror them exactly unless your risk profile/time horizon/goals very closely match my own.
The Only 3 Times To Sell A Stock
History proves that long-term buy and hold investing is the best way for almost anyone to build wealth over time in stocks. But that doesn't necessarily mean you should never, ever sell a stock. A good rule of thumb is that the best time to invest is when you have discretionary (leftover) money that you won't need for 10+ years. That should be invested in quality companies trading at fair value or less.
The time to sell a stock is when:
you need the money to pay expenses and have no other sources of cash
the stock no longer meets your portfolio's long-term goals (and you have a better alternative that does)
the thesis (reason you bought it) breaks
Last week, I was forced to sell Hi-Crush Partners (HCLP), one of the few high risk stocks I own. Unlike my remaining two high risk stocks (Uniti Group (NASDAQ:UNIT) and Omega Healthcare Investors (NYSE:OHI)), Hi-Crush wasn't about locking in a sky-high yield on cost that I expected to be maintained (or even grown) over time. Rather it was a purely speculative deep value (cigar butt) capital gains play based on a few key assumptions.
America's energy boom would drive long-term growth in frack sand (what HCLP makes) - still true
Frack sand prices would hold up better than analysts currently expect (what management has been saying in recent CCs) - potentially no longer true
The upcoming c-Corp conversion would mean a much higher future PE multiple in the future - now less likely
At the time I bought Hi-Crush, my total return model said it had realistic total return potential of 20% to 25% CAGR over the next few years. Thus, the reason I took a chance on this special opportunity high risk play. However, recent events have forced me to determine the thesis on this variable paying MLP (future frack sand corp) has broken.
Specifically, last week, HCLP announced it was idling part of its Northern White sand capacity due to "recent, temporary softness" in sand demand. Now, there is a lot of controversy among investors about whether or not this idling actually means sand prices are declining and by how much.
Paulo Santos believes this shows that analysts bearish assessments of future sand prices (expected to fall significantly due to overcapacity) is correct and that HCLP might have much further to fall.
In contrast, Todd Akin believes HCLP's thesis remains intact. In fact, he views the idling of capacity as a positive sign that management is highly flexible with their capacity and supply chain.
The reason I ultimately sided with Santos on HCLP is due to my personal portfolio goals. Specifically, I bought HCLP because it offered a high risk opportunity to achieve sensational returns, while potentially enjoying a 20% yield for one year. My thesis was that the MLP would convert to a c-Corp and cut its post conversion dividend 50%, but that would still offer a 10% annual payout on my cost basis. Thus, I'd be able to benefit from multiple expansion (few fast growing corporations trade at under 7 times earnings) and great income as well. Of course, I planned to sell before the next recession, because HCLP's business model and cash flow aren't stable during economic downturns.
Thus, this was a very different investment than my usual strategy of buying stocks with maximum safe yields, backed by highly stable and recession resistant cash flows and strong balance sheets. However, with management now all but admitting that its early rosy projects about sand prices are not bearing out, that means that HCLP's future earnings and cash flow growth might easily disappoint earlier investor expectations.
Thus, the expected multiple expansion is no longer likely in my view, or at least the magnitude is likely to be far less. Thus, I was forced to lower my long-term TRP on this stock from 20% to 25% to 10% to 15%. Given its high risk business model, that risk/reward mix is no longer good enough to justify my owning it in my portfolio.
That's especially true, given that management has said that it might convert to a c-Corp early. The risks of that (an early and larger dividend cut) are now increasing. That's because HCLP will need to buy out its general partner's IDRs in an all-stock deal, which will become more expensive and dilutionary the lower the unit price drops. If HCLP declines into the single digits, I think management might convert several quarters early and potentially cut the dividend more than I initially expected (perhaps 66% to 75%). Thus, the reason for the much lower TRP.
In contrast, last week, Enbridge, which is a blue chip and future dividend aristocrat (in 2020), declined significantly. Enbridge offers a very safe 6+% yield, growing at 10%, and is over 40% undervalued resulting in a total return potential of over 20%. That's far superior to HCLP's reduced potential, and so I took the opportunity to put my capital to much better long-term use, at least, based on my personal goal of maximizing long-term total returns.
The Best Dividend Growth Stocks You Can Buy Today
This group of 20 dividend growth blue chips represents what I consider the best stocks you can buy today. They are presented in four categories, sorted by most undervalued (based on dividend yield theory using a 5-year average yield).
high-yield (4+% yield)
fast dividend growth
dividend aristocrats
monthly dividend stocks
Note there may be some overlap between these groups. To help with further research, I've linked to my articles for each recommendation (those not behind a paywall).
The goal is to allow readers to know what are the best low-risk dividend growth stocks to buy at any given time. You can think of these as my "highest conviction" recommendations for conservative income investors. Note these are not meant to represent a diversified or complete portfolio, but merely highlight the best opportunities for low-risk income investors available in the market today.
The valuations are determined by dividend yield theory, which Intelligent Quality Trends or IQT has proven works well for dividend stocks since 1966, generating market-crushing long-term returns with far less volatility.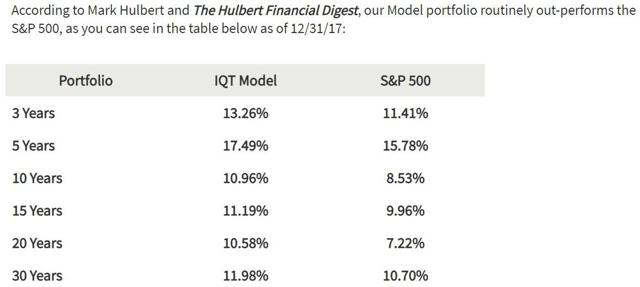 (Source: Investment Quality Trends)
That's because for stable business income stocks, yields tend to mean revert over time, meaning cycle around a relatively fixed value approximating fair value. If you buy a dividend stock when the yield is far above its historical average, then you'll likely outperform when its valuation returns to its normal level over time.
For the purposes of these valuation-adjusted total return potentials, I use the Gordon Dividend Growth Model or GDGM. Since 1956, this has proven relatively accurate at modeling long-term total returns via the formula yield + dividend growth. That's because, assuming no change in valuation, a stable business model (doesn't change much over time), and a constant payout ratio, dividend growth tracks cash flow growth.
The valuation adjustment assumes that a stock's yield will revert to its historical norm within 10 years (over that time period stock prices are purely a function of fundamentals). Thus, these valuation total return models are based on the formula: Yield + projected 10-year dividend growth (analyst consensus, confirmed by historical growth rate) + 10-year yield reversion return boost.
For example, if a stock with a historical average yield of 2% is trading at 3%, then the yield is 50% above its historical yield. This implies the stock is (3% current yield - 2% historical yield)/3% current yield = 33% undervalued. If the stock mean reverts over 10 years, then this means the price will rise by 50% over 10 years just to correct the undervaluation.
That represents a 4.1% annual total return just from valuation mean regression. If the stock grows its cash flow (and dividend) at 10% over this time, then the total return one would expect from this stock would be 3% yield + 10% dividend (and FCF/share) growth + 4.1% valuation boost = 17.1%.
Top 5 High-Yield Blue Chips To Buy Today
| | | | | | | | | |
| --- | --- | --- | --- | --- | --- | --- | --- | --- |
| Company | Ticker | Sector | Yield | Fair Value Yield | Historical Yield Range | Discount To Fair Value | Expected 10 Year Annualized Dividend Growth | Valuation Adjusted Total Return Potential |
| Tanger Factory Outlet Centers | (SKT) | REIT | 6.1% | 3.5% | 2.2% to 6.8% | 43% | 4.7% | 16.7% |
| Enbridge | (ENB) | Energy | 6.4% | 3.7% | 2.3% to 6.6% | 42% | 9% | 20.5% |
| Kimco Realty | (KIM) | REIT | 6.7% | 4.1% | 2.7% to 24.5% | 39% | 3.8% | 15.5% |
| Altria | (MO) | Consumer Staples | 5.3% | 4.0% | 3.1% to 14.7% | 24% | 8% | 16.3% |
| Dominion Energy | (D) | Utilities | 4.8% | 3.8% | 3% to 5.8% | 21% | 5.5% | 12.7% |
(Sources: Management guidance, GuruFocus, FastGraphs, Simply Safe Dividends, Dividend Yield Theory, Gordon Dividend Growth Model)
Top 5 Fast-Growing Dividend Growth Blue Chips To Buy Today
| | | | | | | | | |
| --- | --- | --- | --- | --- | --- | --- | --- | --- |
| Company | Ticker | Sector | Yield | Fair Value Yield | Historical Yield Range | Discount To Fair Value | Expected 10 Year Annualized Dividend Growth | Valuation Adjusted Total Return Potential |
| Starbucks | (SBUX) | Consumer Discretionary | 2.5% | 1.5% | 0.4% to 2.6% | 42% | 14.2% | 22.7% |
| FedEx | (FDX) | Industrial | 1.1% | 0.7% | 0.3% to 1.2% | 35% | 13.1% | 18.4% |
| Illinois Tool Works | (ITW) | Industrial | 2.8% | 2.1% | 1.5% to 4.5% | 27% | 9.8% | 15.6% |
| Comcast | (CMCSA) | Consumer Discretionary | 2.2% | 1.7% | 0.3% to 2.2% | 22% | 16.5% | 21.2% |
| A.O. Smith | (AOS) | Industrials | 1.4% | 1.1% | 0.8% to 3.4% | 18% | 11.5% | 14.9% |
(Sources: Gurufocus, FastGraphs, Simply Safe Dividends, IQ Trends, Gordon Dividend Growth Model)
Top 5 Dividend Aristocrats To Buy Today
| | | | | | | | | |
| --- | --- | --- | --- | --- | --- | --- | --- | --- |
| Company | Ticker | Sector | Yield | Fair Value Yield | Historical Yield Range | Discount To Fair Value | Expected 10 Year Annualized Dividend Growth | Valuation Adjusted Total Return Potential |
| Cardinal Health | (CAH) | Healthcare | 3.5% | 2.1% | 0.9% to 3.9% | 40% | 8.5% | 17.3% |
| Illinois Tool Works | (ITW) | Industrial | 2.8% | 2.1% | 1.5% to 4.5% | 27% | 9.8% | 15.6% |
| Altria | (MO) | Consumer Staples | 5.3% | 4.0% | 3.1% to 14.7% | 24% | 8% | 16.3% |
| Walgreens Boots Alliance | (WBA) | Consumer Staples | 2.4% | 1.9% | 0.9% to 3.1% | 23% | 11.0% | 16.2% |
| A.O. Smith | (AOS) | Industrials | 1.4% | 1.1% | 0.8% to 3.4% | 18% | 11.5% | 14.9% |
(Sources: Gurufocus, FastGraphs, Simply Safe Dividends, IQ Trends, Gordon Dividend Growth Model)
Top 5 Monthly Dividend Stocks You Can Buy Today
| | | | | | | | | |
| --- | --- | --- | --- | --- | --- | --- | --- | --- |
| Company | Ticker | Sector | Yield | Fair Value Yield | Historical Yield Range | Discount To Fair Value | Expected 10 Year Annualized Dividend Growth | Valuation Adjusted Total Return Potential |
| Pembina Pipeline | (PBA) | Energy | 5.1% | 4.6% | 3.3% to 12.6% | 9% | 5.0% | 11.0% |
| Shaw Communications | (SJR) | Consumer Discretionary | 4.7% | 4.3% | 1.9% to 4.7% | 9% | 4.8% | 10.5% |
| LTC Properties | (LTC) | REIT | 5.2% | 4.9% | 3.8% to 9.5% | 5% | 4.0% | 9.7% |
| EPR Properties | (EPR) | REIT | 6.3% | 6.2% | 4.5% to 24.8% | 3% | 4.7% | 11.3% |
| Realty Income | (O) | REIT | 4.6% | 4.7% | 3.3% to 11.2 | 1% | 5.0% | 10.0% |
(Sources: Gurufocus, FastGraphs, Simply Safe Dividends, IQ Trends, Gordon Dividend Growth Model)
My Bear Market Buy List
These are the stocks that I plan to buy during the next recession/bear market. That's when even blue chip valuations will drop to levels that will be capable of generating the kind of strong 15+% total returns that my portfolio is targeting. Note that all total return estimates are for a 10-year annualized basis. That's because total return models are most accurate over longer time frames (5+ years) when prices trade purely on fundamentals and not sentiment. This allows valuations to mean revert and allows for relatively accurate (80% to 95%) modeling of returns.
| | | | | | | |
| --- | --- | --- | --- | --- | --- | --- |
| Company | Current Yield | Fair Value Yield | Target Yield | Historical Yield Range | Long-Term Expected EPS Growth (Analyst Consensus) | Long-Term Valuation Adjusted Annualized Total Return Potential At Target Yield |
| Texas Instruments (TXN) | 2.9% | 2.5% | 2.9% | 0.9% to 2.9% | 12.6% | 17% |
| Apple (AAPL) | 1.3% | 1.8% | 2.2% | 0.4% to 2.8% | 10.8% | 15% |
| Average | 2.1% | 2.2% | 2.6% | NA | 11.7% | 16% |
(Sources: Dividend Yield Theory, Gordon Dividend Growth Model, Simply Safe Dividends, Gurufocus, Fast Graphs, Moneychimp)
More Great Dividend Stock Ideas
These are introductory articles about companies I consider great long-term investments.
American Tower (AMT): One Of The Fastest Growing REITs In America Is On Sale
EPR Properties: A 6.2% Yielding Monthly Dividend Stock With 11% Long-Term Return Potential
Altria: One Of The Best Recession-Proof Aristocrats You Can Buy Today
Noble Midstream Partners (NBLX): Here's Why I Just Increased My Position In This High-Yield Hyper Growth Stock By 400%
Disney (DIS): 3 Reasons Disney Is A Buy And Hold Forever Dividend Dream Stock
Federal Realty Trust (FRT): This Legendary Dividend King REIT Is Worth Buying Today
CoreSite Realty (COR): One Of The Best Hyper Growth REITs You Can Buy Today
Rattler Midstream Partners (RTLR): The Most Exciting High-Yield Dividend Growth IPO Of 2019
Buys/Sells This Week
Sold $7,800 Hi-Crush Partners - closed position (thesis broken)
Bought $2,000 Amazon (AMZN) - partial position
Bought $5,800 Enbridge (ENB) - partial position
My purchase of Amazon is because there are six reasons why Amazon is a must own, buy and hold forever stock at current prices. I plan to use my net dividend income to purchase one share per quarter (week of earnings release) as long as it's at fair value or less. Note that I estimate Amazon's fair value at about $2,200 today. That means it's likely about 9% undervalued.
Plan For The Upcoming Week/Weeks
Because Dominion Energy and Pattern Energy no longer meet my minimum long-term total return targets of 13% (both have about 12.5%), I will be selling them this week. Note that this is NOT a sell recommendation on either stock. 12.5% long-term total return potential is 36% better than the S&P 500's historical return of 9.2% (since 1871). I still recommend owning both stocks for their generous income. I'm only selling because both stocks no longer meet my exceedingly high target return standards.
Why did Dominion's and Pattern Energy's TRP's fall? For Dominion Energy, it was a 1% lowering of its long-term EPS (and thus dividend) growth forecast by analysts. This was due to the upcoming Dominion Midstream Partners (DM) buyout. The utility will no longer have an MLP to finance its midstream growth plans which is why long-term growth is expected to drop a bit. Given that management guidance for 2020 dividend growth was "6% to 10% depending on state of the MLP market", I have to concur with this long-term growth potential downgrade. Note, however, that Dominion's 5.5% long-term dividend growth potential is still more than enough to recommend it for most conservative income investors.
Pattern Energy's TRP fell substantially (also to 12.5% from about 20%) due to its ongoing equity liquidity trap. Management has a solid plan for maintaining the current distribution and eventually returning it to growth. But that will require the unit price to rise over time creating a "chicken and egg" problem.
Currently, its cost of equity is too high to fund its rapid growth plans. But with its payout ratio near 100%, it doesn't have enough retained cash flow to fund growth organically. Analysts expect it might take several years for PEGI to grow its way to its planned safe 80% CAFD payout ratio and return to distribution growth. Thus, Pattern's long-term growth potential has fallen from an earlier 10% to just 2% over the next 10 years (per analyst consensus). The current yield, about 20% undervaluation, and slow growth prospects are still good enough to make for a medium risk 8.5% yield and 12.5% TRP. That's good enough for most investors, but not someone who is trying to achieve minimum long-term returns of 13% but hopefully much higher (15% to 16%).
The proceeds from these two sales will be going towards my goal of completing the positions in my hyper growth MLPs. Along with the cash I have coming in this week (it's my big monthly buy week), I'll be able to fill out positions in:
EQT GP Holdings (EQGP) - to 5% of portfolio
Noble Midstream Partners (NBLX) - to 5% of portfolio
Antero Midstream Partners (AM) - to 7.5% of portfolio
Note that, thanks to a great comment discussion with reader Mary, I've decided to downgrade NBLX to medium risk, and thus lower my target allocation to 5%. That's because the uncertainty around Initiative 97 in Colorado might end up taking much longer to resolve (potentially years). Thus, until we find out how that vote will affect (or not affect) the MLP's long-term growth prospects, I'm capping my risk at half the initial plan.
I'll also be able to significantly boost my position (and lower my cost basis) in Antero Midstream GP. That's because AMGP is planning on growing its distribution at 62% CAGR through 2022, making it best hyper growth income stock in America. My target position for both AM and AMGP is 7.5%, maximizing out my 15% limited on MLP/GP pairs.
I'm also taking advantage of a rare opportunity to initiate an initial $5,000 position into one of the stocks on my bear market buy list. That would be Texas Instruments (TXN), this week's addition to the list. Thanks to a 24.2% dividend hike for 2018, Texas Instruments has hit my target yield during a bull market. Since my long-term goal is to eventually diversify into all 11 sectors, I'm jumping at the chance to convert proceeds from selling Dominion Energy (12.5% long-term total return potential) into this tech blue chip. Texas Instruments has raised its dividend for 15 straight years and will become a dividend aristocrat in 2028.
At today's price, Texas Instruments is likely to generate long-term TRP of 17%. This week, I'll be writing an article about why I'm buying Texas Instruments, and you should too (yield has only been higher 6.2% of the time in the last 23 years). Thus, I'll be able to achieve more diversification (my first tech stock), much earlier than expected, while boosting my portfolio's long-term return potential.
Speaking of long-term goals, I wanted to provide an update for my tentative plans for the rest of 2018 and 2019. This plan is based on the best opportunities I see in the market that meet my goals. The current plan is:
Stage 1: complete hyper income growth build out (mainly completing AMGP position) - note if NEP should fall to fair value yield of 4% (currently 3.6%), I'll proceed to build out that position to a 10% stake.

Stage 2: Building out full positions in my highest conviction ultra value stocks (best total return potentials). Today, that would mean building a 10% position in Enbridge followed by Brookfield Property Partners (BPY). BPY management is guiding for 20% to 25% CAGR total returns over the next five years (from recent valuation). Over the long term (10 years), I estimate about 20% TRP for this Grade A real estate stock (LP not a REIT).

Stage 3: initiating and building out 5% positions in undervalued REITs and yieldCos (currently AY, TERP, BEP, SKT, KIM, and BXR)
But, of course, this is just a tentative plan and can change if these stocks were to rocket higher and no longer offer the ultra value/strong total return potentials they do today.
I estimate that stage 1 will be complete in Q4 of 2018, and stage 2 by the end of Q2 2019. Stage 3 will likely take me into 2020, assuming the yield curve doesn't invert and trigger my recession preparation protocol. I'll be clarifying that in a future update.
The Portfolio Today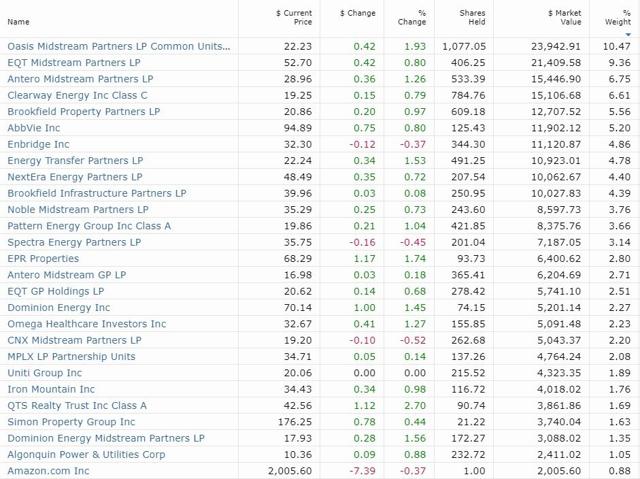 (Source: Morningstar)
Dividend Risk Ratings
Low risk: High dividend safety and predictable growth for 5+ years, max portfolio size 10% (core holding, SWAN candidate). Note low-risk MLP/GP pairs have a max limit of 15% of invested capital.
Medium risk: Dividend safe and potentially growing for the next 2 to 3 years, max portfolio size 5%.
High risk: Dividend safe and predictable for 1 year, max portfolio size 2.5% (sole exception is Hi-Crush Partners (NYSE:HCLP) due to its "special opportunity status")
Safety Outlooks
Negative outlook: Fundamentals of industry and/or company are deteriorating, rising risk of safety downgrade. If it's a turnaround story, the turnaround is unlikely to succeed.
Stable outlook: Fundamentals are stable, or if in turnaround, the management plan seems likely to work. The risk of a safety downgrade is low.
Positive outlook: Fundamentals are strong and rising.
High-Risk Stocks
Uniti Group - Stable outlook (WIN revenue diversification plan outlook improving)
Omega Healthcare Investors - Stable outlook (confidence in management executing on turnaround plan)
Medium-Risk Stocks
Pattern Energy Group (NASDAQ:PEGI): Will be upgraded when the payout ratio declines under 85% - positive outlook
EPR Properties: Due to heavy exposure to cinemas (though thriving ones), will be upgraded once it diversifies its property portfolio
Dominion Midstream Partners (NYSE:DM) - negative outlook (Dominion Energy buyout now likely)
Noble Midstream Partners (NBLX) - negative outlook (uncertainty over Initiative 97 on Colorado ballot in November)
Low-Risk Stocks
Brookfield Property Partners (NYSE:BPY) - Stable outlook
Simon Property Group (SPG) - Stable outlook
Enbridge - Stable outlook
Brookfield Infrastructure Partners (BIP) - Positive outlook
Dominion Energy - Stable outlook
Iron Mountain (NYSE:IRM) - Stable outlook
Spectra Energy Partners (NYSE:SEP) - Stable outlook
NextEra Energy Partners (NYSEMKT:NEP) - Positive outlook
AbbVie (NYSE:ABBV) - Stable outlook
EQT Midstream Partners (NYSE:EQM) - Stable outlook
EQT GP Holdings (EQGP) - Stable outlook
MPLX (NYSE:MPLX) - Stable outlook
Antero Midstream Partners - Stable outlook
Antero Midstream GP - Stable outlook
CNX Midstream Partners (NYSE:CNXM) - Stable outlook
Oasis Midstream Partners (NYSE:OMP) - Stable outlook
QTS Realty (NYSE:QTS): Stable outlook
Clearway Energy (CWEN): Stable outlook
Energy Transfer Partners (ETP): - Positive outlook (turnaround is going well and ETE merger makes this a low-risk stock)
My portfolio began with five stocks, all medium to high risk, in two sectors. Right now, I'm in 27 stocks, mostly low to medium risk, in four sectors. Eventually, I'll expand into all sectors, but for now, limited capital must be allocated with care, into the best opportunities you know of. Thus, the stronger focus on the most undervalued income growth opportunities each week.
Top 10 Income Sources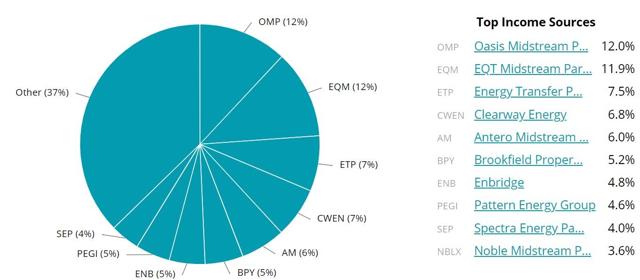 (Source: Simply Safe Dividends)
While income diversification is important (in case of a dividend cut), I'm also balancing that with concentrated positions in my highest conviction names.

(Source: Morningstar)
The portfolio has become far more diversified by stock style, especially compared to the early days when it was pretty much 100% small-cap value. That being said, I'm fundamentally a value-focused investor and so will always be overweight in that investing style. Meanwhile, my heavy US exposure is due to the heavy concentration of hard assets, most notably MLPs.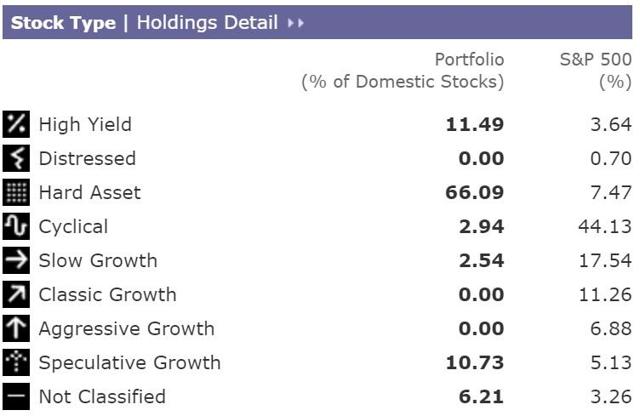 (Source: Morningstar)
My portfolio is VERY concentrated in energy, because that's where the best overall opportunities are in terms of: safe yield, fast payout growth, and valuation. Keep in mind that my expertise is in midstream MLPs, so I feel very comfortable with this kind of concentration. Meanwhile, I remain heavily exposed to utilities (mostly renewable YieldCos) and REITs. With the exception of HCLP, everything I own has very stable and recession-resistant cash flow. So, I expect very few, if any, payout cuts during the next recession.
Sector Concentration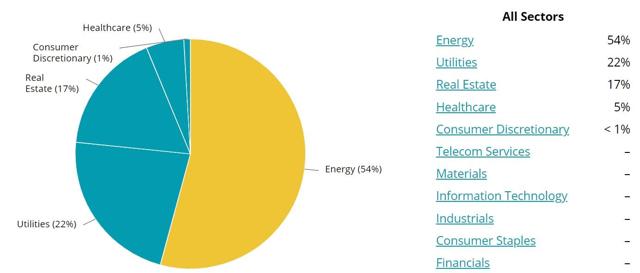 (Source: Simply Safe Dividends)
In the future, I plan to add more utilities to help build up the defensive side of my portfolio. The utilities I'll be buying include:
I also plan to add to ultra value REITs/Real estate LPs in 2019, including: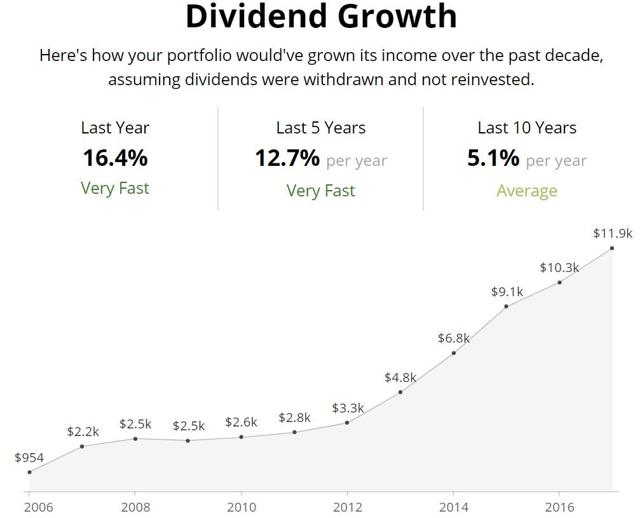 (Source: Simply Safe Dividends)
Note that the 10-year dividend growth figures are artificially low because my tracking software doesn't average in anything that hasn't existed for those time periods. Many of my holdings have IPOed in the last five years and so the 1-year and 5-year growth rates are the most accurate. These figures are purely organic growth rates and assume no dividend reinvestment.
Selling HCLP lowered my one year growth rate (because HCLP tripled its payout recently) but increased the 5-year growth rate. That's because HCLP slashed its distribution during the oil crash.
In the coming weeks and months, I have a goal of driving my 12-month organic income growth rate to 20%. That's doable thanks to my completion of my positions in hyper growth stocks which I'm nearly done with. After that, the growth rate will decline as I diversify into other industries and sectors. But the long-term goal is to maintain a 10+% organic income growth rate.
Projected Portfolio Dividends Over Time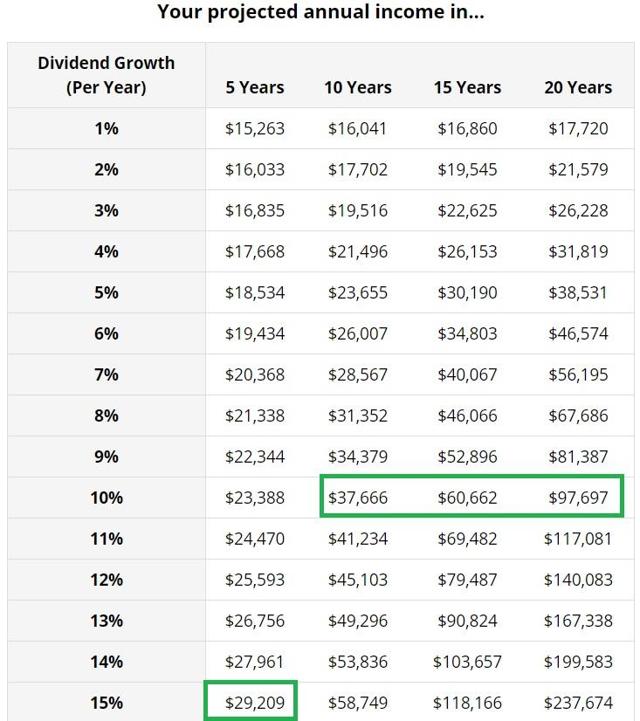 (Source: Simply Safe Dividends) - Note assumes no dividend reinvestment, just organic growth that slows gradually over time (constant holdings)
Even assuming no dividend reinvestment (I do that manually) and that I never sell anything I own (if growth slows and I find better opportunities), this portfolio would become an income powerhouse. And even if I were to not add to the portfolio at all with fresh savings within 20 years, I would have achieved my goal of financial independence.
Over the long term, my goal is about 5% portfolio yield, with about 10% long-term dividend growth over time. In order to maintain that, I may have to recycle some holdings when they no longer meet my needs.
For perspective, the S&P 500 yields 1.8% and its 20-year median annual dividend growth rate has been 6.2%. So, the goal is about to triple the market's yield, with about 4% faster dividend growth. Since 1871, the S&P 500 has generated annual total returns of 9.2%. The market's historical inflation-adjusted total return has been 7.0%.
Even assuming no valuation multiple expansion (my deeply undervalued portfolio always remains so), this portfolio should easily be capable of about 15% unlevered total returns over time. Factoring in multiple expansion (already starting to happen for some of my stocks) and 25% leverage, the returns could be even greater, potentially north of 20% annualized net levered returns.
Portfolio Statistics
Holdings: 27
Portfolio Size: $222,935
Equity: $175,916
Remaining Margin Buying Power: $824,533
Margin Used: $47,357
Debt/Equity: 0.27
Leverage Ratio: 27%
Target Leverage Ratio: 25%
Dividends/Margin Interest Ratio: 8.4
Distance To Margin Call (How Much Portfolio Would Need To Fall): 69.9%
Current Margin Rate: 3.66%
Yield: 6.5%
Yield On Cost: 6.6%
Net Yield On Invested Capital: 7.6%
Time Weighted Total Return Since Inception (September 8, 2017): 3.8%
Cumulative Dividends Received (including accrued dividends): $13,978
Total Portfolio Gains: $7,575
% Of Gains From Dividends: 185%
Annual Dividends: $14,522
Annual Interest: $1,733
Annual Net Dividends: $12,789
Monthly Average Net Dividends: $1,066
Daily Average Net Dividends (my business empire never sleeps): $35.04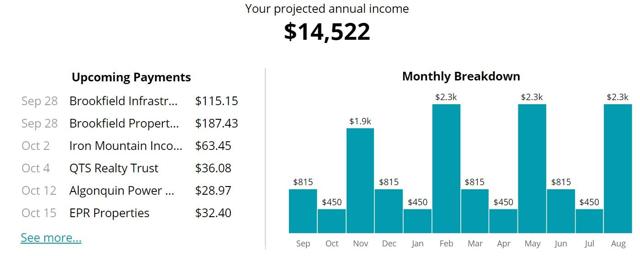 (Source: Simply Safe Dividends)
Portfolio Beta (volatility relative to S&P 500): 1.25
Projected Long-Term Dividend Growth: 10%
Projected Annual Unlevered Total Return: 15%
Projected Net Levered Annual Total Return: 18% (assuming long-term average leverage of 25%, 3% average margin rate)
10 Worst-Performing Positions
| | | |
| --- | --- | --- |
| Stock | Loss | Cost Basis |
| NBLX | -14.8% | $41.55 |
| AMGP | -9.5% | $18.70 |
| AM | -9.1% | $31.52 |
| EQGP | -8.8% | $22.85 |
| IRM | -6.9% | $37.09 |
| AQN | -6.7% | $11.10 |
| D | -5.5% | $73.83 |
| EQM | -4.9% | $55.47 |
| ENB | -4.7% | $33.86 |
| BIP | -4.3% | $41.39 |
(Source: Interactive Brokers)
10 Best-Performing Positions
| | | |
| --- | --- | --- |
| Stock | Gain | Cost Basis |
| UNIT | 24.4% | $16.19 |
| QTS | 24.1% | $34.38 |
| EPR | 21.5% | $56.31 |
| CNXM | 17.2% | $16.42 |
| OHI | 16.9% | $28.04 |
| DM | 14.0% | $15.70 |
| SPG | 13.2% | $155.79 |
| NEP | 9.4% | $44.32 |
| OMP | 7.4% | $20.73 |
| ETP | 6.9% | $20.82 |
(Source: Interactive Brokers)
Bottom Line: Long-Term Investing Doesn't Necessarily Mean Buy And Hold Forever
While it would be great if we could buy and hold great stocks forever, in reality very few companies are able to achieve this. The world changes, and company fundamentals change with it. This means that, while investors should focus on long-term income and wealth compounding, it's always important to check in on fundamentals as well from time to time.
When those fundamentals change, a stock's long-term income growth and total return potential changes with it. Sometimes, things can deteriorate to a point where the thesis breaks, or at the very least, it no longer meets your portfolio's goals.
Long-term success requires a careful balancing of these factors, including knowing when a thesis is broken, or when to recycle capital into a much better opportunity. Last week's sale of Hi-Crush was a reminder of the dangers of high-risk speculative investments. Ones that require numerous factors to go right in order to achieve one's targeted returns.
Fortunately, at this point, all the stocks I own have stable and recession-resistant cash flows, meaning that the risk of future thesis breaking sales has declined significantly. However, I'll still have to monitor the lower risk holdings I own to make sure that their long-term growth prospects remain high enough to justify a position in my portfolio. It would be great to be rich enough to own every quality dividend growth stock, but limited financial resources mean I have to prioritize into those stocks that best meet my individual long-term needs.
Looking forward, I'm excited to continue improving my overall high-yield income growth portfolio, including the chance to add Texas Instruments much earlier than expected. In the coming weeks, as I build out the bear market buy list, I may have the chance to find similar opportunities to add high-quality, fast growing dividend growth stocks without having to wait for a recession that might still be years away. Meanwhile, as my MLP focus draws to a close, with the completion of my full position buildouts, I will be able to resume diversifying my portfolio into non-energy sectors in 2019 and 2020.
Disclosure: I am/we are long EQM, OMP, BPY, ABBV, ETP, BIP, AM, NEP, PEGI, SEP, EPR, EQGP, D, CNXM, OHI, MPLX, IRM, QTS, AMGP, UNIT, ENB, SPG, AQN, NBLX, CWEN. I wrote this article myself, and it expresses my own opinions. I am not receiving compensation for it (other than from Seeking Alpha). I have no business relationship with any company whose stock is mentioned in this article.