Market Intro

CNBC: Tuesday 11:36 AM
Unwilling to be their little brother's keeper, large cap US stocks (SPY, DIA, QQQ) are showing little concern for the travails of the small cap Russell 2k (IWM), which has fallen about 2% cumulatively since the Q4 inception. Spot VIX on the S&P 500 treads below 12.

Gold (GLD) and the especially silver (SLV) are working to poke their way above what has constituted support ($1200 and $15 an ounce respectively) for several years now. With interest rates on the rise, the opportunity cost associated with owning these metals increases, as they do not explicitly pay any yield (and in fact in many cases require storage costs, which amounts to a negative yield).
Thoughts on Volatility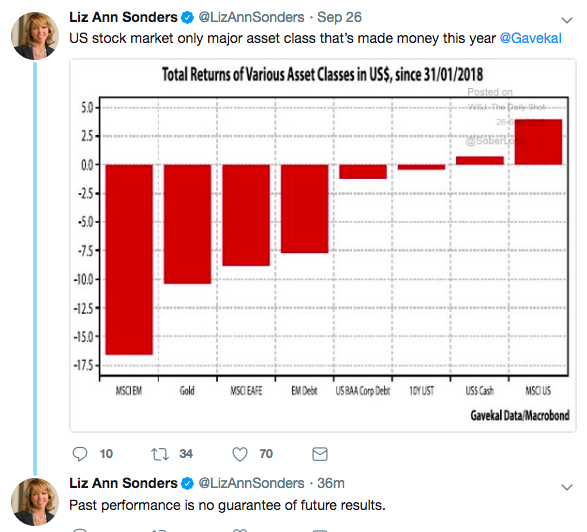 We're spoiled here in the US so far as it concerns 2018 stock performance. A big part of the reason things have played out this way is that volatility settled down so readily (SVXY).
US vol traders may be asking "where can I trade vol?" Depending on your discipline, one way to do that is to go to markets where there actually is some realized vol (20-day realized vol on the S&P is a meager 5.5%).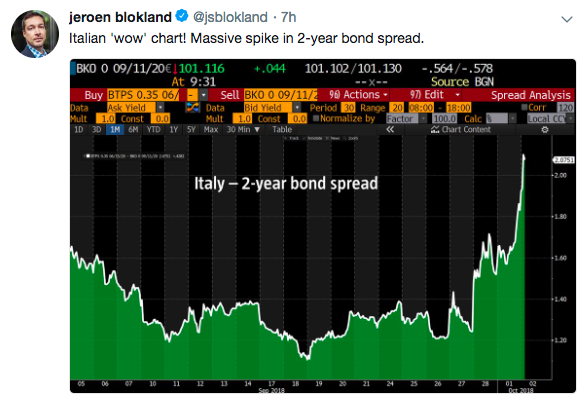 Even European stocks (VGK) seem unfazed by spiking Italian bond yields, so one might be excused for thinking that it won't affect US asset prices. Despite the fact that European assets simply don't want to liven up on these kinds of graphics, it makes me suspicious to the current period of calm that we currently inhabit. This has the feel of being the other extreme of post traumatic stress disorder (PTSD): nothing registers anymore as worthy of concern.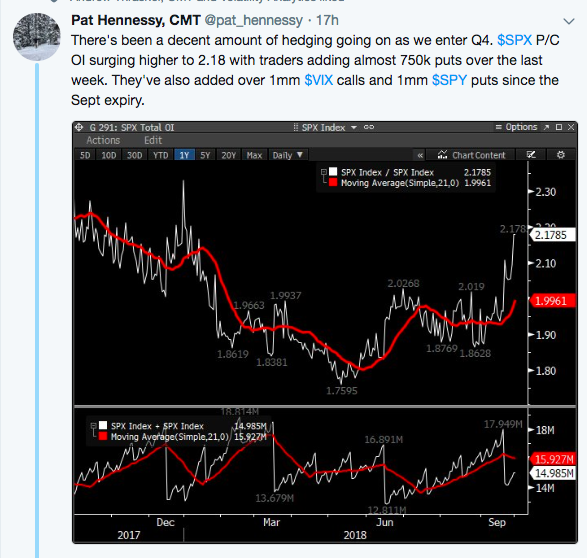 From a seasonality perspective, Q4 is supposed to be pretty great (taking out 1929, 1987, and 2008 of course). Perhaps vol has just gotten to a level where hedging starts to look compelling.
Thoughts on why this may the case from readers would be appreciated.
Term Structure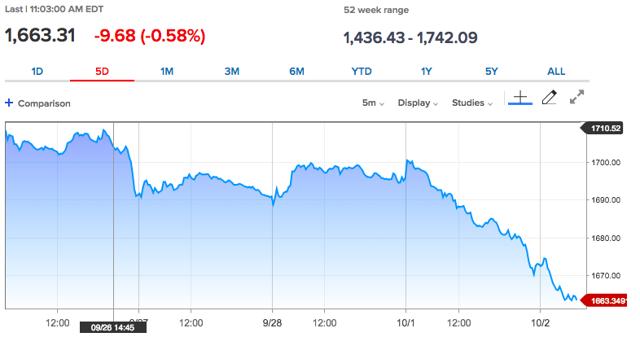 The Russell 2k index has started Q4 off on the wrong foot. Andrew Thrasher humorously communicates this fact, and also the reality that thus far it does not appear to be much of a headline grabber. Large caps have shrugged this off for now, and so the incident is being treated as isolated. Still… Russell VIX at least is on the rise: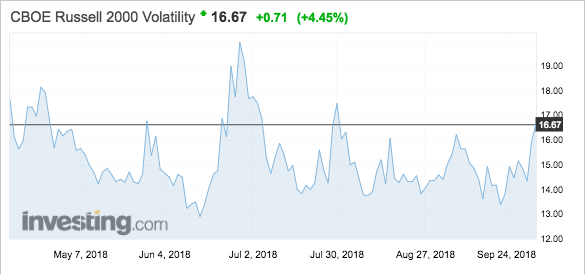 Only last week R2K VIX was taking a stab at the lowest readings going back to mid June (which coincided with the time that the index was on fire). But volatility in the Russell is experiencing something of a renaissance. It will be interesting to see whether this flare up can spill over into the large-cap indexes (VXX, UVXY).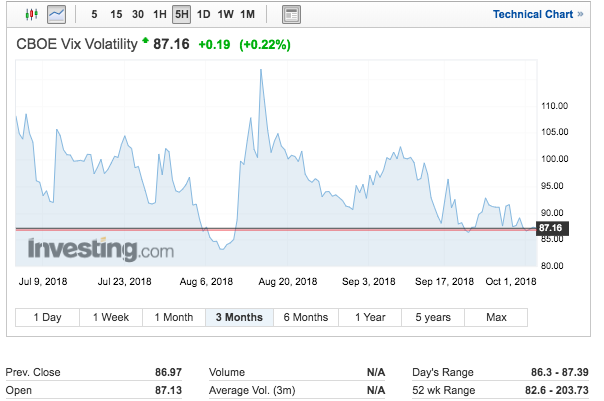 The fifty-two week low on VVIX is 82.6… we're approaching the bottom of that range, even if the index reads a little higher today than it did yesterday. I find it interesting that Italian bond yields, and more importantly the Russell 2k vol are gearing up, while VVIX trolls in "all's clear" territory.
VX options are sporting a (relatively) low volatility, which indicates that vol option traders are not seeing much scope for big moves associated with 30-day VX options.
Conclusion
If this is your first time reading Market Volatility Bulletin, thanks for giving it a try. If you're a regular, we thank you for your ongoing contributions in the comments section.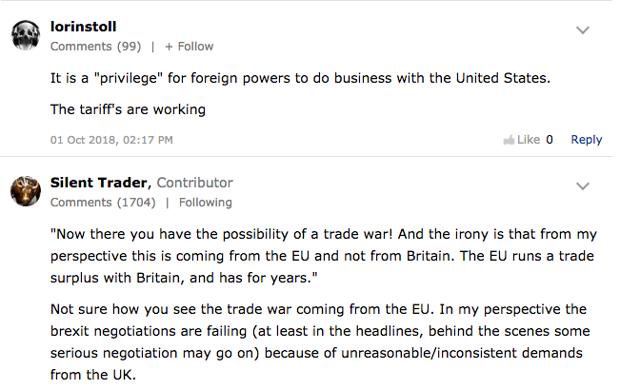 Lorinstoll and Silent Trader chimed in on yesterday's discussion, which covered international trade (both on the US and UK fronts).
It is a privilege for any country to sell its goods and services in any other country. Most economists vigorously assert that, so long as basic rules are kept, that both nations' citizens benefit from the trade. So long as the tariffs open up broader discussions that we do not see, they can be productive.
I added a portion of ST's comment (click above for the full statement, which is quite good). ST points out that at least in public, the Brexit negotiations are not going too well. Britain's inability to form a united front makes the whole process more fragmented. I do not agree that the trade requires these shared EU obligations. If both groups are made better off with no tariffs than without, in what sense do the two bodies need to work within the EU burden? Doesn't Norway enjoy free trade without being an EU nation?

Wikipedia
Thank you for reading.
Please consider following.
Disclosure: I/we have no positions in any stocks mentioned, and no plans to initiate any positions within the next 72 hours.
I wrote this article myself, and it expresses my own opinions. I am not receiving compensation for it (other than from Seeking Alpha). I have no business relationship with any company whose stock is mentioned in this article.
Additional disclosure: I actively trade the futures and options markets, potentially taking multiple positions on any given day, both long and short. I also hold a more traditional portfolio of stocks and bonds that I do not "trade". I do believe the S&P 500 is priced for poor forward-looking returns over a long timeframe, and so my trading activity centers around a negative delta for hedging purposes.