A drop in commodity prices has punished the holders of lithium and cobalt stocks. The future demand for these metals is all but guaranteed based upon the increasing adoption of electric vehicles and grid storage, yet the stocks of even the most promising lithium and cobalt companies are in a heavily oversold state.
Generally, the stock price of a mining company is tied to commodity they mine. This can be a good or bad thing for up and coming explorers of metals. Lithium and cobalt have fallen out of favor for now, but another battery metal, Vanadium, is becoming the new market favorite.
Vanadium demand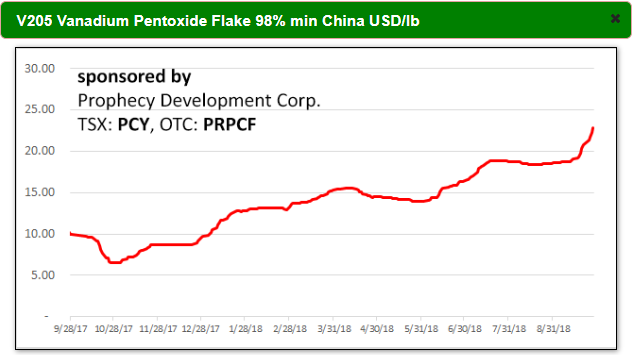 The Chinese spot price for vanadium is near record highs. The only time it has been higher was briefly in 2005. Obviously, commodity prices can spike and retrace quickly, but there is evidence to support vanadium staying at elevated spot prices for some time.
The market for vanadium is heavily tied to steel demand. 91% of all vanadium produced is used to strengthen steel, with the remaining 9% going to specialized uses such as Aerospace and Vanadium Redox Flow Batteries. Since 2010, vanadium inventory has been steadily shrinking, and now we are in an undersupply situation.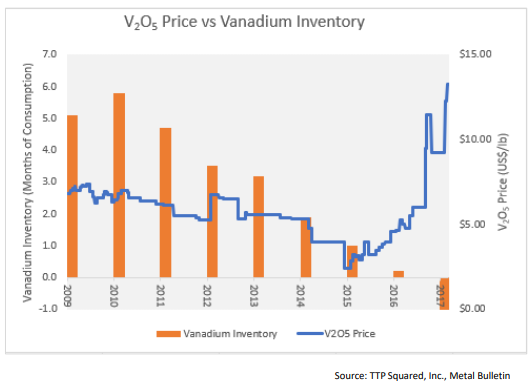 There was a 9,309 ton vanadium supply deficit in 2017, which equates to about one mine's worth of production. The shortage is the result of several factors:
Mapoch's Vanadium mine closed, which removed 11000 tons of yearly vanadium supply.
China banned imports of vanadium bearing slag, mostly from Russia.
China's new strict environmental regulations and rationalization caused the closure of numerous domestic iron ore mines, which were a source of vanadium.
Chinese environmental regulators refuse to issue permits for stone coal operations; another potential source of supply.
Going forward this gap between supply and demand is expected to widen, because of VRFB demand, and in the near term, greater demand from China. Earlier this year, the Standardization Administration for the People's Republic of China implemented a new rebar standard to take effect in November 2018. This standard calls for stronger rebar, which means more vanadium will be required in steel production. Today China produces 140 million tons of rebar, so to comply with the new standard, steel producers could require an additional 17000 tons of vanadium starting in November. To put this in perspective, 17000 tons would be 21% of global vanadium production.
This chart shows that current vanadium supply will not be able to meet the demands of the steel industry, let alone the additional anticipated demand from VRFBs.

Vanadium Redox Flow Batteries
Like lithium-ion, VRFBs are a mature battery design. They were first developed in the 1970s and are large, stationary batteries most suited for grid storage.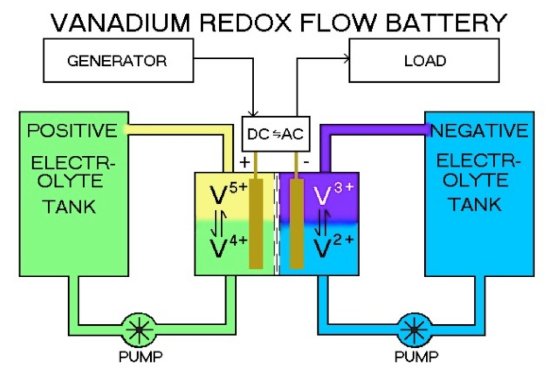 The benefits a VRFB brings are:
They enhance the capability of renewable power in times of high generation and low demand. It lessens the need for peaking power turbines using natural gas.
Wind and solar energy provide an irregular energy flow, VRFBs can smooth out this variation and provide stability at off grid remote locations.
A VRFB can be charged off peak (when power is cheaper), and used during peak, thus offloading the grid and providing cost savings.
Long life of 20-30 years and 100000 cycles; much longer than lithium-ion.
Non-flammable, and fully recyclable.
VRFBs could represent up to 25% of grid storage by 2028, with significant growth beginning now. The U.S. Department of Energy's Global Energy Storage Database shows all the current VRFB projects, with a 200MW Vanadium Flow Battery in Dalian, China being the largest in construction. The Dalian battery alone requires nearly 7000 tons of vanadium.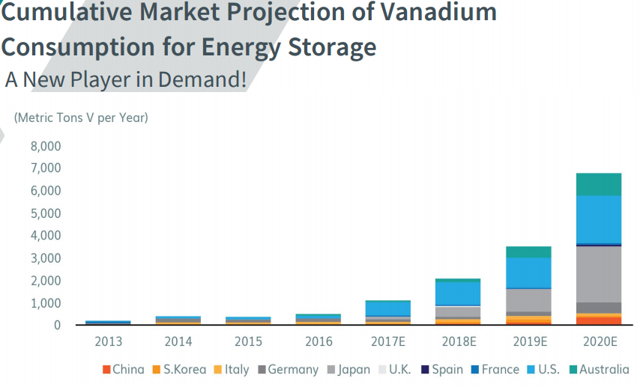 The beauty of an investment in vanadium is that it's success does not hinge upon the uptake of grid storage, or the success of Tesla/EVs like lithium or cobalt. The demand for the metal is high without future VRFB demand factored in. This protects an investment in this sector from downside risk, but provides a similar upside as the anticipated demand for cobalt or lithium.
Vanadium Miners
Largo Resources [TSX:LGO] (OTCQB:LGORF) has seen great gains in recent months owing to the high vanadium selling price. Largo is a new vanadium producer that began production in 2014. The company's stock is up over 100% since July, and they now stand at a 1.9B CA market cap.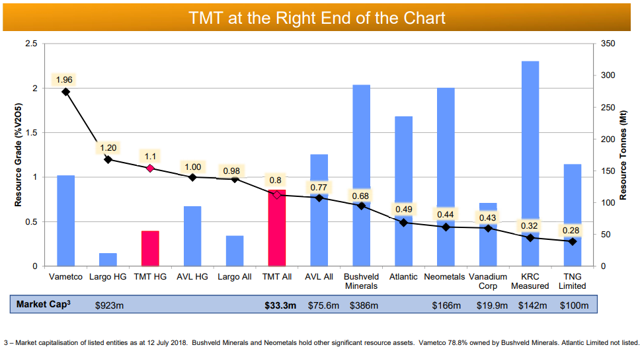 This graph shows all the significant up and coming vanadium projects. Notice that there are not many. Also notice the comparative market caps of companies, and how they compare to Largo at 1.9B CA. As you can see Largo has a high grade resource, but it is much smaller than TMT or AVL; both whom are advanced Australian miners with large, defined, high grade resources.
Grade is king, so in my view, there are only several miners that I would consider investing in. Technology Metals Australia [ASX:TMT] and Australian Vanadium[ASX:AVL](OTC:ATVVF) are both great choices, and share the Gabanintha Vanadium deposit in Australia.
TMT delivered their PFS in June, 2018, which showcased a post-tax NPV of $850m AU at a vanadium price of $13/lb! The current vanadium price is $23/lb. As part of preparing their DFS, TMT is now drilling to extend their mine life by proving up a larger ore reserve. TMT has a high grade resource that is larger than Largo's, yet they are ~ 1/58th of the market cap! This shows the staggering potential TMT has when they reach production.
AVL is about 6 months behind TMT, expecting their PFS in December. AVL's valuation is currently about 3x TMT's, and though they have a larger resource I hardly believe it justifies the valuation disparity. At only a 33M AU market cap, I believe TMT is very undervalued and ready to move. Several broker reports on TMT can be found here.
Conclusion
Largo is being noticed by investors, but AVL, TMT and others are still waiting for their limelight. This is beginning to change, as vanadium is where lithium was 1 year ago. It was about this time last year when lithium miners began to see meteoric rises in share prices.
For more on Vanadium miners, see Matt Bohlsen's excellent articles here.
To read my other articles, visit my profile page.
Disclosure: I am/we are long ASX:TMT. I wrote this article myself, and it expresses my own opinions. I am not receiving compensation for it (other than from Seeking Alpha). I have no business relationship with any company whose stock is mentioned in this article.
Editor's Note: This article discusses one or more securities that do not trade on a major U.S. exchange. Please be aware of the risks associated with these stocks.